Trader's Sun is an expert advisor offered by FX Trader Kit (new automated trading system). The developers of this EA claim that their robot is a powerful trading tool for both beginners and pros. As well as the other robots, this one was specially designed to deliver high returns and exclude human interference. However, everyone knows that high returns come with high risks.
Therefore, we have analyzed this expert advisor and written a detailed Trader's Sun review to tell all the necessary information about the trading strategy, risk factors, vendor transparency, price, and the other important data of this EA.
Is Trader's Sun a Good Choice to Invest?
Although Trader's Sun robot has a detailed strategy insight and a product description, there are a few disadvantages, which we want to point out:
Good overall trading performance in the past but a dwindling one in the present
No reviews from customers
Lack of vendor transparency
Trader's Sun Features
Trader's Sun incorporated neural networks and deep earnings, running on the popular MT4 trading platform placing, managing, and closing trades. This automated trading software is said to have a very high win rate on EUR/USD and USD/JPY currency pairs. The vendors of Trader's Sun say:

Trading Strategy
Considering the Trader's Sun, it does not use the Martingale strategy as it does with Trader's Moon EA. The trading methodology and approach of Trader's Sun robot is based on:

The system will trade for levels and look for a risk/reward ratio of 38-33.

Price
Trader's Sun EA is available to buy for $269. It includes a 1-lifetime license, user manual, free ad regular updates, full-time customer support, and a 30-day money-back guarantee. Only providing a one-lifetime license is not enough especially for traders who want to try the system and test it to find the best possible Forex root settings.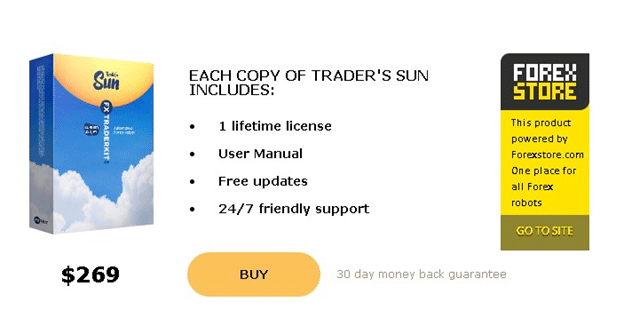 Myfxbook Trading Results
The good thing about Traders' Sun EA s that the developers provide live trading results verified by myfxbook.com on their sales page: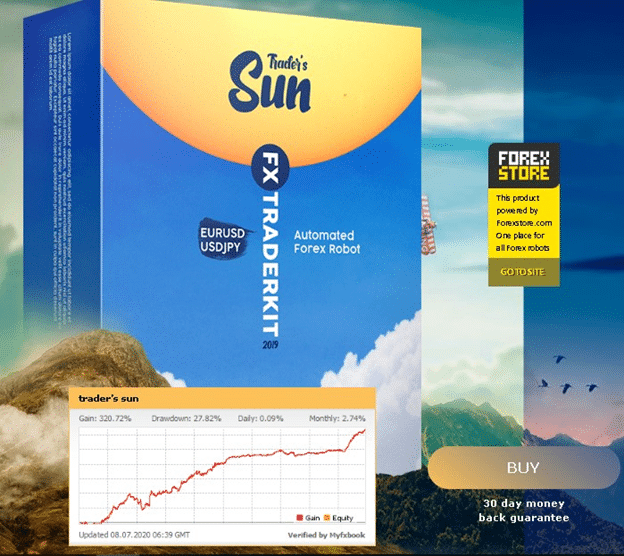 This trading account is running on the MT4 platform with IC Markets brokerage. It launched on March 28, 2016. Since that time it has gained a +320.72% of profit with an absolute gain of +59.89. Its drawdown is 27.82%. For 4 years and 3 months, it has placed 3172 trades with the average trade length of 7 hours and 24 minutes and a profit factor of 1.32. The win rate is 74% with a risk-reward ratio of 2:1 with the average trade coming in at -19.30 pips.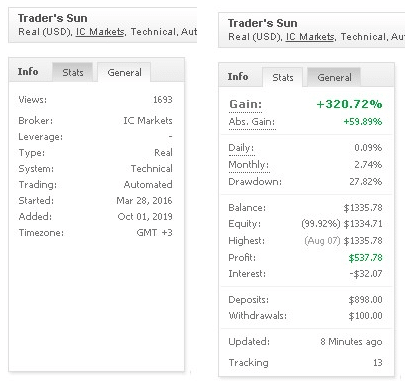 Good Overall Trading Performance in the Past but a Dwindling One in the Present
Its growth chart looks quite impressive as it is showing a constant profit growth that enlarged from 0% on March 28, 2016, to 309, 37% on July 24, 2020: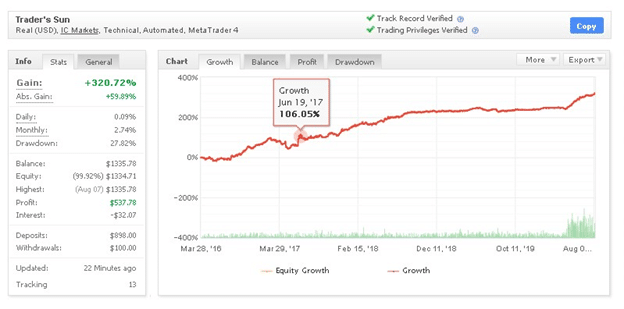 However, when looking closely at the trading statistics of this account, we can see that it has not done much of anything in a very long time. Although it is not losing funds and is bringing constant profit, it is not much doing in the past 2019 and a half. In fact, in 2019 the Trader's Sun EA was showing a total gain of 3, 25%: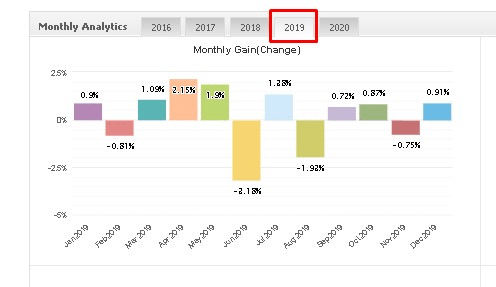 The best trading period came from 2016-2018, but the software does not appear to be performing as positively now. Thus, the key question is: are you really going to pay for software with an impressive trading performance in the past and with a poor one in the present?
No Reviews from Customers
Customer reviews written on the third-party websites or forums like forexpeacearmy.com are very important for us to have a clear visualization of all the strong and weak sides of any EA. We have found some feedbacks written about this Forex robot on the forexpeacearmy.com forum: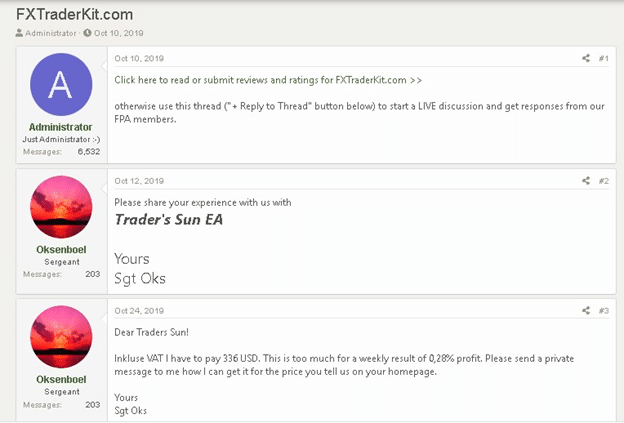 Oksenboel asks to share users with their trading experience with Trader's Sun EA. The next feedback was from the same user addressed to the Trader's Sun team. However, as we can see, there was no response to the message written on October 24, 2019. It is not a good sign and if the developers of Trader's Sun do want to be trusted, they need to be more attentive to their customers.
Lack of Vendor Transparency
The creators of this EA are the creators of Forex Store and developers of such robots FXEurGrid, ForexBot 28 and more. It is strange for us, but they do not mention their connection anywhere on the website. They do not provide any information about themselves, their team, location, or trading history in the Forex marketplace. All of this information would be extremely helpful when dealing with such a well-known and experienced development team.