Dragon is advertised as an "ultra reliable and powerful" expert advisor, designed to trade only GBPJPY currency. The developers of this MT4 tool claim that their "Ferocious Performer which thrives in volatility" promises a good profit rate to everyone who will be trading with it.
In today's Dragon review, we will be analyzing trading performance data, win rate, key features, risk factors, price, and vendor transparency to determine whether this EA is a good choice for traders.
Is Dragon Expert Advisor a Good Choice for Traders?
After our detailed analysis of the Dragon expert advisor, we do not feel that this robot is a software to trust. Our verdict is based on:
Hidden balance and profit charts
Dwindling performance since August
No customer reviews
Lack of vendor transparency
Features
The Alno Trade team points out the following features of this EA:
Compatible with any brokerage
Has over 3000% gain since 2015
Designed for the GBPJPY cross rate
100% fully automated EA
Passed 5 years backtests
Does not use any risky trading strategies, as Martingale or Grid
Compatible with any brokerage with GBPJPY
Can adjust to any market conditions
Does not include any additional fees
Easy 5 minutes setup
Runs on PC or VPS
The minimum lot size is 0.01 ($1K) and the required deposit to start trading with this EA is €200.
Price
The annual license of the Dragon expert advisor costs €199. It comes with full-time customer support, free updates, and installation files with a trading template.
The vendors also offer a 60-days money-back guarantee if traders decide that the robot is not for them.

The one thing we do not like about this EA is that the developers do not offer a free demo account as a trial copy of Dragon. Therefore, if you decide to try this EA, you won't have a chance to test the software before purchase.
Trading Strategy
Dragon expert advisor is a Forex robot designed for the GBPJPY cross rate. This MT4 tool uses a fixed stop loss function and takes profit levels combined with a trailing stop function. It uses support and resistance levels during a 9-hour trading window to place orders (it starts trading from around 830am GMT). It uses a time-restricted scalping approach that opens trading positions between 8 am UK time to 5 pm UK time. These positions may be carried over into late US time, but they will not hold into the Asian session.
Verified Results from Myfxbook
The developers of Dragon expert advisor provide us with 1 myfxbook account on their sales page. This is a real EUR trading account, which was created on July 11, 2020. It runs on the MT4 platform and trades with IC Markets brokerage with a 1:500 leverage.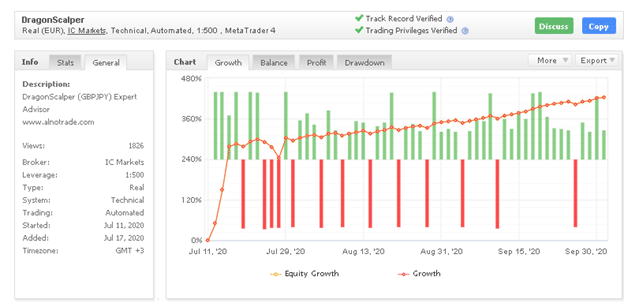 The account is showing a 423.23% return in just over three months of trading, most of this gain happened in the first month of trading. Its gain growth significantly jumped (from 0% to 278%) in the first 2 weeks of trading (July 11- July 17). Its absolute gain is over 55.39% with a daily gain of 2.01% and a drawdown of 13.87%. The drawdown performance is relatively stable and low, which means that the robot excludes high-risk trading approaches: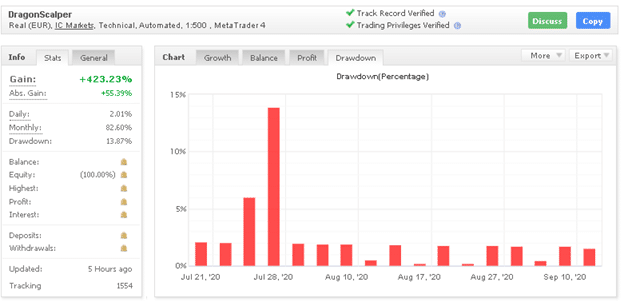 The EA has traded 57 trades with 373.3 pips. The average win in pips is 16.30, while the average loss is higher and equals -23.39 with the average trade length of 1 hour and 13 minutes. The profit factor of this robot is high and equals 2, 40.

Hidden Balance and Profit Charts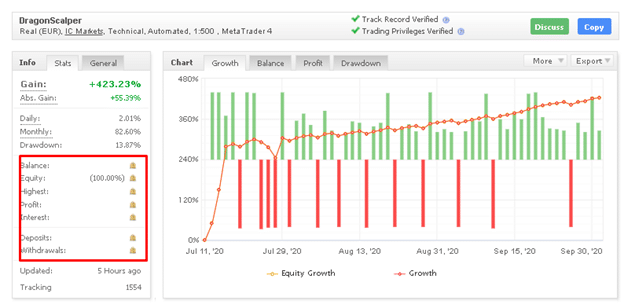 As you may see from the screenshot above, there seems to be a lack of transparency about the trading activity data of Dragon EA. The summary of data that shows the trade results of this expert advisor is hidden. Therefore, we cannot analyze what the initial deposit was, what the trading balance is, and how much money the robot has brought a trader.

Moreover, the balance chart and the profit chart are also locked: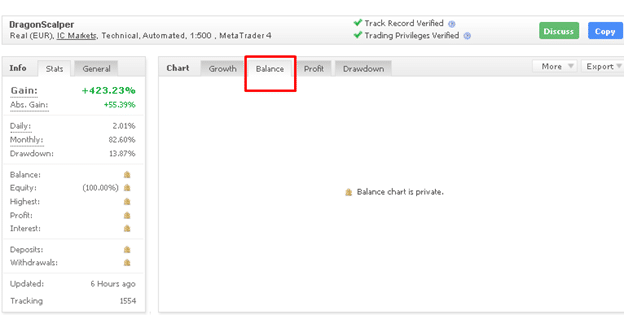 Locking this sort of important information can only mean a concerted effort to hide the trading performance of this expert advisor. There is a lot of useful and important information that can be deduced from a profit or balance chart. The key question must be asked: why do the developers try to hide this critical data from their public?
Dwindling Performance Since August
The screenshot below shows that when the robot started trading, its best monthly gain was in July and equaled 303,67%: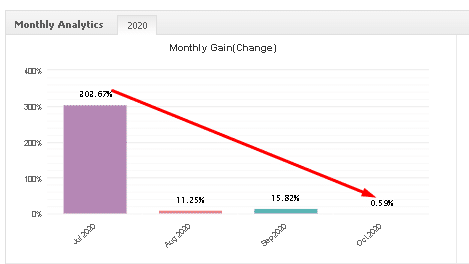 Since August 2020 the monthly performance data for Dragon EA has dwindled considerably. Long story short, we can assume that the developers of this trading tool decided to use this strategic approach to obtain a high gain in the first month and make a good first-time impression to attract their customers.
No Customer Reviews
Customer feedback is a vital instrument for us to offer up a quantitative review and analysis of any EA. Therefore, we appreciate reviews written on third-party websites as we have found that reviews on the official page might be manipulated, paid or concocted. Unfortunately, we have not found any review written by customers who had used Dragon Scalper.
Lack of Vendor Transparency
Dragon expert advisor was developed by the Alno Trade team, which claims to develop "WORLD LEADING EXPERT ADVISOR TRADING SYSTEMS AND SIGNALS DEVELOPED FOR THE METATRADER 4 PLATFORM". AlnoTrade has also developed EscalpX50 and DaxBotV2. On their "Meet Us" page, we are told about three main people on their team: Matts Korsen, Claire Hancock, and Michael McAlpine.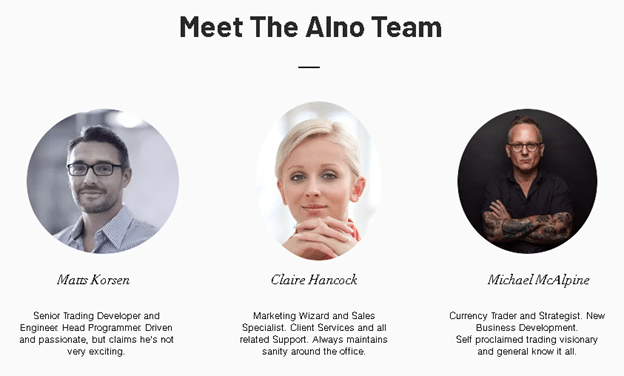 The photos they provide are not real photos, because Google search shows that they are stock images that are frequently used by other companies. We do not like that people who stand for Dragon Scalper EA are not transparent with their clients. It adds neither reputation nor trust to their brand.
To get in touch with support traders can email [email protected] or call +44 7555041451.