Standard FX is a website of a Forex trader that offers to manage accounts of clients interested in automated trading. Forex trading may be risky and unpredictable ups and downs in terms of currency value is a common thing for most Forex trading systems. Profits are not certain all the time. However, the developer of this managed account promises otherwise and claims that this trading tool can "realize 20% weekly" through trading "Forex, Bitcoin and binary accounts" on your behalf. This is a significant return, which means that we need to be quite skeptical because 80% of monthly return is quite unrealistic.
In this Standard FX review, we will find out whether Standard FX has the results to prove their claims.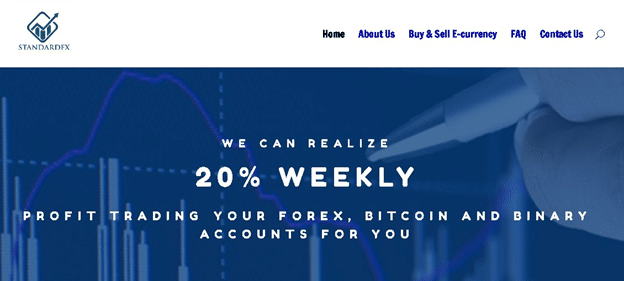 Is Standard FX a Good Choice to Invest Money?
After out throughout review, we have concluded that Standard FX is not a reliable and safe service:
No information about the developers
No trading strategy insight
No verified trading results on the website
Poorly organized website
No information about the cost of the service
High drawdown performance
Trading activity is hidden
Features
Our first impression of the website is not very positive. The website is poorly organized because it contains poorly placed advertisements and broken links. It lacks information about the developers and their trading strategy. They claim that they have a huge experience in the Forex market trading, but we cannot find any proof of that on their website. Their words about the product they are offering to the public are just water because it is a case when the creators mention something and do nothing to verify or prove their aggressive claims.
On the FAQ page, we have found that the minimum investment for Standard FX is $1000. They also point out that "the higher the capital, the higher the profit potential". Traders can open their account with any broker of their choice. The vendors also advise to "open a forex account with a broker that has a representative office in your country of residence".
They do not provide any information about the price of the service. Thus, you do not know how much you will need to pay for something you exactly do not know for sure.
No Trading Strategy Insight
In terms of trading strategy, the Standard FX team tells us nothing except the following statement: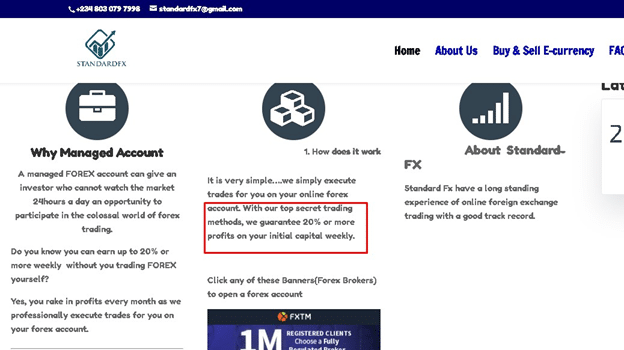 Long story short, they do not provide any information about their trading approach or methodology. Once again, the lack of transparency and product information details.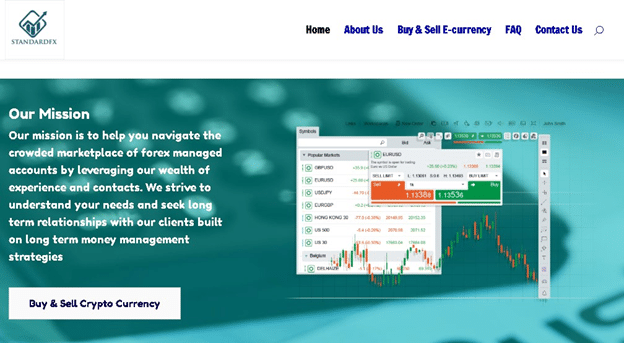 The vendor provides no information about their trading strategy insight and no information about who would be in control of your trading account once you hand it over. It looks strange and scary as you need to trust your account to an unknown organization located in Nigeria. It seems the same as if you hand over your funds to a passerby.
Trading Results
The trading results are what you expect to see from a service shrouded with so much mystery and unknown. However, the Standard FX team provided us with simple images taken from the MT4 application on someone's phone.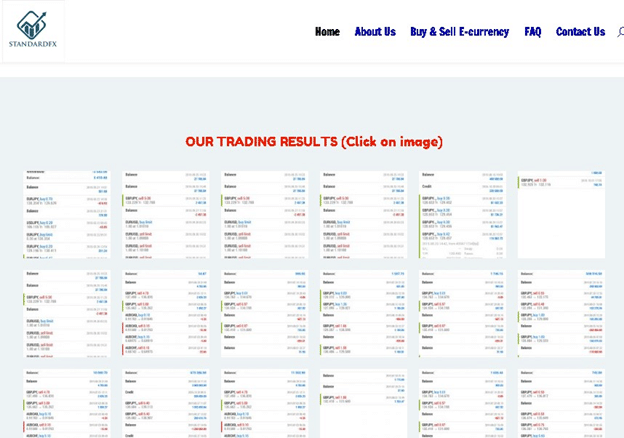 The results are not updated and show trading results from early 2018 and then late 2019 with no information between. There is no possible way to check the success or failure of the software because the vendor is simply showing trade results of accounts that are not explained anyway.
Verified Results from Myfxbook.com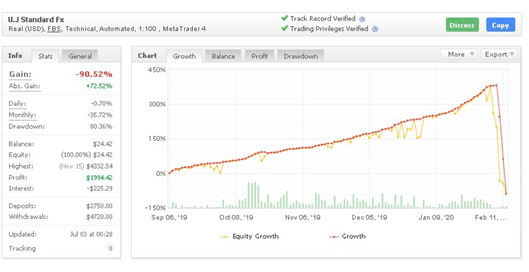 The account launched on September 06, 2019. It is working on the popular MetaTrader 4 platform with FBS brokerage. It uses USD currency for trading. Since its activation, the account has registered a gain of -90.52%. Its daily gain is -0.70%, while the monthly gain is -35.72%. It deposited $2750.00, withdrew $4720.00, and gained $1994.42 of profit. Currently, its trading balance is $24.42 only.
In comparison with January 2020, the monthly gain has dropped from 41,51% to -97,99% in February 2020: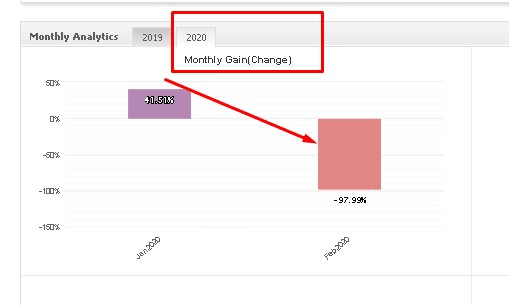 Although the account is active and we have noticed regular updates, we do not see any trading history data since February 2020. Why? What is the problem? Is it because of high drawdown performance that is equal to 80, 36%? High drawdown means risk of ruin that can lead to money loss.
Trading Activity Is Hidden
The developers of Standard FX do not seem to be very transparent because they have decided to hide their trading activity data (open trades and orders are hidden).

Lack of transparency is a red flag for Standard FX.
Lack of Vendor Transparency
On the "About Us" page, we have found that the Standard FX team is a team of "experts in the Forex industry". However, they tell us nothing about the names of people who respond to this managed trading system. Their head office is located in Abuja, Nigeria. We have no intention to judge the vendor for chosen headquarter location, but this part of the world is not known for being incredibly trustworthy. The vendors do not tell us anything about their "professional expert investors" or analysts. If the creators want to obtain more reputation and stand out in a highly competitive Forex market, they need to be transparent and provide detailed information about themselves, who is investing, and what type of trading experience they have in Forex trading.
To get in touch with support, traders need to visit their "Contact Us" page and fill in a contact form. In addition to this, traders can email [email protected] or phone +234 803 079 7998.