In this PowerfulForex review, we will be analyzing a new expert advisor, which promises to be more "like a sports car instead of hatchback". PowerfulForex is a new expert advisor, which is advertised as one of the best trading software able to bring up to 30% of monthly profit. Is this trading system as effective as advertised? Let's find out the answer.
Is PowerfulForex a Good Choice?
No. We do not recommend this trading software:
Only EUR/USD and AUD/USD pairs supported
Does not provide 30% of monthly profit
No back tests
No detailed trading strategy provided
High drawdown
High trading risks
Lack of vendor transparency
Features
PowerfulForex is a Forex expert advisor that works on a MetaTrader 4 platform. This EA works without indicators. It analyzes the ever-changing conditions of the market several days before it decides whether to enter or not in a trade. With the help of this strategic approach, it also calculates the take profit.
This trading tool trades with two different currency pairs: EURUSD and AUDUSD. Although these are the most popular currency pairs, it might be a downside for most experienced traders who operate on multiple currency pairs at the same time.
The devs of this EA claim that: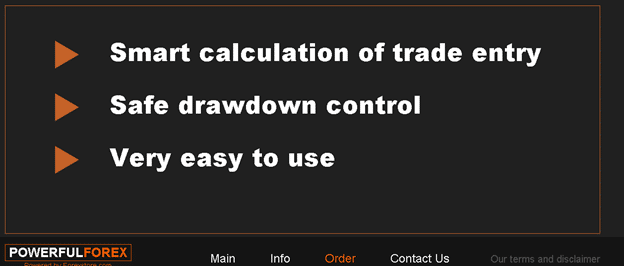 Price
Currently, this expert advisor is available to buy for $250. You can start trading with $340. PowerfulForex is an easy to use EA, so it won't be difficult to install the software even if you are a professional Forex trader. The software comes with a 30 days money-back guarantee, a user manual, an unlimited license of the EA for 1 MT4 account, free and regular updates, and full-time customer support.
Undisclosed Trading Strategy
The devs fail to provide any sort of their strategic approach and methodology. The one thing we know is that PowerfulForex EA uses recent history to determine new trade opportunities. It is not enough to move on.
Trading Performance Data
The good thing about PowerfulForex EA is that its vendors provide us with live trading results on their sales page.

Well, let us analyze what we see.
It is a real USD trading account, which trades through FXOpen without leverage on the MetaTrader 4 platform. It is showing a PowerfulForex trading performance from August 26, 2019, up until now. On August 26, 2019, a trader deposited $1500 onto its trading account. For 1 year, it has earned $336 only. Currently, its balance equals $1836.48.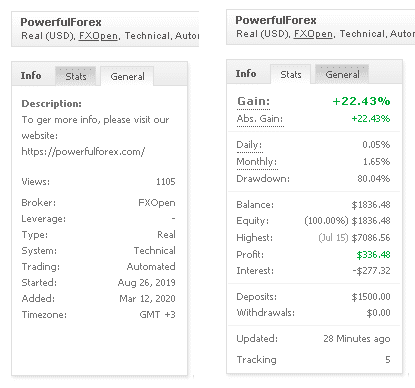 During this time, the software has gained nearly 22.43%. The robot provides a small monthly profit that equals 1, 65%, not 30% as is promised on the official website. Its maximum drawdown was 80.04%, but trading without leverage didn't zero the account.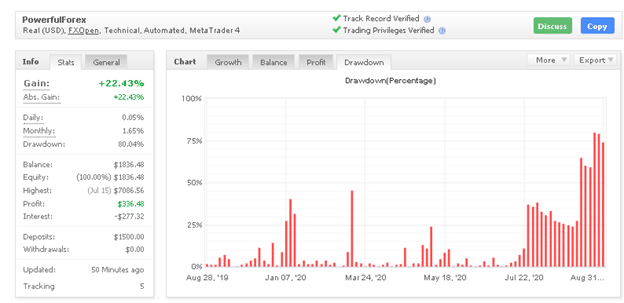 In general, drawdowns are high since July 2020 and are not lower than 20%.
Over 1 year, there have been 188 trades and 55 pips, which means traders can expect anywhere up to 9 trades per month. It is not a frequent influx of trades and with a trade length of 2 days, this frequency may not make sense for some traders.
Its average win is 33.67 pips and the average loss is -94.39 pips. Its profit factor equals 1, 02.

As you can see, the results vary depending on the currency pair.

The PowerfulForex robot trades every day, from Monday to Friday: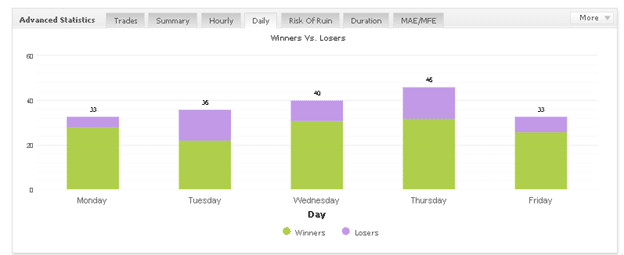 It runs with extremely high risks.

This EA works without fixing lots, increasing the size if needed.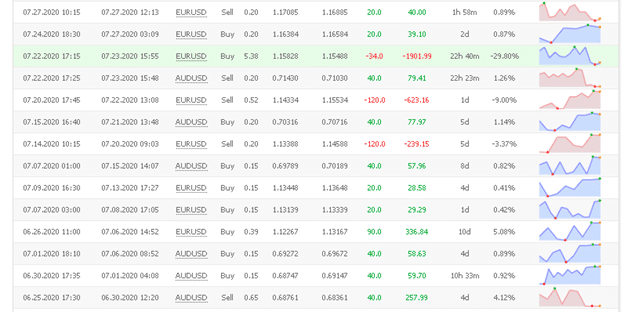 The last two months (July and August) are showing negative trading results: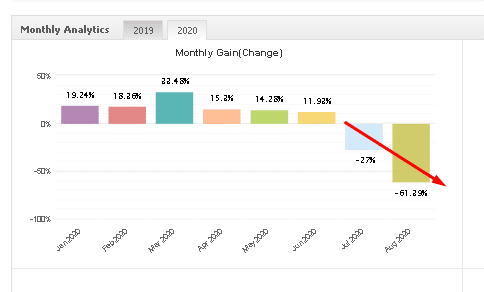 Vendor Transparency
We know nothing about the vendors, their headquarter location, or trading experience they have in the Forex marketplace. Therefore, we have decided to do additional research and find at least something about the developers of this product. As a result, at whois.domaintools we have found that their website is a private server with 9 websites hosted on it: forex-incontrol.com, forex-spectre.com, fx-builder.com, fx-secret.com, fxprocapital.com, fxstabilizer.com, fxadept.com, and fxcharger.com. This information is not mentioned on the PowerfulForex website. We would like the developers to provide more transparency because it will help them to obtain a good reputation and trust among traders.