FXSecret Immortal is advertised as a new Forex expert advisor, designed to provide traders with smooth and risk free trading experience. Its developers claim that their product offers the "best automated solutions for trading on Forex Market". Sounds great, but is it really as good as described?
In this FXSecret Immortal review, you will learn all about this expert advisor, its strong and weak sides. We will tell you as much as possible about this automated MT4 system and help you decide whether this EA is what you are searching for.
Is FXSecret Immortal a Good Choice for Investors?
FXSecret Immortal EA is not worth its price. The list of the cons tells for itself:
No strategies explanations provided
No back tests
High deposit required
High price
Very weak and unpredictable trading results
Low win rate and profit factor
High drawdown
Risky trading
No money-back-guarantee provided
Lack of vendor transparency
Features
This EA is advertised as one of the best expert advisors, designed to provide traders with high and stable income. Its vendors add that their product includes drawdown control, 3 different trading strategies, and risk control management. Traders can adjust settings of this EA according to their needs.

Extremely High Price
This trading tool is currently available to buy for $549. It comes with:

A minimal deposit to start trading with this EA is $1400 "for a reliable trading" and $700 "for aggressive trading."
Unfortunately, vendors provide no information about money-back guarantee on their website. We may only guess that they do not offer it to their traders.
No Trading Strategy Explanation
The devs tell us about 3 different strategies of their product. We know that it is possible to either combine these trading strategies or use all of them at once. They tell us that traders can modify the setting according to their needs. To tell the truth, no information provided on the sales page carries a significant meaning. We are not told what exactly leads in the principle of work of these 3 strategies. For us, it is just nonsense.

Trading Performance
The devs of this EA provide live trading results verified by myfxbook.com on their sales page. Let's analyze the trading performance of this EA to decide whether this flashing trading system is a worthwhile investment or not.
This is a real USD Cent account, which was created on May 27, 2013. FXSecret Immortal trades through Forex4you broker on the MetaTrader 4 platform. It is showing a gain of over 4033.52%, with a monthly gain of 4.29%. It has deposited $1863.80 and earned $20570.24. Currently, its trading balance equals $22352.06.
Its profit chart is unstable and we see considerable and unpredictable ups and downs that are not a good sign for safe trading: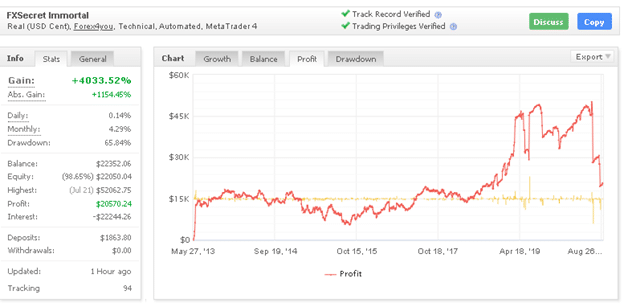 This EA has traded 2463 trades and 2230 pips. It has won 1330 out of 2463 trades, which represents 54%. Its risk/reward ratio is 1:1. Its average loss (-$301.17) is higher than an average win ($272.03). There is a question: what trading strategy should we use to increase the win-rate: strategy №1, strategy №2, or strategy №3? Alternatively, would it be better to turn them off and not to buy this robot?
Unpredictable Trading Results
When looking at the numbers briefly, we may say that the trading program looks extremely effective, but as in the case with all grid trading strategies, there're a lot of risks. From 2013 to the current days the robot has been constantly trading. However, in 2020 its trading performance changed and now it does not look as impressive as it was before: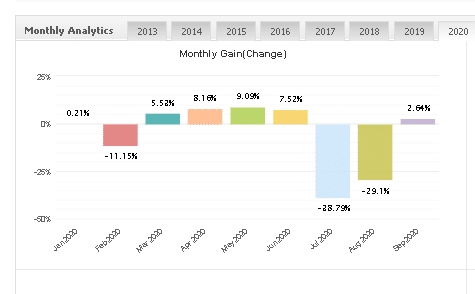 The system has lost -38,79% in July 2020 and -29.1% in August 2020. FXSecret Immortal EA trades completely unpredictably.
Some of the hours have got a very low win-rate.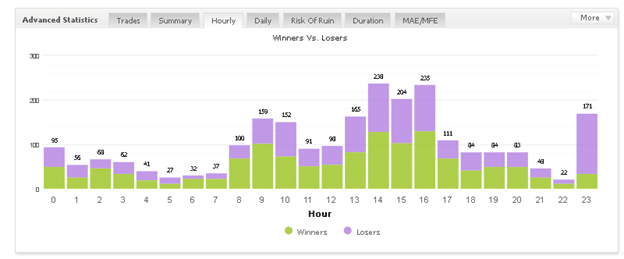 Trading With An Extremely High Risk
There is a high risk of ruin with over 90% chance of losing 10% of the account:

High Drawdown
We do not like that the system is showing a high drawdown which equals 65.84%: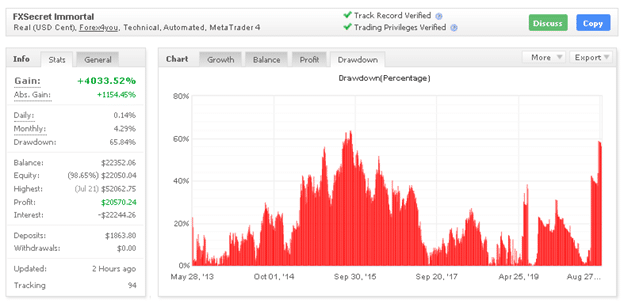 The screenshot above shows high drawdown performance and rapid vicissitudes from 8% to over 40%. Although the developers of FXSecret Immortal promise "drawdown control", the trading performance of their EA does not look as good as described:
Lack of Vendor Transparency
The company behind FXSecret Immortal EA was established in 2012. The devs add that they made the first steps in developing Forex EAs in 2009. Since that time, they have been constantly developing new expert advisors and representing them to the public. Oddly, but they do not provide any information about themselves or headquarter location.
To get in touch with support, you need to visit their contact page and fill out a contact form.