Pipbreaker promises to make your trading career better regardless of whether you are a full time trader or trading for extra income. The vendor also says that the tool is solid and able to deliver 90-93% of success rate. However, we have ascertained that these allegations are just hot air.
Pipbreaker: to trust or not trust?
Pipbreaker should not be trusted. Our thorough analysis of the system has confirmed that it is far from being profitable. The trading results have shown that it makes less than 1% monthly gains, and attains success rates that are lower than 80%. Furthermore, a handful of customers have attested to experiencing significant losses with the indicator.
Features
Pipbreaker is very costly as it is being sold at $249.99. This package includes a setup & installation guide and regular free updates, but a refund policy is not featured.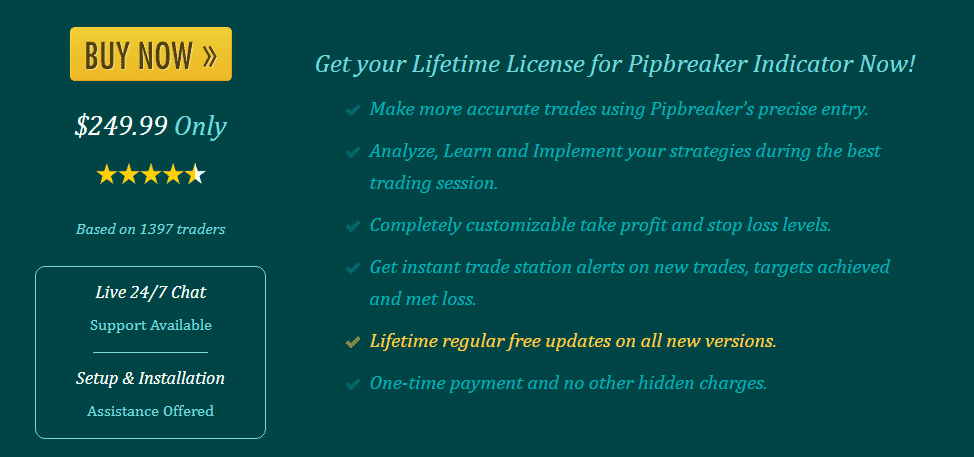 As a whole, Pipbreaker's features are well described as awesome. According to the vendor, it has a user-friendly design that is easily understandable. The indicator can also adapt to any trading style.
Disciplined trading is another listed feature. As such, the system allows you to apply proper stop-loss for every trade, making your account secure. Lastly, we have a friendly help team that is available from Monday to Friday, and can be reached through live chat or email. The devs will respond to you within 24 hours.
Since the team boldly claims that their product has a more than 90% win-rate, we expected them to proudly explain to us how it works to attain this kind of success. The lack of this info, thereof, makes us suspect that they are lying to us. In fact, our doubts were confirmed when the trading results revealed that the indicator executes grid and scalping methods.
Backtesting results
The vendor does not include any evidence of the indicator's past trades. Backtesting is vital as it measures the kind of trading statistics a system like this can produce before telling traders to commit any real money to the market. Since the backtest data is missing in this case, we do not know its statistical probability of success. For this reason, it would be reckless to invest in it.
Trading results
The vendor has not showcased the live trading results in their presentation as well. However, we came across a demo account that had been opened on Myfxbook.com to test Pipbreaker's performance in the live market. Although it is no longer active, it can help us comprehend the indicator's profitability potential and risks associated with it.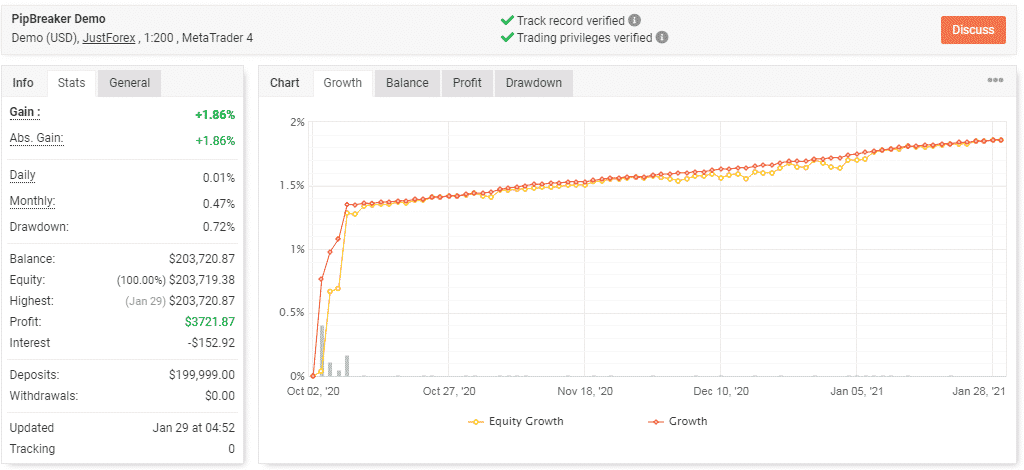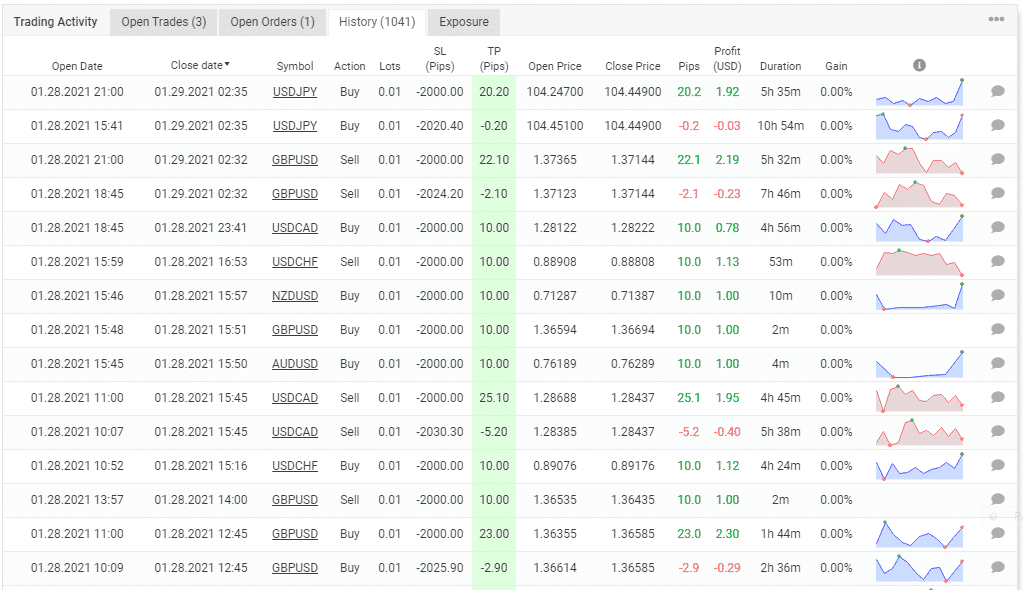 The trading results do not paint a good picture of the system's capabilities. For the three months the account was active, only a gain of 1.86% was made. Monthly profits were negligible—0.47%. Therefore, the deposit of $199,999 didn't grow much.
The system traded frequently as it made 1040 trades during this period. Nonetheless, the win rates for long and short positions, which were, 75% and 73% respectively, were not impressive. The indicator had a higher likelihood of losing trades than losing winning them. This is clearly illustrated by an average loss of -26.66 pips which was considerably higher than the average win of 18.26 pips.
According to the trading history, the system placed large stop losses of -2000 and above. Also, it preferred to trade using the grid trading style on short time frames.
Low drawdown
The drawdown of 0.72% was evidently very low. However, this is not good news. This risk was 1.5 times higher than the monthly gain. This means that the indicator received lesser rewards for every risk taken. So, if this trend continued, then the account would suffer substantial losses.
Vendor transparency
Pipbreaker is the product of WeTalkTrade, an online company that specializes in creating and selling Forex related products. The firm, which has its physical location in the USA, has been in the trading field since 2009. However, the professionals at work are anonymous.
Customer reviews
Credible user testimonials for this indicator can be found on Trustpilot. Nonetheless, it is important to note that the page is for WeTalkTrade, and customers mainly comment about the different products offered by this vendor. In this regard, several reviews caught our eyes. One is where a customer admits that the indicators provide many false signals. Another one says that the trades initiated by the signals provided made losses.