Only 5 out of 10 people know how to save money. The rest have to look for special applications that will help control costs. One such product is Mvelopes. It helps to keep track of the budget, quickly pay off any debts, and plan your investments for the future. Before you fully experience all the privileges of the application, you need to familiarize yourself with our Mvelopes review.
General information about Mvelopes
Mvelopes are considered one of the "oldest" financial products. It is a masterpiece of the eponymous company that performs its task well and ensures the smooth operation of the application. The firm has been on the financial scene for a long time, which is why it stands out with its broad client base. It does not conduct its activities too openly but does not experience problems with user trust. You can find a minimum of information on the official website, so you can only guess about the composition of the team that keeps Mvelopes up and running. Also, it was not possible to find data on the place of registration of the company and the location of its office.
The application is ideal for financial planning. With it, you can develop an individual monthly cost plan that will help you save a certain amount. Also, Mvelopes will be useful for people who want to establish the process of controlling their savings. The application is adapted for various operating systems. It can be used on almost any modern type of mobile device.
Mvelopes offers users three tariff plans. The first one is the cheapest (only $5.97 per month), while the second and third cost $9.97 and $19.97, respectively. Using inexpensive access, you will only have four accounts open and, at most, 25 envelopes for miscellaneous expenses. More expensive tariffs are the most functional. They remove any restrictions and also provide access to many valuable add-ons. In addition, for money, you can receive alerts, which everyone can configure on their own.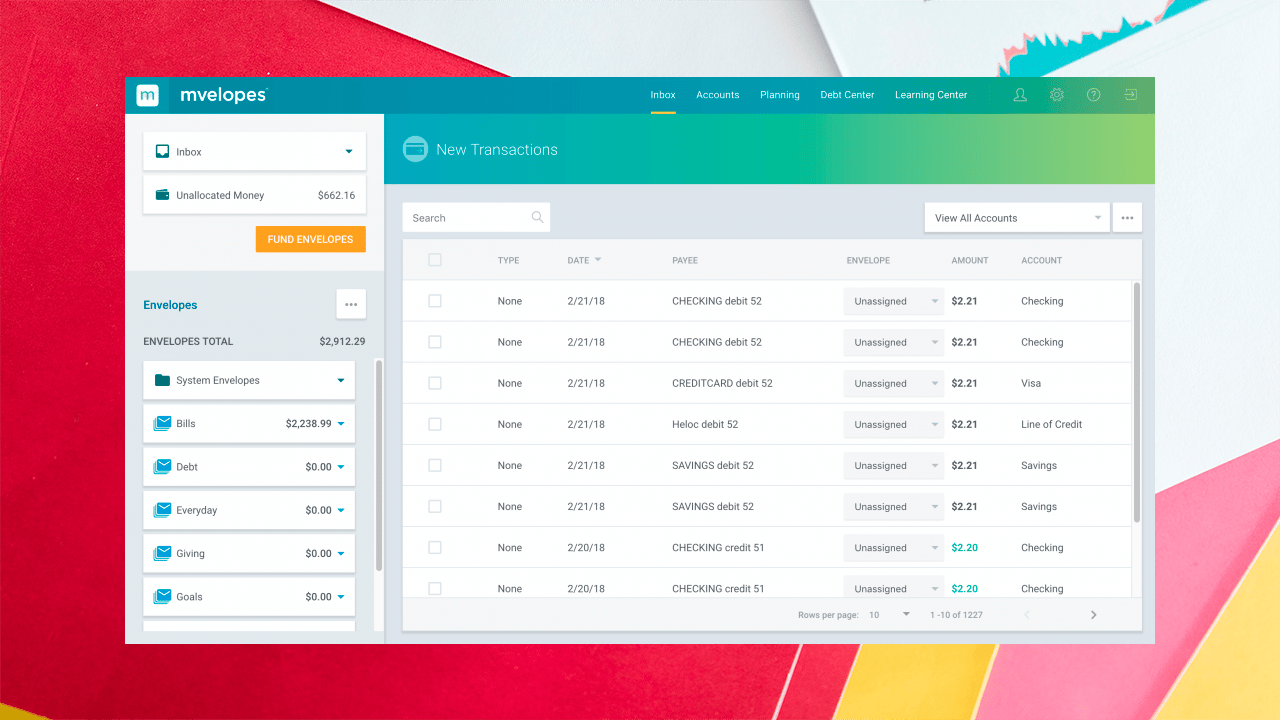 Important features
Mvelopes will become a real friend if you learn how to use them correctly. It is enough to follow a simple procedure identical to all cases of registering and setting up the application.
Procedure:
1. It would be best if you started preparing for the operation process by going to the website or downloading the mobile version of Mvelopes from one of the application stores.
2. After that, go through a simple procedure for creating an account. You will have to perform similar actions regardless of the path chosen initially.
3. Next, go to your account and choose an available tariff.
4. Pay the stipulated amount and wait for the verification of the payment.
5. At the next stage, adjust the settings.
6. Add bank accounts that you want to be displayed in the application.
7. Restart Mvelopes, and you can start using it.
All financial applications have a lot in common. At the same time, they retain their identity and differ from each other. To find out the differences between Mvelopes and other products, you need to study their features.
Main features:
1. Discounts. The developer allows each Mvelopes user to save some money. To do this, you need to pay one of the tariffs for the year in advance. In this case, the application cost will be $69-$199. Even for a person with minimal knowledge of mathematics, it is easy to calculate a good financial benefit in case of prepayment.
2. Application version. All customers who have paid for the application at least one month in advance can choose the optimal performance of the application on their own. For people leading an active life, a product designed for gadgets on iOS and Android is ideal. Select the web version if you are a homebody and prefer to work with finances in a relaxed atmosphere. Each of these options has slight differences in the interface. Because of this, users need to adapt to them in case of frequent device changes.
3. Customer support. The work of this service cannot be attributed to the advantages or disadvantages of the company. On the one hand, users have only one way to communicate with operators (e-mail). At the same time, representatives of the company work quickly, so you don't have to wait long for answers to inquiries. Customer support is only available on weekdays, so any request submitted on Saturday or Sunday will not be opened until Monday.
4. Safety. Mvelopes developers guarantee the security of storing users' personal information. It is achieved through the use of modern encryption methods, which practically exclude the ingress of any information to scammers.
5. Closing. The Mvelopes project closes at the end of the year (December 29). The motivation for this act remains a mystery. At the same time, the developers offer to switch to their other EveryDollar products. It is reported that it has similar functionality, so adapting to a new application will be as simple as possible. The transition will take place in a simplified 2-3 minutes. It's also worth noting that stopping Mvelopes will not prevent existing users from accessing the app. They will be able to continue to use it, only without the ability to receive updates and use the support services.
Advantages and disadvantages
Numerous Mvelopes reviews prove that this application is widespread. This was made possible thanks to two dozen advantages, the main of which we included in our list. Mvelopes have much fewer disadvantages.
Main advantages:
• adaptation to various operating systems
• possibility to choose a tariff plan
• broad functionality, even in an inexpensive version
• ease of use
• ease of drawing up a financial plan
• many settings
• a minimum of bad reviews
• wide client base
• simple interface
• the ability to view statistics
Main disadvantages:
• high prices
• lack of transparency
• closing of the project at the end of 2022
The Mvelopes budget app is a must for those who need to learn how to save and control their actions with money. This product will become an indispensable assistant and will simplify any financial transactions. Its correct use will open up new horizons and be as simple as possible.