It is always difficult to restrain yourself when there is enough money in the account. Because of this, many people overspend and then save to cover their expenses. Money Dashboard (MD) will help to forget about the occurrence of such a situation forever. This application will allow you to optimize costs and rationally manage your available capital.
General information about Money Dashboard
A review of the Money Dashboard starts with information about the application owners. They are Money Dashboard Ltd., which began operations in 2010. It is registered in the capital of Scotland (part of the UK), Edinburgh. This is where her office is located. The company has slowly progressed and achieved massive success in 2017. Then, her branded application was named the best financial product of the year in the UK. A similar title MD received two more times. Such achievements did not go unnoticed by ordinary people. They quickly mastered the app and joined the Money Dashboard community en masse. At the moment, it includes about 500 thousand people. During the application operation, all of them conducted transactions in the amount of more than 0.5 million dollars.
MD is quite simple but functional application. It is interesting because it allows you to store information about all your accounts in one place. This is very convenient since you do not need to open different programs one by one each time. Most often, MD is used to carry out financial transactions with their accounts. The application is also suitable for managing your capital and creating a cost optimization plan.
MD is a free application. Therefore, users do not need to pay for registration, installation, and operation. Also, MD does not have any commissions charged after a certain period. Despite this approach to work, the company is not at a loss. She earns from advertising and sells statistical data for various market research.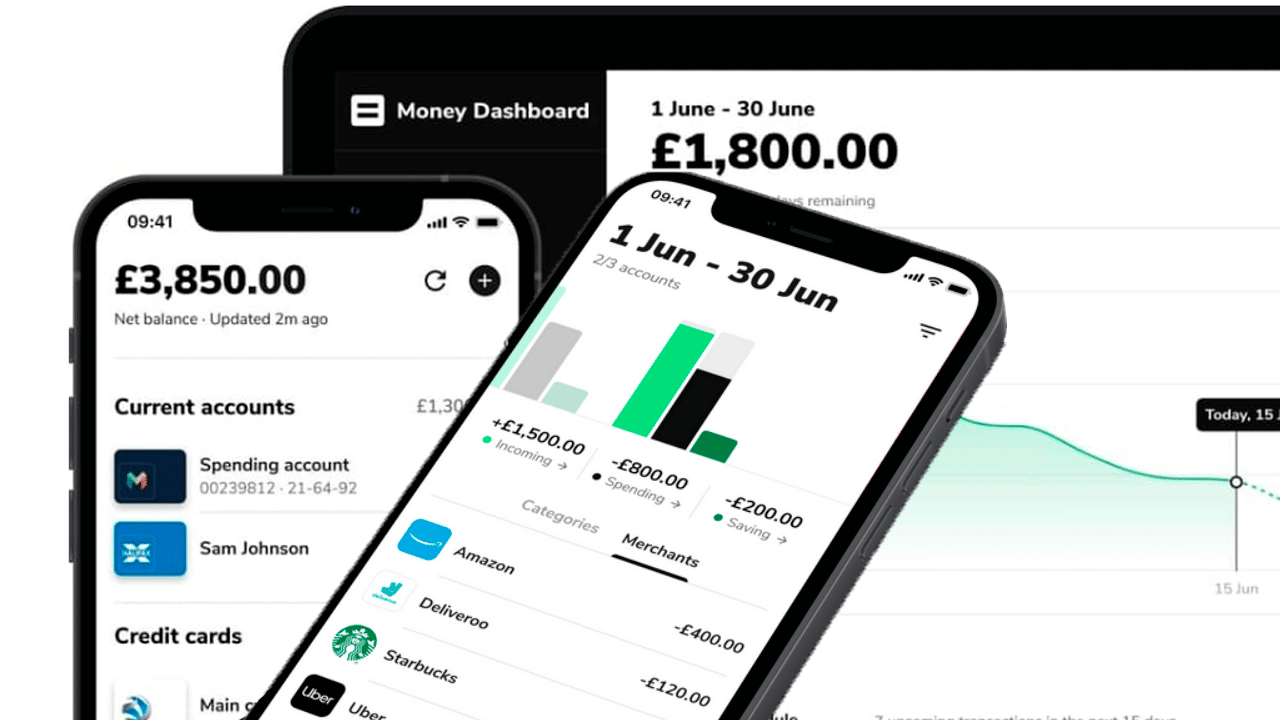 Important features
Using Money Dashboard will be much easier if you know how to do it in advance. It is pretty easy to get such knowledge. To do this, you need to read the step-by-step instructions that we have prepared especially for you.
Procedure:
Type Money Dashboard or Dashboard Money into the search engine and go to the company's official website.
Find "Sign up" on any page and click on this button.
A registration form will open in a new tab, which you need to fill with reliable data.
Next, click "Create account" and follow the link in the letter sent to the mail (to confirm registration).
In the next stage, choose which version of the application you want to use. If mobile, go to the app store, download MD, install it on your phone and log in to your account. In the case of using the computer version, it is enough to download the MD and go through the authorization procedure.
Go to the application settings and change everything that you don't like.
Save your changes and add financial accounts.
Confirm the accuracy of the entered data, and you can start working with the application.
The longer you use Money Dashboard, the more secrets you reveal. In some cases, this information lies on the surface, and users only need to study it carefully.
MD Features:
Customer support. This service at Money Dashboard works well. It quickly responds to users' requests, even for the most active application users. The companies can be contacted by telephone and e-mail. However, before applying them, you need to look for answers to your questions on the site. They are given several sections, so the chance to find helpful information is as high as possible.
Mobile version. In addition to the standard web version, MD has a mobile version. It is similar to a computer, so there will be no problems transitioning from one device to another. The application for mobile devices is relatively compact (small volume). It quickly downloads and loads into the gadget's memory. Once installed, MD mobile can be used the same way as the web application.
Safety. MD uses standard measures to ensure the safety of working with the application. In 99.9% of cases, they are enough to prevent account hacking and theft of personal user data. All this is proved by many positive reviews and reports from experts.
Referral program. At MD, it is implemented in a rather original way. To receive a special gift, you need to invite not one, but three people. In this case, the user will receive an Amazon gift card worth 15 British pounds. The company provides various promotional materials and a referral link to invite referrals.
Training. The app developer's website has a Blog section. It is replete with helpful articles written by financial experts. Such information will be indispensable for most MD users.
Advantages and disadvantages
In our Money Dashboard review, we included a separate item dedicated to the pros/cons of the app. The information presented here will be helpful for people who have not previously used this product. It will allow you to get a general idea of ​​​​the application and find the best option for its application.
MD pros:
• status developer
• wide client base
• large volumes of ongoing transactions
• high level of security
• many useful features
• simple interface
• universality
• no user fees
• many ways to visualize data
• availability of different versions of the application
Cons of MD:
· much advertising
· long setup
· sale of statistical data
If you have not learned how to rationally use the available money over the years of your life, then you need the Money Dashboard. This helpful app will help you plan expenses and track your budget. Using this product correctly, you can reduce unnecessary costs and save enough money to make at least one of your dreams come true.