MG Pro EA is a fully automated expert advisor, designed for smooth Forex trading. This MT4 tool has built-in indicators that analyze the market condition and place trades to provide traders with "4%-10% profit per week". The developers claim that their robot is the "most profitable Forex robot with live result".
In this MG Pro EA review, we will be providing detailed information on this expert advisor and telling you all about it to help you make the right investment decision.
Is MG Pro EA a Good Choice?
Taking into account that the software is only a month on the market, we need more time to monitor and analyze its trading progress. Until now we do not see the promised 4-14% of profit per week. Therefore, we will reserve judgment and wait for a while for this EA to provide more trading data to analyze.
Features
Although the SinryAdvice development team provides multiple different systems, we have decided to dedicate this review to MG Pro EA, which we see is regularly being advertised on Facebook. Moreover, we chose this expert advisor over others not because it has only an active ad campaign, but also because the team behind this trading system claims that it is their "most profitable EA".
The main features of this expert advisor are that the SinryAdvice team provides us with live myfxbook results, easy to install default settings, 2 licenses (1 Real and 1 Demo), and a trading strategy that is based on 12 different indicators. This Forex expert advisor is built to work only on the MetaTrader 4 platform.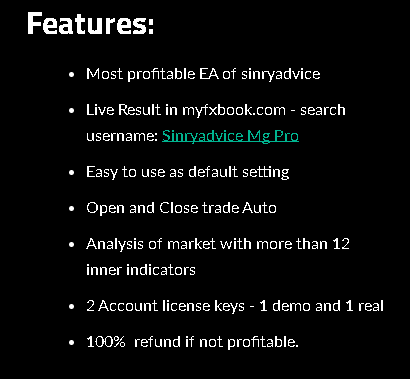 Pricing
The software is available to buy on the official SinryAdvice website. Now, it is being offered with a discount and costs $288 instead of $488.

The vendors also provide a detailed user manual of how to install the software:
This robot comes with a 14 days money-back guarantee, a 74% win rate, and 4%-10% profit per week.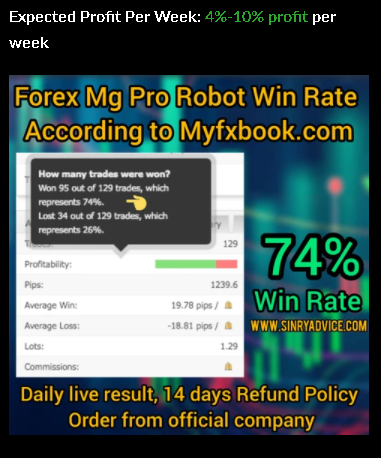 Trading Strategy

The devs of this MT4 tool believe that in conjunction with these 12 indicators and their trading strategy, MG Pro EA will possess more data than a human can, without any emotional decisions. Unfortunately, this is all we know about the trading approach of this Forex robot.
The vendors also provide some recommendations of how it is better to trade with their robot: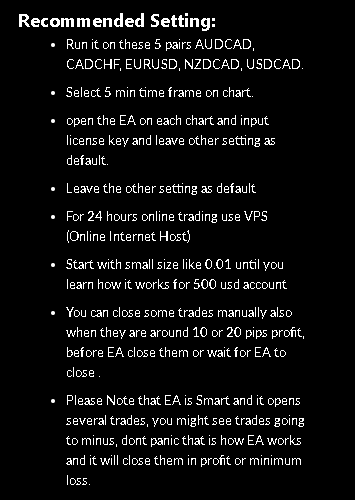 Overall, it looks good and we appreciate that the vendor provides this sort of information on their sales page. However, we would like to hear more information about their trading approach and methodology, as they failed to provide any real detail about their strategy.
Trading Performance Data
It is a good sign that the SinryAdvice team provides live results of their software on myfxbook.com.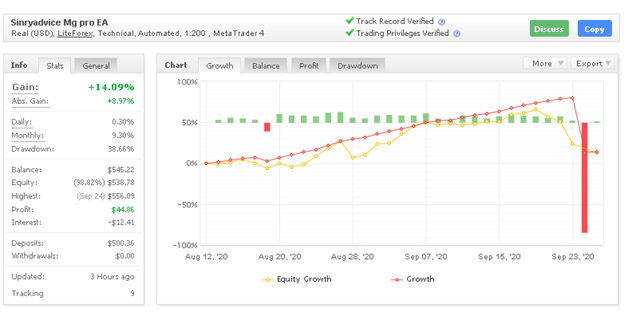 This is a Real USD account that is working on the MT4 platform with LIteForex brokerage and a 1:200 leverage. The account was launched on August 12, 2020. Its deposit is over $500 with a total gain of $44.86. Till the end of August it showed a gain of over 31% with a drawdown of 16,22%. From the beginning of September 2020 to September 23, its growth chart has rapidly grown up to 80, 05%. The next day, on September 24, it dropped from 80, 05% to 13,59%: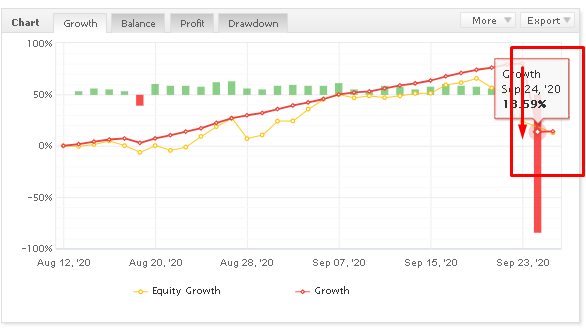 However, on the sinryadvice.com website, the developers explain us that this big drawdown of 38.66% was "due to updating the EA to new version":

For over 1 month of trading, the robot has traded 353 trades and 1281.2 pips with an average trade length of 1 day. It has won 232 out of 353 trades, which represents 66%. The average win is 21.50 pips, while the average loss is higher and equals -30.63 pips. The profit factor is small – 1,13.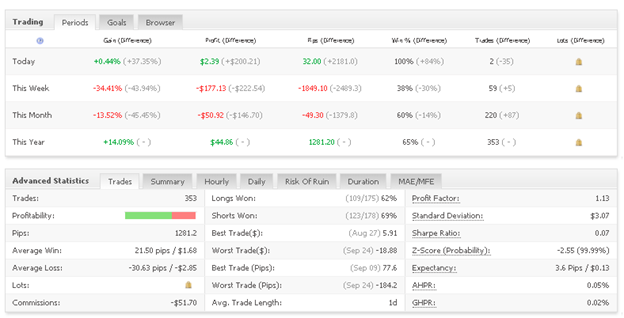 Trading Activity Is Hidden
We do not like the fact that the trading activity data is hidden because the main goal of providing a myfxbook account is to offer transparency.

The robot does not provide the promised 4%-10% profit per week. For over 1 month of trading, it has earned $44 of profit. We do not like the trading results of September 24, when a trader has lost approximately $200 of profit. What if it was a higher amount and a trader lost thousands of dollars because of the ordinary EA update? The developer should think about how to solve this issue to avoid the problem next time they decide to update their software.
Vendor Transparency
The team that stands for this expert advisor is SinryAdvice. It was launched on March 13, 2020. At the time of this review, they have only been producing Forex products for over 6 months. During this time, they have already created 6 robots (Super Expert Advisor, VIP Expert Advisor, Swing VIP, Speed Expert Advisor, Mega Trade, SFI EA) and 2 indicators (SFI Indicator, Scalp Pro Indicator). We need to say that it seems like over development and they need to focus more on old projects than on creating new ones and launching them into the business. Historically, developers who build out too many systems provide poor customer support and try to deal with updating each system to meet market conditions. We do not mean that this is the case in this scenario, but it is certainly something we need to point out.
SinryAdvice company with registration name of SINRY ADVICE WORLDWIDE is located in Malaysia. On their "About Us" page we are told that their team consists of 18 employees. However, they do not tell us their names.
To get in touch with support, traders can email si[email protected]/[email protected] or call +905363316029.