Kapola Trader EA is advertised as a powerful automated Forex robot that trades successfully, making insane profits for users. The system promises to attain an outstanding ratio of 3:1 for you. It plans to achieve this through its proven trading strategies that outperform the market. These claims are bold. Our review will help you determine if they are true or not.
Kapola Trader EA: to trust or not to trust?
The owners of this tool are using it to trade a live account on Myfxbook, a sign that they have faith in it. You will also see later in this review that the profits made are appealing. Even then, you need to be cautious with this robot because the grid and martingale approaches are part of its trading plan.
Features
We have listed the features of the EA below:
It's fully automated.
It handles trades intelligently.
The robot trades on these currency pairs: EURUSD, GBPUSD, AUDUSD, USDJPY, and NZDUSD.
The recommended timeframe is M15.
It obviously requires a computer with access to the internet.
It includes a trailing stop to secure profits.
The system is easy to install and use.
It provides 24/7 customer support
Kapola offers three packages for its potential customers. These include the bronze, silver, and gold plans. The first option is $99, the second one costs $149, and the last plan has an asking price of $249. The features available in these packages include real and demo accounts, an MT4 license, free updates, lifetime access, and a 30-day money-back guarantee.
The vendor claims that Kapola completes trading for you on autopilot by applying strategies and smart functions that increase the profitability of your account. The system works with Bollinger bands, CCI, and other indicators to monitor the current market price data.
The Bollinger bands are used to identify and compute an accurate entry point, and then place buy/sell orders. At times, the indicators identify multiple entry points so as to capitalize on profits. Moving averages are used to compute the exit point, while the CCI indicator verifies the exit from all trades.
Backtest results
Backtest results are not present. This is unfortunate as it denies the traders the chance to assess the EA's past performance and predict how it will work for them.
Trading results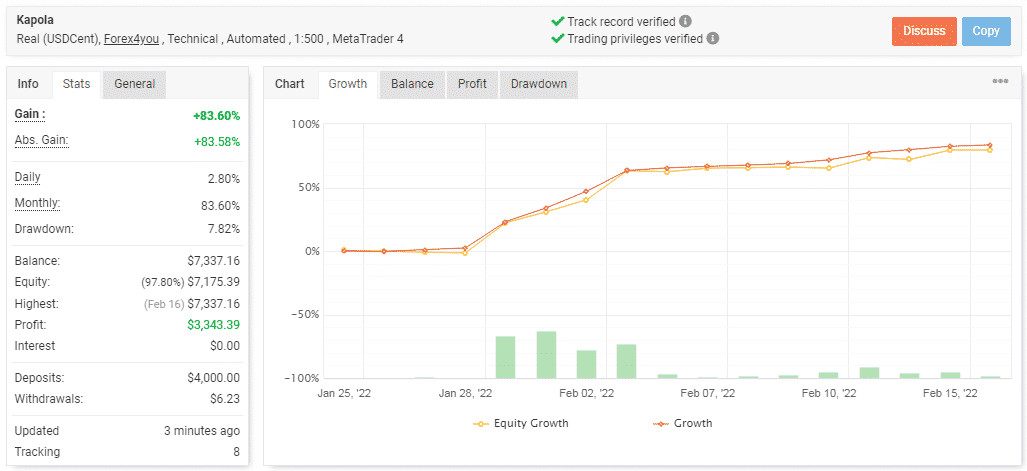 This account is less than a month old, and to date, the robot has generated a total profit of $3343.39 from a $4000 deposit. As a result, the account's value has risen by 83.60%. The daily and monthly profits are 2.80% and 83.60%, respectively. The current account balance is $7337.16.

The EA has implemented 751 trades with 36.44 lots. Up to now, the best trade has generated a profit of $230, and the worst one has lost -$46.24. The profit factor is 3.34, and we have win rates of 73% for long positions and 71% for short positions. Typically, a position is held for 15 hours and 31 minutes.

Monday and Thursday are among the busiest days in this account.

The EA doesn't work with the NZDUSD symbol as often as it does with the GBPUSD currency pair. The highest amount of profit recorded so far is $1871.70, and it was produced by the GBPUSD trading instrument.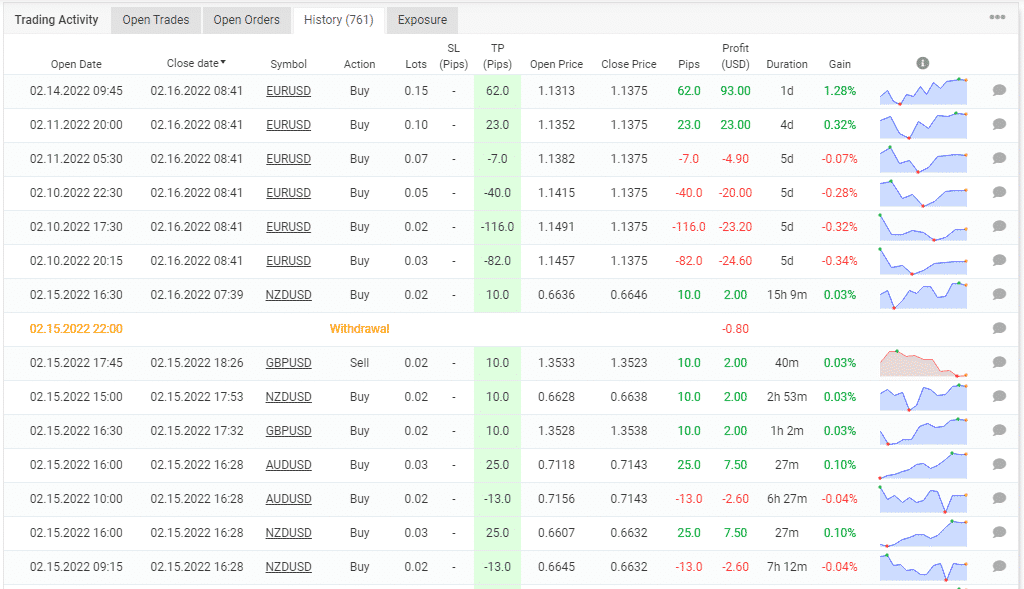 The system works with a combo of the grid and martingale trading techniques while attaching take profits to each order. Losses and profits have been made as a result.
Low drawdown
A low drawdown of 7.62% has been produced on the account. Being that the robot has traded live for a few weeks, it is too early to conclude that Kapola is a safe trader. We have confirmed from the trading history that risky approaches are used in trading. So, losses made may increase going forward and raise the drawdown. Only time will tell.
Vendor transparency
We don't know who the owner of this robot is. The devs keep mum about their identity. We usually like it when vendors provide the trading community with detailed profiles revealing who they are. This simplifies the work for anyone wanting to determine the reputation of the professionals they are dealing with. Furthermore, vendor transparency serves to enhance trust in a product.
User reviews
Kapola Trader EA has zero reviews on FPA. So, there's no way of telling if traders are using it to trade and whether they find its performance to be satisfactory or not.