RevenueBot allows traders to automate their strategies or use one of the ready-made algorithms in the marketplace. The company offers simultaneous trading on multiple brokers and claims to have 17312 bots live. To better understand how the service works, we will analyze it and detail all its pros and cons in this RevenueBot review. 

How does RevenueBot function?
Traders can develop their custom strategies using the available tools on the website. They do not charge for their service but use a profit-sharing method which is capped at $50 each month for the company's side. Investors have the option to subscribe for signals.
RevenueBot review – positive aspects
Time trading filters are available
Traders can track the signals
Multiple trading indicators for evaluating markets
Backtesting for up to 60 days
RevenueBot review – negative aspects
Charges a big 20% commission
Uses averaging mechanism and martingale
Development opportunities for more experienced traders only
Prefers using risky leverage
Time in business
The company does not provide any information on its inception in the market. The about us tab shows their emails and lists their location as A-5802-66, Flamingo Villas Ajman, UAE.
Reputation
The system has a total rating of 4.6 for 81 reviews on TrustPilot. One of the traders stated that they had terrible customer support and that the devs were not polite with them.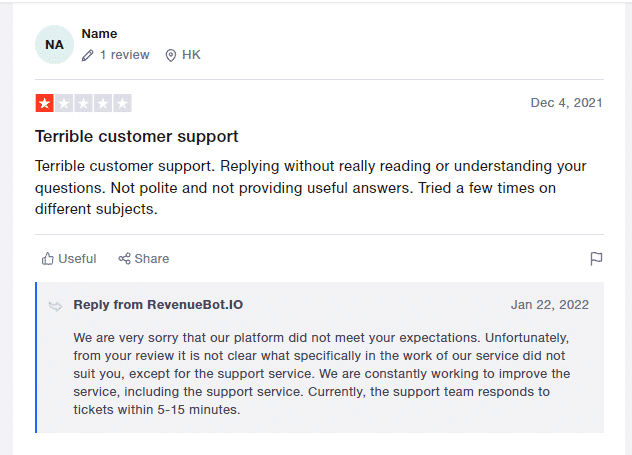 Supported exchanges
RevenueBot currently supports Binance, HItBTC, Kraken, Kucoin, OKEX, POLONIEX, BitFinex, BITTREX, CEX.IO, and EXMO as exchanges.
UI of RevenueBot
The company lists all the features of its service under multiple tabs of its website. Traders can view the supported algorithms and create their bots or purchase one of the signals. The user interface is average where some investors may find it challenging to get the correct information.
Key features of RevenueBot
The cryptocurrency bot has the following features:
Multiple indicators are available
Backtesting function
Custom algorithm creation
Many exchanges are available
How to get started on RevenueBot?
Traders can get started with the platform in the following steps:
Build your strategies on the website and backtest them
Connect with your exchange using the API keys
The algorithm will start trading immediately
How secure is RevenueBot?
BotCrypto does not take deposit and withdrawal rights from your exchange. It uses the API keys to connect and trade to your accounts. It deducts money automatically once it makes a profit on your account, which seems fishy.
Customer support
Customer support is only available through the email address. There is no information on the hours they are present to respond.
Are traders happy with RevenueBot?
There are mixed reviews present on TrustPilot. As mentioned before, most investors are not happy with customer support.
Pricing and fees
The platform charges a 20% fee for all the profits made. The total profit they can receive at any month is capped at $50. The earnings are depicted in the account balance.
Is a free trial available?
There is no free trial available with the algorithm. They state that traders can use the bot for free until it generates profits.
Languages supported
Currently, the platform is only available in English and Russian.
What kinds of traders is RevenueBot best suited for?
RevenueBot is best for traders who use risk averaging and martingale strategies for quick profits. Risk is proportional to reward.
Company information
The company is not transparent on their whereabouts in the market. As mentioned before, they only detail their address as A-5802-66, Flamingo Villas Ajman, UAE.
RevenueBot verdict: should you get it a try?
RevenueBot is a simple platform that works via profit sharing. For investors with low capital, this can eat up their gains. There is no free trial available which makes it impossible to test their algorithms before purchase.