Reverse GRID Bot is a fully automated trading robot that can trade on multiple cryptocurrencies. The algorithm follows a reverse grid strategy using the base currency to monitor the bot revenue. The algorithm is free to use with relatively low trading fees and can be configured easily without coding skills. This review aims to find the profitability and reliability of this algorithm to give you an idea if this platform is worth trading in 2022.

How does Reverse GRID Bot crypto bot function?
The bot profits from the market by selling short. During the market decline, traders can use the reverse grid strategy to get a hold of more coins until the market is back to normal.
Reverse GRID Bot review–positive aspects
Easy setup method
It comes with advanced settings such as stop loss, take profits, and many more
24/7 automated trading
Low trading fees from Pionex
Reverse GRID Bot review–negative aspects
It is only possible to create the Reverse Grid Strategy with the ETH coin

Time in business
Pionex has been in the market for 1072 days and executes over 100 million trades daily. The company holds a monthly trading volume of $5B and has clients in 100 regions worldwide.

Reputation
Pionex is famous among well-reputed bloggers and is partnered with big cryptocurrency exchanges and enterprises such as Binance, Circle, Coinfirm, Sumsub, Simplex, and Banxa.
Supported exchanges
The algorithm is backed by a well-known cryptocurrency exchange Pionex.
UI of Reverse GRID Bot
Reverse Grid Bot is user-friendly and comes with a detailed strategy explanation. There are multiple language options available on their website.
Key features of Reverse GRID Bot
Following are the key characteristics of the algorithm:
Easy setup
Slippage control
Trigger price
Offers configuration according to your requirements
Ability to set a custom stop loss and take profit
How to get started on Reverse GRID Bot?
Users must follow the following steps to get started with the Reverse GRID Bot:
Sign up on the Pionex website by entering your email and password
Select the desired product from the list of available algorithms
Choose a coin and period for your investments, e.g., weekly, hourly, or monthly
Enter the amount of investment
Initiate the bot

How secure is Reverse GRID Bot?
The platform requires a 2-factor identification method to access the account. The funds are kept safe within the Pionex exchange and only the trader can approach them. There are no chances of a potential hack with the security measures in place.
Customer support
Traders can contact the author in multiple ways, including email, live chat, Telegram, etc. There are numerous videos available, along with an online blog to help with learning more about the platform.

Are traders happy with Reverse GRID Bot?
The enterprise has a rating of 4.2 based on 279 feedback on Trustpilot. One of the traders comments that the company provides an amazing support service.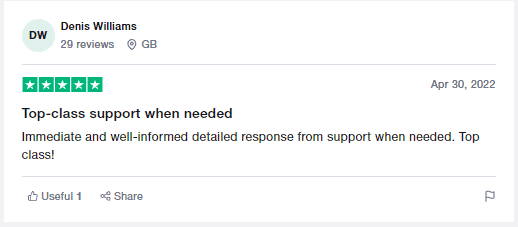 Pricing and fees
Reverse Grid Bot is free of cost. The Maker/Taker fee is 0.05% with no hidden charges.
Is a free trial available?
Investors can use 16 built-in trading bots on the Pionex platform for free. Each has its unique settings that can be configured easily.
Languages supported
Multiple support languages are available, including English, Turkish, German, French, Deutsch, Spanish, Chines, Russian, Arabic, Indonesian and Portuguese.

What kinds of traders is Reverse GRID Bot best suited for?
The platform is suitable for both beginners and professionals. It is quite easy to use and has multiple built-in settings catering to the needs of all.
Company information
Pionex started working in 2019 and has its head office based in Singapore. The BitUniverse team manages the company. The executive director is Larry Toh, whereas Robert Morris is its global chief of compliance. It holds an MSB (Money Services Business) license issued by the US FinCEN.