Happy MartiGrid is automated trading software, promoted as a stable and sophisticated Forex robot. The developers of Happy MartiGrid inform us that their EA "uses martingale/grid strategy". Stability, reliability, and safety are not associated with martingale, and this is certainly something we will keep in mind throughout our Happy MartiGrid review. We will analyze this trading tool and decide whether "99.90% optimization in MetaTrader for the best stability and profits" does work or it is just a myth. Our team will review the website and analyze verified trading account on myfxbook to see if any important aspects are limiting the risk of ruin and helping traders avoid the potential blown account.
Is Happy MartiGrid a Good Choice?
After a detailed review of this EA, we have decided to give this software a good mark. However, users should be especially careful and attentive because of the martingale and grid strategies used by this system.
Moreover, we would like the developers to provide:
information about themselves, their location, and trading history in the Forex market

detailed trading strategy insight

description on how they are mitigating risks of martingale and grid trading approaches
Martingale and Grid Strategies
The developers of Happy MartiGrid combine martingale and grid strategies, which require a lot of attention and constant monitoring. We assume that it means that traders need to manually intervene with the strategy frequently.  It is not a characteristic feature of Forex robots, because their main goal is to provide automated trading with minimal or no human intervention. The developers only mention that they do use martingale and grid strategies, but do not explain how exactly their strategies work in details. We would like to see how the vendors are mitigating risks of such dangerous martingale and grid trading approaches. Otherwise, this EA cannot qualify for good robot status.
Good Overall Trading Performance
The developers provide both backtests and verified myfxbook results on their website. Let's jump to the live myfxbook trading results.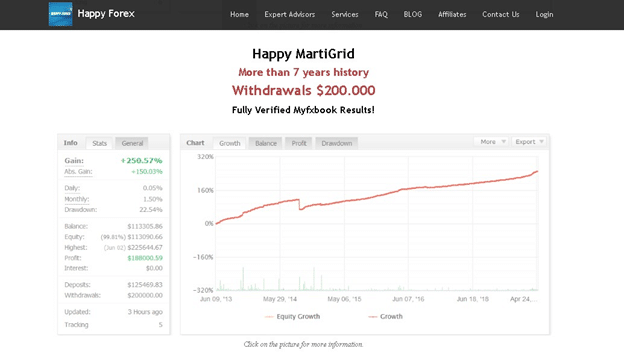 The screenshot on their website is clickable and frequently updating. Let's analyze it.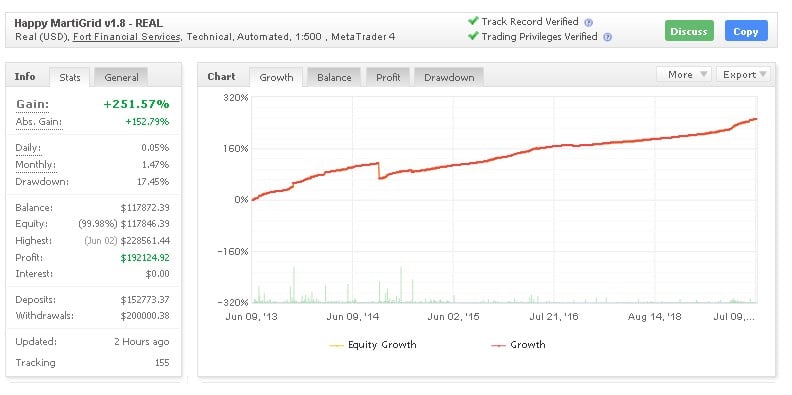 This is a Real myfxbook account, which works on the MetaTrader 4 trading platform with Fort Financial Services brokerage. Happy Martigrid trading account has been running since June 09, 2013. It is showing a gain of +251.57% with a drawdown of 17.45% over the curse of 7 years. The user of this trading account deposited $152773.37 and withdrew $200000.38. Currently, trading balance is $117872.39 with a profit of $192124.92. This trading system has won 2429 out of 3200 trades, which represents 76%.

During 7 years and 1 month, the software has placed 3200 trades. Its average win is 26.50 pips while the average loss is72.48 pips. The average trade length is 2 days and the profit factor is 1, 76 (this is an optimal trading result).
The one thing that is negative in the Happy MartiGrid system, is that the majority of trades have happened from 2013 to 2016. From 2017 to 2020, the robot has been very stable but its best monthly gain of 4,06% was in March 2020:


In 2013, the software was gaining anywhere from 2, 92% to 17, 15% per month.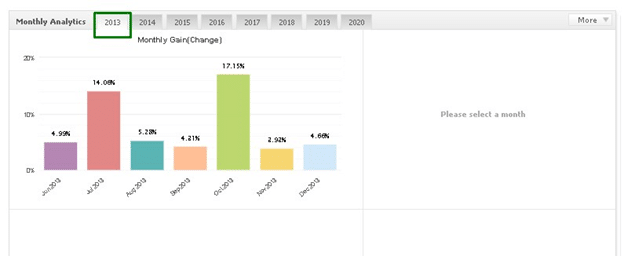 This gain rate has dropped over the years. However, the good thing is that 2020 is showing better trading results in comparison with the last 3 years. We hope it is just a beginning and the trading results will be better till the end of the year.
Vendor Transparency
This automated trading tool was developed by HappyForex.de, an expert advisor developer who believes that their 9 products can provide traders with stable income. Some of their products include Happy Breakout, Happy News, Happy Frequency, Happy Gold, and many more (see the screenshot below):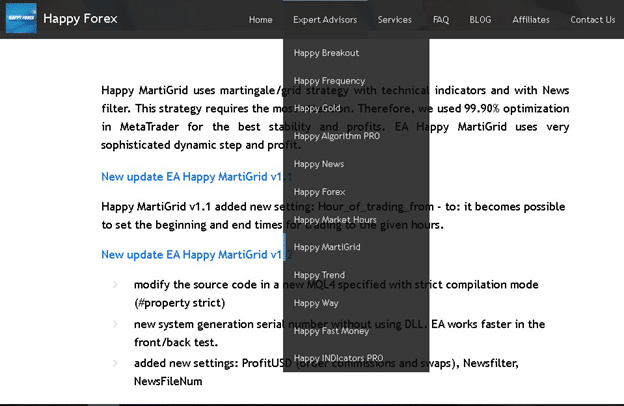 We appreciate that the team offers different trading strategies. However, it is strange that this vendor does not provide any information about himself, his team, location, or trading history in the Forex market. In case traders want to get in touch with support, they need to move to the "Contact Us" page ad fill out a contact form. There is neither phone number to call nor direct email address.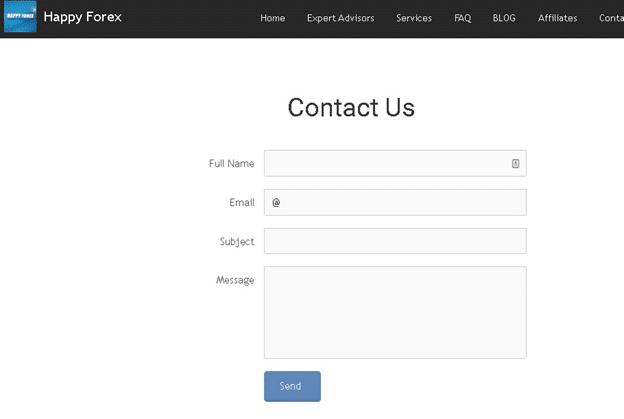 Vendors who want to stand out in this highly competitive Forex market try to as open to their clients as it is possible. Hiding personal data and trading history is not a good sign of reliable vendors who can be trusted.