Celestial Trading Tools is a robot with copy-trading functionality. It is an automated trading provider with global EAs, designed to help traders take control over their future. The developers of Celestial Trading Tools tell: "Celestial provides the right guidance and tools for you to get started in the world of Forex and Automated Trading". The creators of this trading tool put a premium of verified myfxbook trading results, customer testimonials, and client results that is very important to us to make the right and accurate Celestial Trading Tools review.
Is Celestial Trading Tools A Good Choice?
We have conducted a detailed Celestial Trading Tools review and concluded that this software cannot be trusted.
Our verdict is based on:
Lack of information about their trading strategy

Verified trading results show bad statistics

Transparency factors

High drawdown

Lack of vendor transparency
Lack of Information About Their Trading Strategy
According to the introduction of Celestial Trading Tools, this trading software is based on "complex mathematical analysis within preset parameters to execute trades". Strange but the devs do not provide any screenshot or detailed information about approach or general methodology of this copy trading tool. Although the developers talk about their transparency on their website, it is surprising they do not provide any information about their "pre-programmed strategies and equations".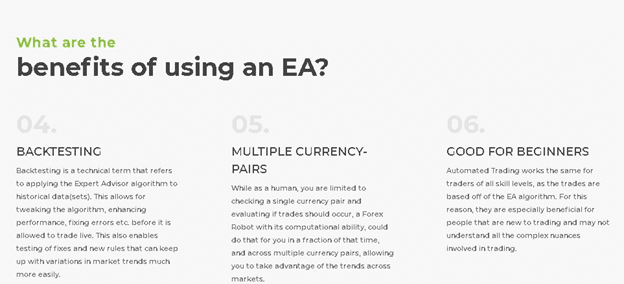 Today vendors do their best to provide their users with detailed trading strategy insight. It is not very important for traders to make successful trades, but also to build reliable and truthful relationships with clients for vendors. Thus, we would like the developers of this copy-trading tool to provide a high level of detail about the trading strategy of Celestial Trading Tools.
Verified Trading Results Show Bad Statistics
Celestial Trading Tools is one of a few websites that provide accurate and detailed analyses of live myfxbook verified trading account on their official website.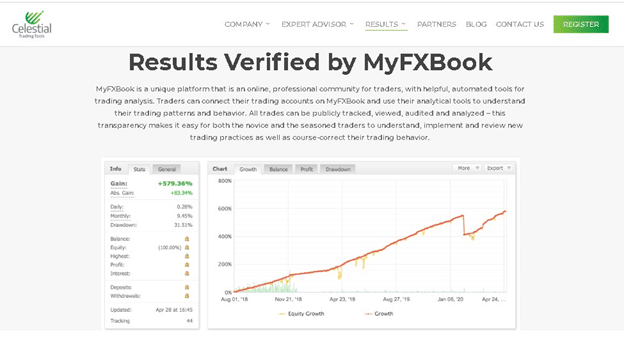 However, it is strange that the developers provide only 1 myfxbook account because they mention several strategies and signal providers. We would like to hear why it is so and ask them to show us the exact steps on how to recreate their profits instead of working on their strategies and analyzing them from scratch on our own.
So, as was mentioned above, the developers of Celestial Trading Tools had provided myfxbook account on their website. We are going to discuss its trading performance from April 13 2018 to 28 April 28, 2020. Let's analyze what we see: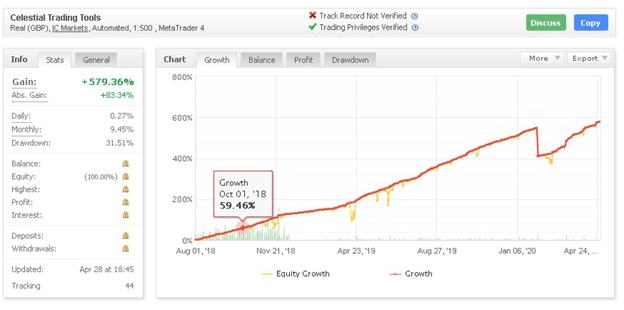 This trading account works on the popular Meta Trader 4 platform with GBP currency pair. The Celestial Trading Tools account is showing a +579.36% gain with the absolute gain of +83.34%. From April 2018 till April 2020 the system has placed 3378 trades with the best trade 219.0 and the worst one -212.9. The average trade length is 13h 40 minutes for a gain of over 10947.2 pips.  The profit factor is 1.95 with the average win of 14.40 pips and a higher average loss -14.58 pips.

The screenshot above shows that a lot of important trading data is hidden. It raises many questions about their transparency.
Transparency Factors
A lot of useful data that is hidden. There seems to be a lack of transparency about the real trading performance of Celestial Trading Tools.  The developers decided to keep open orders hidden. Moreover, the Balance Chart, as well as the Profit Chart, are hidden too: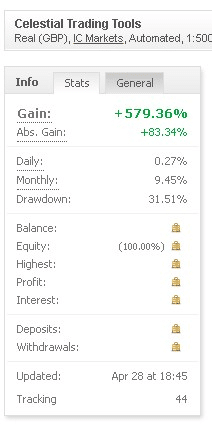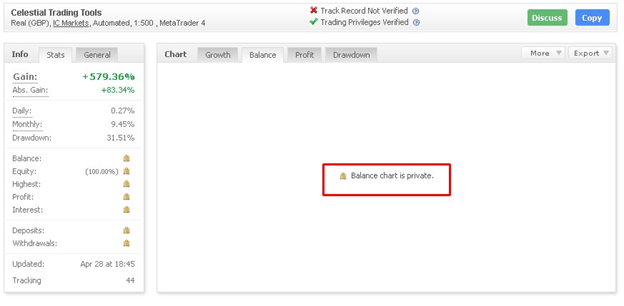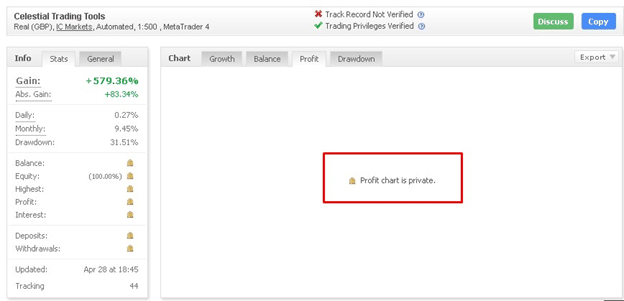 Locking of such critical data can mean that the developers do not want to show information about the performance of the software. There is a lot of useful information that can be deduced from a profit or balance chart. It is very strange why they have decided to hide this important data. This is a red flag for Celestial trading Tools.
High Drawdown
Its peak drawdown is 31.51%: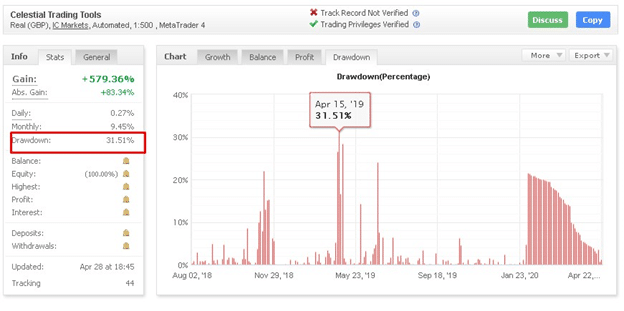 High drawdowns can increase the risk of ruin and destroy any trading account. However, we have noticed that the drawdown chart shows gradual fall of drawdown, which started on Jan 31, 2020, and has been continuing until the end of April 2020. It looks well, but we cannot say for sure that rapid vicissitudes in terms of drawdown performance will not happen again.
Lack of Vendor Transparency
Although the developers of Celestial Trading Tools explain their main goals in the Forex marketplace, they do not provide any information about who they are, where they are located or what type of trading experience they have. We know nothing about people who stand for this trading tool. Thus, it would be great if the developers of Celestial Trading Tools were more transparent in these areas.
At whois.domaintools.com we have found that Celestial Trading Tools was launched on December 13, 2018. Their IP location is Maharashtra – Mumbai, India.