Getting professional assistance from a Forex robot is the most demanding thing by many traders. Robotic trading involves fully automated procedures, which exclude or limit human intervention. Spy FX is one of the automated trading systems, which is designed to help traders that do not have enough time or skills for trading themselves. The developers of this copy signal service believe that the Forex market allows people to generate life-changing returns daily and their Spy FX software is one of the best solutions that provide traders with direct access and "the needed peace of mind that comes with automated trading".
In this Spy FX review, we will analyze this Forex software and decide whether it is a good investment for traders.
Is Spy FX a Good Choice?
Spy FX has a lot of advantages as well as disadvantages. The myfxbook results show good and impassive trading performance.
However, there are a few things that have a negative impact on the SPY FX presentation:
No detailed information about the work of their trading strategy

No verified results on their website

The required deposit is high – +$2000

High drawdown

Lack of vendor transparency
Features
The developers of this trading system have decided to create Spy FX to help those traders who are the less fortunate. They say: "Over 96% of new traders abandon their accounts within 12 months". Therefore, they have decided to develop an automated trading software, which offers traders the opportunity to link their trading account to SPY FX master account. This means that it is not a traditional Forex signal, but more the managed Forex account that takes advantage of fully automated trading.
Spy FX developers want to pay attention to 7 trading features: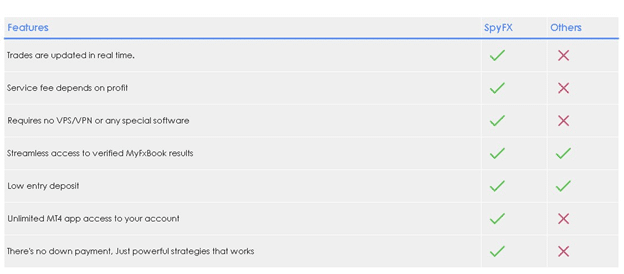 All the above-listed features are very important elements, but one that interests us the most is "streamless access to verified MyFxBook results". With that being said, let's jump to their trading results.
Trading Results
In the features section of this Spy FX review, we have mentioned that the developer promises to provide access to verified MyFxBook results. Yet, in reviewing the entire webpage, we have been unable to find any trading account.

The developers of this trading system provide 3 statistics:

They also show their equity chart, which shows us that the strategy has increased the trading account by over 90%. This chart has been running from September 1, 2017, to May 1, 2019, which means there are no equity chart statistics from May 1 2019 to July 14, 2020, when we are writing this review.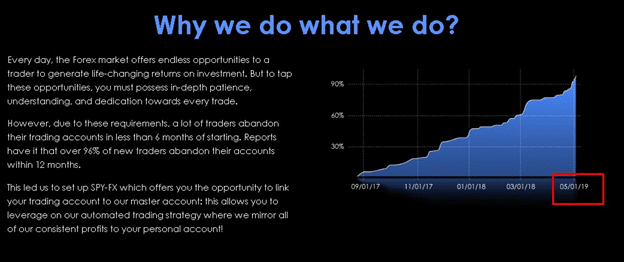 The screenshot of the equity chart cannot be verified, as this is only an image and claims unverified by statement sharing services.
Trading Strategy
On Spy FX "Trading Strategy" page we have found that the team of this automated tool is "focused on the most profitable way of minimizing risk known as Dollar Cost Average". They add that they focus on 3 main currency pairs "EUR/USD, GBP/USD, USD/CHF" that offer them consistent profits. Thy ue "Dollar Cost Average" strategy. According to their claims, this trading system allows them to minimize risks.
The more interesting thing we have found on their trading strategy page is an equity chart, the same one with the same graphic which is shown on their homepage. The difference is only in dates (05/01/18 and 05/01/19):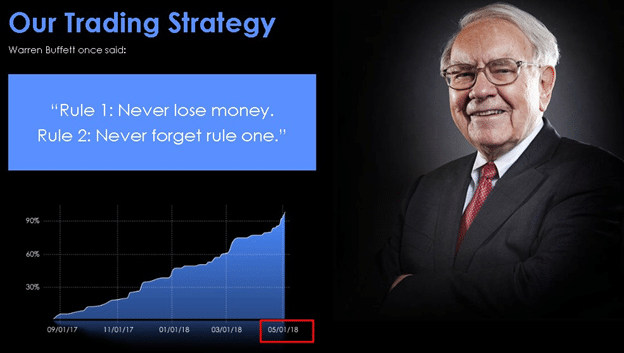 It is strange. This huge mistake only proves the fact that this equity chart cannot be verified or what is worse, it does not show real trading results. This is a red flag for Spy FX.
Verified Trading Results
Although the developers do not provide verified trading results on their website, we have spent some time to find the one at myfxbook. Now, let us analyze it.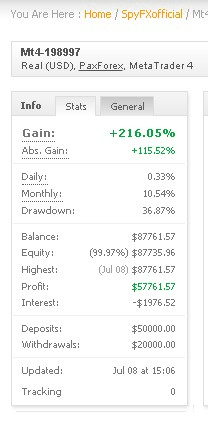 Spy FX account started trading on July 30, 2019. This is a real trading account that works on MetaTrader 4 Platform with PaxForex broker. It is trading EURUSD, GBPUSD, and USDCHF currency pairs. Since July 30, 2019, it has placed 30252 trades and won 21044 out of 30252 trades, which represents 70%.
The account is showing a gain of +216.05% with a drawdown of 36.87% over the curse of almost a year. High drawdown is very risky for any trading account because it can increase the risk of ruin.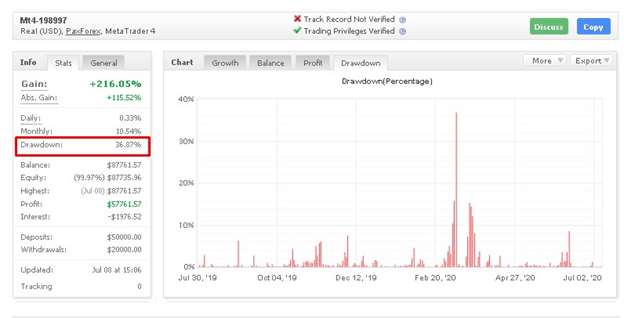 The user of this trading account deposited $50000.00 and earned $57761.57. The average win is 9.50 pips, while the average loss is three times larger -27.16 pips, which means a risk-reward ratio of 3:1. Although the risk-reward ratio is 3:1, it shows quite impressive trading results. The average trade length is 9 hours and 58 minutes, and the profit factor is 1.73 (optimal result).


High Capital to Operate
Those who want to start trading with Spy FX need to deposit at least $2000 into their trading account. However, the developers of this automated tool recommend at least $10 000 to get started.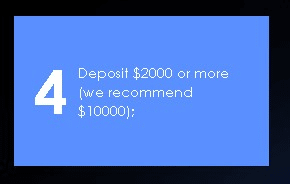 They add that if the traders deposit 10K dollars, they will have "less ROI and less risks".

For some traders, especially for newbies, investing 10K dollars is an impossible, risky, or highly expensive proposition. Taking into account that the developers do not provide any verified trading results it is impossible to want to invest such a pretty penny in their signal service.
Lack of Vendor Transparency 
We have not found any information about the developers or their location. We do not know who stands for this copy signals system, thus we cannot say for sure the vendors can be trusted. We would like to know names as well as know their trading history in the Forex market.