FXStreet Signals is designed to guide users through the trading market. The signals are based on more than 20 different trading strategies to inform traders every beneficial trading opportunity appears on the market. Setxi Fernández, Chief Executive Officer at FXStreet, said: "We want to keep on empowering our users to be more independent and informed when trading Forex. Our signals will help them decide when to enter and when to exit a position in a specific market." The creators of FXStreet claim: "EVERY TIME THERE'S A SIGNAL, THERE'S A TRADING OPPORTUNITY". In this FXSteet Signals review, we will review the service and let you know whether it is a good investment opportunity or not.
Is FXStreet Signals a Good Choice?
We have found at whois.domaintools.com that registrant country is the US, California. The FXStreet Signals website was created on February 28, 2020. Their landing page is quite simple and includes basic signals information, a helpful 3 minutes video about signals tips, and a pricing section for premium service. FXStreet Signals offer free and premium accounts. Free account is not very helpful because it includes a limited number of signals and a "15 minutes delay". It is difficult to use the signals consider and how long you would be trying to trade them. Therefore, the fee signals are only useful to analyze how profitable, useful, and accurate the premium service is.
Although we appreciate the reputation that this vendor has, we need to analyze this trading service based on the same criteria as always: trading performance, verified trading accounts, risk management, customer reviews, and the other important factors.
After our thorough review of the FXStreet Signals, we do not believe that this software does operate as its developers claim. Therefore, this system is not a good choice for traders.
This assessment and verdict are based on:
–          Unprofitable trading history
–          Dwindling performance in 2020
–          High drawdowns
Trading Strategy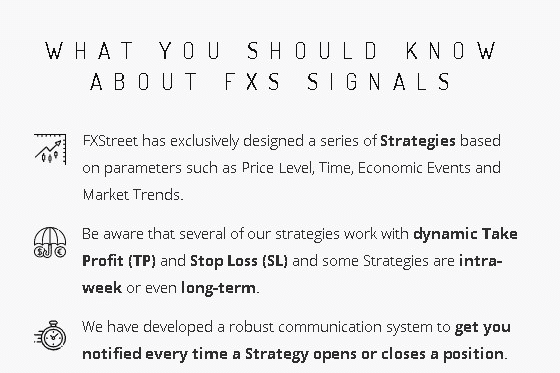 In terms of trading strategy, they said that they use" a series of Strategies based on parameters such as Price Level, Time, Economic Events and Market Trends". Several of their strategies work with dynamic TP (trade profit) and SL (stop loss). Concerning a trade length, it can be either intra-week or long-term.
The trading strategy is not disclosed much in detail. We would like to see more information to have a clear understanding of how it works.
Their premium version provides a more detailed description of the trading strategy that is a major plus. Let us review it in details: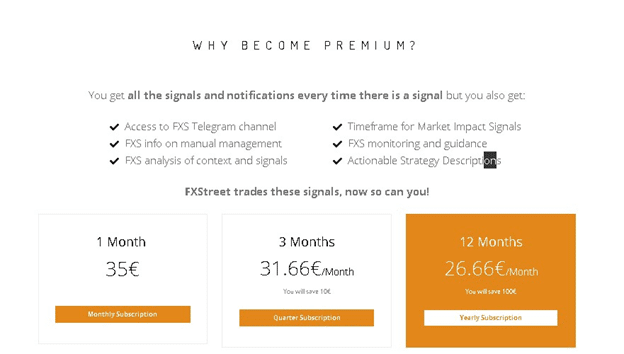 The screenshot above shows you what you could have if you opt for the premium version. It can be purchased for €35/month, €31, 66/3 months, or €26, 66/12 months.
Trading Results
Let's review a real trading account on myfxbook to analyze how the system works.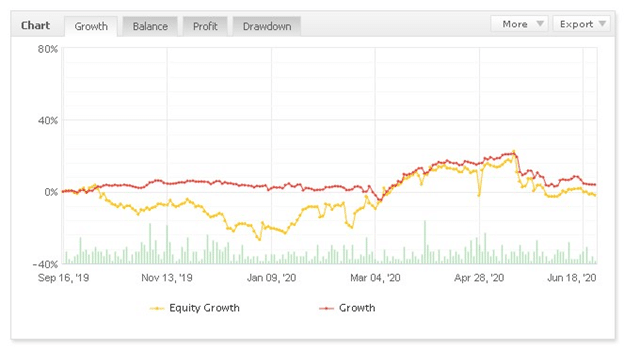 The chart that shows the performance of the FXStreet Signals from Sep 16, 2019, to date, reveals that this system has insignificant growth. The essence of trading with Forex signals is to get accurate and superior trading performance. We do not see this from the performance chart above.
Dwindling Performance In 2020
A study of the myfxbook monthly performance data for FXStreet Signals shows that the performance of May-June 2020 is not good. As can be seen from the screenshot below, profits have dwindled considerably in May and July 2020. This is also at variance with March and April performances, where monthly gains were much better – 7, 67%-10, 16%.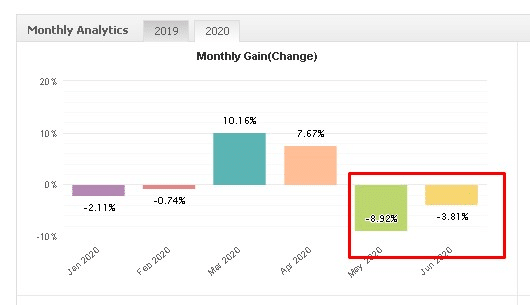 However, we need to add that in comparison with the monthly gain in May 2020 ­­­­– -8,92%, the monthly gain of July is better and is equal to – -3,81%.
Next, we analyzed its profit rate. On June 15, 2020, profit was €81, 62 (see the screenshot below).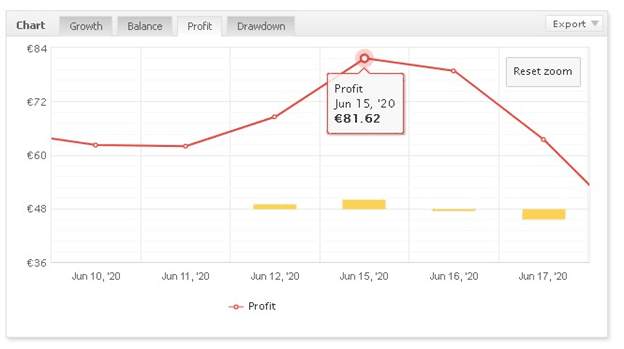 Since June 15 to the update, profit has been constantly dropping down. The chart below shows that on June 22, 2020, profit is equal to €38, 58.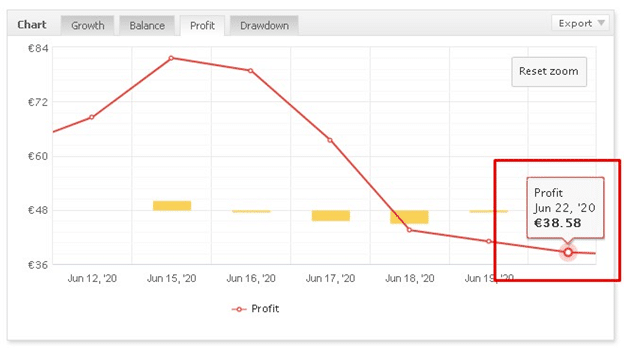 High Drawdown
We also see problems in terms of drawdown with the FXStreet Signals. The system drawdown rate is 28, 36%, which is bad. We have also noticed constant ups and downs in terms of drawdown: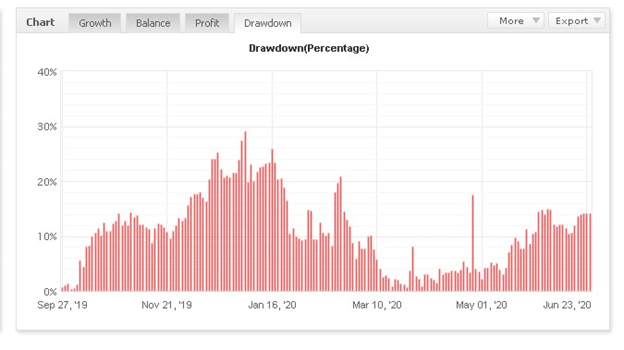 High drawdowns are a risk to any trading account and may increase the risk of ruin.
Trading Results

This system shows that an average win rate is €3.24, while the average win-loss is -€3.48. Average trade length – 3 days, profit factor – 1, 03. The account was created on Sep 16, 2019. Since its activation, the account FXStreet Signals (real) has registered a gain of +3.93%. It has earned €37.67, while the total balance is €995.25 with a deposit of €957.58. We did not notice considerable changes in terms of balance growth from Sep 16, 2019, to June 24, 2020.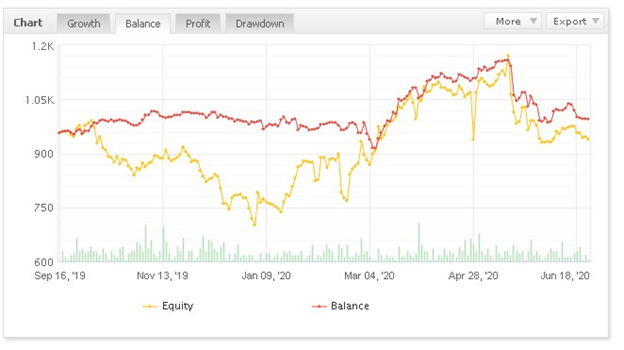 Conclusion: Is
FXStreet Signals Worth Its Price?
FZStreet Signals cannot be trusted. We have assessed the system and found several points of deficiency that will lead to negative changes in terms of successful trading operations on trader accounts. FX Automater team can improve this system, but until they do it, we cannot say that this is a good software to be trusted.