The Scope Forex EA is a new expert advisor, designed to perform every trade " at the lowest risk setting while maximizing your profits". This is an automated software for the MetaTrader platform that places trades for you and "makes extremely accurate trades by analyzing the market and executing precise trades to make the best, most consistent profits". This robot has been created to work on the USD/EUR.
In this Scope Forex review, we are going to analyze this EA and see whether it is a good trading robot that you can trust or it is better to find the other one, which would be more efficient, profitable, and reliable for trading.
Is Scope Forex EA a Good Choice?
The developers of Scope Forex expert advisor claim that this automated software is a "highly intelligent and highly lucrative robot that can make you thousands of dollars per month", which "has been tried and tested throughout various trailing periods with great success". However, to decide whether the above-listed statements hold any water, we have prepared an informative and detailed review. We have analyzed its trading performance, vendor transparency, risk factors, price, and other important data to help you make the right decision.
What is our verdict? We do not recommend Scope Forex.
Our decision is based on:
–       Lack of transparency and information
–       Poor trading performance
–       High drawdown
–       Martingale trading strategy
Lack of Transparency and Information
If you visit the official Scope Forex EA website, you will find no information about its developers, who they are, what their trading history. There is no "about us" page, thus, the developers of this automated tool are incognito for us. We did not find wen this EA was launched. In addition to this, the developer did not provide any information concerning the trading strategy of this automated tool. There is a lot of information about the robot, but most of the information we see on their website is fluff.
Poor Trading Performance
To start with, let's analyze live real account on fxblue.com.
This account started on April 24, 2020, and its last update was on June 8, 2020. Since that time its total return is -109.2% with a risk/reward ratio of 15.45. Currently, its total balance is only 1.64.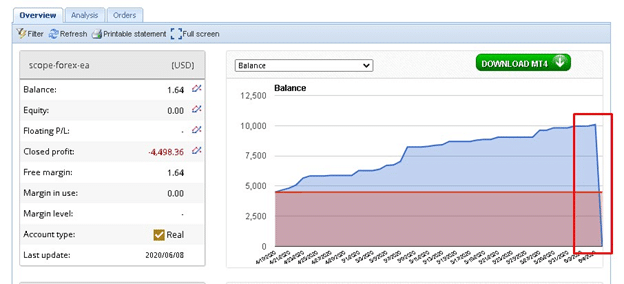 The average win is +80.50, while an average loss is -159.24. The trade length is 32.2 hours and the worst drawdown is -100.0%. Both weekly and monthly returns are equal to -100.0%. The profit factor of this EA is 0, 71. Taking into account the above-listed trading results, we may conclude that this automated software has a very poor or it is better to say bad trading performance data.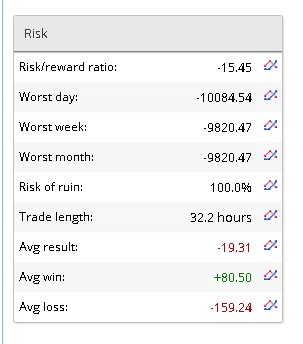 The average loss is higher than the average win that cannot make us say it is good for trading. Risk of ruin is 100%: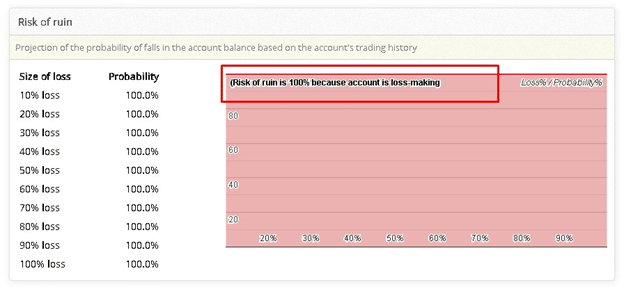 High Drawdown

The screenshot above shows that this robot has a very high drawdown. Its peak drawdown was on June 5, 2020, as is equal to 104, 1%, while on June 4, 2020, its balance drawdown was 0%. This expert advisor does not have any built-in mechanism to cope with high drawdown. This is the main reason that leads to ruin for this as well as the other trading accounts.
Trading Strategy: Martingale!
We have found that this expert advisor uses Martingale strategy, a strategy where you could lose all your money in your portfolio.  The type of this trading method is based on the idea that you will double your bet after losing trades, and in theory, you will always cover your losses with winning trades that double the amount of losing trades. This is too risky for trading.



Conclusion: Is
Scope Forex EA Worth Its Price?
We do not recommend this expert advisor. Scope Forex is a dangerous EA. It is characterized with high drawdown, martingale strategy, low-profit rate, and lack of transparency. Although it has an affordable price, this automated software is a risky choice, which may lead to serious trading losses.