Bounce Trader is advertised as a new Forex expert advisor that took a real live trading account to over 900% of profit with low risk methods in just a few months of trading.
In this Bounce Trader review, we will tell you all about this trading software, its trading results, risk factors, vendor transparency, drawdown performance, pricing and more.
Is Bounce Trader a Good Choice for Investors?
Undoubtedly, this EA is worth attention. However, there are some disadvantages of the Bounce Trader:
High price
Small sample size
Risky trading approach
No trading activity data since the mid of September
That being said, we need more time to monitor and analyze how the system will be performing in the long run.
Features
Bounce Trader is a 100% automated Forex EA, advertised as a good trading system with minimal trading risks. The devs of this trading MT4 tool claim that this system is a good choice even for the inexperienced traders.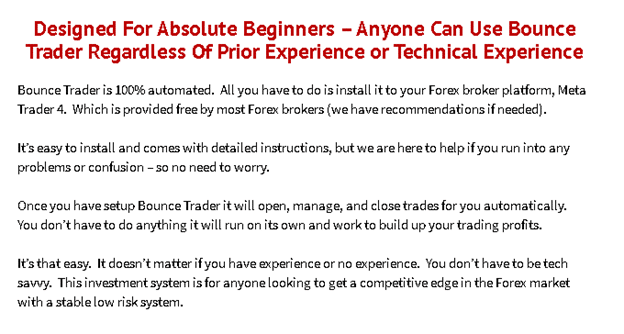 The devs provide a detailed product description, trading strategy insight, live trading results, screenshots, short videos, product pricing, and detailed trading history of Charlie Hudson, the developer of this EA.
The developer of this trading tool tells us that their robot does not use hedging, massive stop-loss, or martingale. They point out the main features of their EA:

Long story short, the features we see on the screenshot above are basic ones for most Forex robots.
Price
Bounce Trader comes in 2 different packages. The first one costs $347 (it is a one-year license). If traders want to invest in a lifetime license, they will need to pay $597. Both packages come with auto-updates, customer support, and thirty days money-back guarantee: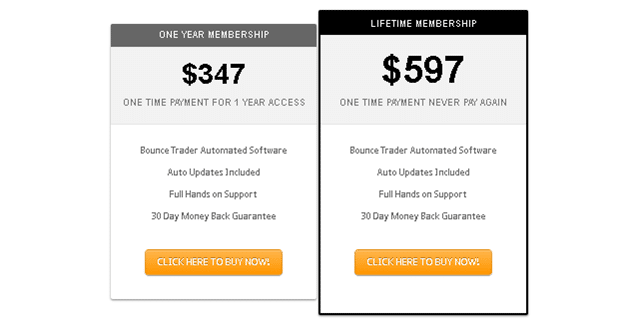 Trading Strategy
We appreciate that the vendor shares a detailed trading strategy insight on their sales page. In comparison with the other devs, who fail to provide trading strategy information on their website, this product developer tells us everything about their product and what we have to expect: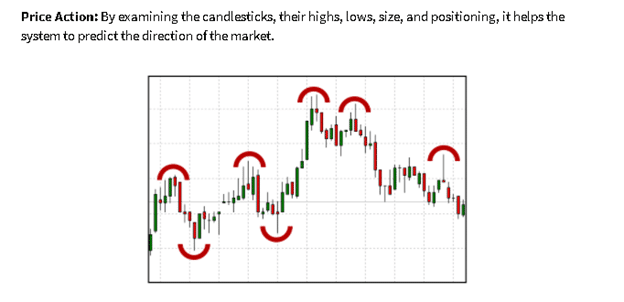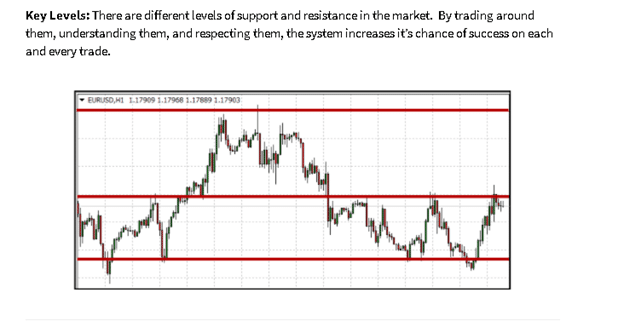 The developer of this EA believes that:

Verified Results from Myfxbook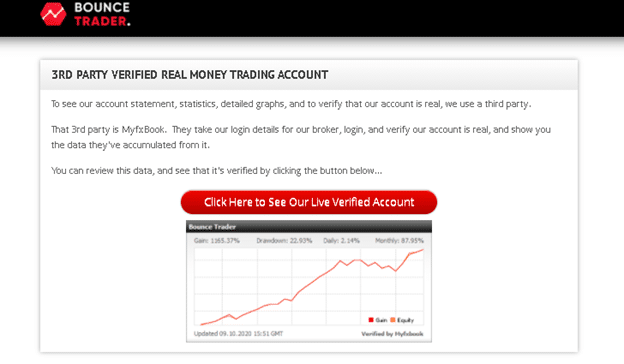 This is a real account, which started trading on May 13, 2020. It is working on the MT4 platform with FX Choice brokerage and a 1:200 leverage. For over 4 months of trading, it has obtained a gain of over 11565% with a peak drawdown of 22, 93%. The initial deposit was $500. Now the profit equals $5826. Although these are good trading results, it is obvious that the trader traded large lot sizes, risking to lose a pretty penny when placing each trade.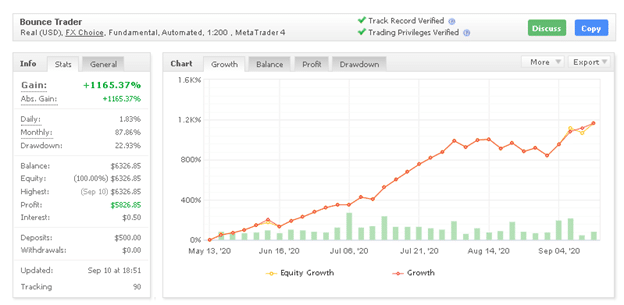 The robot has placed 35 trades and won 28 out of them. It trades 882, 2 pips with an average win of 49.99 pips, and an average loss of -73.94 pips. The average trade length is 13 hours and 7 minutes. The profit factor is high and equals 3, 88.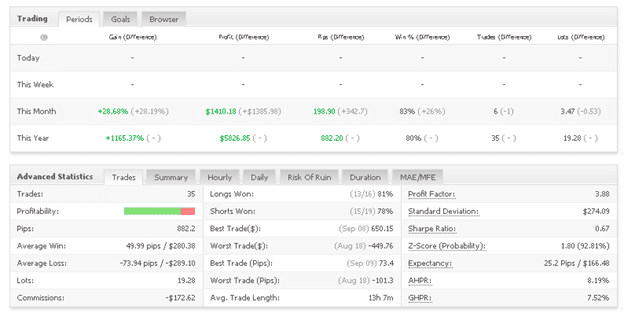 Well, let's review the trading history of this EA: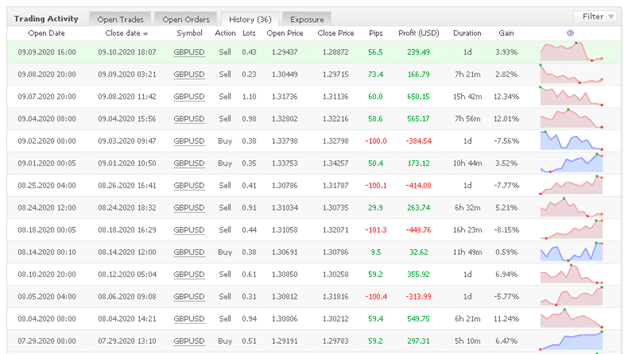 Here you may see that the EA has obtained a gain of over 50% in a single trade for only sixty pips.
The best trading performance of this EA was in June and July. In August the robot has brought very little returns – 0,49%. In September, the monthly gain has grown and now it equals 28, 68%. Unfortunately, the account has not placed any trade since September 10. Why? What is the reason? Why is there no trading activity since the mid of September? These questions need immediate answers.
Despite the fact that the robot is showing good trading results and low drawdown, Bounce Trader is not a good choice for newbies who have no or very little trading experience.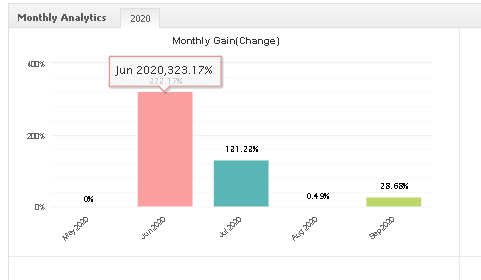 Vendor Transparency
Bounce Trader was developed by the LeapFX team. On the leapfx.com website, we have found Charlie Hudson is the developer of Bunce Trader EA. He is an experienced trader who tests different robots and trades with them. He says that after many years of tests he could finally find a good trading system which has brought his family a great income. He named the system Bounce Trader.