FX Fortnite is advertised as a professional trading software with the highest possible quality, designed to work exclusively on MT4 platform and provide consistent profits. Today there are a lot of expert advisors available to buy on the Forex market. Therefore, choosing the best one is a real challenge, especially for a newbie. Thus, we have decided to analyze this MT4 tool to let our readers know whether it is a good trading system to be trusted.
Is FX Fortnite EA a Good Choice for Traders?
FX Fortnite provides good trading results. However, we would like to recommend the developer to be more transparent and provide some sort of information about his/her trading history/experience in the Forex marketplace. Moreover, we would like the dev to place his trading account on myfxbook or fxblue. If the developer can do it in a timely manner, the software will have higher chances to go a long way.
Features
The developers who stand for this MT4 tool tell us very little about their product. Their website is divided into several sections that include a short product description, fxblue results, backtests, packages, and contact information. The vendors recommend ICMarkets broker and claim that it is the "best broker in the world forever".
There are 3 main reasons why the FX Fortnite team considers their product the best one in the market:
100% automated
Easy to use
Online support

The above-listed aspects are basic ones for most Forex robots. They are neither something new nor something that could make the software"of the highest quality" and set it apart from any other system. If the developers do want to prove their product uniqueness, they have to be more accurate and informative with the information they provide on their website. Otherwise, traders will decide to search for another EA that provides many more details they need to go on and make a purchase.
Pricing
The FX Fortnite software is being sold on the official website of the developer. The price of the product depends on the type of package: Bronze Package, Gold Package, or Platinum Package. Every package includes automated trading, user manual, free updates, and customer support, EA set files, and 30 days money-back guarantee. The difference between these packages is the number of accounts.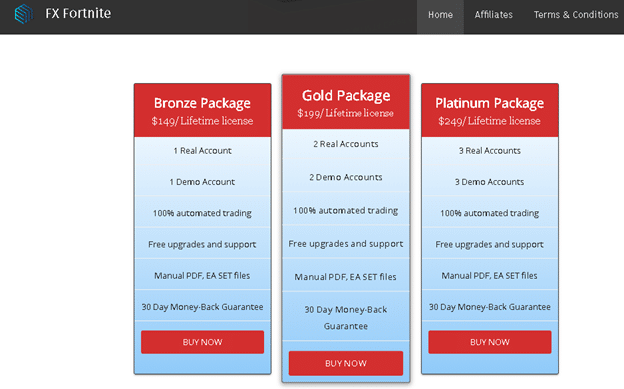 Hedge/Trend Strategy
On the seller's official website, we are told that FX Fortine EA uses a combination of trend/hedge with a high/middle/low-risk setting. The developers allo add that:


The software analyzes the market condition and then decides what trading approach is the most suitable: hedging or trend. Vendors also say: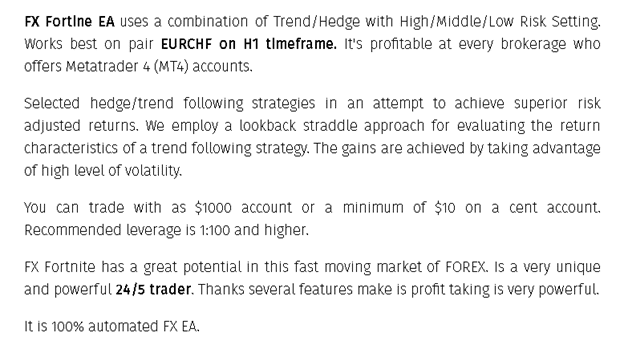 Verified Results from FxBlue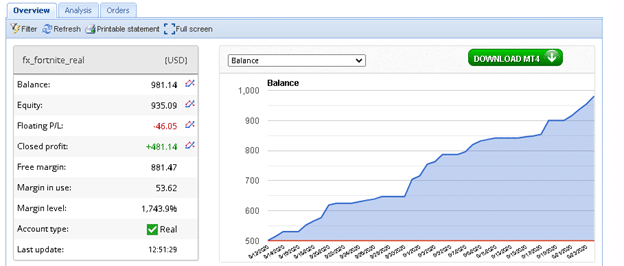 The vendors of this 100% fully automated software provide 1 live fxblue account on their sales page. This trading account has been running for 44 days (the account was launched on August 20, 2020) as we write this review. Currently, the account is showing a total return of over 96.2%, with a monthly return of 55.6% and a weekly return of 11.1%. Oddly, but there is no information about its peak drawdown.

For 44 days of trading, the robot earned over $481 of profit. It has placed 627 trades with a trade win of 73.7%:

The risk/reward ratio is 1:1, with the average win coming in at 1.74, and the average loss at 1.94. The average length is 2.1 days. The robot is very active because it places 14.3 trades per day.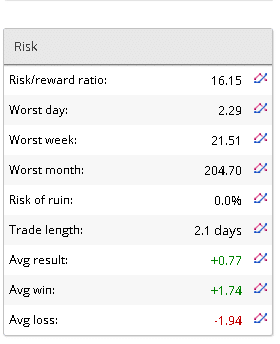 Overall, the robot shows good trading performance but we want to see FX Fortnite EA trading account on myfxbook.com. Historically, fxblue is not perfectly dealing with verifying accounts and we frequently see strange trading results on this platform. Therefore, we recommend the seller to upload these trading results to myfxbook.com as well.
Lack of Vendor Transparency
Unfortunately, the developers failed to provide any information about themselves, their headquarter location, or what trading experience they have in the Forex marketplace. At whois.domaintools.com, we have found that they launched the software 22 days ago on September 6, 2020. We also know that their server is located in the Czech Republic.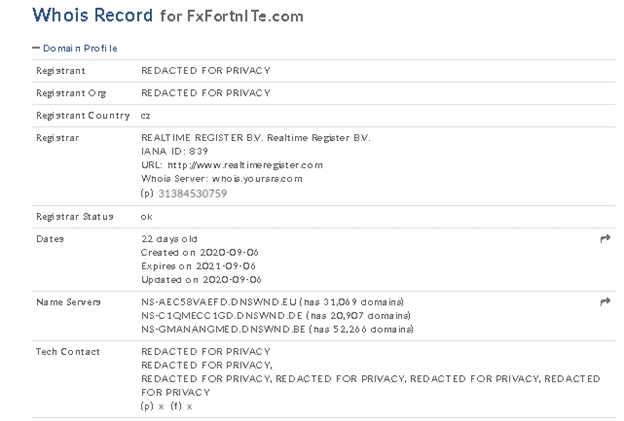 Unfortunately, it is all we know about the vendor. Therefore, we have not any background to go on with our research and check out if the developer has any reputation in the Forex marketplace. It is a red flag for FX Fortnite EA. We would like to see more transparency from the vendor to be certain we do not recommend our clients the product from inexperienced traders, or worse, from frauds who are only cheating their clients and stealing money.
To get in touch with support traders need to visit their contact page and fill out a contact form.