Aura Rocket is described as a unique expert advisor that is based on deep machine learning and hyperparameter. It is built upon one of the vendor's other EA, Aura Turbo grid expert, and has included a multilayer perceptron to refine its entry point. You can either set the EA to trade on low-risk or high-risk mode, but the latter setting will generate a larger drawdown.
Aura Rocket: to trust or not to trust?
As you will see later in this review, customers claim that Aura Rocket is a reliable EA and makes profits. However, its live results on Myfxbook depict the system as a loser because it makes bad trading decisions constantly.
Features
The system's features are listed below:
It works on a single XAUUSD pair.
It's FIFO compatible and FTMO suitable.
The system is not very sensitive to broker conditions, but lower spreads in gold are recommended.
The robot is easy to install.
It applies a hard stop loss and take profit to each position.
The minimum recommended leverage is 1:20, whereas the minimum deposit is $100.
The working timeframe is H1.
A lifetime license for Aura Rocket is being sold for $995. Rental options are also available at $295, $445, and $595 for the 3 month, 6month, and 1 year packages, respectively. Sadly, a money-back guarantee is not included in any of the packages.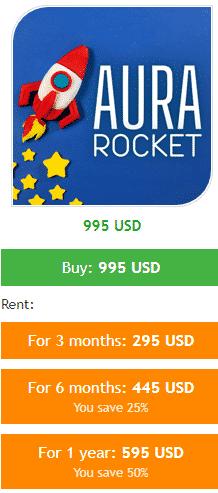 Aura Rocket is a trend follower. In this case, it opens trades in the direction of the trend and protects each order by attaching a stop loss. Moreover, no risky money management strategies like the grid, arbitrage, martingale, or averaging are used.
Backtest results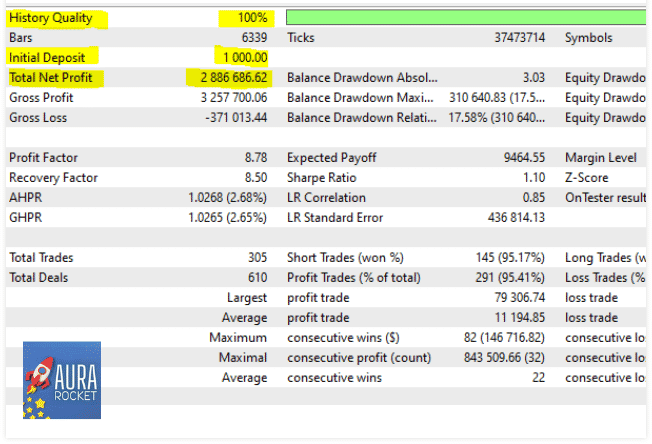 From the stats above, you can see that the EA's trading activities on historical data turned a deposit of $1000 into a 2.8M+ profit. This is after it conducted 305 trades. It won 95.17% of the short trades, but the performance of the long positions is not revealed. A low drawdown of 17.58% was produced, which means that low-risk trading was implemented. There was a profit factor of 8.78. It is not clear what trading period was used, though.
Trading results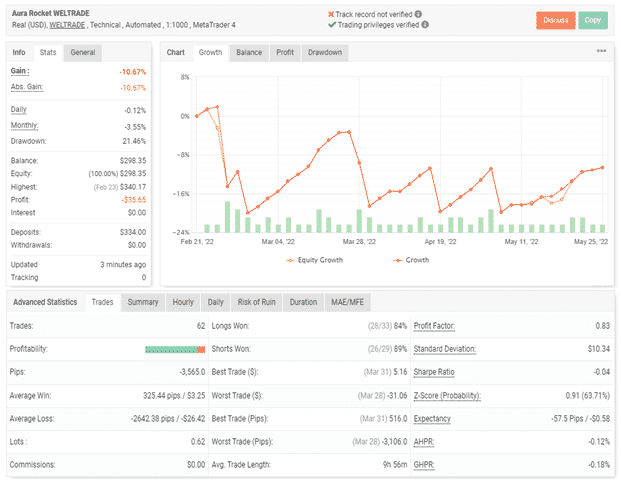 The performance of this EA in the market is relatively poor. Rather than growing this account, Aura Rocket has managed to devalue it by -10.67%. This is after making a loss of -$35.65 from 62 trades. The resulting profit factor, which is 0.83, further highlights the system's high losing streak. The success rates for long positions are 84% and 89% for long ones. No commissions are charged, which is a good thing. On average, a position is left open for 9 hours and 56 minutes. The current account balance is $298.35.

Most orders are placed on Monday, with Friday being the least traded day, with only 7 orders.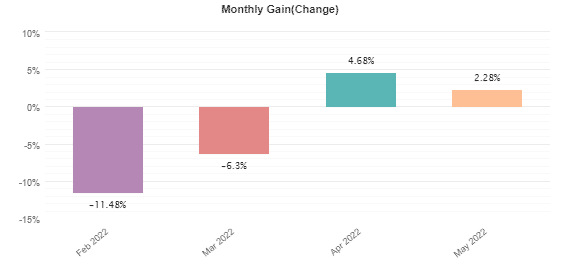 Though the system has made losses in the past, its performance has improved in the last two months.

The account is about to blow up.
Low drawdown
The EA has generated a comfortably low drawdown of 21.46% for this account. However, the system's risky trading activities may increase the drawdown in the long term and threaten the user's capital.
Vendor transparency
A Russia-based developer known as Stanislav Tomilov is the one that created this tool. Aura Turbo, Aura Black Edition, Aura Pro, and Matterhorn are the other EAs included in Stanislav's portfolio. Overall, the products have a 4.2 rating based on 79 reviews, suggesting they are effective.
User reviews
The EA has 23 reviews on MQL5, and from the 3.83 rating it has been given, we can see that most traders like the service. In general, clients suggest that the system is good and profitable. A dissatisfied trader has also come forward to disclose that he lost a lot of money when the trailing stop loss of the robot malfunctioned.