Zero to Hero FX Signals is a Forex signals provider service behind which there is a team of expert Forex traders. As per the vendor's claims, this system delivers reliable and accurate trading signals that help you reach your potential. In this Zero to Hero FX Signals review, we will uncover every little detail about this service.
Zero to Hero FX Signals: to trust or not to trust?
This signals provider is backed by authenticated trading statistics and authentic user reviews. However, the monthly plans are quite expensive and there is not enough information on the parent company. Also, it is not clear what trading schemes the analysts use for producing the signals.
Features
There are four pricing plans for this service. The basic package costs $95 per month. For the 3-month plan, you have to pay $195, while the 6-month and 12-month plans cost $295 and $395, respectively. The plans are not cheap and the vendor does not offer refunds for any of them. There is a 65% flash sale ongoing for this product that ends on 16th January. To avail of this offer, you have to fill out a web form, providing details like email, name, and Telegram username.
On average, this service sends 4-10 trades each day. It targets a profit of 300 pips each month. Each day, the analysts behind this platform analyze and re-analyze the fundamental and technical factors affecting the prices of currency pairs. Each trader receives instant notification for trades taken on the company's fund. The signals include all the relevant details like entry price, take profit, and stop loss.
You receive the signals via SMS and the Telegram app. The pairs compatible with this system include AUD/USD, EUR/JPY, EUR/USD, USD/CAD, USD/CHF, and USD/JPY. There is no data on the trading strategies used by the analysts. We don't know whether they use any indicators for identifying profitable trades. As such, it is impossible for us to determine whether the signals are ideal for a particular style of trading.
The vendor has shared an email address on the official website. Since the website doesn't have a live chat feature, this is the only channel through which you can seek assistance for your issues.
Verified trading results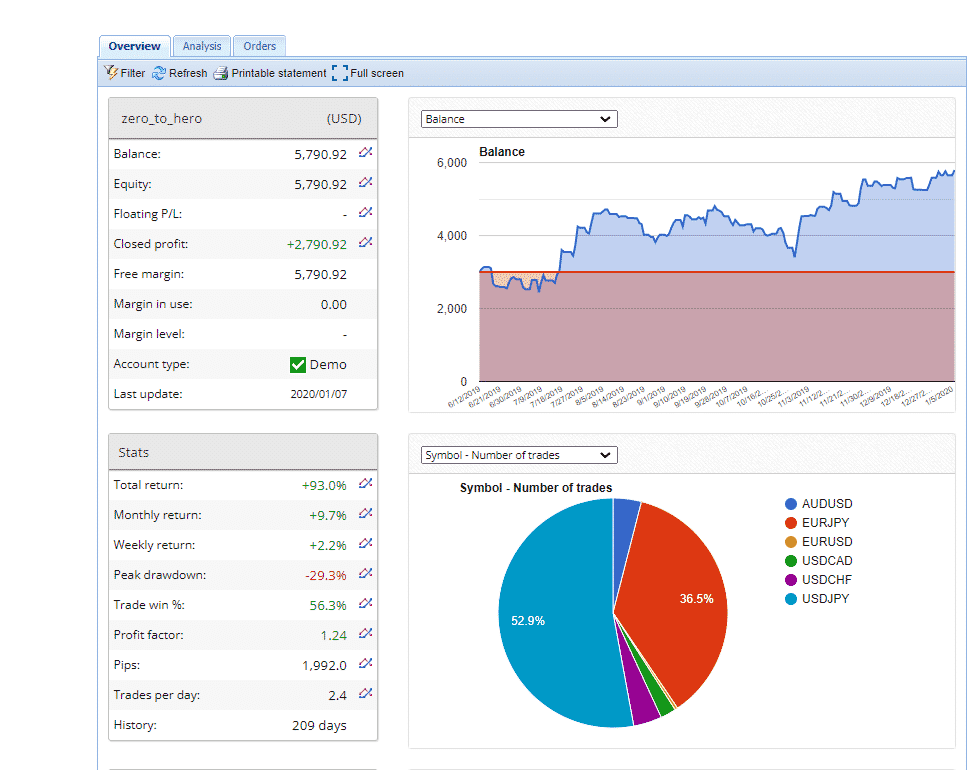 This is a demo account on FXBlue having a trading history of 209 days. To date, Zero to Hero FX Signals has placed 501 trades through this account, winning 282 and losing 219. This means the account has a healthy win rate of 56.3%. The total profit generated through the account currently stands at $2790.92. Currently, the daily, weekly, and monthly returns are 0.44%, 2.23%, and 9.71%, respectively.
The risk/reward ratio for this account is slightly high at 1.50 and the average loss of 54.15 slightly exceeds the average win of 51.95. There is a 1.9% risk of ruin and the profit factor is a moderate 1.24. On average, 2.4 trades are placed through this account on a daily basis.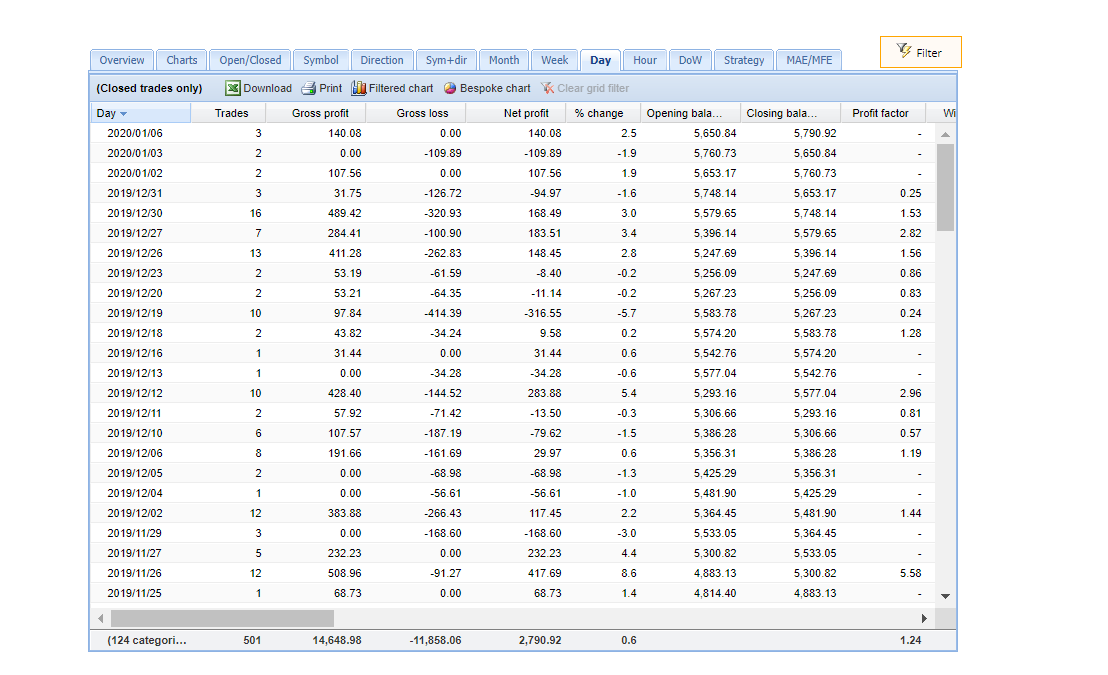 From the trading history of this account, we can see that the last trade was placed on the 6th of Jan, 2020. Also, it is evident that the system is capable of suffering heavy losses. It trades with a fixed lot size of 0.20.
Backtesting results are vital for automated trading systems. These tests are conducted with historical data and they allow developers to gauge the ability of the system to deal with different market scenarios. Since this is not an expert advisor, the vendor has not shared the backtesting results.
Vendor transparency
We have little or no information on the parent organization behind this signals provider service. The head trader claims to possess several years of experience, but there is no way for us to verify this claim. We don't know where the company is based and the vendor has not revealed the details of the analysts who generate the signals.
Customer reviews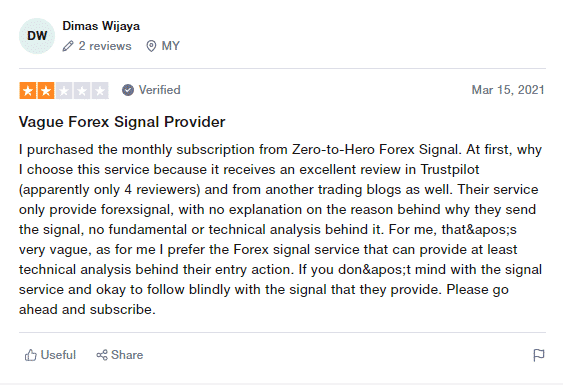 On Trustpilot, we came across multiple reviews for this service. One of the customers has claimed that there is no explanation behind the signals. They have also stated that the signals are not based on solid analysis.