Price Action Forex Ltd is a signals provider that promises consistent profitability and low risk. As per vendor claims, more than 701,463 traders all over the world trust this system for Forex trading signals. In this Price Action Forex Ltd review, we shall try to determine whether this system is truly reliable or not.
Price Action Forex Ltd: to trust or not to trust?
On the official webpage, the seller has highlighted the special features of the signal provider. We have some user reviews from a third party website, as well as video testimonials from traders coming from different backgrounds. The webpage has different sections like Blog, Education, and an FAQ section where you can find the answers to your queries. Despite all this, there is no explanation for the trading scheme. Also, we are not able to find the live trading statistics. Thus, we don't think this is a system that can be trusted.
Features
The system sends you trading signals via its official Telegram channel. For every order, you can choose what portion of your account balance you wish to dedicate. You can also select distinct lot sizes for different pairs as per your trading style. It is possible to exclude a certain pair you are not comfortable with and select a lot percentage for closing a position on partial profit.
Price Action Forex Ltd generates signals for pairs like EUR/USD, GBP/USD, EUR/JPY, GBP/JPY, and USD/JPY. The system is able to execute trades in less than 5 seconds. In case there are multiple take profit levels for a signal, you can initiate multiple positions for each take profit value and set appropriate stop losses.
The vendor offers 24/7 customer support via live chat on the official website. Price Action Forex Ltd has a team of professional traders who monitor the market at all times to decrypt the various economies. We have no idea what trading strategy the system follows for generating the signals since the vendor has not provided an explanation for it. Without strategy insight, it becomes difficult to gauge the system's performance. This is a major red flag that would deter many individuals from investing in Price Action Forex Ltd.

While subscribing to this signal provider, you have four options. The monthly plan costs $40, while the 3-months and 6-months plans are priced at $90 and $150, respectively. Finally, there is the 12-months plan that costs $199. With the costlier plans, you can save in terms of monthly charges. However, the vendor does not provide a money-back guarantee.
After paying the subscription fee, you only need to download the software program along with the script file. The vendor also provides you with a video with installation instructions and a user manual. After setup is complete, you will start getting the signals on Metatrader 4.
Trading results
Unfortunately, there are no verified trading results for this signal provider. The vendor has not shared the links to any third-party website where we can check the real-time performance of the system. Without verified statistics, there is no way we can verify the vendor's claim of the winning rat being over 90%. As such, it cannot be considered a profitable system.
EA vendors often test their systems using archival data. These tests are carried out over several years, thus revealing the long-term performance. Since Price Action Forex Ltd is a signal provider and not an automated system, we don't need to analyze the backtesting data.
Vendor transparency
There is virtually no data available on the parent organization behind Price Action Forex Ltd. It is based somewhere in London, UK, but we don't know when it was founded. The vendor has chosen not to reveal the identities of the team members. The lack of vendor transparency is very apparent and it is not a sign of a reliable company.
Customer reviews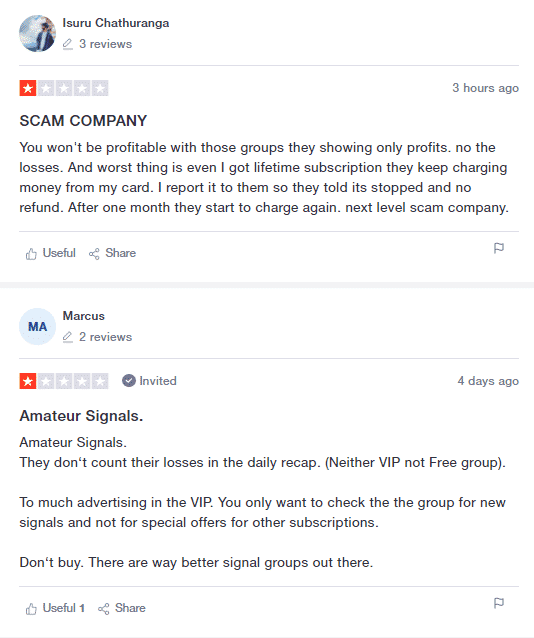 On the Trustpilot website, there are several user reviews for this signals provider. Customers have claimed that the service is a scam and it deducts funds from your card even if you've subscribed for a lifetime. One customer has stated that the company does not count its losses in the daily recap.