With the promise of automating profits for traders, Ninja Scalper for the Metatrader 4 platform is a FIFO compliant expert advisor. This automated Forex trading system works on the EUR/USD currency pair using the five-minute timeframe. Having 20 years of experience in the field, this Forex robot applies statistical analysis. Is this an expert advisor you can trust? Find out in this Ninja Scalper review.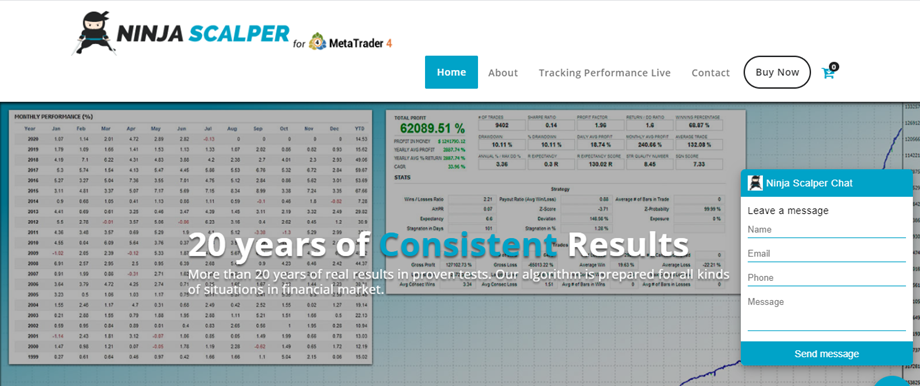 Ninja Scalper: To Trust or Not to Trust?
As an expert advisor with a variety of tools to automate trades, Ninja Scalper can be used in trades with a minimum deposit of $50. Let us look at the features of this Forex robot before we delve into the advantages and disadvantages.
Features
Optimized to work on Cents accounts, this Forex robot will provide all the support needed including setting up a brokerage account. The strategy used is mentioned as based on trend indicators including MACD for deciding the entry and exit points. One of the main features of this system includes risk management that allows setting a drawdown limit reaching which all orders will be shut down.
The vendor offers email and WhatsApp support for installing and configuring the trade settings. Three types of trading modes are present including standard, conservative, and aggressive modes. For the lot size, there is a choice of setting it up automatically or manually.
Pricing packages include the full lifetime pack (Wow Package) that costs $149, a 6-month rental (Huge Package) option for $100, a 3-month rental (Popular package) option for $50, and a 30-day rental (Basic) pack for $30.
Now that we have perused the features of this Forex robot, we could see that it lacks in several aspects such as the gains posted in its trading results, vendor transparency, and risk management. Since these are vital for choosing an expert advisor the absence of convincing performance and risk management makes it a system that could not be trusted. Let us explain the shortcomings in more detail.
Verified But Poor Trading Results
A few backtests are provided as part of the Gallery section of the Ninja Scalper site. One of the backtest results is shown in the screenshot below.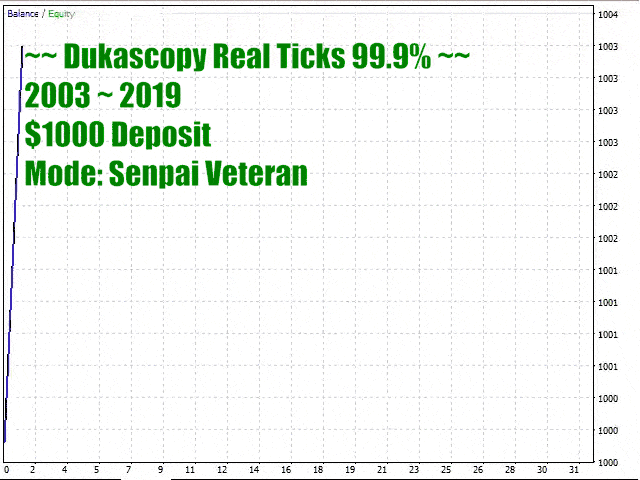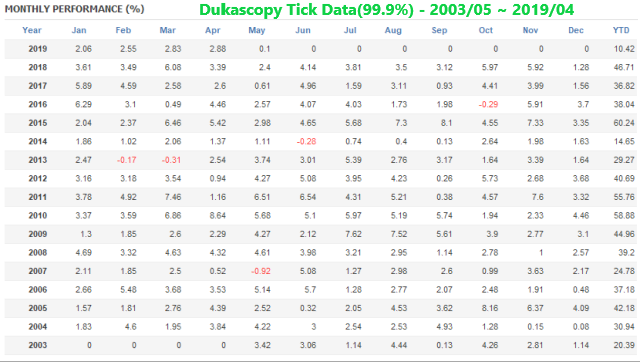 The tests done over 16 years are done with 99.9% modeling quality and with a deposit amount of $1000. While the strategy test results display high gains, they cannot predict a similar result in the future.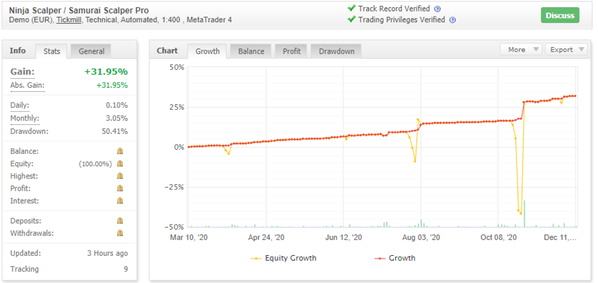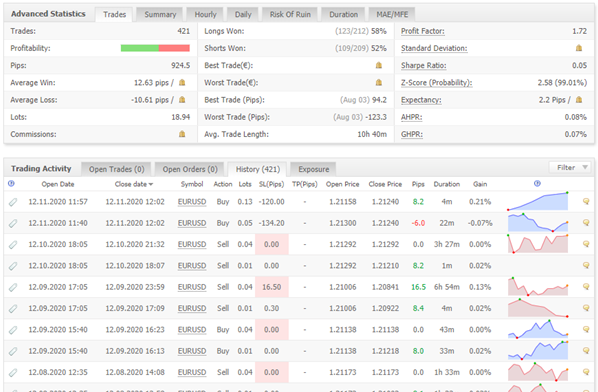 We could find a trading result verified on the Myfxbook site featured on the official site. This live demo account in EUR uses Tickmill broker and leverage of 1:400. From the results, we could identify a gain of 31.95% and an absolute gain of 31.95%. A daily gain of 0.10% and a monthly gain of 3.05% are shown.
What we are concerned about more is the drawdown of 50.41%, which is too high. It is very difficult to rely on a system that can bring down more than half of your money in a single trade. Furthermore, the details such as balance, profit, deposits, interest, withdrawals are hidden by the vendor which raises suspicion about the strategy and risk management used.
High Drawdown
Traders can expect a drawdown ranging from 5% up to 30% which is considered standard for most Forex traders. Any percentage higher than that indicates a high-risk strategy that will not pay back well. You stand to lose more than you gain with a high drawdown as posted by the trading results of this expert advisor.
We would like to look at the trading results of a live real account to assess the performance more effectively. For a system that boasts of having 20 years of trading history, the lack of a real live account raises our distrust.
Vendor Transparency
From what we could see on the official site, there is no mention of the developer or the team behind this Forex robot. Although they provide a location address, the lack of information regarding the developer makes it difficult to rely on this system. More information about the developer and the trading experience can throw more clarity on the system as a whole.