Gratified Long Term is available for both MT4 and MT5 platforms and comes with detailed backtesting reports and live records. The developers claim that this EA is not sensitive to spread and works fine with most forex brokers. To delve a bit deeper and capture the dynamics of this system, this review below will serve as a note as to why this system will be worth your money, time, and effort.
Gratified Long Term Day Trader: to trust or not to trust?
Gratified Long Term Day Trader has records for a short duration which are not enough to analyse its performance. Furthermore, the developer is not transparent on the strategy of the system, which raises suspicions.
Features
The robot has the following features:
Tracks daily price movements across 14 currencies
Accepts multiple methods of payment
Provides lot risk % information
Is suitable for beginners too due to the friendly UI
To get the service up and running, you need to follow the next steps:
Purchase the robot from the website and download it on your PC
Open the MT4/5 on your PC
Drag the EA files and attach them to the EURUSD H1, and set your lot size
Press the start button, and it will start automatic trading
The developer states that the robot trades on 14 currency pairs and only needs to be attached to the H1 chart on EURUSD. To get further information on the methodology, we head over to the live records on MQL5. From there, we observe that the average holding time of the bot is 6 days, which points towards a swing trading technique. It has a stop loss and take profit of around 200 pips for each position.

Price
The EA is sold for 299 $. Payment is accepted through various services like Visa, Mastercard, Union Pay, and PayPal, to name a few. The seller gives no information about the presence of any money-back guarantee.
Trading results
Backtesting records are available from 2010 till 2021 where the robot turns in a total net profit of $65843.02. It had a winning rate of 54.11% and had a largest loss trade of $689.35 and a win of $602.18. There were a total of 13 consecutive wins and 10 losses.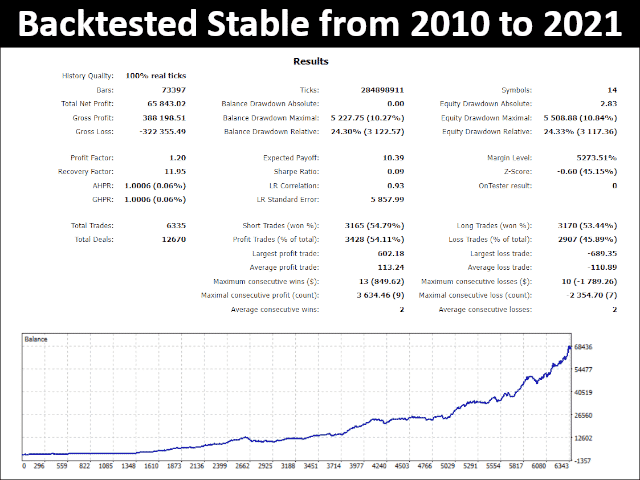 Trading history records are available from the range: 2021.12.07 till 2022.02.14. The robot has participated in 96 trades since the beginning. For this period, the robot had a maximum drawdown value of 12.5% and lost 43.8 % of the trades, which is not reflective of good performance. The growth rate is 24.82%. The robot has a profit factor of 1.47, which is not very convincing, taking that it has a high loss rate. The average profit totals 8.63 USD, and the average loss is valued at -7.53 USD, which signals poor winning chances. 

High drawdown
The drawdown of the robot following an excessive fluctuation shows that it is very volatile. Live signal records on the MQL5 forum show that withdrawals, possibly due to high drawdown, reached up to 500 USD, which questions the reliability of this system.
Vendor transparency
Scott Fredeman is a developer of Gratified Long Term Day Trader. There is minimal information on the author's trading experience and whereabouts. The MQL5 website dictates that they are from the USA. The developer claims to have more than five years of experience yet only has eight products on the markets in an industry where innovation is supposed to be extremely frequent, with qualified developers selling many products. Also, the user wall is only a 40-point activity, which is extremely low for a developer with a 4.8 rating. No certifications or past experiences are available for authenticity.