The system was introduced like "GOLD Scalper PRO is One of The Most Successful Expert Advisors for trading on GOLD (XAUUSD)." We're not sure about this. Past trading results showed that the system has never been great. Gold Scalper Pro uses proven trading principles, trading in the market direction. The system uses hundred of parameters.
Gold Scalper Pro: To Trust or Not to Trust?
We are not sure that the updated version of the system can be consistently profitable.
Features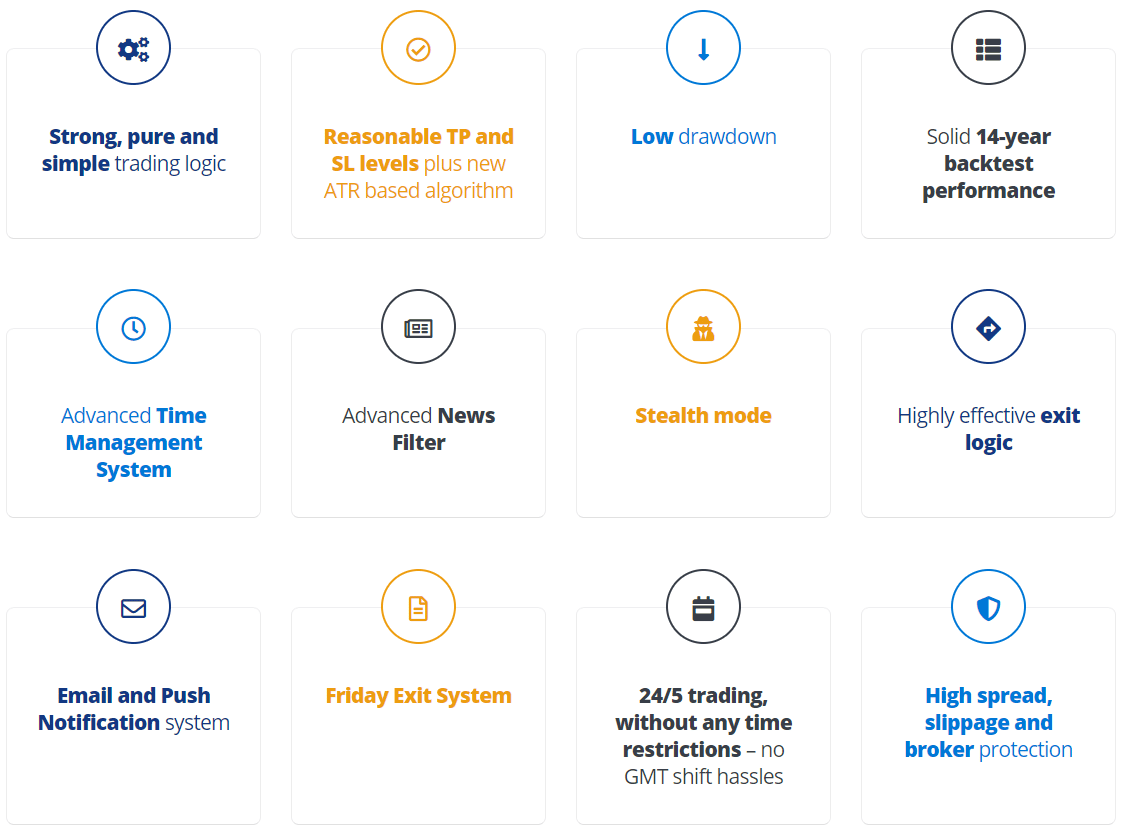 We have some informative blocks about the system:
The system works automatically.
The advisor doesn't use risky strategies like Grid or Martingale.
There's a "strong, pure and simple trading logic."
According to the description, there are trend and scalping strategies.
The system sets reasonable TP and SL levels.
It works with low drawdowns.
The backtests united 14 years of data.
The time management system and news filter decide when to trade.
The stealth mode allows covering SL from being hunted by brokers.
There's an effective exit logic.
The robot has an Email and Push Notification system.
The Friday Exit System allows closing trades before the markets get closed.
There's high spread, slippage, and broker protection.
It works on the MT4 and MT5 platforms.
The lot size should be 0.01 per $1000.
The risk can be from 2% to 10%.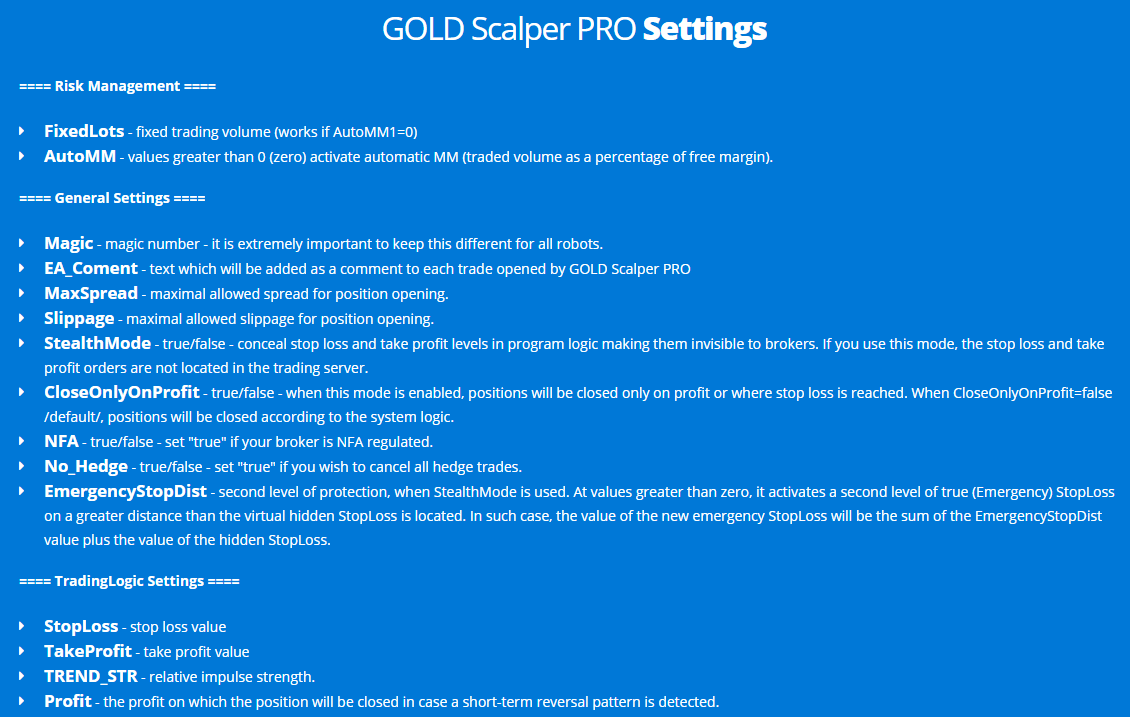 We have a list of EA's settings as usual.
The system can work with MAC OS and Windows OS.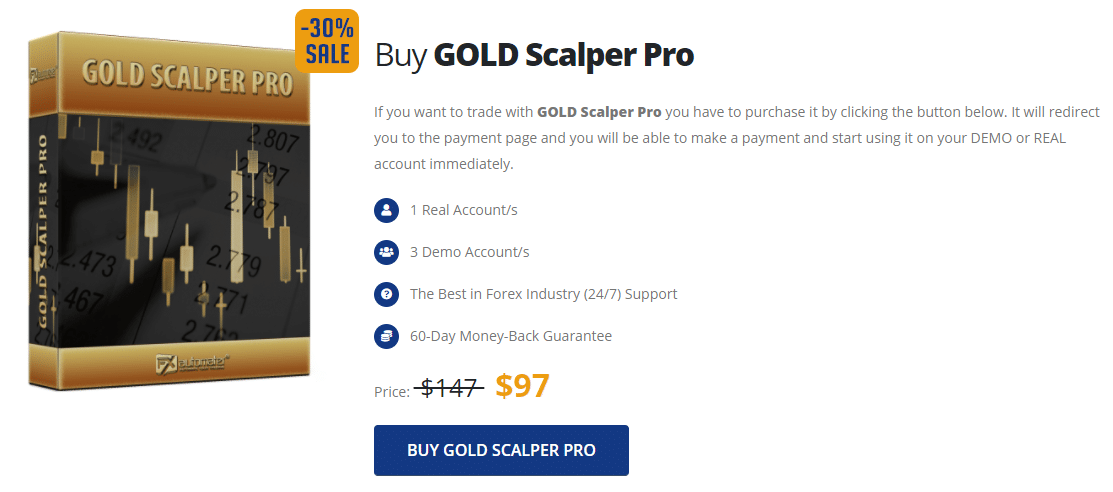 Gold Scalper Pro costs $97 instead of $147. The main price is changed quite often by the developers. We can work on a real account, three demo accounts. There's 24/7 support and a 60-day money-back guarantee.
The pack includes, in addition, a detailed user manual and free updates.
Verified Trading Results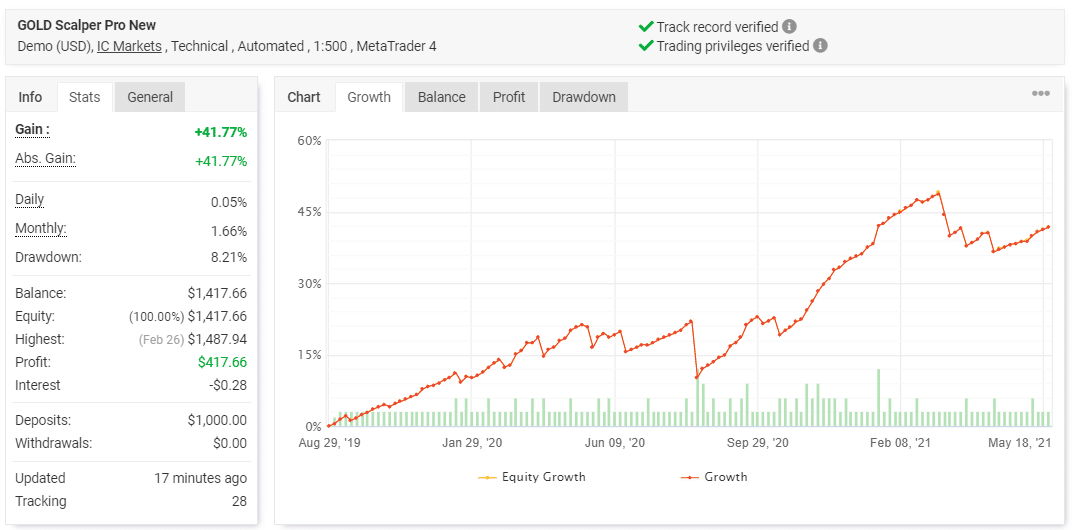 The previous account doesn't look cool.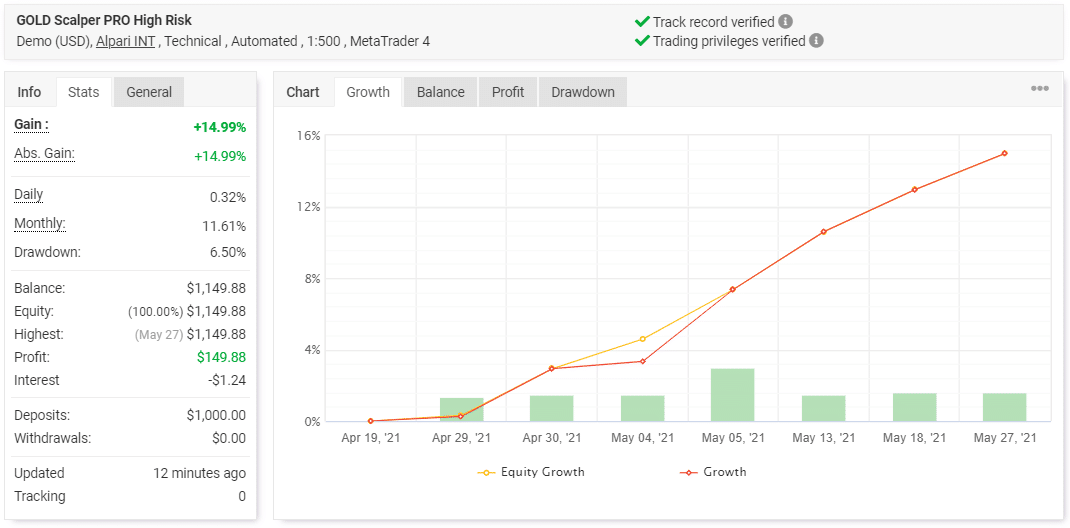 The robot has been working on a demo account on Alpari automatically with 1:500 leverage on the MT4 platform. The account has a verified track record. It was created on April 19, 2021, and deposited at $1,000. Since then, the absolute gain has become 14.99%. An average monthly gain is 11.61%. The maximum drawdown is 6.50%.

There were eight deals traded with 1367 pips. An average win is 170.88 pips. The win rate is 100% for both directions. An average trade length is 3 hours and 25 minutes.

The Shorts direction is traded more frequently and profitably than the Longs one.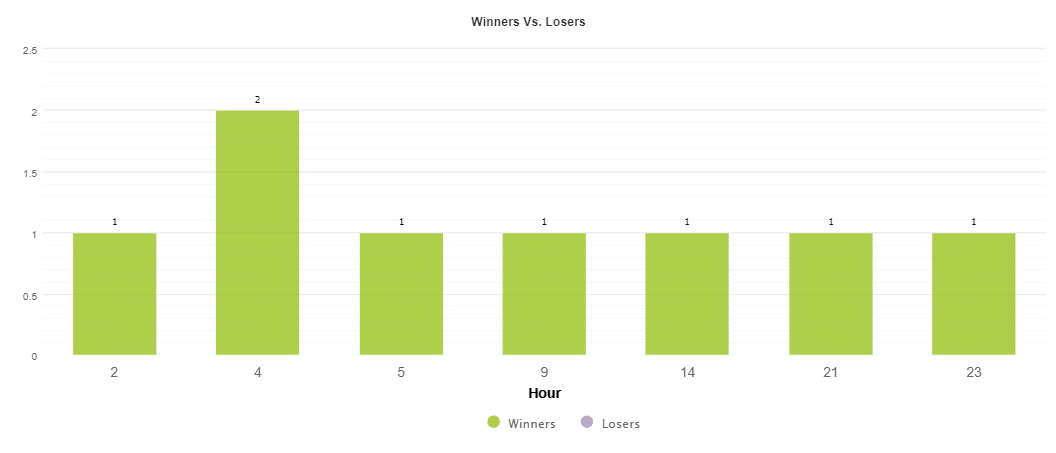 It trades during the day, and it's not common for a Gold robot.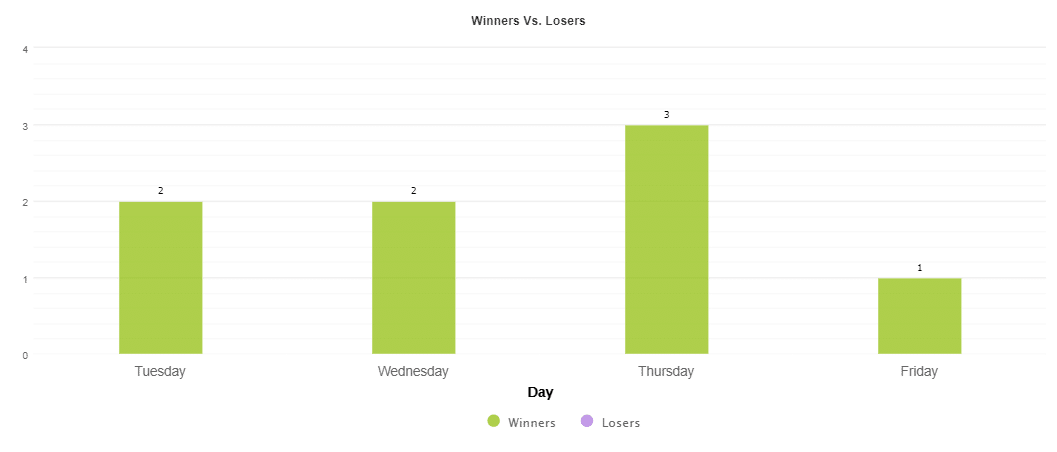 There were no open orders on Monday.

The system works with low risks.

The advisor sets in very deep Stop Losses that are ten more times more than Take Profits.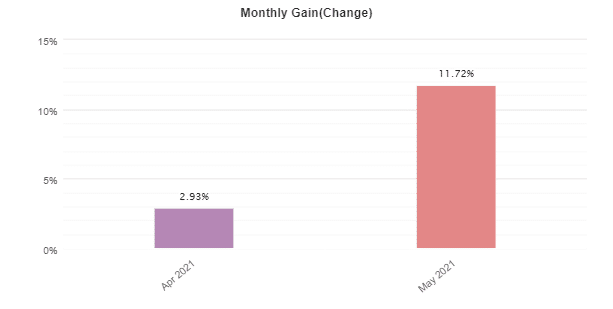 The robot has a low trading frequency.
Vendor Transparency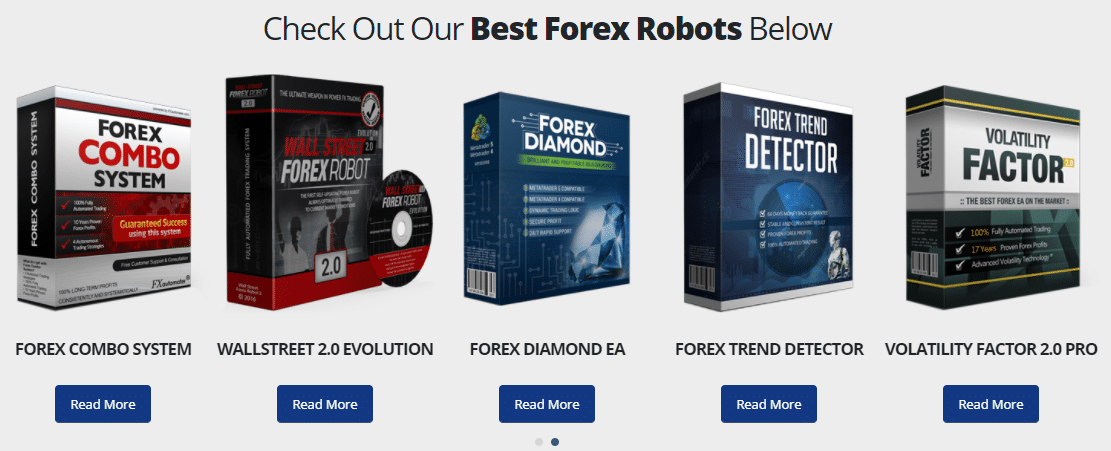 The presentation includes other well-known products of FXAutomater like Wall Street Forex Robot, Forex Diamond, and others.
People feedback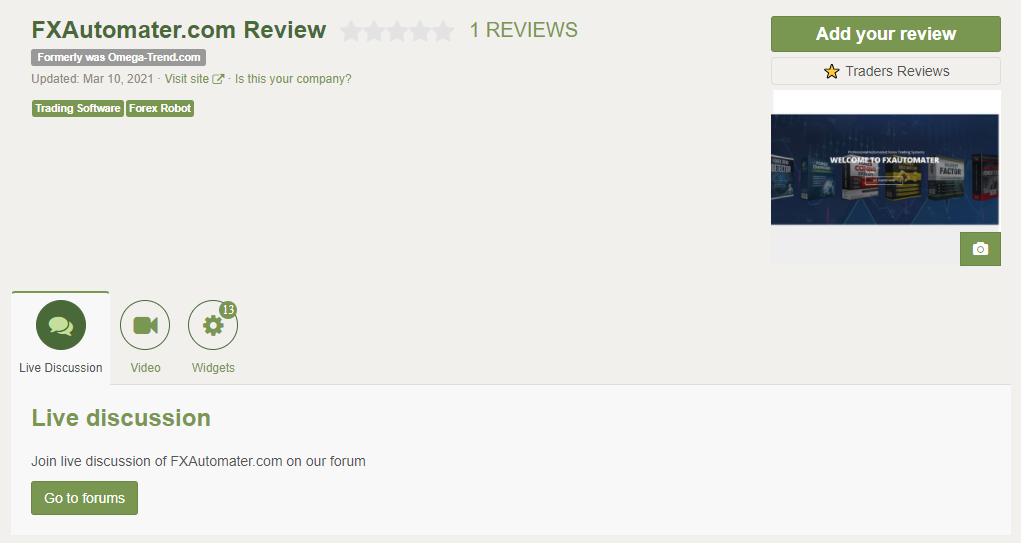 There's no page of Gold Scalper Pro on Forex Peace Army. We have only a profile of the mother company. Alas, people don't want to provide feedback about their software.

One negative comment sounds out of place. It's awkward.
Other notes
The system has been in existence since 2019. There could be something wrong because we have no testimonials at all. It's hard to make a decision about the robot without checking people's experiences.