FX Scalper X is a Forex robot promising brilliant trading outcomes year after year. As per vendor claims, this robot will prevent you from suffering huge losses and blowing your trading accounts as a result. It is an easy-to-setup system that takes human emotions out of the trading process, thus ensuring reliability and consistency.
FX Scalper X: To Trust or Not to Trust?
On the FX Scalper X official website, the vendor has focused on the live trading results and backtesting data, instead of writing long paragraphs about what makes the system so special. We take this as a good sign because it means they are confident about the robot's performance.
We have the details of the pricing plans, along with some screenshots of customer testimonials. The main features of the robot have been highlighted, and the answers to some frequently asked questions are provided on the website. We also have a video showing the performance of FX Scalper X during the pandemic situation.
Judging by the presentation, it seems like a reliable and trustworthy system. The vendor has chosen not to hide the robot's performance, and this gives us a good first impression.
Features
FX Scalper X is a 100% automated Forex EA that trades in pairs like GBP/JPY, GBP/USD, EUR/JPY, EUR/USD, and others. When you purchase the FX Scalper X bundle, you get 3 robots for the price of 1. The license can be bought for 3 months, 6 months, 1 year, and for a lifetime at $117, $157, $197, and $277 respectively. No refund is provided for the vendor and all sales are considered final.
This Forex EA is capable of profiting on autopilot mode, so you don't need to manually intervene every now and then. It uses stop losses with every trade, so you don't suffer from huge losses and end up exhausting your account. The vendor recommends starting with a balance of $100 but also states that a higher starting balance can lead to better results.
We don't have a clear explanation of the trading strategy on the official website, so we don't exactly know how the robot gauges the strength of a trend and identifies profitable opportunities. The lack of strategy insight might be taken as a red flag by those traders who are particular about technical details.
Although the trading strategy has not been explicitly mentioned by the vendor, from the name of the robot, we can guess that it uses a scalping technique. This involves taking advantage of small price shifts and opening trades that are closed in a matter of a few minutes after gathering small profits. While it does ensure a steady stream of profits, it is not suitable for those who prefer a high-risk, high-gain approach.
Verified Trading Results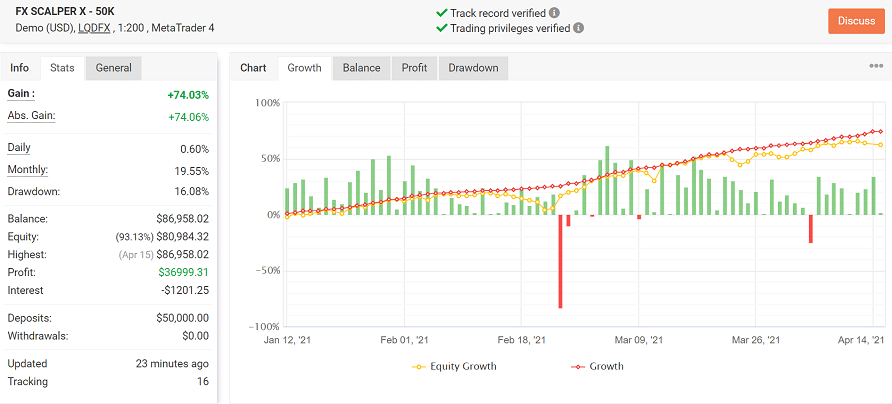 This trading account on Myfxbook has only been active since 12th January 2021, but in this short span of time, it has placed 2815 trades. Currently, the net profit generated through this account stands at $36999.31, while the daily and monthly gains are 0.60% and 19.55% respectively. The drawdown is moderately low at 16.08%.
The robot won 2167 out of 2815 trades, which means it has a win rate of 77%, with an average win of 11.53 pips/$37.78. The profit factor of 1.82 is not too high, but still enough for us to consider this system as a consistent generator of gains.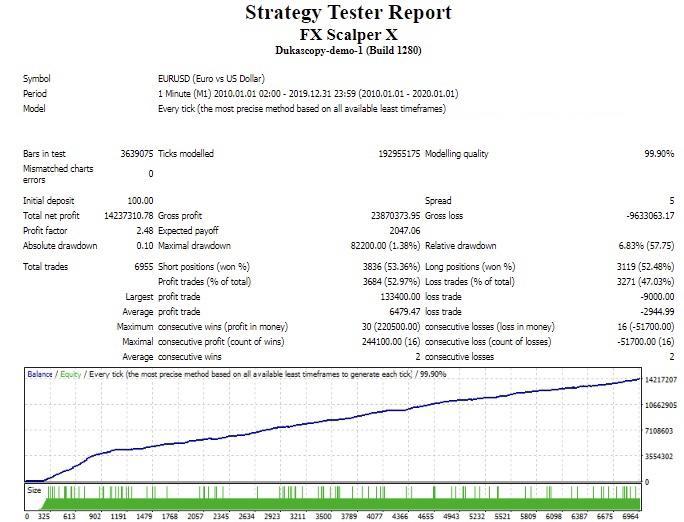 Here we have the backtesting data conducted for the EUR/USD pair from January 2010 to December 2019. An initial deposit of $100 was made for this test, and a total net profit of $14237310.78 was generated as a result. We can see that the win rate of 52.97% is quite low compared to what we saw in the live trading results.
The relative drawdown of 6.83% is also significantly lower than the live trading results, while the profit factor of 2.48 is a bit higher. However, it is not uncommon for a system to show better performance based on historical data.
Vendor Transparency
We don't have any information related to the company that developed FX Scalper X. On the official website, there is no physical address provided, and the service history is also not revealed. So we cannot say that we are impressed by what this software offers in terms of vendor transparency.
Customer Reviews
We couldn't find any user reviews for this Forex robot on the popular review websites. Since it has been trading live only for a short while, it is possible that not many people have heard about it.