Gold Miner is a Forex EA that was published on the MQL5 website on 31st December 2020. It claims to be able to withstand large drawdown periods in the market, while actively working to recover the user account. Since this is a newly-launched system, its performance and reliability need to be thoroughly assessed before forming a conclusion about its trustworthiness.
Gold Miner: To Trust or Not to Trust?
Gold Miner does not have an official website of its own, and all the information available on it can be found on the MQL5 website, where the robot is sold. Here, the vendor has provided us with an idea of what the system is about and how it functions. The link to an MT5 version of the software is provided, along with a set of options that you can change to suit your own trading technique.
Finally, we have a screenshot of what looks like backtesting data, but it does not seem to be from a verified source. To us, the information provided on the MQL5 page looks insufficient, and we are not sure whether it would be wise to trust this Forex EA.
Features
Gold Miner is a semi automatic Forex EA that is available for $49. You can also rent this EA for 1 month by paying $30. The vendor also offers a free demo version of the software that you can use to test the performance before using it with real money. There is no mention of a money-back guarantee, which comes as a disappointment since every reliable Forex robot manufacturing company has a refund policy.
Gold Miner is a Forex EA using the grid strategy that involves searching for areas where the prices of major sellers and buyers are concentrated. It tries to take advantage of the short-term trends that are generated in these zones. The vendor has claimed that the system is able to perform well in difficult market situations due to the function of overlapping failed orders.
You can use this robot to trade in pairs like NZD/USD, AUD/USD, USD/CHF, USD/JPY, EUR/USD, USD/CAD, GBP/USD, as well as in gold. The robot has several useful functions, one of them closes orders on Fridays after an equity target is reached. Information about the profit is displayed on the chart.
The EA options include parameters like timeframe, price range, initial lot size, max orders, trailing stop, breakeven stop, use positions, entry distance, overlap orders, equity take profit and stop loss, etc. By adjusting these options, you can create a flexible trading mechanism of your own.
Unverified Trading Results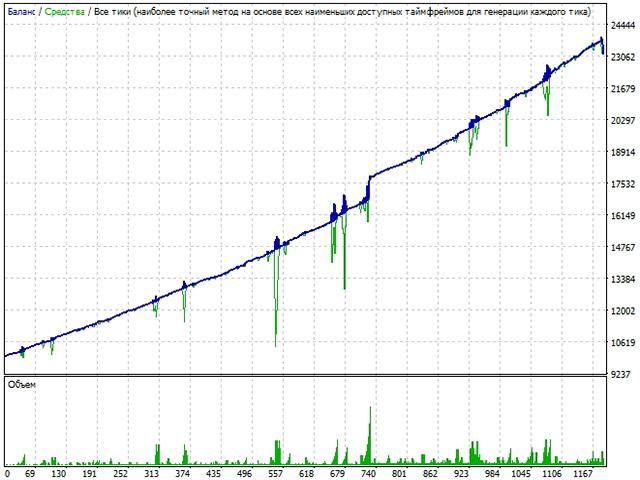 We don't have the live trading results for Gold Miner available on the MQL5 page, and this is a huge disappointment. Most Forex traders won't consider investing in a system that does not share live proof of its trading performance. In the absence of it, there is no way we can determine whether the system can consistently earn profits in the live market.
While the vendor has provided us with the screenshot of backtesting results on the MQL5 page, it seems to be taken from an unverified source. We have not been provided with the various performance parameters associated with backtesting data, such as profit factor, relative drawdown, win rate, gross profit, etc. Since neither backtesting nor live trading results are available, we cannot rely on this robot to generate steady profits.
Vendor Transparency
The developer of Gold Miner is a Vietnamese trader by the name of Nguyen Nghiem Duy. He maintains his own Telegram channel and provides free signals for MQL5, M15, Swing Trading, Financial Markets News, etc. We can see from his MQL5 page that he has built other Forex robots in the past, such as Blue Dollar, Arbitrage Trading, The King EA, Red Dollar EA, Forex Miner EA, etc. There is no way we can verify whether this person has the required education and market experience.
Customer Reviews
We were unable to find any user reviews for Gold Miner on popular review websites like Trustpilot, Quora, Forexpeacearmy, and Myfxbook. Since this was only launched a few months ago, it is expected that not many traders are aware of its existence. This robot needs to furnish its live trading results on a verified account if it wants to be taken seriously by the seasoned players in the Forex market.