FX Classic Trader is a robot that is introduced as a "Creative Forex Expert Advisor." In the background, we can see a stock photo that should convince us that everything is professional.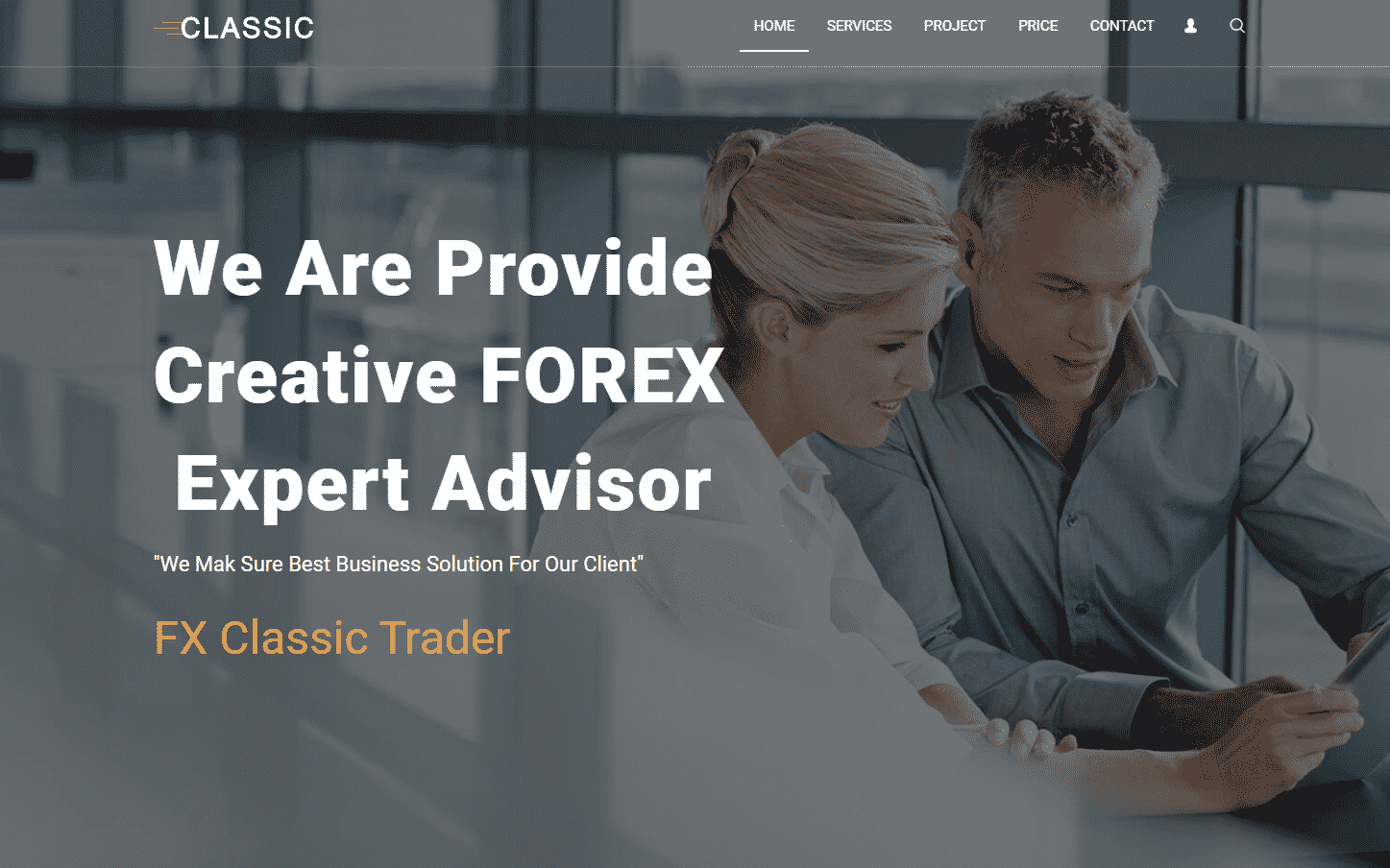 FX Classic Trader: To Trust or Not to Trust?
The robot doesn't have any testimonial on Forex Peace Army. As for the EA that has been working since March 2020, it's weird.
Features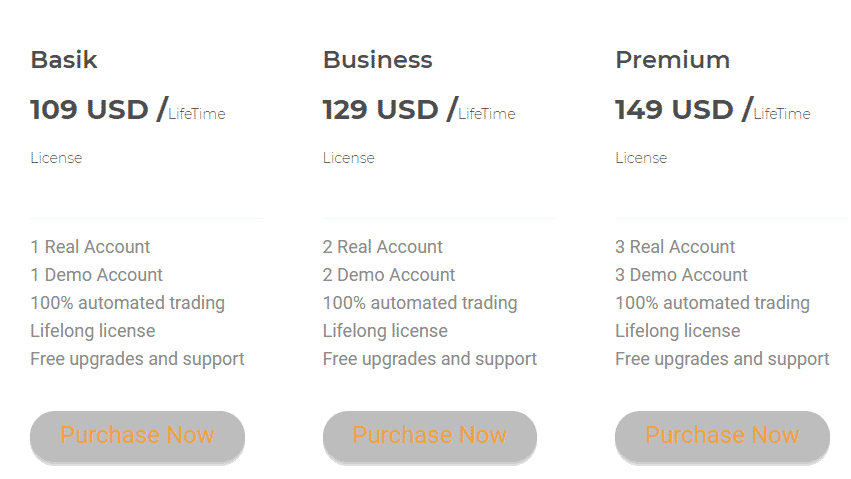 FX Classic Trader is sold in three packs: Basik, Business, and Premium. The Basik package costs $109 for a lifetime license. It's featured by one real and one demo account. The Business pack costs $129 for a lifetime license. It includes two real and two demo account licenses. The Premium package costs $149 for a lifetime license. We will get three real and demo account licenses. The vendor doesn't provide us with a money-back guarantee.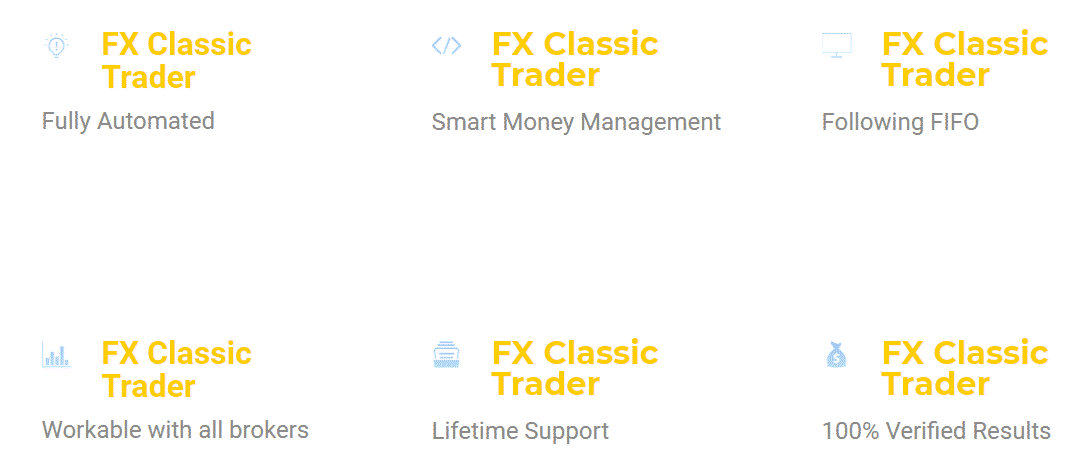 The robot works automatically.
It trades price swinging between Support and Resistance levels.
The system works based on the data from MT4 indicators.
It sets Stop Loss and Take Profit levels for each deal.
We can work with it only on the MetaTrader 4 platform.
There's a clever money-management system.
The robot isn't locked to one broker.
FX Classic Trader works under FIFO and NFA rules.
We can expect to receive lifetime support.
We have to use a robot only on an ECN account.
The leverage has to be 1:50 or higher.
The developer suggests we use 1:100 – 1:500.
It can work only on five-digit accounts.
The account balance requirements are $200 for starting trading.
A VPS service can help us to increase profitability.
It can be used on Standard, Micro, and Mini accounts.
Verified Trading Results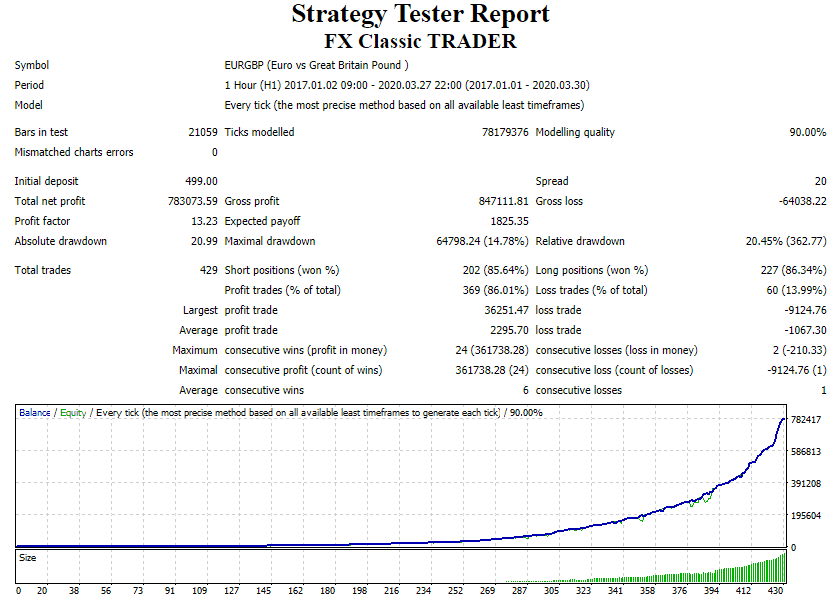 We've got only a EUR/GBP backtest. It was performed on the H1 time frame. The modeling quality was 90.00%. The maximum spreads were set at 20 pips. An initial deposit was $499. The Total Net Profit has amounted to $783,073.59. The Profit Factor was 13.23. The maximum drawdown was only -14.78%. FX Classic Trader traded 429 deals. The win-rate was 85% for Shorts and 86% for Long positions.

FX Classic Trader performs the real USD account. The balance is $20,160.77. It was created on March 29, 2020, and deposited twice at $7604 in total. The margin level is low – 911.0%. It seems to us the account was increased to not catch Margin Call.

The total return has become – 57.5%. An average monthly return is +16.8%. The maximum drawdown is – 1.8%. The win-rate is 67.6%. The Profit Factor is 2.02. An average trade frequency is 0.7 trades daily.

The Risk to Reward Ratio is 4.14. The risk of ruin is low (0.0%). An average trade length is 2.6 days. An average winning deal is +$165.72 when an average losing deal is -$171.18.
The robot trades the Short direction (123) more frequently than the Long one (99 deals). The Profit Rate is higher for BUY – 2.10.

The robot uses a single strategy under one magic number.

FX Classic Trader works during all days equally. The most profitable is Friday – $3287.

It focuses on trading during European trading hours and the opening of the American trading session.

The robot works with impossibly low frequency. There were only seven deals closed in February.

The weekly chart just provides this.

It hasn't closed four orders that can bring a loss of $14832. The robot is most likely stopped because there are a few free margins to open new trades before closing these ones.
Low Drawdowns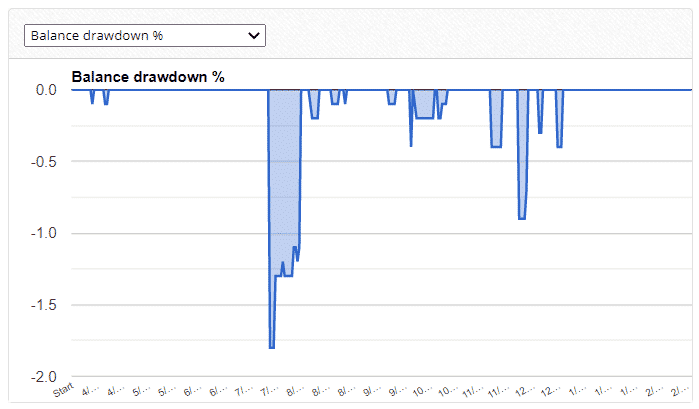 The robot trades with low drawdowns.
Vendor Transparency
The vendor has a medium level of transparency because we know nothing about the robot designer. At the same time, we can see open orders that have high chances to zero an account soon.
People feedback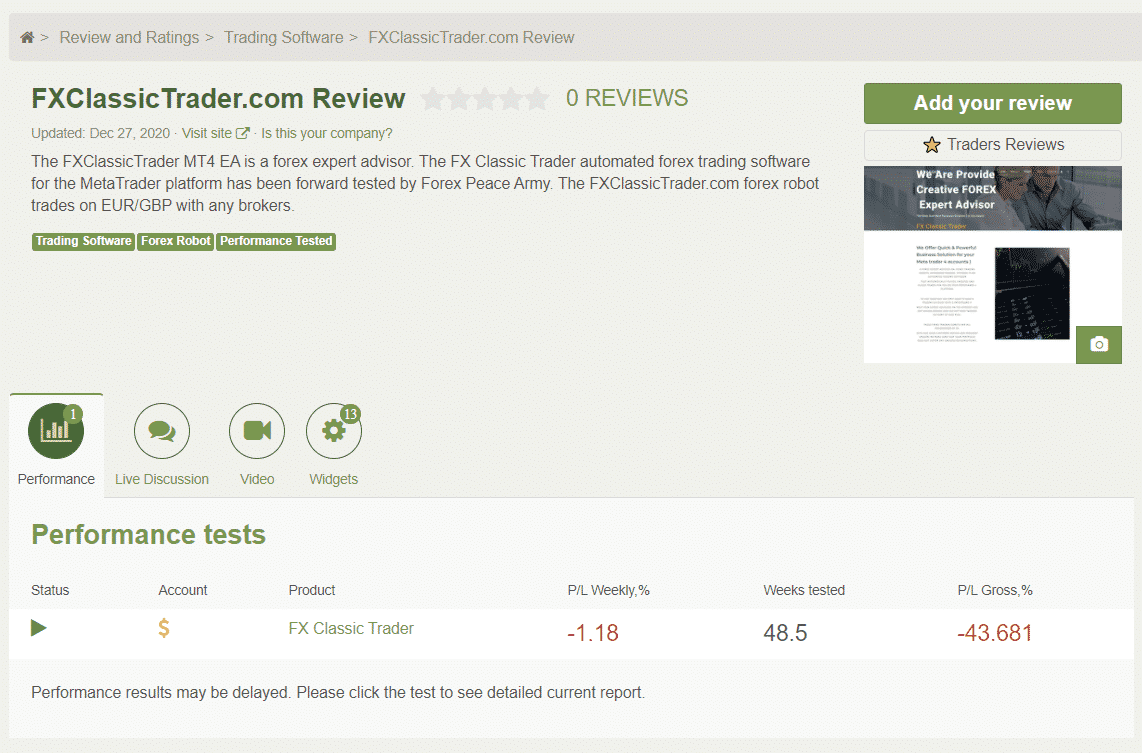 On Forex Peace Army we've found a FXClassic Trader profile without rates and reviews. As we can see, open deals can force the account to lose over 43%.
Other notes

In the presentation, we can find these statements: 2114 happy clients from 2190. It's a lie because we have not seen any positive or negative feedback on Forex Peace Army or on another reputable third party website.