We're back with a brand-new review of Forex Fury.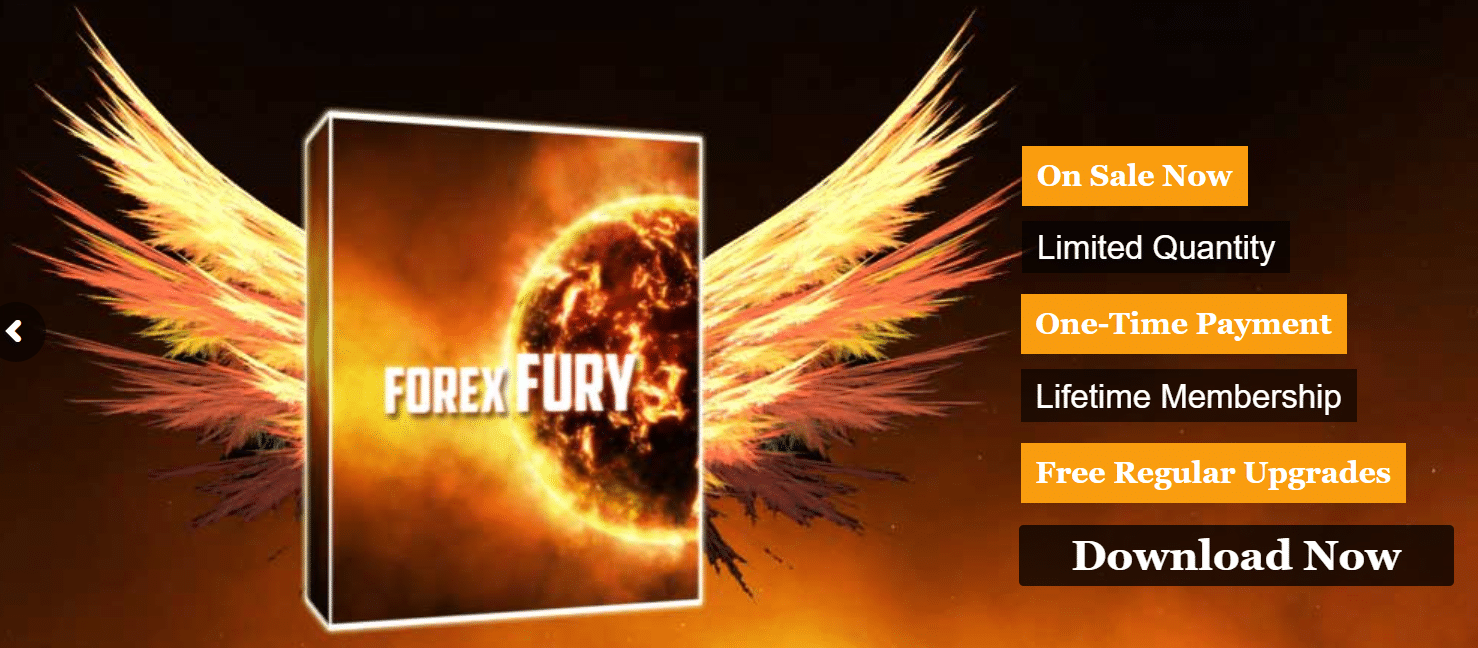 Forex Fury is a well-known robot across the Forex trader community.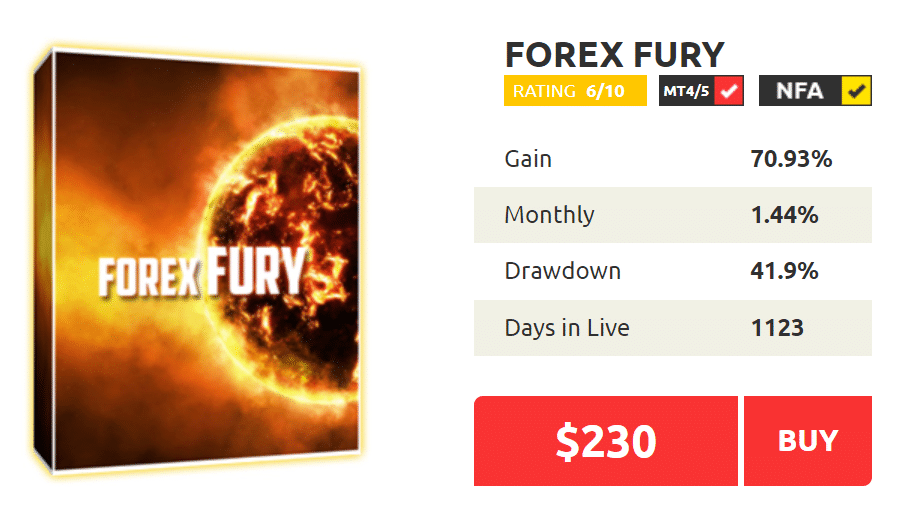 The company has its own profile on ForexStore, where the robot has got a 6/10 rate.
Forex Fury: To Trust or Not to Trust?
It's hard to tell for sure, scrolling through the presentation. There are real account trading results, but FS gave it only six stars from 10 possible. We want to take a closer look at the rest we can find about this EA.
Features
The robot has received many useful features:
Forex Fury trades fully-automated.
It has drawdown control, so drawdowns aren't frequently nor long-term.
The robot performs up to 5 trades daily.
It has an up to 93% win-rate.
The default settings are introduced as super-profitable ones.
The robot is compatible with NFA and FIFO-regulated broker houses.
There are well-tested and proven settings.
The maximum drawdowns we can be scared of are 20%.
The system supports ECN accounts.
There's money-management with SL and TP.
It can be run on MT4 and MT5.
There are filters to not to trade during bad market conditions.
There's a simple and easy-to-get installation with video and PDF guides.
As we can see, there are many useful features. The robot received its diversity. We can trade not only many-used MT4 but also MT5. The same we have with the NFA and FIFO regulation.
3rd-Party Verified Real-Account Trading Results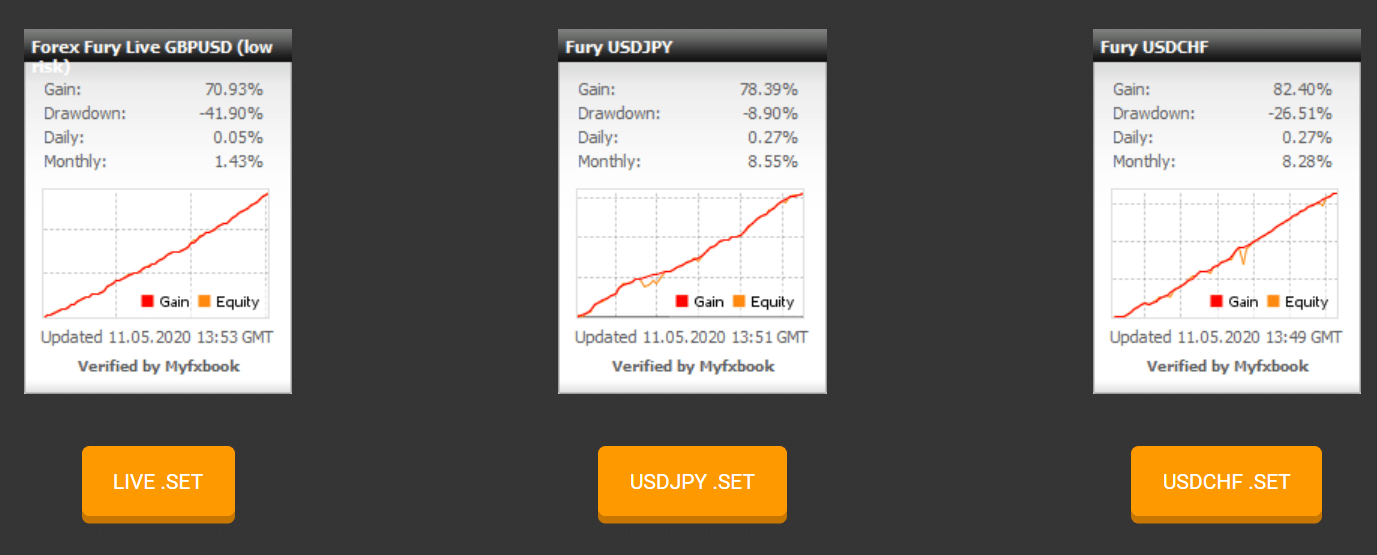 There are six accounts with sharing .set files.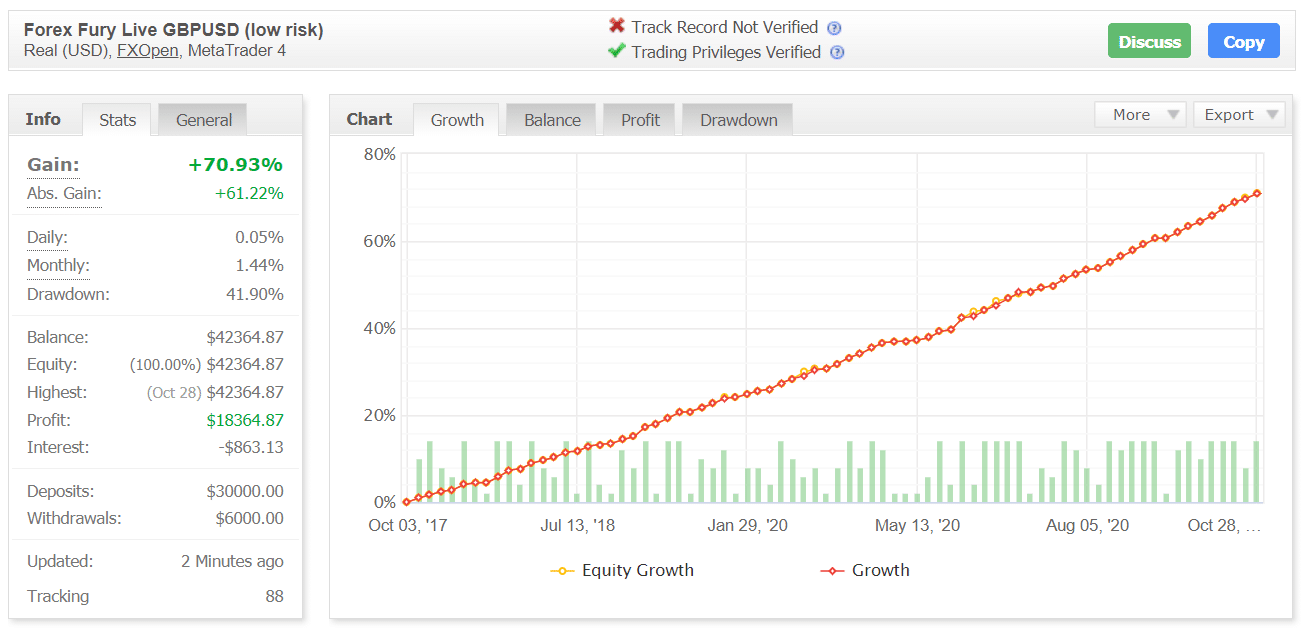 There are many demo accounts, but this one is real. Track Record is Not Verified. So, there can be removed parts of trading activities. The account is fake because, as we can see, there's no mention that there's "Automated" trading. So, the devs trade manually on this account but introduced it as an account that's run by the EA.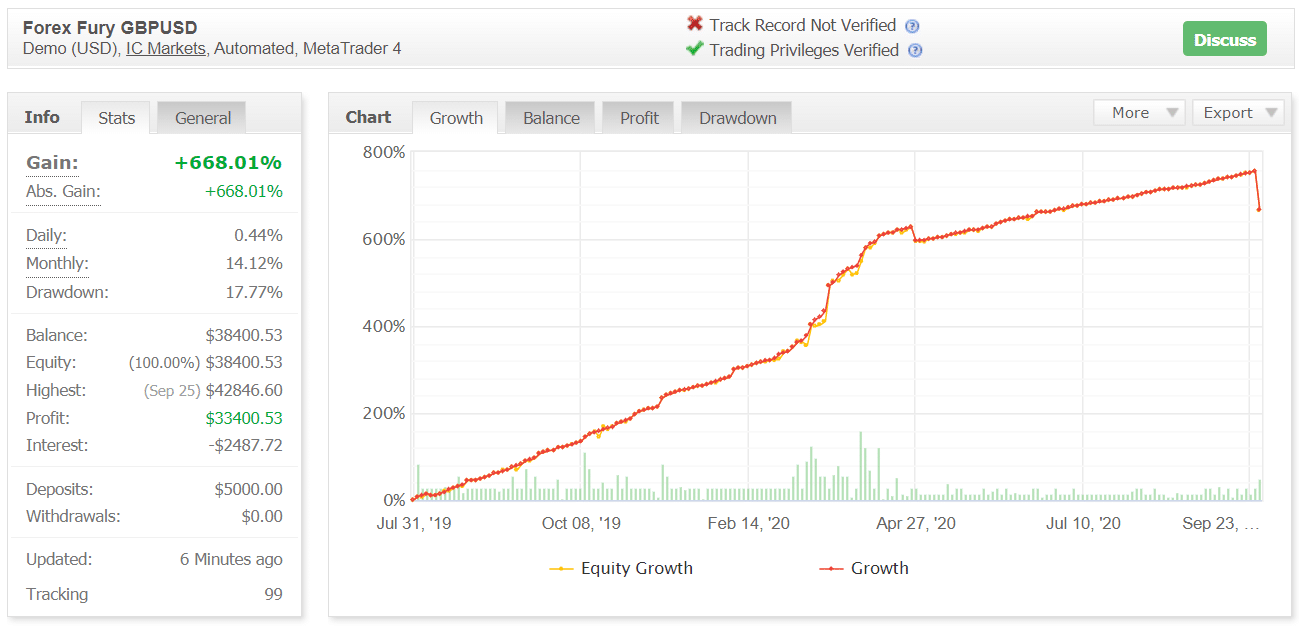 It's a demo USD account on IC Markets that works without leverage through MetaTrader 4. Track Record is Not Verified here as well. An absolute account gain is +668.01%. An average monthly gain is +14.12%, with low drawdowns (17.77%). It was registered on July 31, 2019, and funded at $5000. 99 Traders track it.

The robot performed 1806 deals with 9149.5 pips. An average win in pips is 6.52. An average loss is -81.25 pips. Longs' position win-rate is 98%. Shorts' one is 98%. An average trade length is 14 hours. The Profit Factor is 6.08.

As we can see from its name, the robot works only with GBP/USD.

All trades were performed between 23:00 and 23:59.

The robot trades every day equally.

It doesn't perform with default settings where risks are 20%.

From the chart, we saw how the robot screwed 12% of the account gain (from 756% to 668%). Now, we know that there were seven open deals without SL. So, there's a huge problem in the EA's code. These deals were closed manually yesterday after 39 of trading. As we may see from their .set files for GBP/USD, there are SL settings – 35 pips. It lost seven times more.

The TP isn't always five pips – sometimes it was set higher.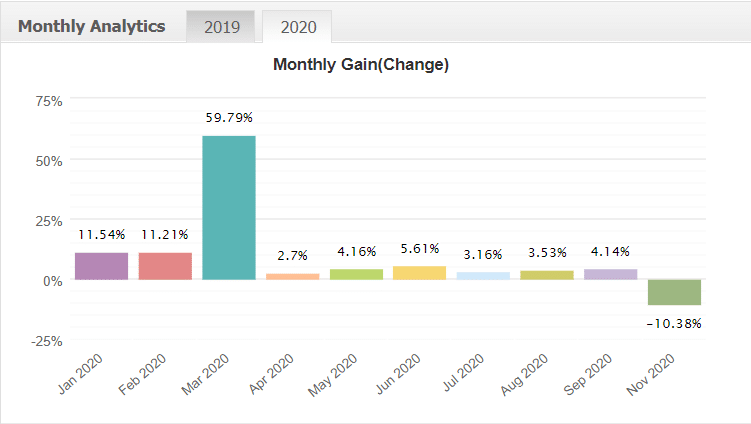 November's results were changed dramatically.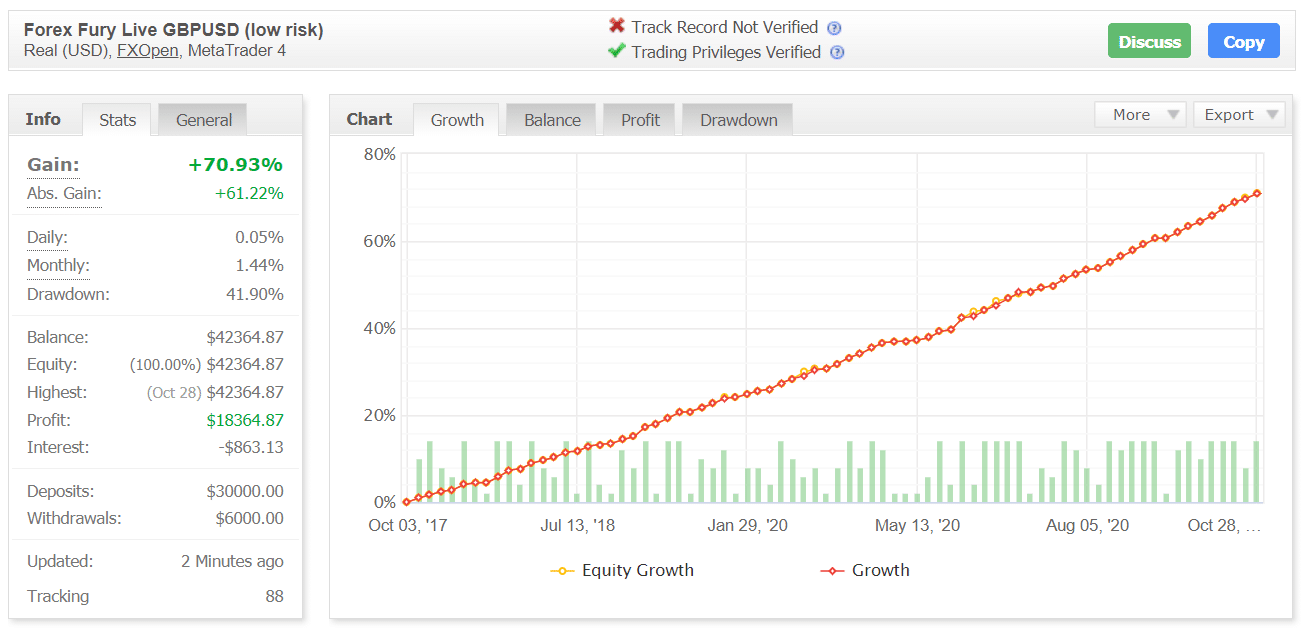 It's noticeable that this manually traded account doesn't have these losses.
Vendor Transparency
We'd like to notice that the level of Transparency is impossibly low. Many accounts don't have a Track Record Verified badge. One GBP/USD (automated) account has a huge loss, but only one real manual traded account doesn't have them. It means the developers try to cover something.
Pricing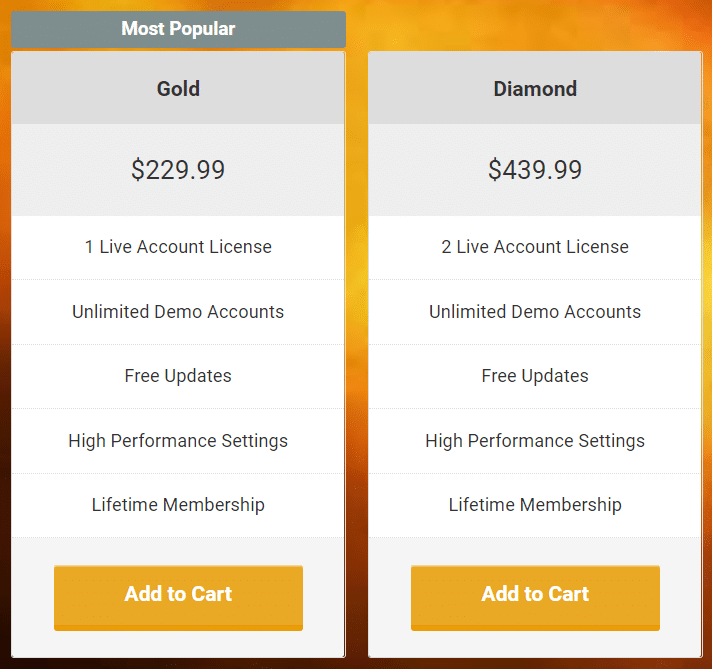 There are two packages: Gold and Diamond. Gold costs $229 and allows trading on one real account and unlimited demo ones. We can rely on free updates and access to the inner forum. The Diamond package costs $439. We can trade on two real accounts.
Testimonials and mentions

The Forex Fury has an account on FPA with a 2.8/5 rate based on 126 reviews. The site warns us that there were many fake positive reviews.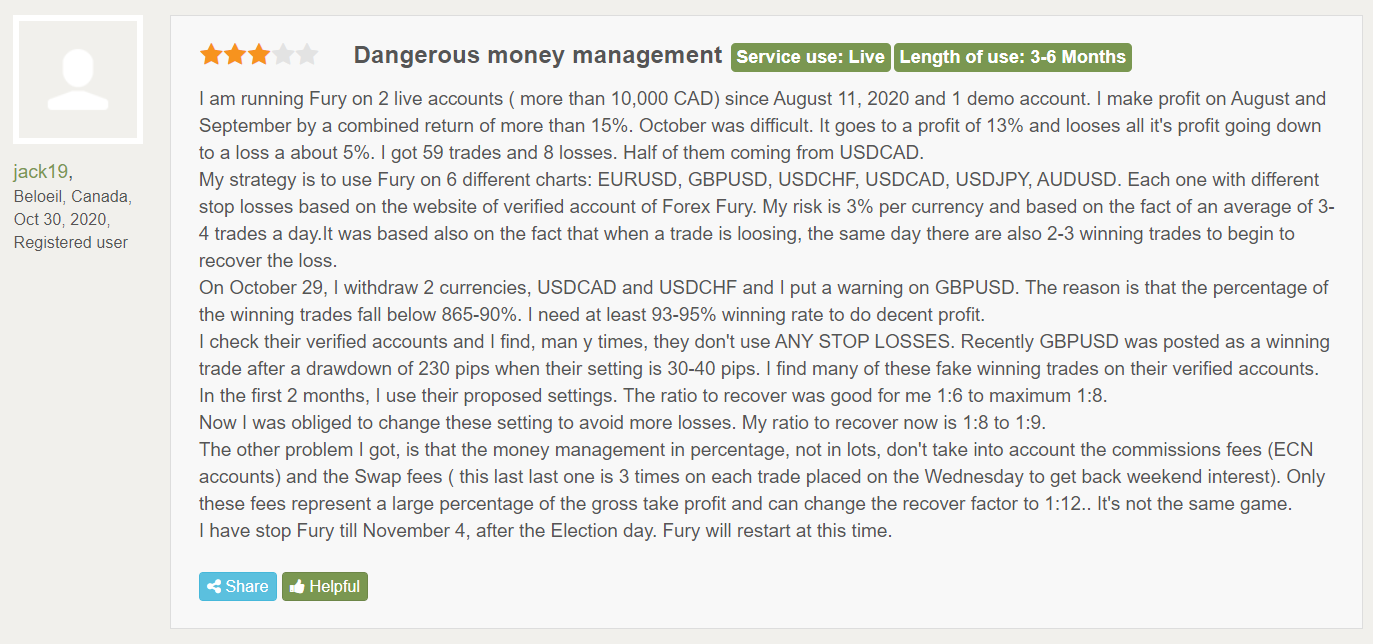 Here, we have a person's experience. He traded six symbols but had to withdraw three of them because the robot started making many losses. Trades that the robot places on users' accounts vary with trades and profits that the robot has on its accounts. So, it means the developers provide fake results.

This person experienced what we saw on the trading results: problems with TP and SL.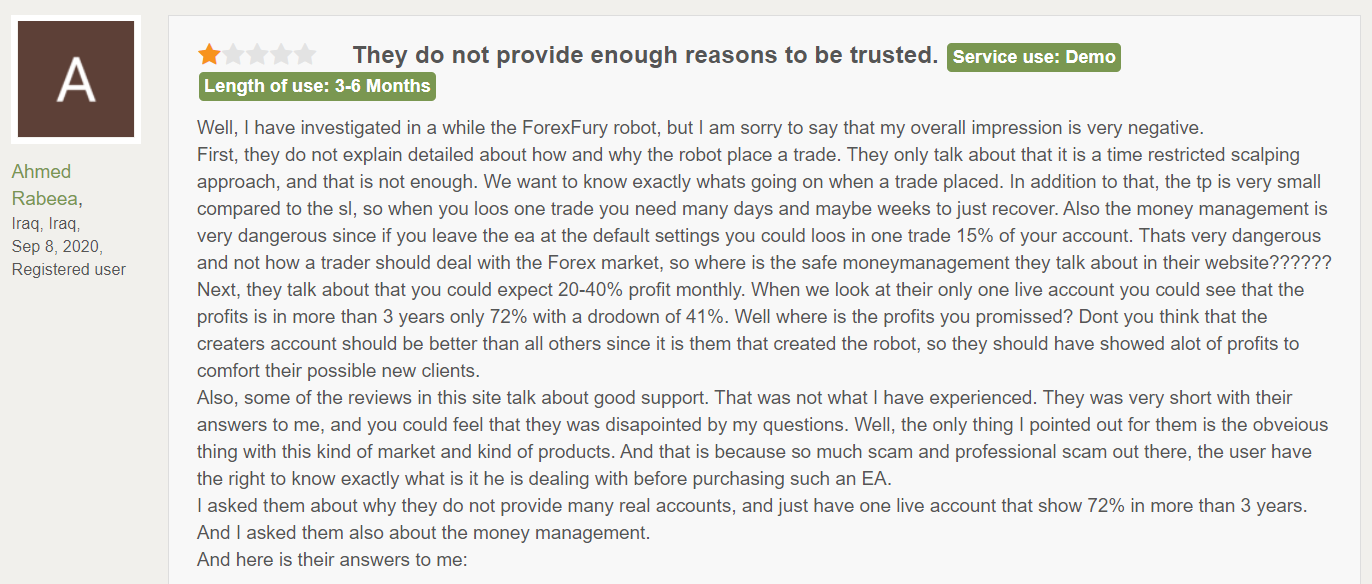 This person noticed that it's impossible to be profitable with default settings.