Forex Scalping EA is a scalping trading robot that trades several currency pairs on the M5 time frame. The developers introduced it as the best scalping robot. We're going to talk about it in a Forex Scalping EA review.
Forex Scalping EA: To Trust or Not to Trust?
Highly-likely, we don't trust it. There are demo account trading results and no refund policy.
Features
The EA trades fully-automatically for us.
It works only on the Metatrader 4 platform.
There are backtests that unite 2000-2000 years data.
It scalps in the market direction.
This is frequently traded software.
The EA opens trades on a short term period.
Spreads should be as low as possible.
VPS is a great option for increasing market execution speed.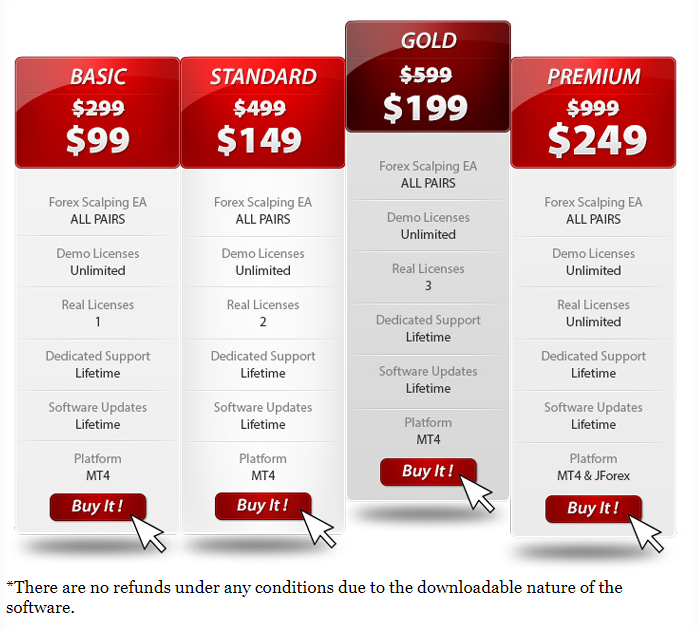 The vendor sells the EA in four packages: Basic, Standard, Gold, and Premium. The Basic pack costs $99 instead of $299. It's featured by a single real license. The Standard package costs $149 and allows trading on two real accounts. The Gold pack costs $199 and includes three real licenses. Unlimited licenses are available in the Premium pack for $249.
Verified Trading Results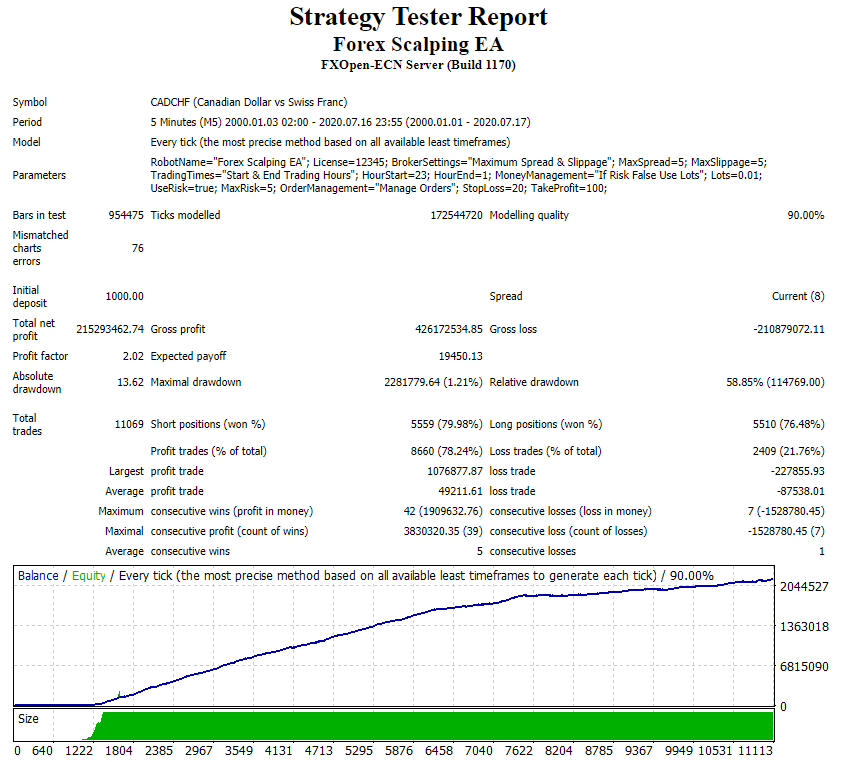 We've got many backtests. This one is CAD/CHF on the M5 time frame. The modeling quality was 90.00%. The Spread was short (8 pips). An initial deposit was $1000. The total net profit became $215M. The Profit Factor was 2.02. The maximum drawdown was small – 1.21%. The EA closed 11069 trades with 79% of the win-rate for Shorts and 76% for Longs.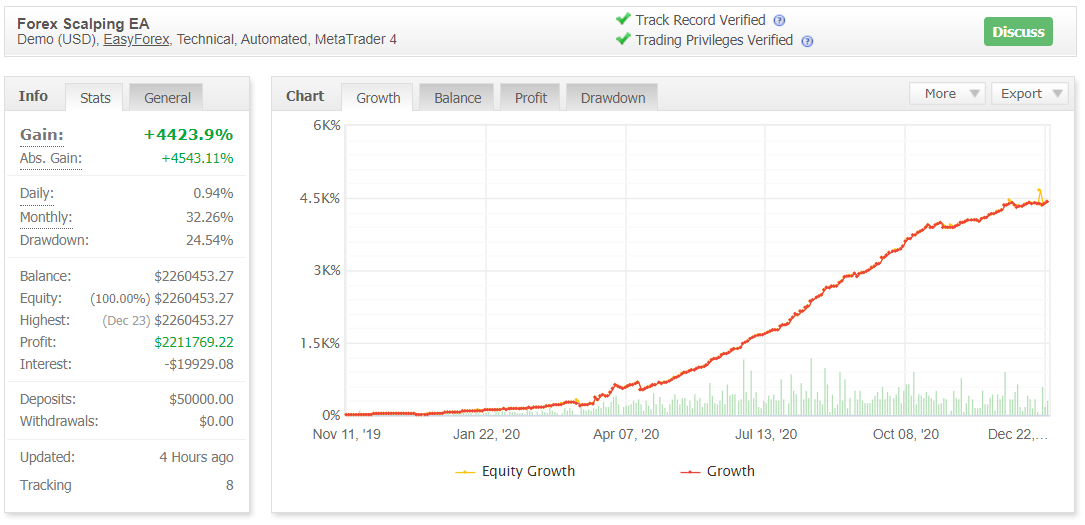 The EA runs a demo USD account on an EasyForex broker company. It trades automatically, using technical indicators from the Metatrader 4 platform. The account has a verified track record. It was created on November 11, 2019, and deposited at $50k. Since then, the absolute gain has become +4423.9%. An average monthly gain is +32.36%. The maximum drawdown is 24.54%.

The EA closed 2677 deals with 7569 pips. An average win is 5.17 pips when an average loss is -10.19 pips. Win-rate is 84%. An average trade length is a bit higher than half an hour. The Profit Factor is 3.13.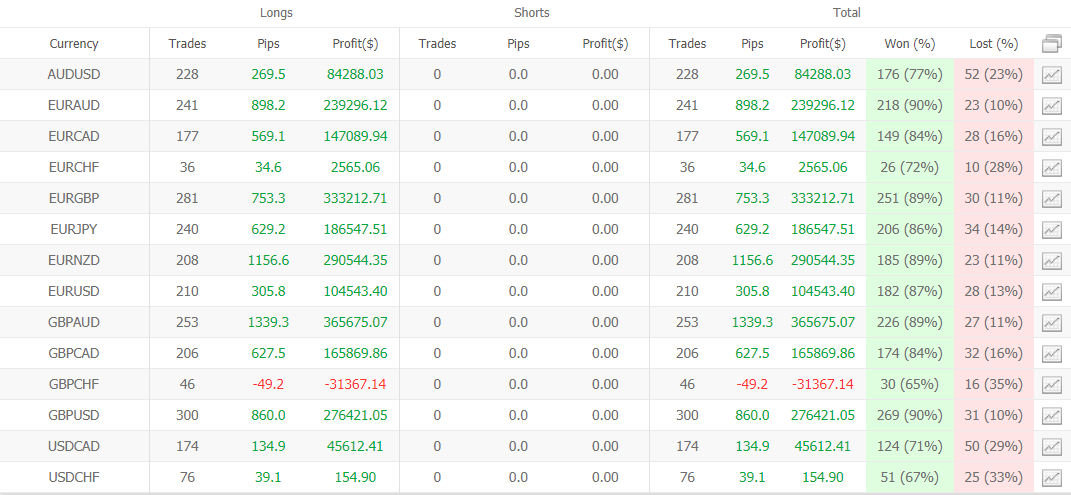 It trades 14 currency pairs. The most traded pairs are GBP/USD (300), EUR/GBP (281 deals), and GBP/AUD (253). The most profitable ones are GBP/AUD $365k, EUR/GBP $333k, and EUR/NZD -$290k.

The robot scalps during calm hours every day.

Fridays are not the days to trade because to not keep deals open over weekends.

It runs the account with little risk to the account balance.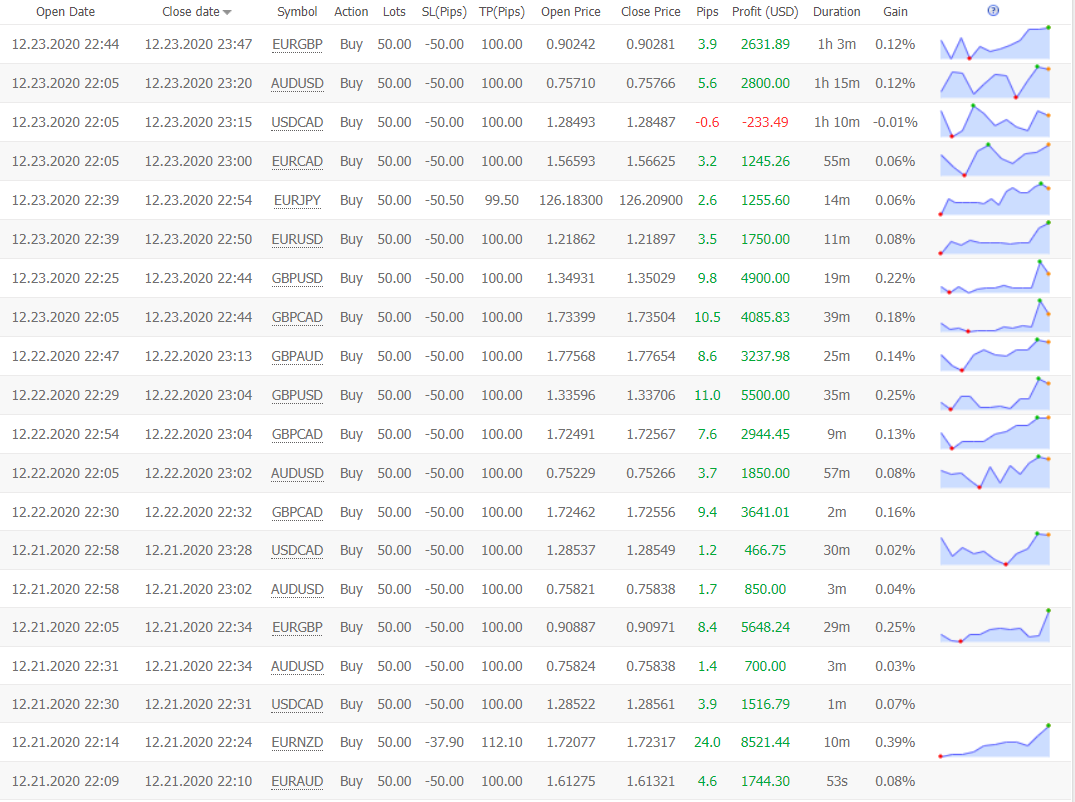 The EA trades with a fixed Lot Size – 50, setting SL at 50 pips and TP at 100 pips. As we can see, Forex Scalping EA trades with a solid win-rate.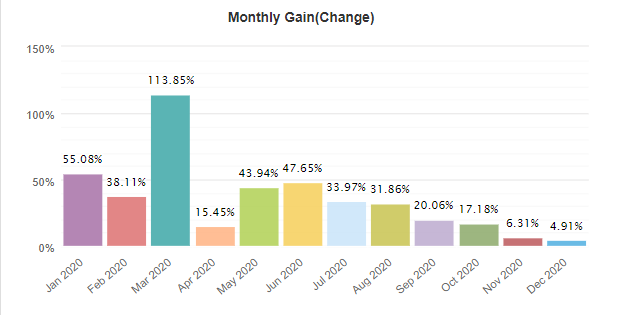 All 2020 months were closed with profits that varied from 113% to 4.91%.
High Drawdown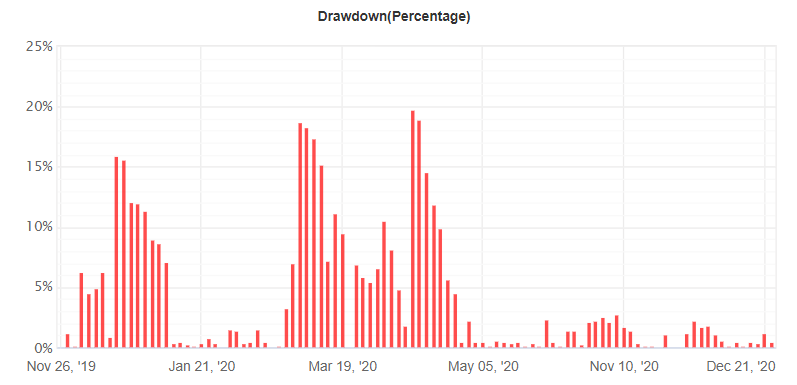 The EA experienced two high drawdown periods in 2020.
Vendor Transparency
The account has a medium level of transparency. From the one side, there are verified trading results with all data available to check. From the other one, we know absolutely nothing about the vendor.
Testimonials and mentions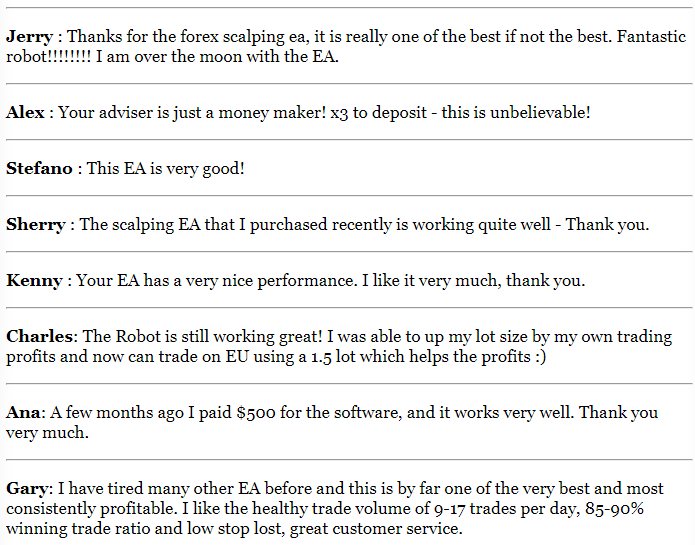 The presentation is featured only by positive feedback from clients.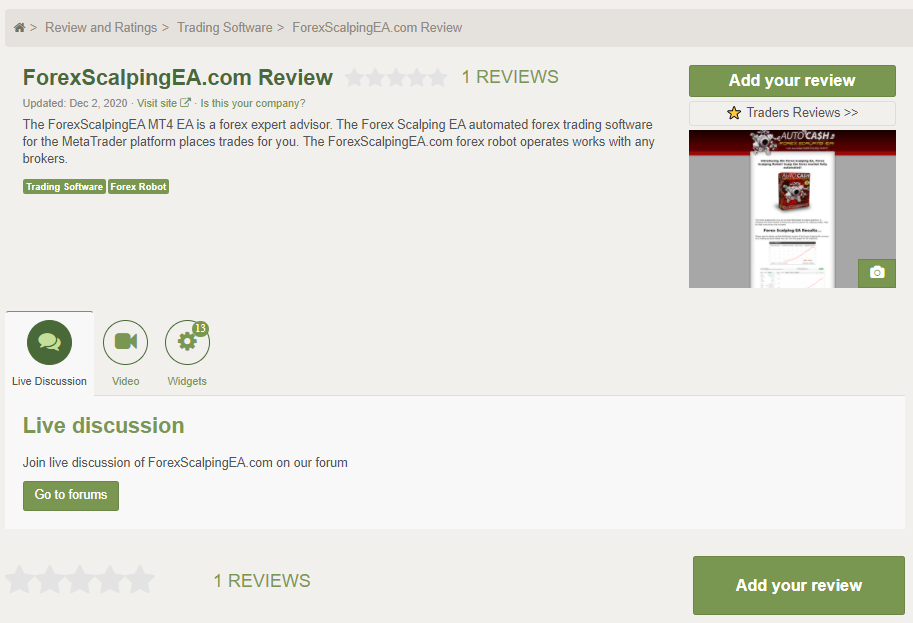 There's a page on Forex Peace Army without their account connected.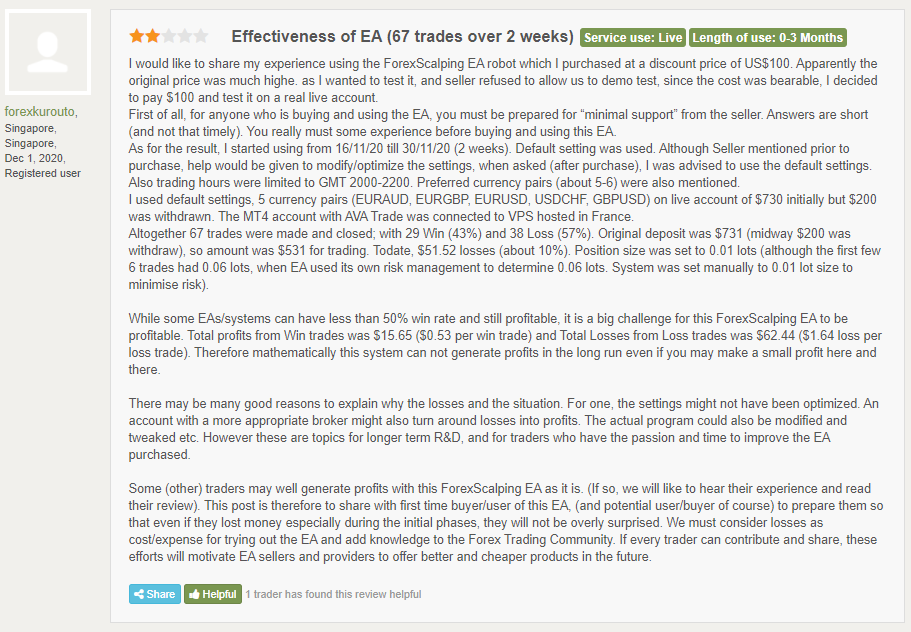 As we can see, Some customers couldn't be profitable having used this software. The key factor for using scalper is VPS with the lowest possible pings and spreads.