Forex Scalping EA is an automated trading robot that works on 14 currency pairs on the M5 time frame. The developers introduced it as the best scalping robot with an impressive trading performance record. Although these claims sound good, we can't trust them blindly. We will analyze this ATS to check whether the dev could back up his claims.
Forex Scalping EA: To Trust or Not to Trust?
The system is a risky trader. Instead of sharing Real trading account results, the dev shows us Demo, trading with a high Lot size of 50 and a combo of Scalping plus Grid trading approaches.
Features
The EA trades fully-automatically for us.
It works only on the Metatrader 4 platform.
There are backtests that unite 2000-2000 years data.
It scalps in the market direction.
This is frequently traded software.
The EA opens trades on a short term period.
Spreads should be as low as possible.
VPS is a great option for increasing market execution speed.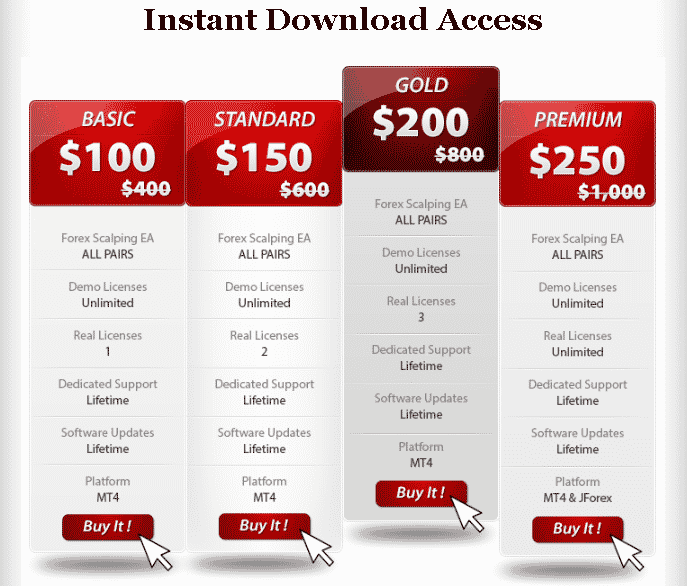 The vendor sells the EA in four packages: Basic, Standard, Gold, and Premium. Price ranges from $100-$250 on a 75% discount. The Basic pack costs $100 instead of $400. It's featured by a single real license. The Standard package costs $150 and allows trading on two real accounts. The Gold pack costs $200 and includes three real licenses. Unlimited licenses are available in the Premium pack for $250. A money refund is included in none of these packages.
Verified Trading Results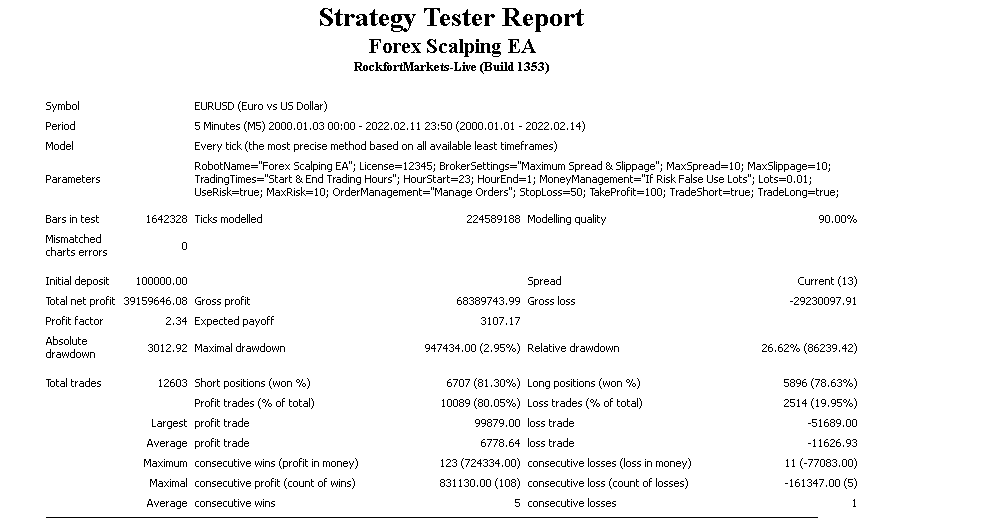 The devs share 15 backtest reports on their website. This one is for EURUSD performed on the M5 time frame. The modeling quality was 90.00%. The spread was 13 pips. An initial deposit of $100K turned into $39159646.08 of the total net profit. The profit factor was 2.34. The relative drawdown was 26.62%. The EA closed 12603 trades with 81.30% of the win rate for short and 78.63% for long trading positions. The vendor is using a verified Myfxbook account to demonstrate what this robot has or can achieve. The account was created on September 29, 2020. Its trading activity started on November 11, 2019. Since that span, its total gain has grown to 13,907.37% which is jawdropping.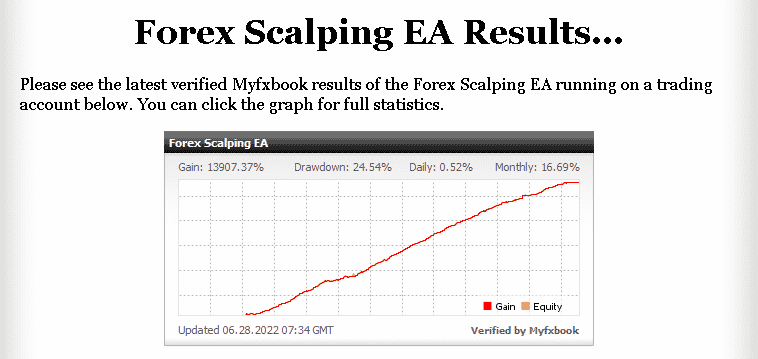 Oddly enough, the dev represents us not a Real trading account. Instead, they show a Demo USD account running on EasyForex brokerage. It looks suspicious that the dev does not trust their system. It was deposited at 50K USD and generated over 6.9M USD of the total net profit. It does not trade with high drawdowns as the peak one reached a 24.54% mark. The average daily and monthly gains are 0.52% and 16.70%.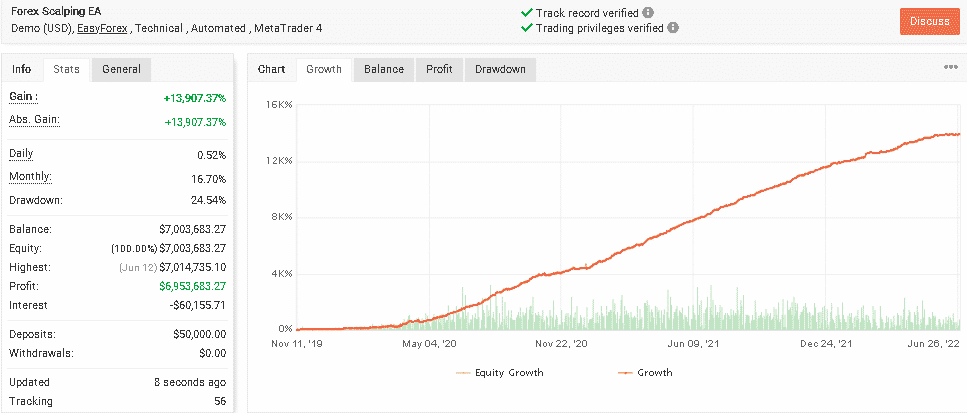 This year the system placed 1,023 trades that brought $1,164,959 of profit. Its average win rate is 87% based on 6,418 trades performed. It should be noted that the EA does not trade using a short trading direction.

EURAUD and GBPAUD are the currency pairs having the highest win rate–92%.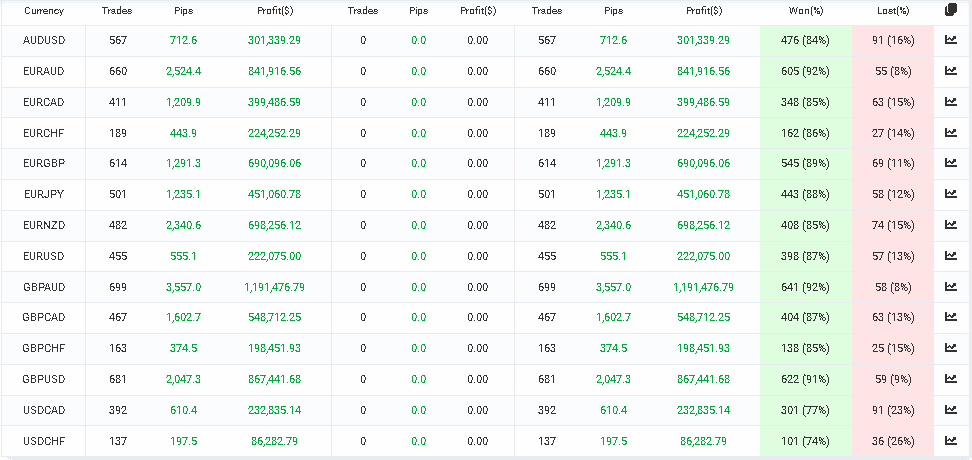 Friday is the worst day to trade this EA. It has brought nothing but losses:

Scalping plus grid trading approaches and a high Lot size of 50 is an extremely dangerous combo. Forex Scalping tries to close a deal within 29 minutes on average. If a losing deal is open for more than 2 hours, the EA can lose over 3,4K USD.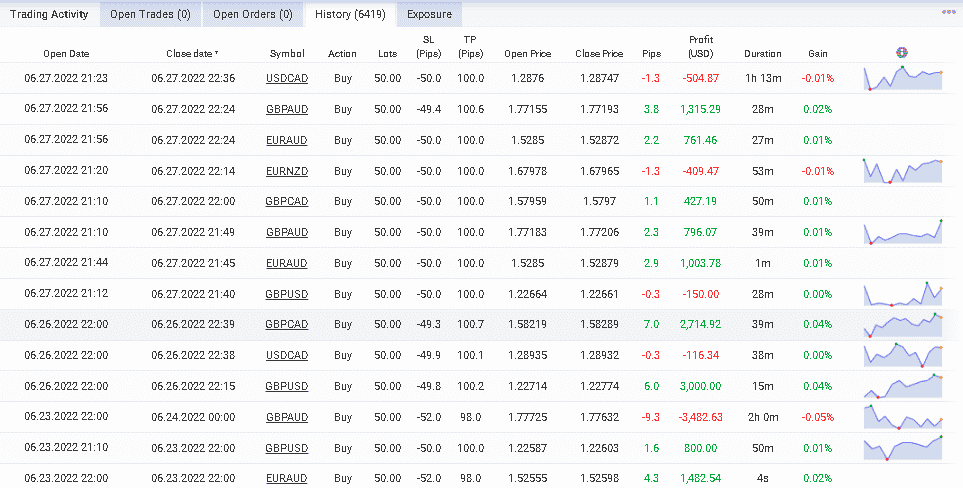 As you can see, there were considerable losses of 17K USD and 7K USD in June 2022.

Vendor Transparency
The account has a medium level of transparency. From the one side, there are verified trading results with all data available to check. From the other one, we know absolutely nothing about the vendor.
Testimonials and mentions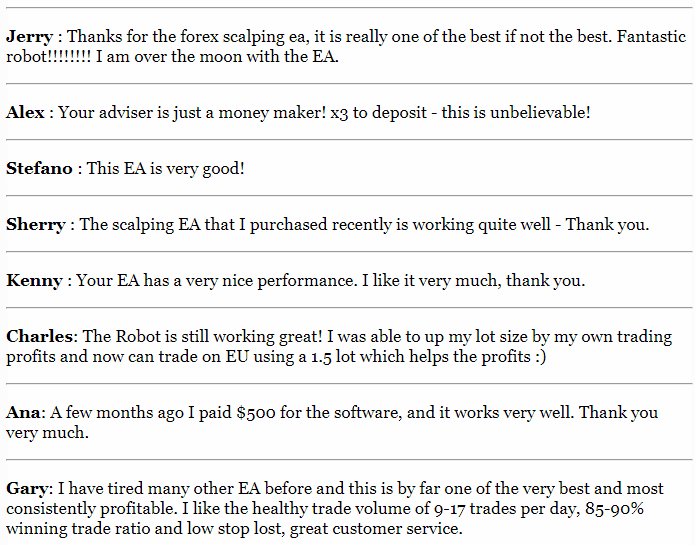 The presentation includes many positive reviews from clients. Unfortunately, they cannot be verified. Therefore, there is no reason to trust them.

There's a page on Forex Peace Army without their account connected.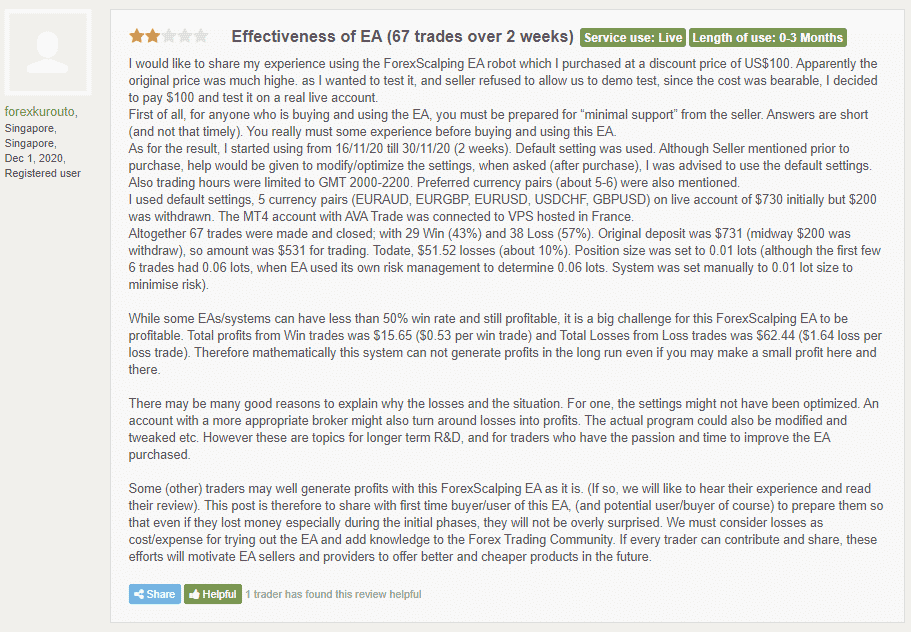 As we can see, some customers couldn't be profitable having used this software. The key factor for using scalper is VPS with the lowest possible pings and spreads.