Forex Diamond is an automated trading tool that, according to its creators, can boast of a 40+ recovery factor. The devs convince us that it's a 'world-class Forex system' that can take 'your trading to the next level'. In their product presentation, they share its key features, live trading results, and backtest reports to demonstrate transparency. It's good. However, is it a good EA? What are the risks? How much can traders earn with Forex Diamond? That's what we are going to discuss in this Forex Diamond review.
Forex Diamond: To Trust or Not to Trust?
The system trades with low drawdowns and acceptable risks to the account balance. However, id does not generate stable profits. Its live trading results showed that the robot is not going back to consistent monthly gains as it was before.
Features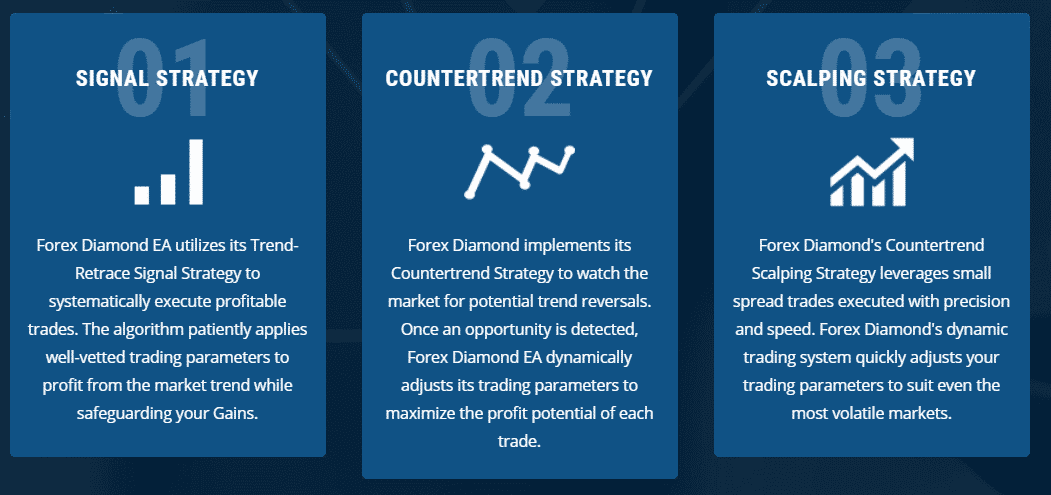 The robot has three strategies on the board. 
There are Trend and Counter-trend strategies to get profits from market moves.
The scalping strategy is executed during trading the counter-trend strategy.
The robot is compatible with MT4 and MT5 terminals.
There's a dynamic trading logic.
It supports four pairs to trade.
The system is based on a self-updated algorithm.
The robot opens trade frequently, using margin all the way.
It calculates dynamic SL and TP levels.
There are over forty recovery factors.
It has protections from high slippages and from opening deals during high spreads periods.
The system protects the gained profits (probably Trailing Stop Loss).
It checks consistently open trades to be sure that they get optimal profits.
The EA doesn't require any further optimizations and can be attached to the chart with default settings.
We'll be allowed to get access to the member area.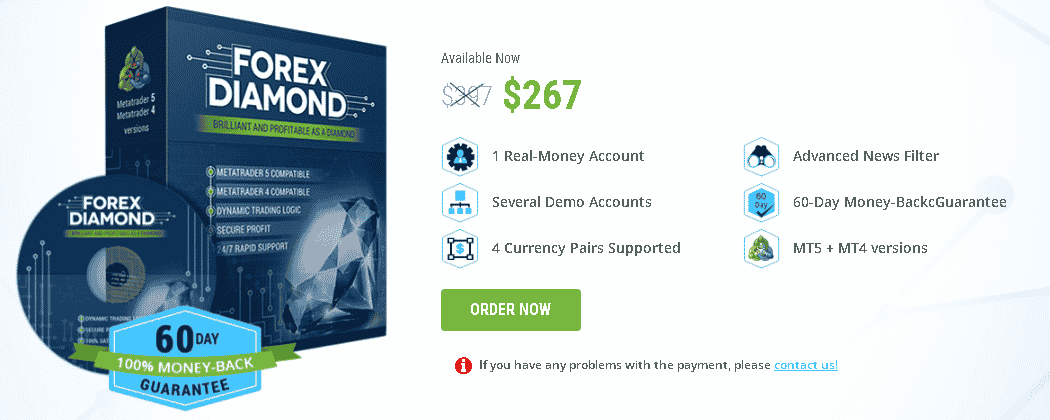 We can get a copy of a product with -130$ OFF. The vendor sells the EA through ClickBank, so there'd not be issues with a money-back guarantee. The pack costs $267 instead of its regular $397 price. Buying it, we'll get on license for one real account, advanced news filter, several demo accounts, and a 60-day money-back guarantee. The system supports only 4 currency pairs. So, check this list before you decide to start your trading journey with Forex Diamond.
Verified Trading Results
The presentation includes seven backtest reports with different pairs and lot sizes. This one showed a win-rate of 78.10% on GBP/USD for nineteen years. It traded on the M15 timeframe. The modeling quality was 90%. The maximum drawdown was incredibly low – 2.54%. The profit factor was low, as for a backtest, as well.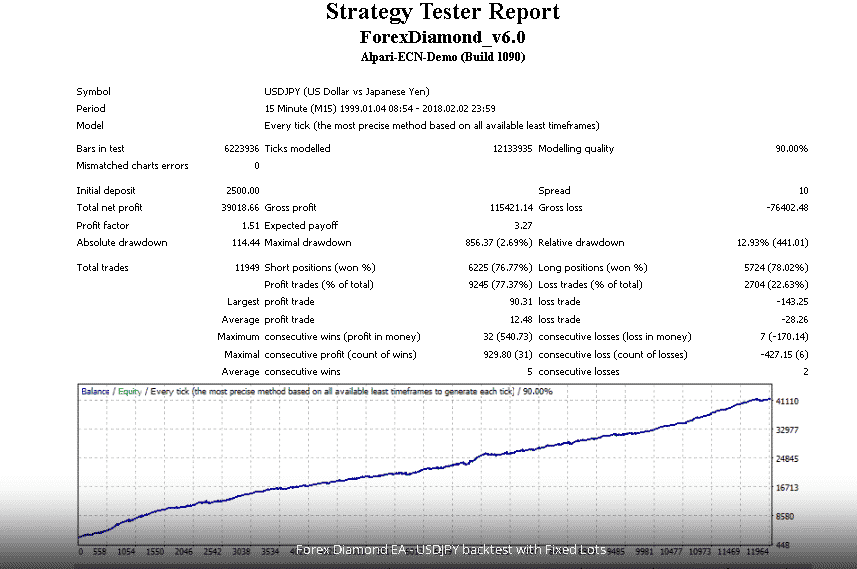 This one was a USD/JPY backtest for the same period. Win-rate was the same–77.37%. The profit factor (1.51) and maximum drawdown (2.69%) were the same too.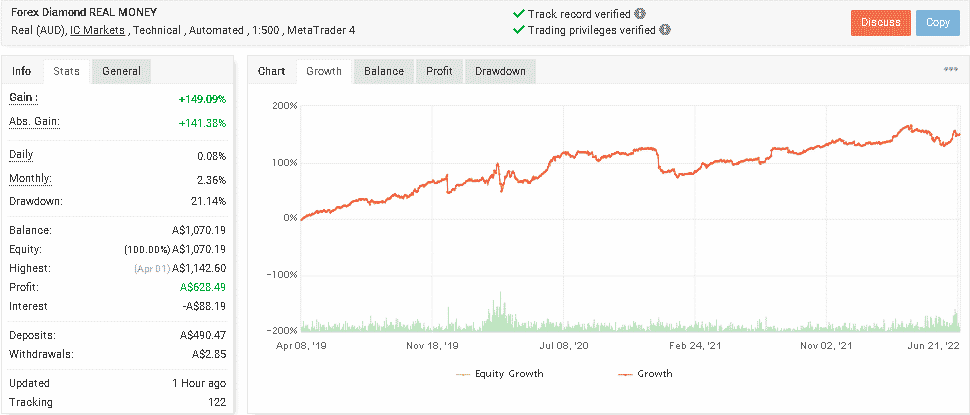 There's a real AUD account on IC Markets. The robot trades automatically with 1:500 leverage on the MetaTrader 4 platform. An account was created on March 7, 2019, and funded at A$490.47. Since then, the absolute gain has become +149.09%. An average monthly gain is 2.36%. The peak drawdown was 21,14%. For over 3 years of trading, the system could generate a profit of A$628.49. Frankly, it's so low and does not look impressive.
The screenshot below talks about the low system profitability, as the profit factor is 1.13. An average win rate is only 70%. The system holds an order open for 5 hours on average. It means that the scalping trading approach is behind.

As we can see, the robot practices opening Grid trades. It doesn't help so much in being profitable.

When doing a long-term analysis of the FX robot, we can see that it was more profitable in its early days than it is in 2022. In 2019 the EA experienced some strong months. Now in 2022, the robot is showing a total gain of 9% for half a year.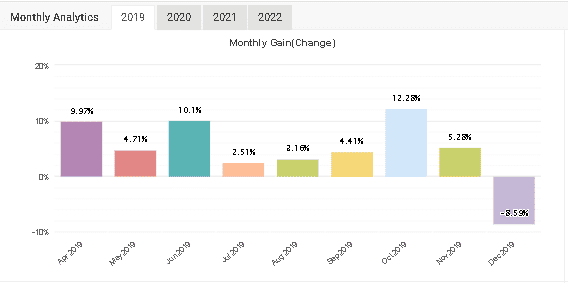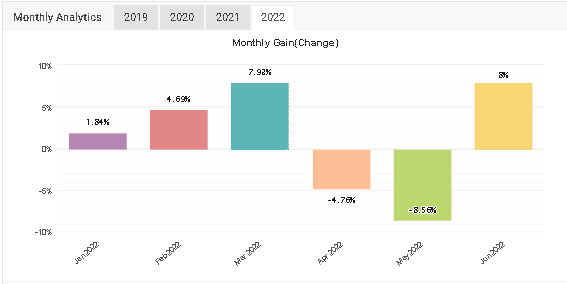 Vendor Transparency
The company that is responsible for Forex Diamond is also known for developing other expert advisors. This list includes Smart Scalper Pro, Omega Trend EA, Wall Street Forex Robot, Forex Gold Investor, and many others. The FX Automater group provides no info about their team members, their headquarters location, or what trading experience they have in the FX market. To get in touch with support, traders need to email them via a contact form that could be found at the bottom of the sales page.
Testimonials and mentions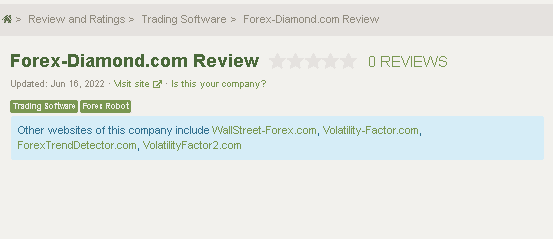 There's a page on Forex Peace Army, but no comments are provided by thankful or angry clients. The presentation doesn't include people's testimonials as well.