Today's review will be about a Progress Bot robot. It was designed by Rita Lasker. As we can see, the presentation focuses on those who treat Forex as a casino where the deposit can be easily doubled or tripled. If a professional trader sees these money packs and money bad, he or she will think it's a scam service.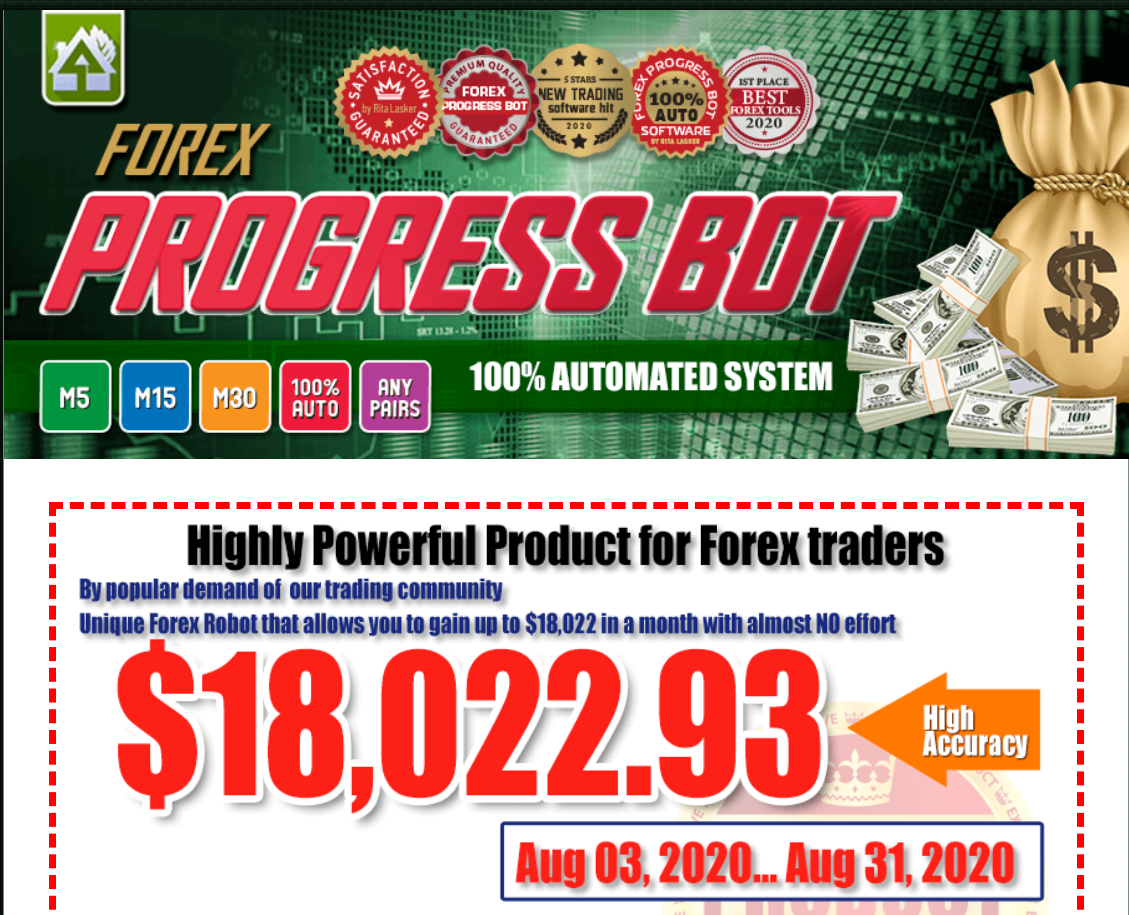 Rita Lasker is a person who has no real profiles on social networks. There are only several posts. The Instagram page has less than twenty posts.
Forex Progress Bot: To Trust or Not to Trust?
We don't think so. The first and main reason is that the presentation doesn't include backtest reports and 3rd-party-verified real or demo account trading results. If the developer is afraid to rust $2000 on trading, why should we do it?
Features
The developer didn't share information about the strategy behind the system. From the presentation, we know that an expected win-rate is over 75%. The EA can use the most conservative 1.3x Martingale to increase Lot Sizes for the next trade. The system does it only if the calculated win-rate is high enough to risk.
The robot works fully-automatically for us.
There's an exclusive and powerful algorithm. We can't trust this for sure just from words without checking numbers.
The EA trades highly accurately. We can't check this statement at all because no results were provided.
The system trades, setting Trailing Stop Loss on every trade.
The robot sets Stop Losses to cover deals from blowing an account.
We can work with all currency pairs.
The EA is available for the next time frames: M5, M15, and M30.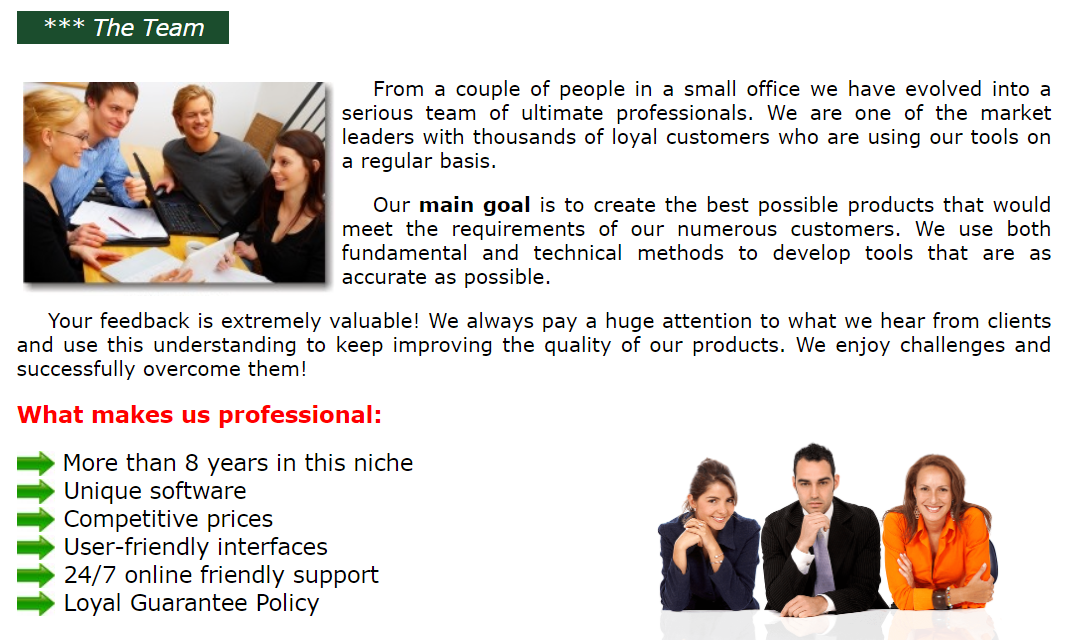 The team has an 8-year Forex-market-related experience.
There's a team of professionals. Alas, we have no proof that those people in the photo are real developers and analysts. Most likely, they're stock photos.
There's friendly and welcome support.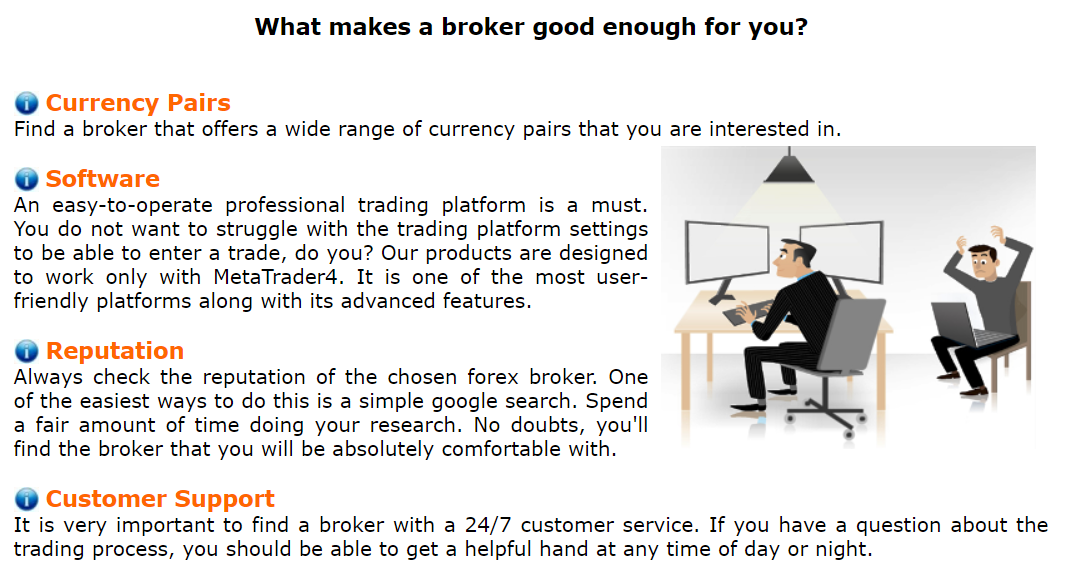 This advice on how to choose a broker looks out of place. The target audience for this service is casino-people. So, they won't understand what you're going to say to them.
You have to provide clear as bell advice: use IC Markets, XM, FXOpen, FXChoice, and other brokers.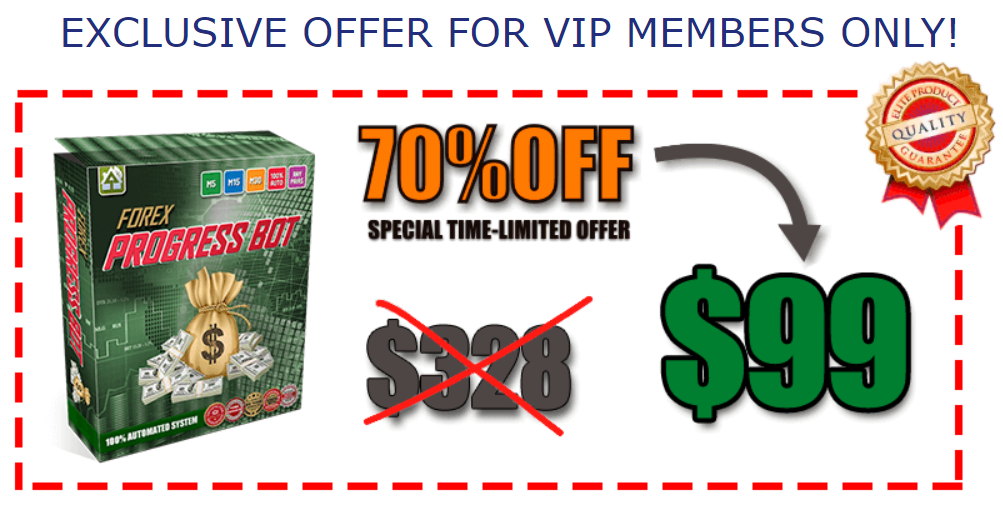 This offer has 70% OFF. The original price was $328. Now, it costs $99.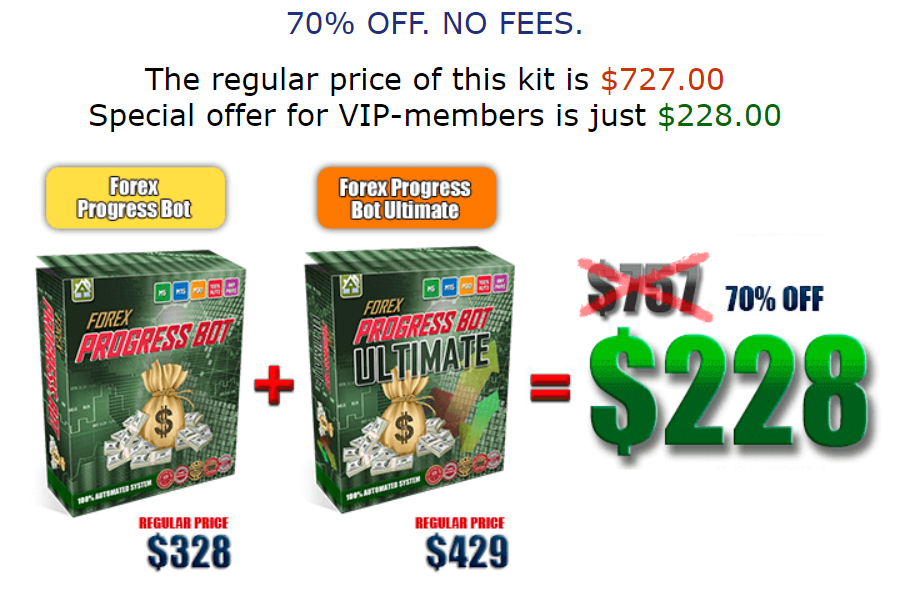 There's a pack that unites Forex Progress Bot and Forex Progress Bot Ultimate. Together they cost $228 when the original price was $757. This pack has a 70% discount too.
Both packages have the EA, remote assistance option, Trailing, and Stop Loss features. The unlimited one has a Martingale feature (1.3x), Unlimited success rate (we don't even know what they meant), weak trades filter (we're not sure what this is), and remote assistance option (repeated twice).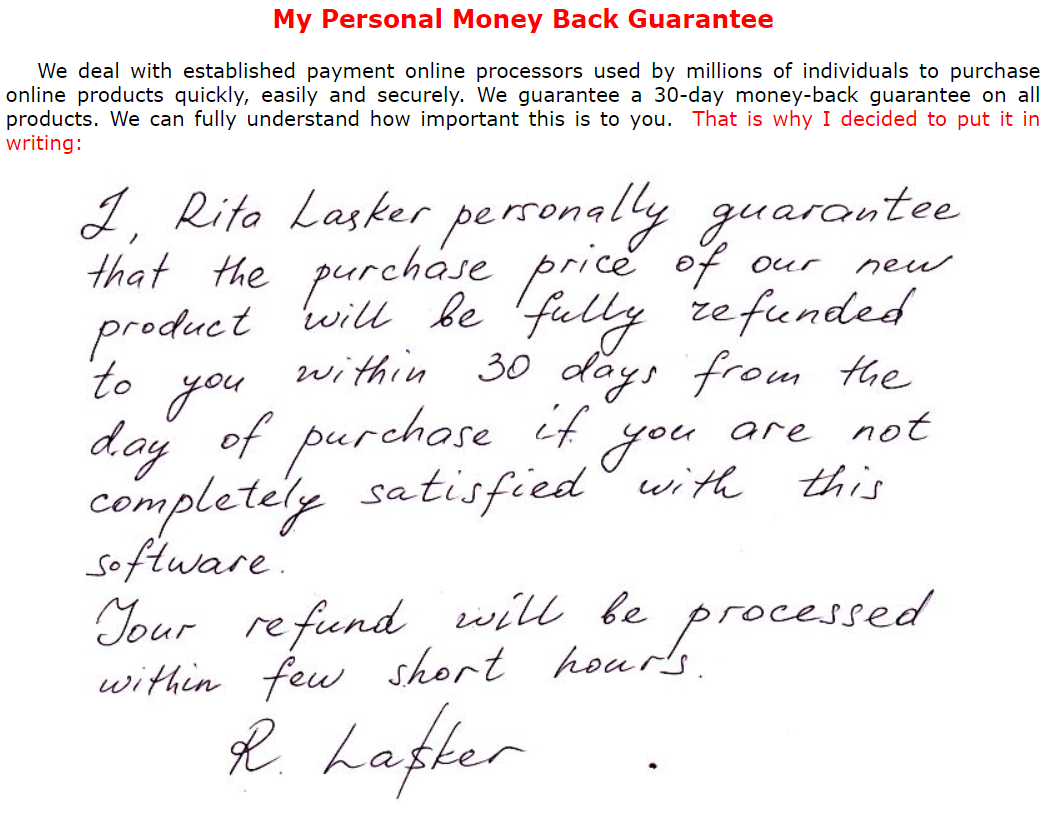 There's a 30-day money-back guarantee that was written by Rita Lasker.
Unverified Trading Results
We couldn't find backtests. It can mean that this person is not the Forex Progress Bot owner.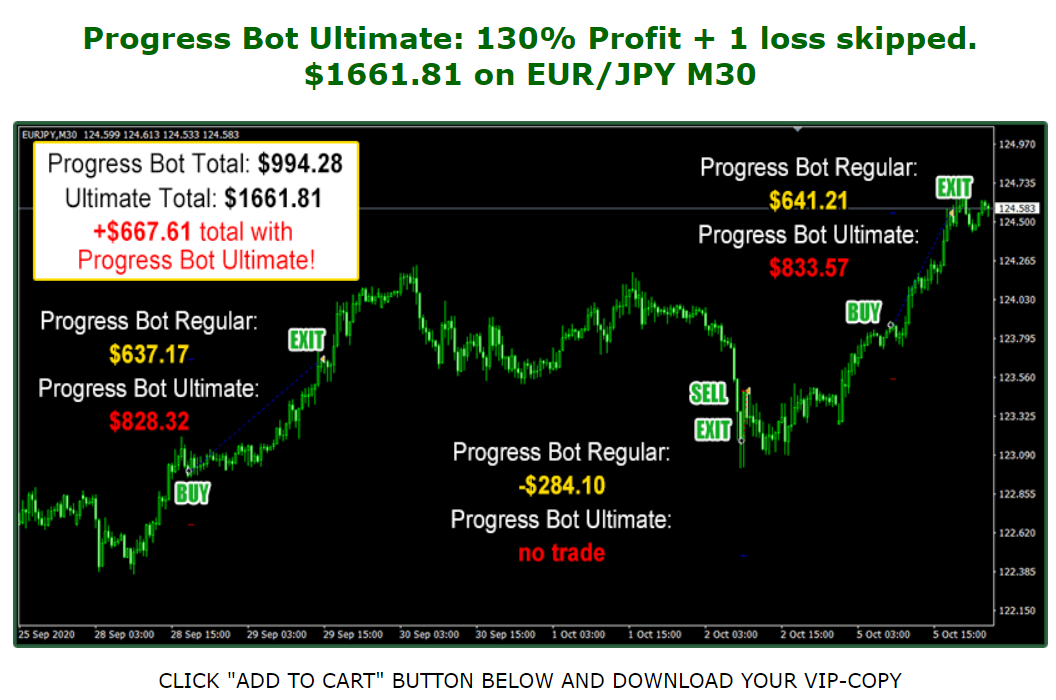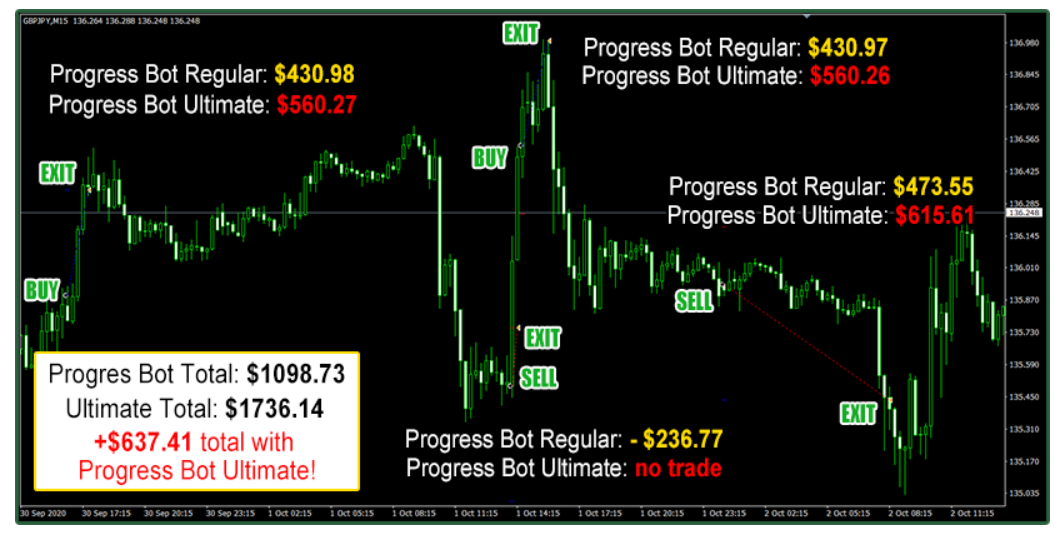 The presentation is featured by several photoshopped screenshots. The charts showed that there was nothing connected to them (top-right and top-left corners). All these deals and profits are fake and have never been traded.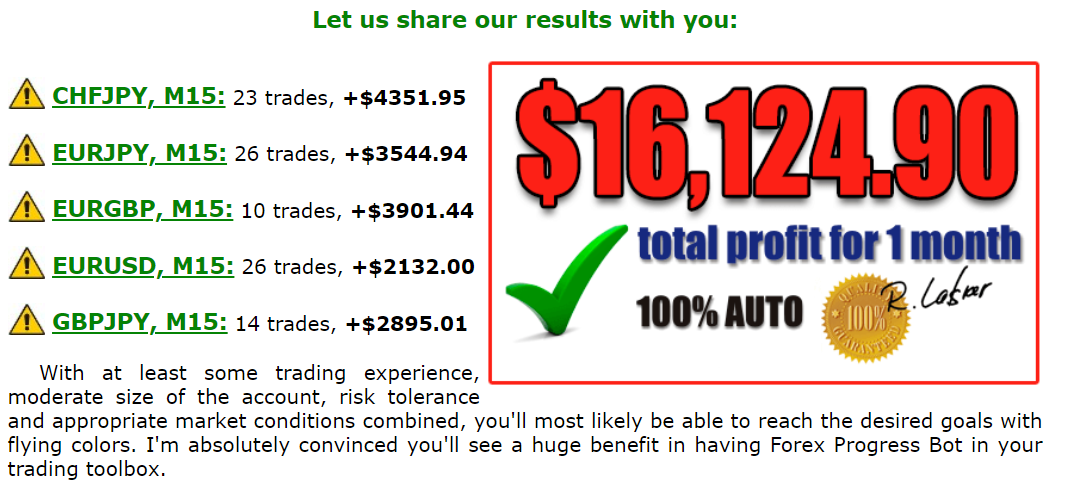 All that data is unclickable and unverified. It focuses on catching the attention of those who don't know anything about Forex-related verification sites.
Hidden Drawdown
Rita Lasker didn't share her drawdown experience while using the EA (to generate these profitable trades).
Vendor Transparency
The vendor has no transparency at all:
We don't have info about the main strategy.
We don't have backtests.
We don't have trading results.
We don't have settings explanations or risk advice.
We don't have people feedback on the web.
Testimonials and mentions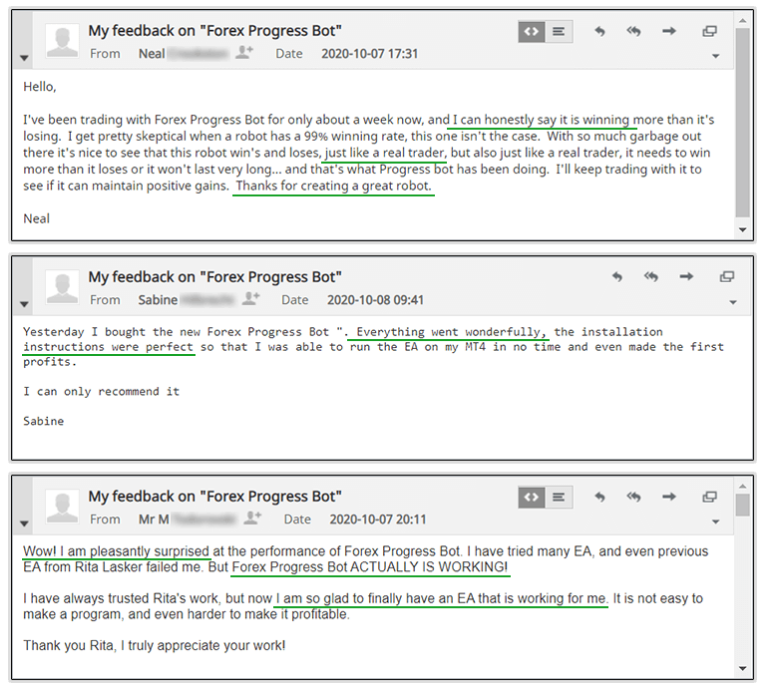 There are some fake testimonials that look like they were written by a bad copywriter. The feedback says nothing about profits, pips, win-rate, and others that usually bother traders.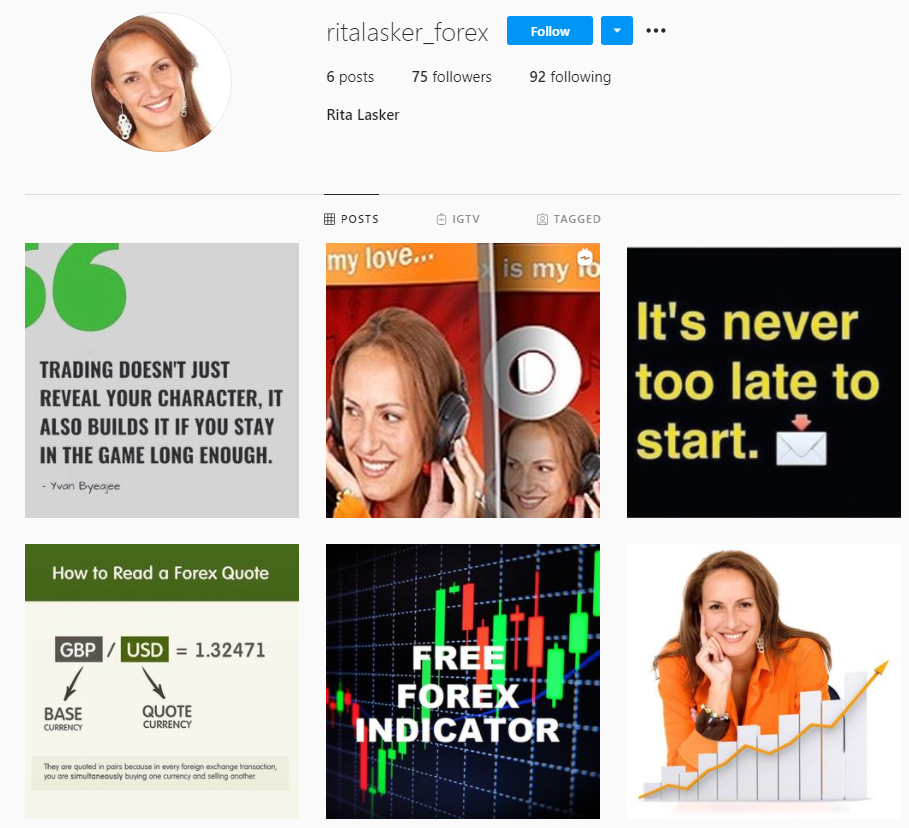 The fake account on Instagram has just six posts and no updates.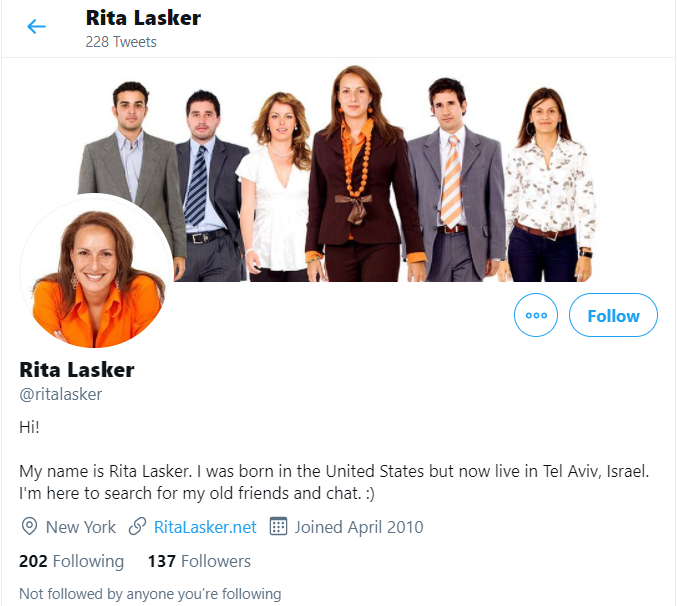 The Twitter page was created in April 2010 and had only 137 followers.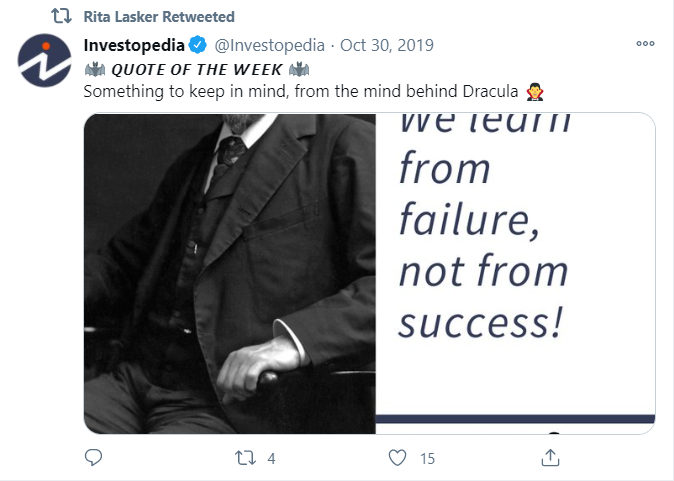 The last post was published on October 30, 2019. Is she alive? We don't know.