Every trader who is entering the financial markets meets with the first task of depositing a portfolio. Prop firms step up in this case and offer cash to experienced traders. The monthly gains are then divided into a fixed set ratio.
The companies have a set of risk management and other rules that the traders must abide by to receive and maintain their funding. In the beginning, these facilities were only available in the office and designated workplaces.
However, with the spread of the internet, now one can apply/trade at proprietary agencies from the comfort of his home.
Many traders prefer such companies as it has various benefits that include:
Low commissions and trading fees.
The ability to increase the equity and, therefore, overall gains of the portfolio by showing good trading performance.
Availability of trading mentors and partner traders who can help rectify your trading mistakes.
Ability to manage more money as compared to one's own.
Institutional grade latency and the presence of more assets to choose from.
What is EnFoid?
The company calls itself a FinTech and mainly deals with providing capital to traders. A comprehensive website details every piece of information about the firm: its headquarters in Singapore take part in algorithmic development, financial API services, software or hardware development, and consulting on industrial performance & damage control.
EnFoid is unique in the scenario that it is the only online prop firm giving free funding. The conditions are pretty simple, i.e., you have to show consistent gains over a certain period and be active on their online social media platforms.
Getting funded
The assessment phase in EnFoid is limited to two significant steps:
One can manage portfolios ranging from 25,000 to 750,000 USD. Lucrative leverage of 1:100 is present on all accounts, which increases the overall buying power by a margin of one hundred. The assets are available on a remote (forex and CFD) and in-house (future, equity, and forex) basis.
Traders from all over the world can apply for the funding process, as there are no country restrictions. IC markets, Purple Trading, TD Ameritrade, Axiory intelligence, Advantage futures, XM, Charles Schwab Bank, ThinkMarkets, Blueberry Markets, CMC Markets, and Cresco FX are the on record brokers that EnFoids provide out to its traders.
Two different timelines are available to be selected as a fund manager. As stated before, EnFoid is the only online firm that has free funding, which is also one of the options to get your spot on the desk. It may take months before the administrators believe that you are qualified enough to manage their capital. The other is the fast track, which will only take 21 days to get funded in the best scenario.
Risk management at EnFoid
As with any prop trading firm, EnFoid also adheres to a strict set of risk management rules. Violating any of these will lead to immediate disqualification and freezing of funds during assessment or live trading. The table below shows all the rules set up:
| | | | |
| --- | --- | --- | --- |
| | Evaluation | Verification | Live |
| Profit Target | 10% | 5% | 0 |
| Max Time | 30 Calendar Days | 60 Calendar Days | Unlimited |
| Max Daily Drawdown | 5% | 5% | 5% |
| Max Total Drawdown | 10% | 10% | 10% |
Table 1:
Risk management settings that must be taken into consideration while trading at EnFoid. Percentages are relative to the initial deposit.
Other than these, no trading is allowed 5 minutes before or after any major news event.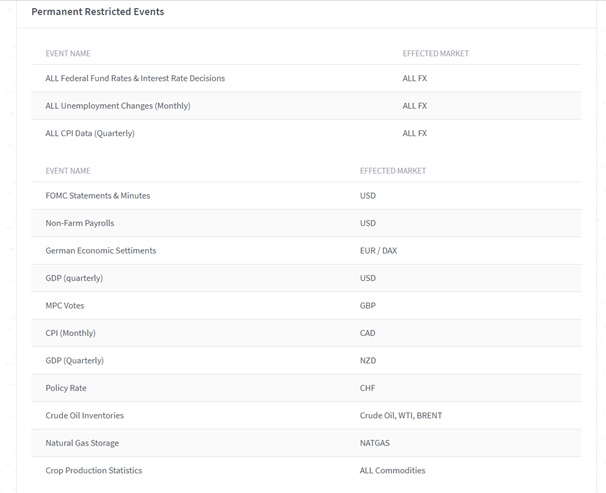 Trading packages
The trading packages that you buy will determine the amount of initial investment provided by EnFoid. Risk management rules are the same for all equity sizes, and the fee is reimbursed to you with the first profit withdrawal.
The company has stopped providing any pre-trial accounts as of April 2020 and onwards as they believed it didn't have any value for traders. If one doesn't meet the profit target, a new evaluation is at your disposal only if no objectives are broken, and the amount of balance in the account is greater than the initial deposit.
Enrollment is also available as a pro trader, which requires an interview and a good trading record to be considered eligible for managing capital.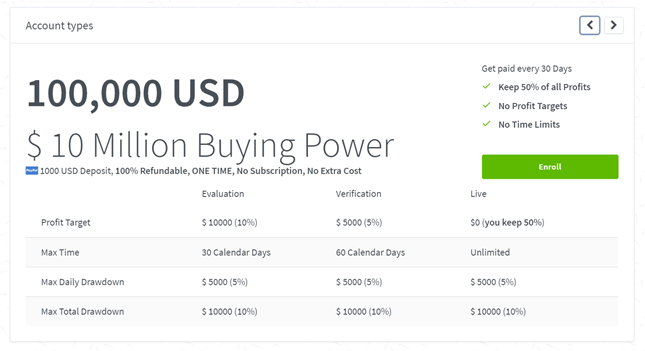 All the trading profits are split 50% between the trader and the firm. Current equity is on the website with 121.88 million SGD in managed funds.
What are the scaling options at EnFoid?
Every trader is interested in leveling up his account size at any time, resulting in more gains/money at the end of the day. Prop firms take a strict approach to scaling equity taking as most people fail to comprehend the effects of psychology and risk management when managing bigger equity. EnFoid has two scaling options:
The account is examined by EnFoid every quarter. 20 to 25% of trading capital may be added to your overall equity if there is a monthly gain of at least 2.2%. Low drawdowns and the current upper limit (2.3 million SGD) are also under examination.
A trader can trade multiple accounts by taking another evaluation. The portfolios can be merged at any time at the trader's request and can not be separated again. A total of 25 accounts can be at one's disposal. However, the total traded capital per trader is 700,000 USD, after which scaling is only available by the EnFoids method.
Should you trade with EnFoid: Conclusion
The company does offer a considerable amount of capital to its traders. The scaling options are great, and EnFoid absorbs all the risks. One can also manage their funds in-house on their desk. Nonetheless, some may not like the profit split of 50/50 as other prop firms offer a better competitive rate of more than 70 % in favor of the trader. Overall, EnFoid is one of the best services online in terms of proprietary trading.