Foreximba says that it is interested in the welfare of your finances. So, the devs guarantee that you will experience success when you use this system to trade. As such, the robot has supposedly shown stable and profitable results on live trading accounts. In this review, we will see if the product is worth the hype or not.
Foreximba: to trust or not to trust?
We examined the trading history of the software on Myfxbook and learned that it has managed a trading account for 7+ years and made profits for it. But the trading risks and losses have increased exponentially, leading to a 61% drawdown.
Features
The EA comes with some features:
It works on AUDUSD and EURUSD currency pairs.
A minimum deposit of $60 is needed to trade.
It is simple to install and use.
It's compatible with any broker.
The EA has a drawdown control system.
Foreximba is available at a cost of $194.99. The supply package features a detailed manual and a single lifetime license that you can use to trade 1 real account and 3 demo accounts. A 30-day money-back guarantee is also present.
The vendor doesn't say much about the trading method used by this EA, only that it works with fixed lot sizes and no martingale. Our review of the system's live stats led us to discover that it does not trade with a fixed lot size and may hold trades open for 16 days.
Backtest results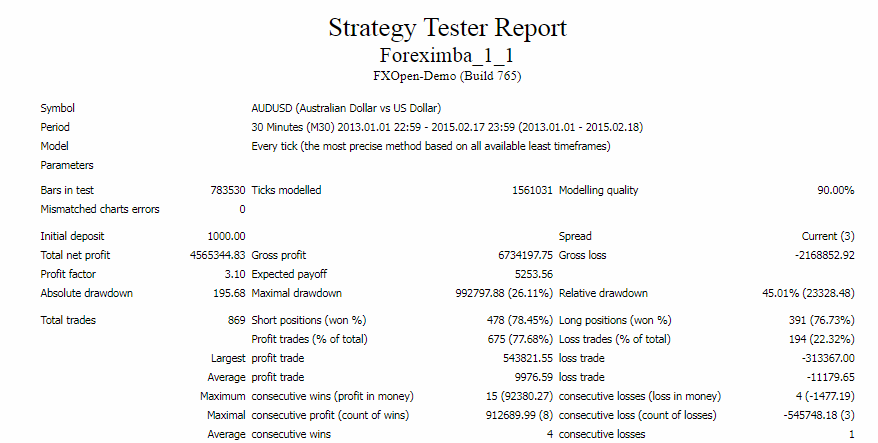 Foreximba was able to conduct a total of 869 trades when the vendor backtested it using data from January 2013 to February 2015. All tests were done on the M30 chart. Eventually, a total net profit of $4,565,344.83 was made. High trading risks were also involved because a large drawdown of 45.01% was generated from the trades. There were win rates of 78.45% for short positions and 76.73% for long positions.
Trading results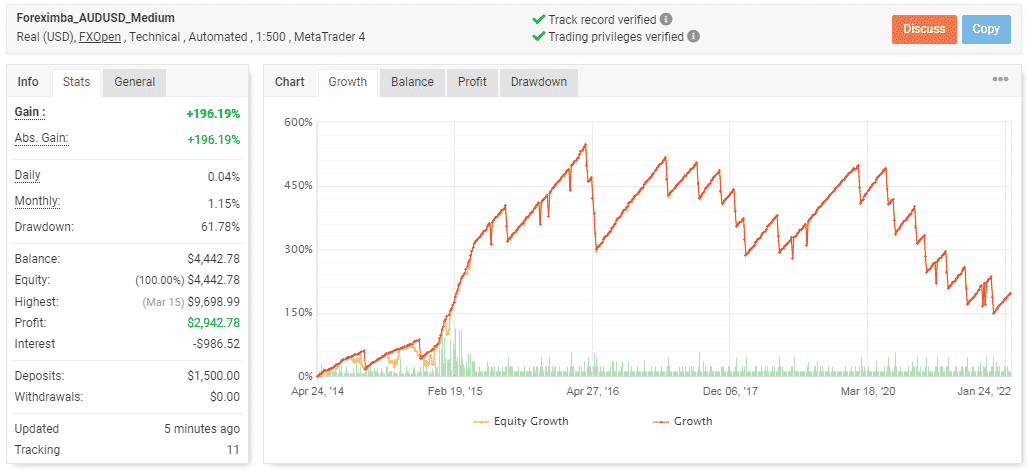 The EA has used a deposit of $1500 to execute 920 trades. As a consequence, a profit of $2942.78 has been realized. For the 7+ years the robot has been running this account, it has been making a profit of 0.04% daily and 1.15% monthly. Clearly, this return rate is too low. The current account balance is $4442.78.

The profit factor (1.08) indicates that the robot does not generate considerable returns for the user. The losses made are much higher, as evidenced by the average loss (-64.03 pips), which is more than the average win by about 35 pips. Ordinarily, the EA holds an order for 3 days. There are win rates of 73% and 71% for long and short positions, respectively.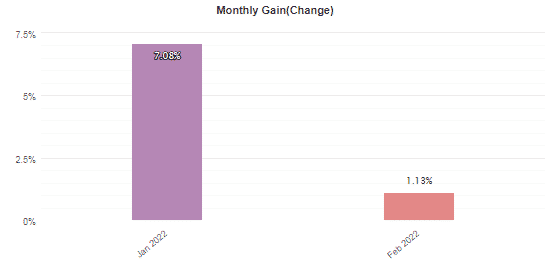 The profits made in January were 7.08%. Till now, the robot has recorded a profit of 1.13% in February.

The EA works withbig lot sizes and long time frames.

The strength of this account has deteriorated over time, and now, it is hanging by a thread. It can easily be wiped out in the near future.
High drawdown
Foreximba has produced a big drawdown of 61.78% for the account it is currently managing on Myfxbook. This means that the robot has made many bad decisions over the years that have cost the account substantial amounts of money. As a result, the account's risk of ruin has increased.
Vendor transparency
Foreximba is powered by Forex Store, but the real creators of the system are unknown. Their names, professions, contact details, or location are not divulged.
User reviews
As you can see on the screenshot below, Foreximba has zero reviews on Forex Peace Army despite having an active page there. So, it doesn't have a reputation yet.