Forex Trend Detector is an expert advisor that automatically executes and manages trades. It claims to be incredibly precise, accurate, and profitable. According to its developers, the EA is the only one in the market that is used by professional traders and money managers. They state further that this system is all traders need to accelerate their journey to financial independence.
The software claims to have a sophisticated drawdown compensating algorithm that helps in protecting traders' accounts in case of a rapid drawdown. Most developers of these robots usually come up with all sorts of interesting features just to enable them to make a sale.
As a trader, what is it that would protect your account from a quick drawdown if not proper risk management elements like the use of stop loss and small lot size?
Forex Trend Detector: To Trust or Not to Trust?
The EA works in such a way that it recognizes when a volatile market trend is about to end. It identifies the volatility borders bracketing the dominant market trend. It pays attention to situations where the volatility borders occur near important market levels. Then it sets trades to execute based on predicted price levels that capitalize on market readjustments when the volatility breakout occurs.
We cannot trust this EA. The strategy it uses to trade the markets is complicated. Nobody wants to give a system access to trade their accounts with no clue on what's happening.
Features
The software trades on a 5-minute timeframe on both MT4 and MT5 platforms. It uses a Trend reversal strategy where it recognizes when the market trend is about to end and capitalizes on the next market movement after a breakout confirmation.
The system costs $297. However, it's currently going for a discounted price of $187.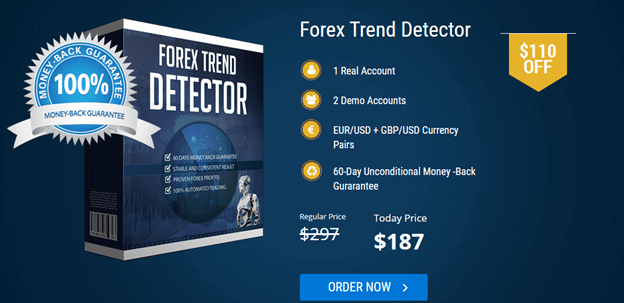 The package comes with the following:
1 live & 2 demo accounts
A detailed user guide
Support
Lifetime updates
Access to the private members' area
The EA has a risk meter that tells the traders how much their accounts are exposed.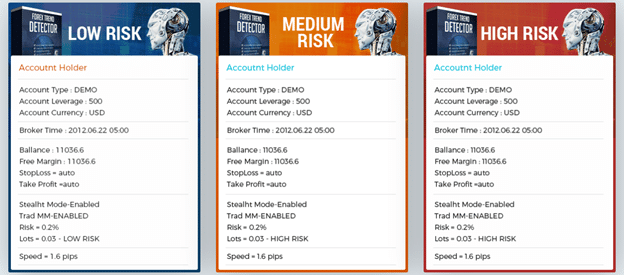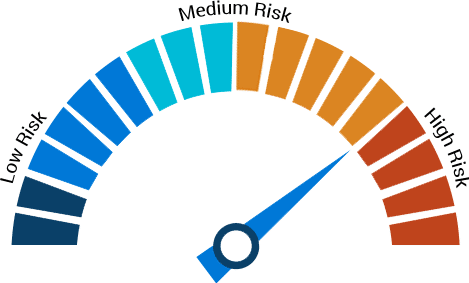 Its developer offers a 60-day money-back guarantee.
Other features of the EA include:
The trading tool has a high slippage protection
It has a high spread protection
The software has a profit protection system
The EA has a dynamic trading logic
It doesn't require optimization
Has a visual risk indication system
The robot has an advanced time management mechanism
The system has a tight stop-loss levels
The expert advisor has efficient money management
It has a drawdown compensation algorithm
Trading Results
From the backtest report shown on the screenshot below, we can see that the robot ran on this account from September 1st, 2010 to July 21st, 2020. It made a profit of $320223.60 from a deposit of $5000 in 2262 trades. Its winning percentage was 71.35% when the maximum drawdown was 4.33%. It had a profit factor of 2.3.
It used a fixed lot size and some trades had no stop loss and take profit targets in place. This already disqualifies one of its main features where the developer states that the EA uses tight stop loss to minimize losses.
The average consecutive wins and average consecutive losses were 10 and 4 respectively. The average profit trade was $347.01 while the average trade loss was $-437.40. This means that the winning trades are closed early but the losing ones are let to run. 

The robot has been trading the live account since April 14th, 2021. It has made a profit of $1254.39 representing a total gain of 43.42% from a deposit of $2888.44 in 95 trades. The current balance stands at $4142.83 and there is no withdrawal made so far.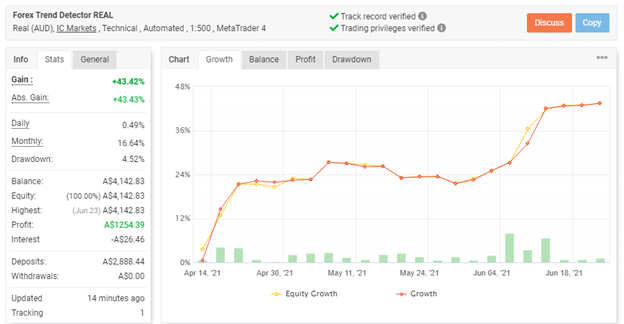 Its average win and the average loss are 161.63pips and -36.08 pips respectively. We must comment that this is a good risk to reward ratio.

The EA performed well in April with a gain of 21.88% while its worst month was May where it had a gain of -0.26%.

On the risk of ruin, we can see that to lose 100% of the account with a 0.01% probability of loss, it will require 383 consecutive losses. Losing 10% of the account with a 0.01% probability of loss on the other hand will need 38 consecutive losses.

For the account below, the developer has provided investor login details (you can find it on the dev's website) to check the account performance.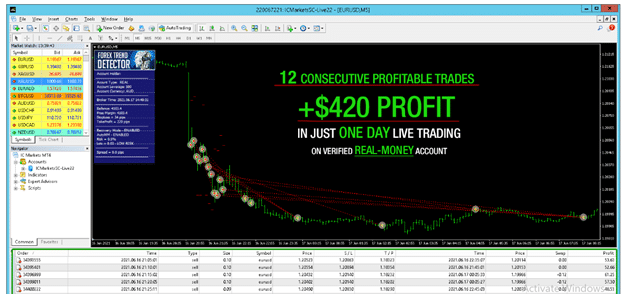 We can see a total profit of $420 made in just one day on a live account. This profit was made from 12 consecutive winning trades.
Vendor Transparency
The vendor for this EA is FxAutomater, a forex platform that offers automated trading solutions. Its products are mainly robots and indicators.
For any questions and inquiries regarding the software, traders can get in touch by filling the contact form that is available on the website. The developers also recommend that traders can check out the FAQs page first before submitting their questions as they may find the answers they are looking for there.
Customer Reviews
We couldn't find any customer feedback about this EA. We only found out that the vendor has a page on FPA with a current star rating of 0/5 based on 1 review.