Forex Astrobot is a 100% automated trading system that promises a gain of $16,000 per month. According to the vendor, this EA can help you achieve your trading goals and fulfill your aspirations. In this Forex Astrobot Review, we shall try to determine whether this system is truly reliable.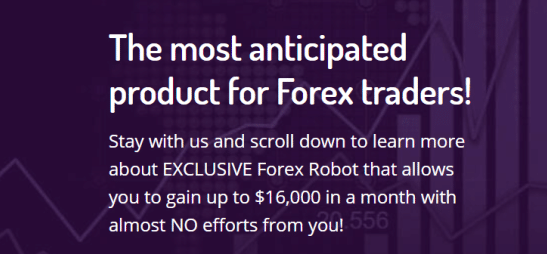 Forex Astrobot: To Trust or Not to Trust?
The vendor has made a detailed presentation on the official website, but it seems like they are desperate to sell this robot. First, we have a list of all the principal features, followed by customer testimonials that look anything but genuine. There is a video showing the performance of the system, and several screenshots of unverified trading results.
Our first impression of this EA is not too positive and to be honest, the entire presentation smells of a scam. Several vital pieces of information are missing as we shall discuss later.
Features
This is an EA that you can use within a few minutes after installing it. It has a money management feature due to which the robot decreases the size of the trading lots when the market is unstable. The vendor provides 24*7 customer support via email.
You can use Forex Astrobot for trading in all currency pairs. It is advisable that you use this EA on M15, M30, and H1 charts. The vendor recommends starting with a small deposit until you get acquainted with the system functionalities. With certain brokers, you can start with a balance of $200. It works only on the Metatrader 4 platform.
Forex Astrobot has an in-built slippage algorithm that prevents the robot from making trades with incorrect parameters when the market price sees a dramatic shift. There is no information on the website about the trading strategy used by this EA. The vendor has not even touched upon this topic, which is quite disappointing.
Strategy insight is something that all Forex traders look for because it tells them important details about an EA's profit-making capability. Many robots use risky strategies that can exhaust your account, so this is something you must consider before making your purchase. Without strategy insight, it becomes a little risky to invest in Forex Astrobot.
At this moment, you can purchase this EA for $99. The vendor claims that the real price is $328 and that this is a limited-time offer. It comes with a 30-day money-back guarantee, so you can reach out to the vendor if the EA's performance is not up to the mark.
Unverified Trading Results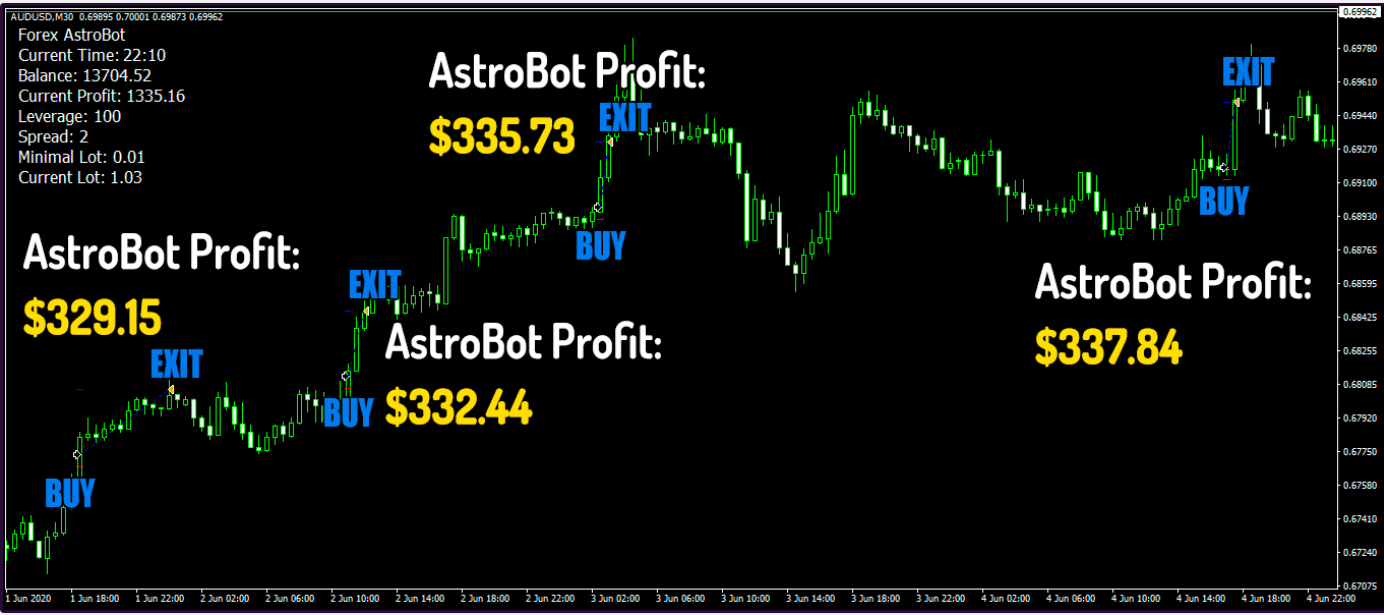 On the official website, we have several screenshots such as the one shown above. Here, we can see the profits made by the robot, along with the entry and exit points for the trade. Now we cannot consider these as authentic trading statistics since they are not published on a third-party website.
If a vendor wants everyone to take their EA seriously, they must publish the trading results on Myfxbook. Seasoned traders look for verified trading results that reflect the robot's true performance. Without them, there is no way we can recommend this system to traders.
In the absence of live statistics, we were hoping to find some backtesting results that would have shown us the historical performance of the system. Unfortunately, the vendor has not provided any such data. Decent backtesting results are considered a sign of robustness since the EA has to deal with a variety of market conditions over a long period of time.
Vendor Transparency
Forex Astrobot is a product from Rita Lasker and the Green Forex Group. Now, this group has been around for quite some time, but there are several traders who have complained about it being a scam. We don't know where this company is located and what kind of background it has. Other robots built by this group include Fish Forex Robot, Forex Daily Scalper, Forex SuperVisor, and Forex Anti Robot.
Customer Reviews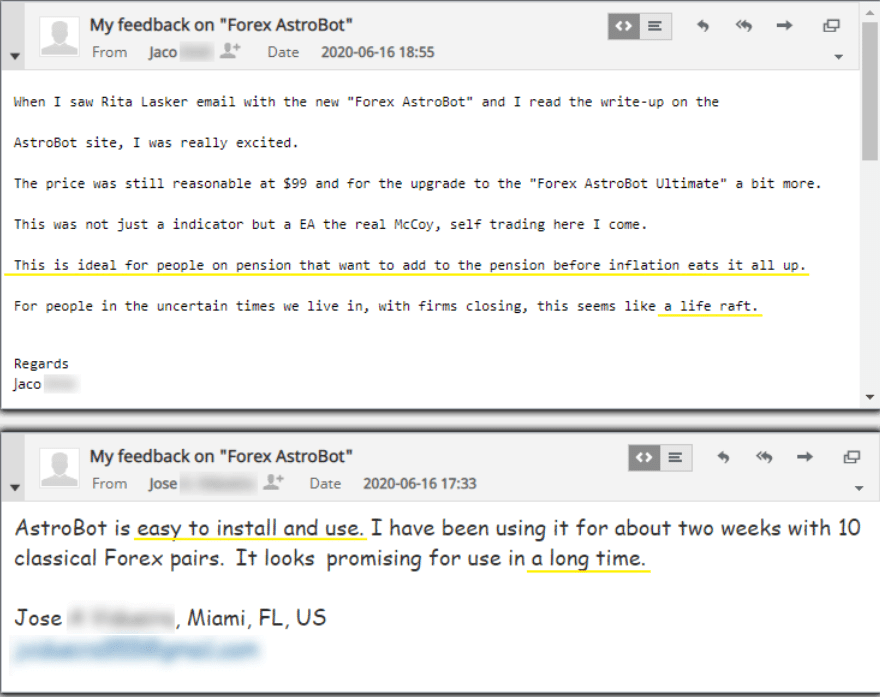 There are no reviews for Forex Astrobot on trusted third-party websites. All we have are some customer testimonials on the official website, but these cannot be considered authentic. It is evident, therefore, that this EA does not have a stellar reputation in the market.