Today we will be talking about an innovative Forex robot that claims to be one of the most reliable Forex robots ever built. This software has been on the market for over 7 years and is still working. In this Forex Real Profit Expert Advisor review, we will analyze trading performance of this EA, its price, and veracity of claims to decide whether this Forex expert advisor is really one of the best robots in the Forex market.
Is Forex Real Profit Expert Advisor a Good Solution for Traders?
This software is not as efficient as it used to be in the past. Moreover, lack of vendor transparency and no information about any of the 6 trading strategies used by this EA raise many concerns around this robot. We cannot say that this software is profitable because a $1512 gain for 7 years of trading is too small to spend time and money on this expert advisor.
Features
The developers of FRP EA claim that their robot is one of the best and the most efficient trading tools available in the Forex marketplace.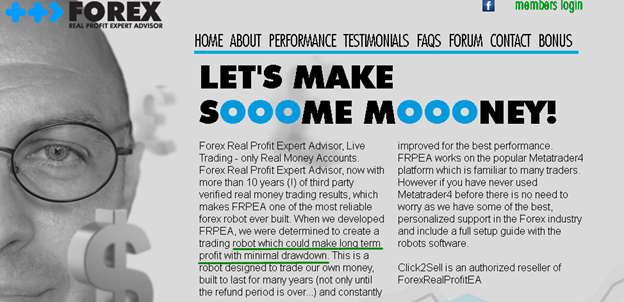 Forex Real Profit Expert Advisor is designed to work on the MT4 platform. This software is capable of trading multiple currency pairs.
Price
This EA is sold for $199/year. The devs of this MT4 tool guarantee safe and consistent profits, customer support, and 30 days money-back guarantee.
Six Trading Strategies
Forex Real Profit Expert Advisor uses 6 different trading strategies, based on the trading session: 2 are based on the Asian session, 2 are built for all sessions, and 2 breakout strategies during all sessions as well.
We would like to know more information about these trading strategies to understand why they are successful in the current sessions they are designed to trade. To get more information about the trading strategy approach, we have visited the vendor's forum and found that the robot automatically chooses the strategies, depending on the currency used. They tell us that "not all strategies are used on all currencies".

Unfortunately, that is all we have found about the trading strategy of this EA.
Trading Performance Data
There are 4 myfxbook accounts provided on the "performance" page of the developer. Three trading accounts are active with one that ran until late 2015.
Well, let's analyze the oldest one that has been running since June 5, 2013.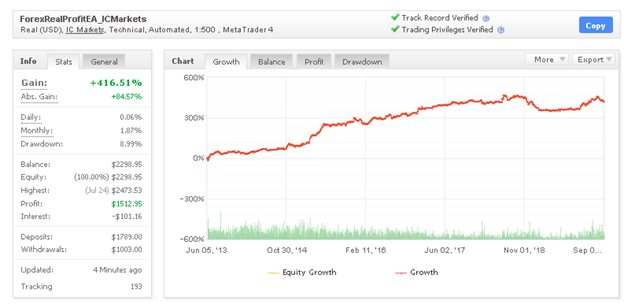 This account is working on the MT4 platform with IC Markets brokerage and leverage of 1:1500. It is showing a 416, 51% gain from June 5, 2013, up to today. It has deposited $1789 and earned $1512 of profit. For 7 years of trading, the highest drawdown was 21% with the monthly gain being 1.87%: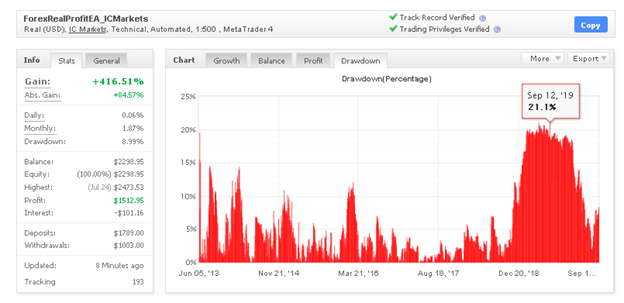 The account has placed 7539 trades and 13192.4 pips. The average win is approximately 12.26 pips and the average loss is -17.51 pips. Its profit factor is 1.17 and the average trade length is 3 hours and 22 minutes.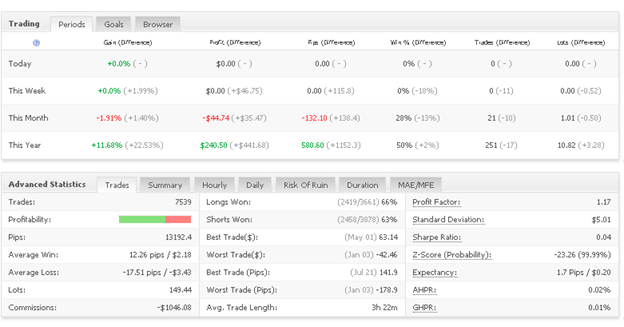 The account is trading multiple currency pairs, but the best trading results it achieved with EURUSD currency pair (earned 942.52 dollars):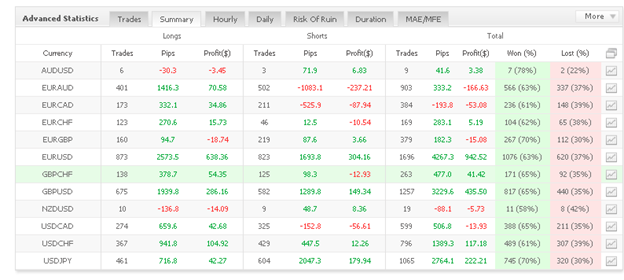 The good thing we have noticed about this Forex expert advisor is that its current history is better than the one of 2019: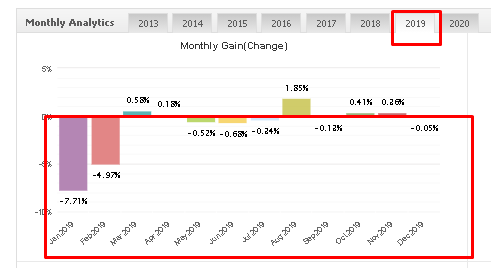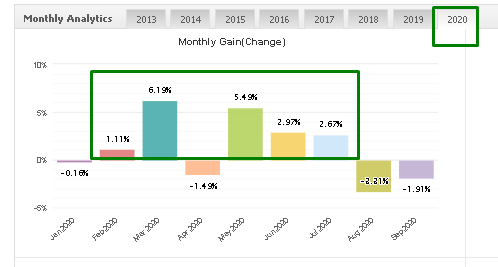 In 2019 the expert advisor has earned -8,83%, while the earn from January to September 2020 is 12%. Considering FRP EA is showing an overall gain of over 416%, it is obvious that the majority of this has come in the early years.
We do not mean that the system does not work anymore, we just want to say that it's not as effective and profitable as it used to be.
Negative Reviews from Customers
We have found only 1 review on forexpeacearmy.com written in 2011. Unfortunately, there are no reviews on the current robot performance:

Lack of Vendor Transparency
The developer of this trading software fails to give any information about the team behind FRP EA, their headquarter location, or the history of trading experience they have in the Forex marketplace. We would like to know about people who stand for this expert advisor so that we can increase our level of confidence in the product.
To get in touch with support, traders need to visit their contact page and fill in an online contact form or email [email protected].