Perfect Score is automated trading software, designed to provide traders with smooth trading experience with minimal risks. The developers of this trading tool claim that their product allows trading with a fixed or automated lot size. Traders can easily adjust the software and choose the most suitable setting to build a good trading plan.
In this Perfect Score review, we will analyze this EA, its trading approach, risk factors, vendor transparency, drawdown performance, and trading results to help you decide whether this expert advisor is a good choice for you.
Is Perfect Score a Good Choice for You?
Taking into account the trading performance of this EA, we do not think that the Perfect Score robot is worth $1299. Moreover, we see no reason why its price is constantly growing up. You can easily invest money in the other EA and save a pretty penny on a purchase.
Features
Perfect Score robot is working on the MT5 platform. To start trading with this EA you need to deposit 50 dollars onto your trading account.
The devs also point out the following features of their product:

Price
This trading tool is available to buy on the MQL5 market for $ 1299. It is a very expensive price for the robot, which is relatively new in the Forex market. However, its developers claim that they are keeping the price "high to limit the number of users for this strategy". We do not like that the developer is constantly raising the price of copies of his expert advisor. The initial price was $299, then it raised to $349, $449, $599 and now its price is $1299. The price will grow up to $1499 as soon as SERGEI RIEBIN (the developer of the software) sells out the rest 2 copies that come at a $1299 price:

The software is also available for rental and costs $349/3 months. Users who are interested in Perfect Score EA can ask for a free Demo account to test the software before investing money in it.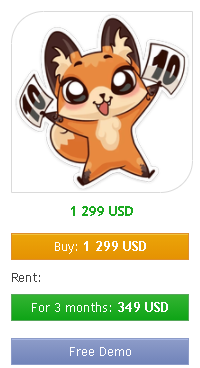 Trading Strategy
This expert advisor is built to trade at the opening of LSE (London Stock Exchange).

Its developers claim that the software does not use any risky or dangerous trading strategies, like Martingale, grid, or arbitrage. Instead, the software includes protection against high spreads, which allows traders to place orders with fixed or automated lot size.
Trading Performance Data
The developer provides simple screenshots of backtesting results and trading performance of their EA on the MQL5 market. However, these screenshots are simple images that cannot be verified. Therefore, we have decided to conduct additional research and find at least one trading account verified by myfxbook.com.
This is a real USD live trading account, which was launched on August 26, 2020. It is running on the MT5 platform with IC Markets brokerage and a 1:400 leverage.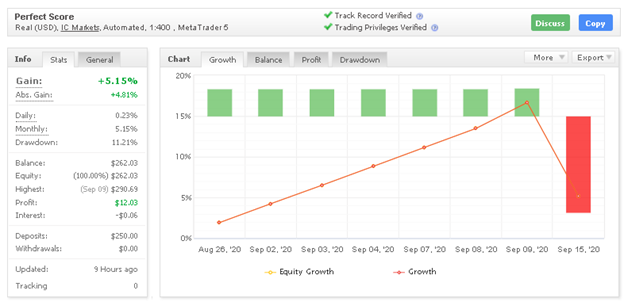 Since the time of activation, the account has obtained a 5.15% gain with a daily gain of 0.23%. Its initial deposit was 200 dollars. For over 1 month of trading, the account has gained a profit of $12 and now its balance equals $262.03. The peak drawdown was 11.21% on September 15, 2020: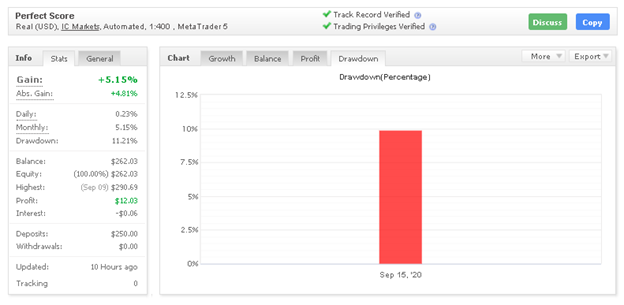 The screenshot below shows that the system traded 20 pips on August 26, September 2, September 3, September 4, September 7, September 8, and September 9, while on September 15 it lost 70,8 pips.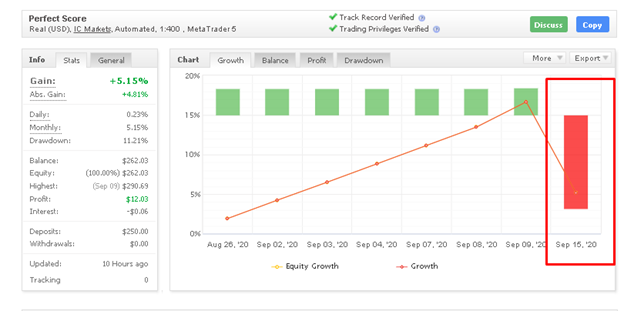 The robot is trading EURUSD currency only.

The system has traded 8 trades and won 7 out of them. The average trade length is 1 day with the average win coming in 20.07 pips and the average loss at -70.80 pips. The profit factor is 1.42. The risk/reward ratio of the Perfect Score expert advisor comes across as a scalper. However, this information is not mentioned on the website.

Vendor Transparency
The developer of this automated trading tool is SERGEI RIEBIN, located in Russia. He is offering his products on the MQL5 market only. He is the developer of SharkEA, RocketEA, To The Moon EA, Boss EA, HistoryShifter, My EA trading, and Perfect Score.
On the MQL5 market, he is providing a direct hyperlink to his telegram channel https://t.me/accurateEAs, where traders can read news about new robot updates, see new releases, and more.