Forex Gold Investor is a trading solution from FX Automater. The company is a well-known Forex robot designer. The system is introduced as a proven "sure bet" investment.
Forex Gold Investor: To Trust or Not to Trust?
We wouldn't advise you to trust this expert advisor. Although FXAutomater is a well-known company, not all their products are good to go.
Features
The presentation has plenty of information about how the software works.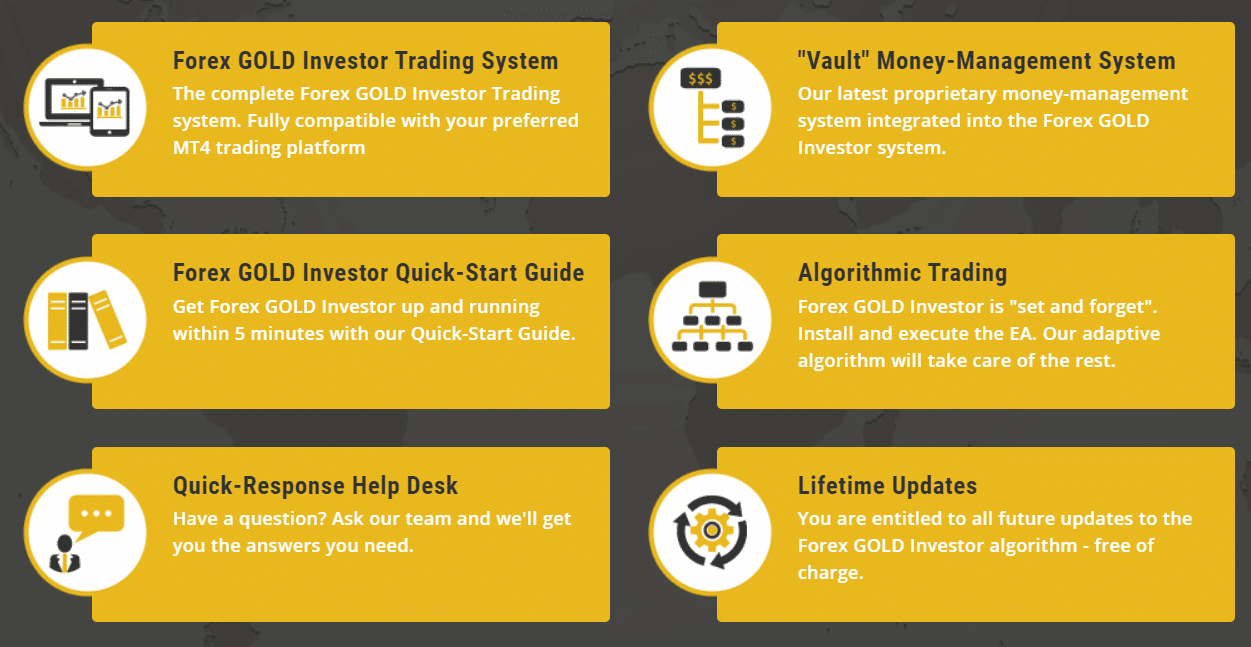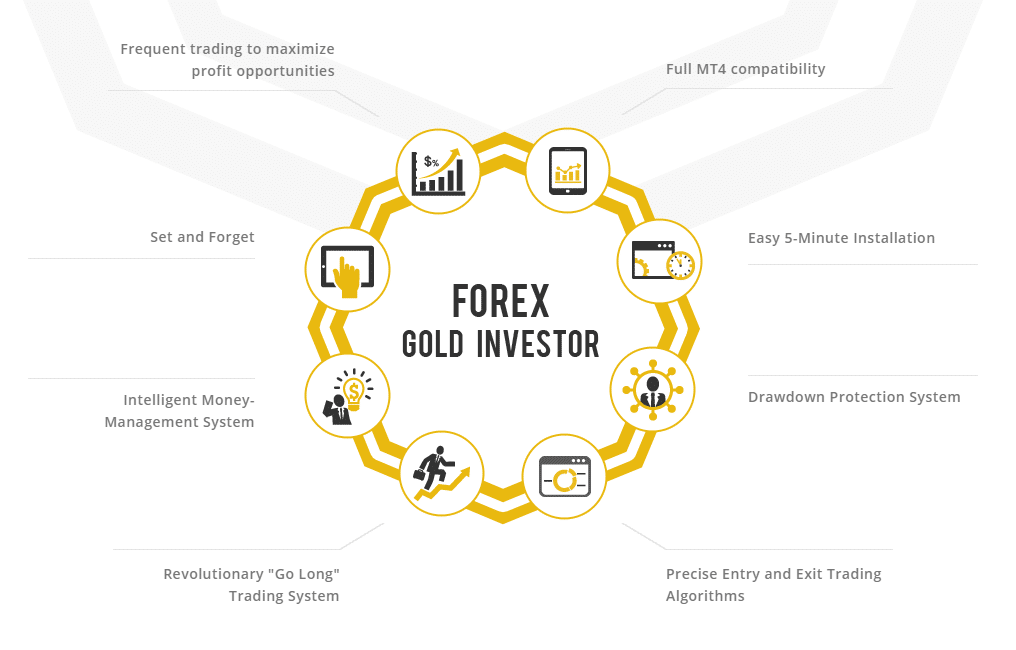 FX Automater is a company that has designed many quite-known trading solutions for trading on Forex. We have groped up its details in the list below:
The advisor executes deals completely automatically.
It was designed for the MT4 terminal only.
The system opens orders frequently enough.
There's a "Vault" money-management system.
The installation process takes several minutes, not more.
The robot is a 100% algorithmic trading solution.
There's a breakdown protection system.
We've got a revolutionary "Go Long" (?) system on the board.
The robot provides precise Entry and Exit points for each deal.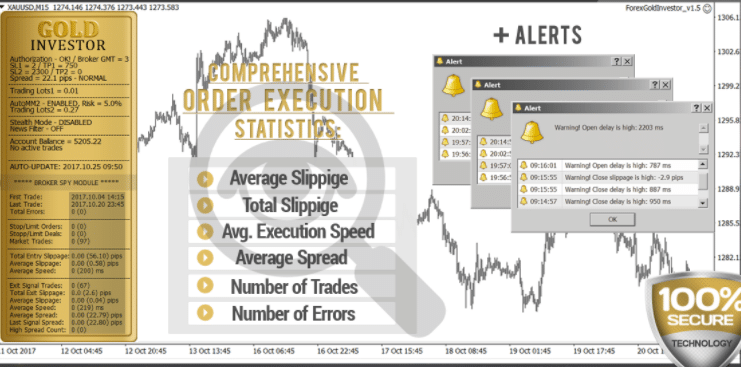 The robot includes a Broker Spy Module to protect us from fraud activities on the broker side like eating SL levels, High Slippage, and High Spread periods.
We can see what settings we can customize.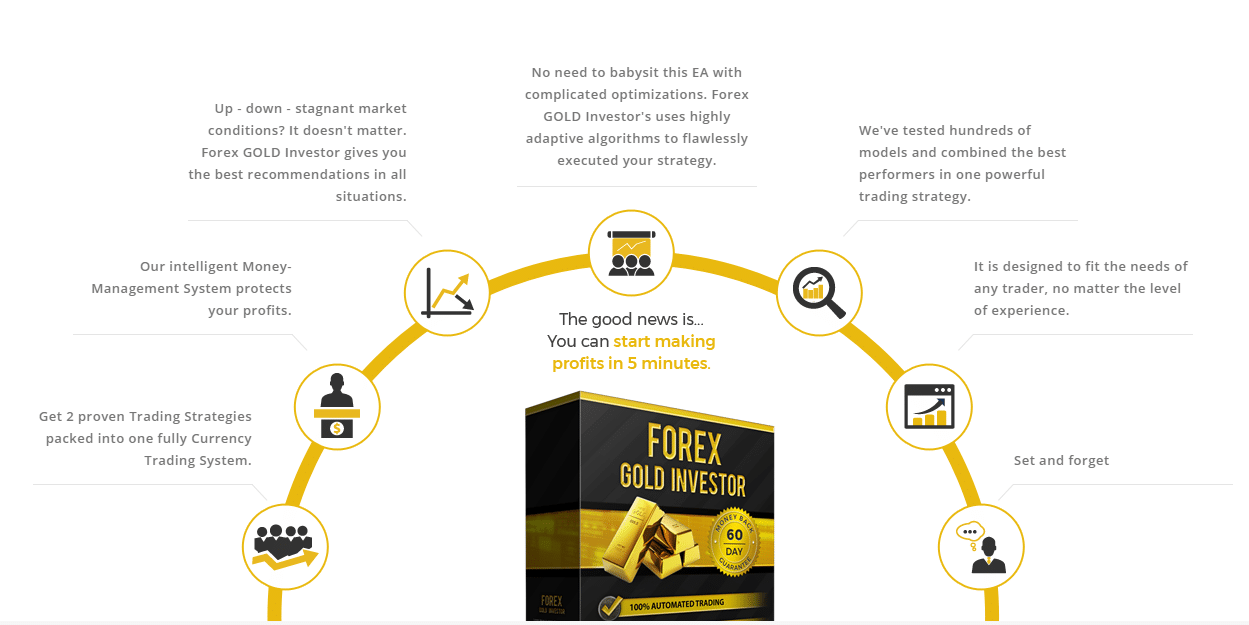 There's a powerful trading strategy on the board.
We can work without previous trading experience.
This -$60 offer is never gone.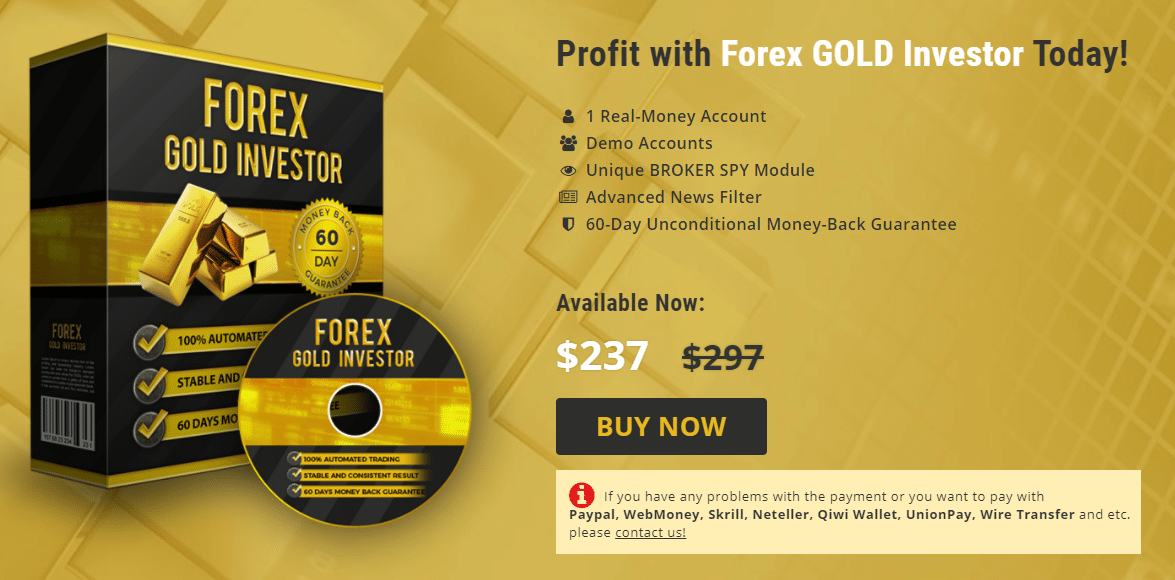 A Forex Gold Investor package costs $237 instead of $297. It's featured by a real account license, unlimited number of demo accounts, Broker Spy module, advanced news filters, and a 60-day money-back guarantee. We are allowed to pay with different paid services.
Verified Trading Results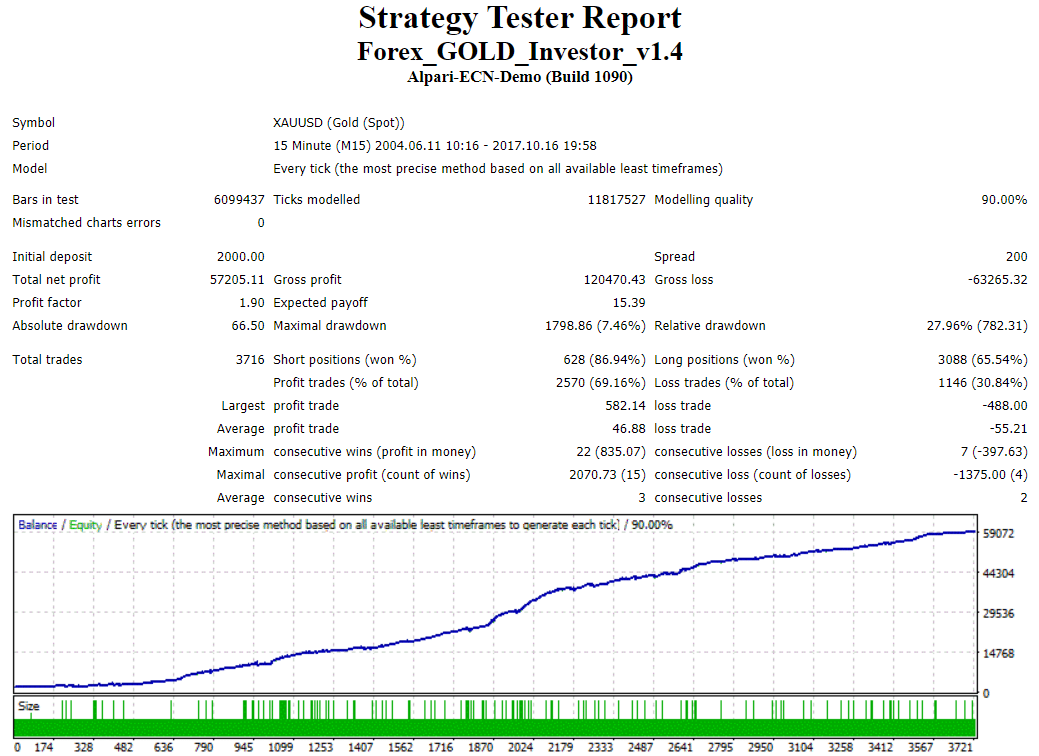 There are two backtests provided. This one was calculated by the money-management system lots. It's a XAU/USD old backtest on the M15 time frame. The modeling quality was 90.00% with 200 pips spreads. An initial deposit was $2,000. The total net profit was $57,205. The Profit Factor was 1.90. The maximum drawdown was $1,798. There were 3716 deals traded with an 86.94% win rate for Shorts and 65.54% for Longs.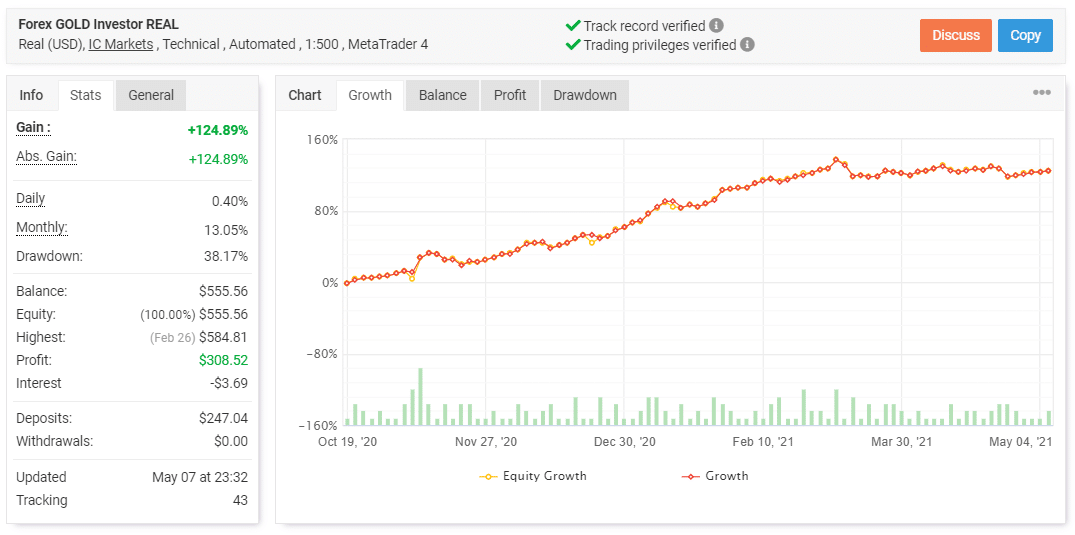 Forex Gold Investor has been running a real USD account on the IC Markets broker automatically. The leverage is 1:500. The platform was chosen MT4. The account has a verified track record. It was created on October 19, 2020, and deposited at $247.04. Since then, the absolute gain is +124.89%. An average monthly gain is 13.05%. The maximum drawdown is 38.17%.

It has traded 158 deals, with 25879 pips. An average win is 437.92 pips when an average loss is -672.67 pips. The win rate is 71% for Longs and 88% for Shorts. An average trade length is eleven hours and thirty-seven minutes. The Profit Factor is 2.05.

The robot prefers trading the Longs direction over the Shorts.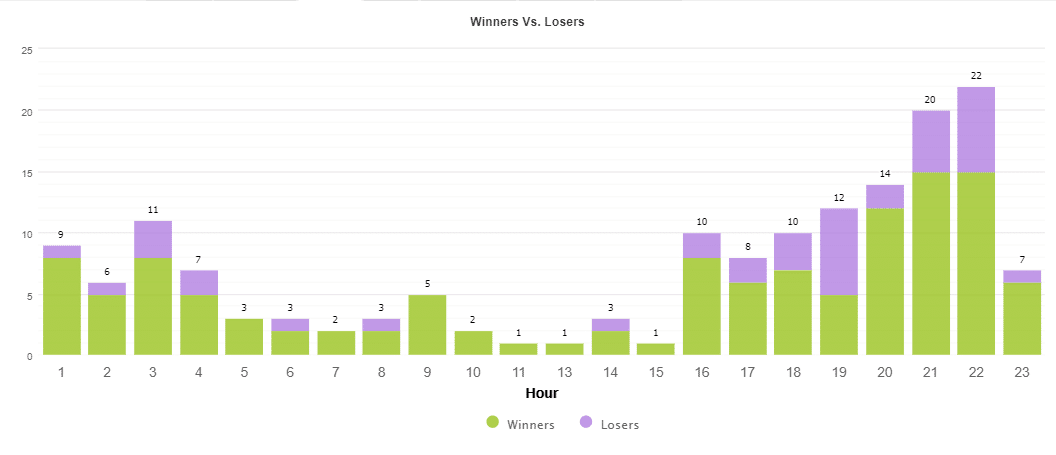 As for a gold trader, the system trades the American trading session as the main one.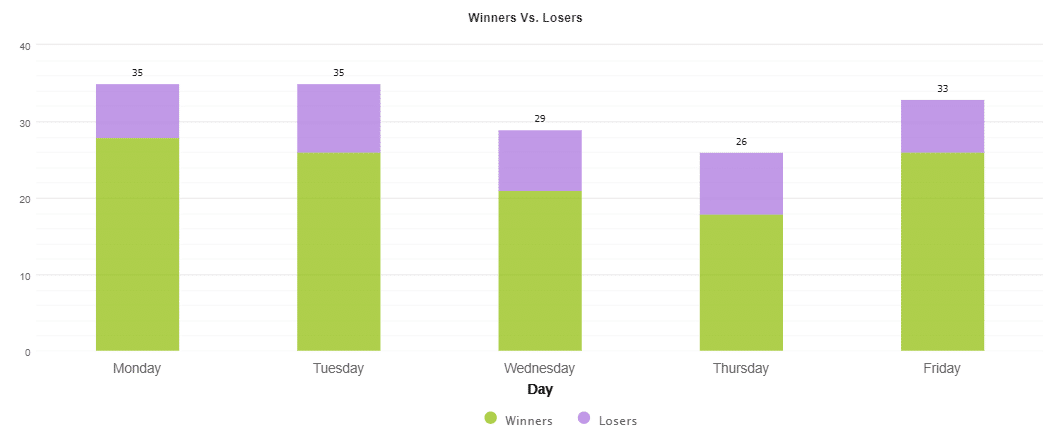 Wednesday (29) and Thursday (26 deals) are the less traded days.

The risks of ruining are low, but there should be only seven losing deals to lose 10% of the account balance.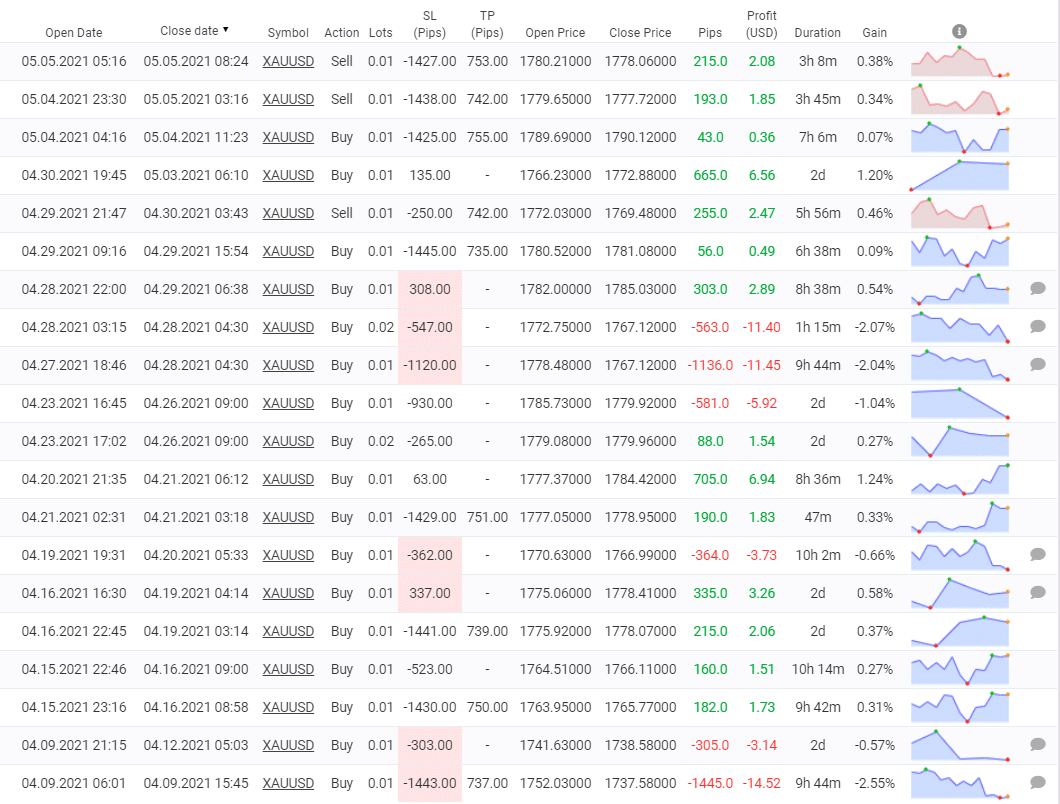 As we can see, the system can reach SL levels but cannot do the same with TP levels.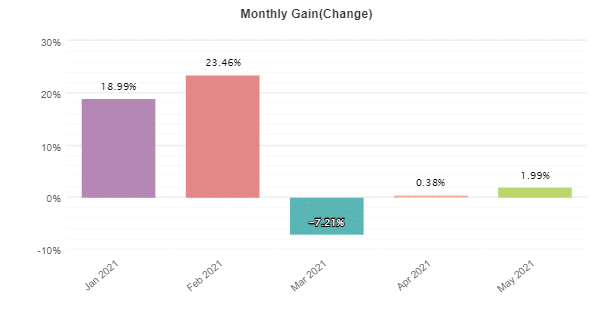 As we may note, something went wrong.
Vendor Transparency
The developers have a high level of transparency, providing extended explanations, backtest reports, trading results, and a money-back guarantee.
People feedback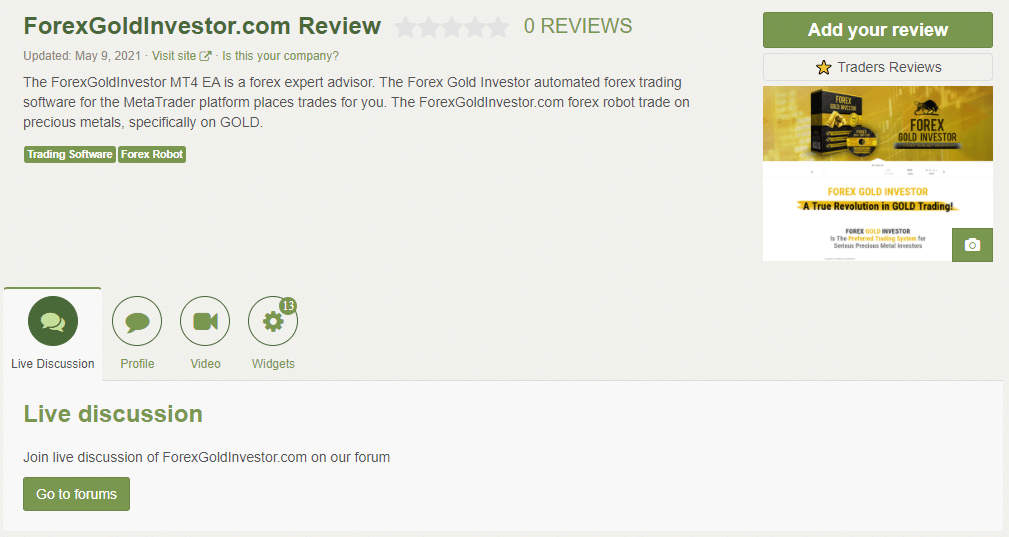 We have a Forex Gold Investor profile created on Forex Peace Army. People left no reviews or rates.
Other notes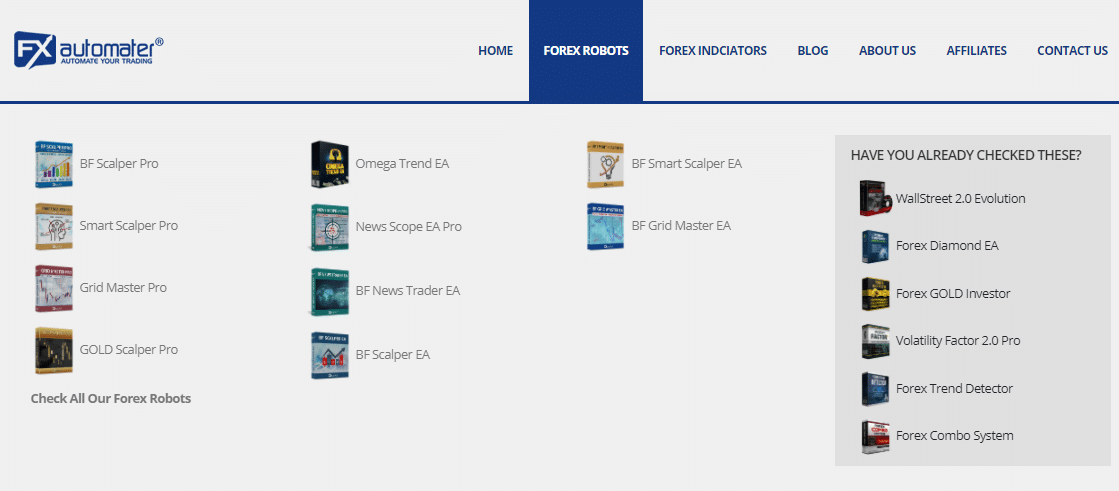 FX Automater has many other products on the board. We can check them on the company page.