Forex Flex EA is represented as a newly developed innovative technology involving "virtual trades". According to the developers, this EA opens virtual trades in the background and uses them to constantly monitor the market and find the best possible winning positions. It's one of the most long-running systems on the FX market. That's the main reason why we have decided to analyze this trading tool and its viability in 2022.
Forex Flex EA: To Trust or Not to Trust?
The system shows a risky GridMartingale combo. The trading results of June 2022 have brought a loss of -37, 7%. The high DD and series of losses are the other drawbacks to consider.
Features
The robot sells in three packages: MT4 version, MT5 version, and both versions at once. The first and second packs include only one license. The two-version pack comes with wo licenses. All of them are featured by unlimited demo accounts, all required set files, access to a private forum, and a 30-day money-back guarantee. The MT4 or MT5 packs cost $349, while the two-license pack costs $499.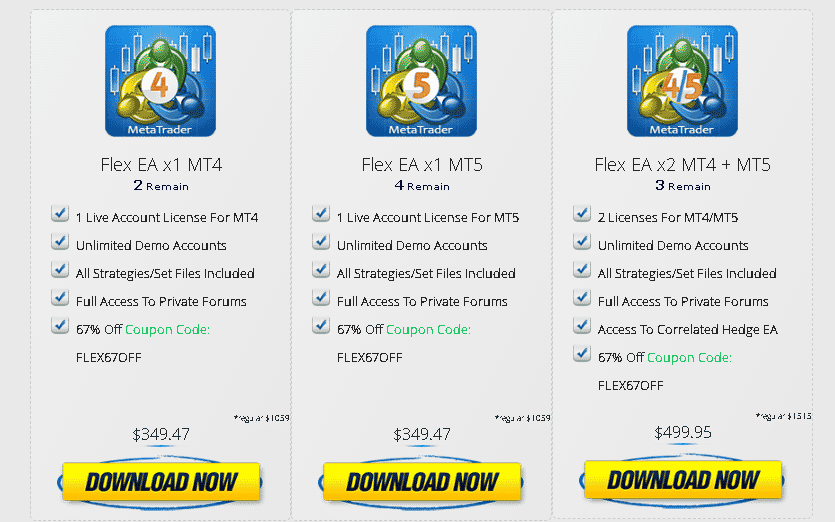 Let's talk about systemized and well-introduced features:
The EA allows trading on 28 currency pairs.
There's a money-management system that manages Lot Sizes for us.
The robot is compatible with NFA and FIFO requirements.
There's a pack of optimized settings.
We can trade through MT4 and MT5 brokers.
There are free updates and upgrades.
The EA avoids trading during high impact news.
The developers suggest we trade GBP/USD, USD/JPY, USD/CAD, USD/CHF, EUR/USD, EUR/GBP, NZD/USD, AUD/USD, EUR/JPY, and EUR/CHF currency pairs.
The dev claims that there are 12 strategies on the board. None of them is disclosed.
The system uses six virtual trades per symbol to find the most precious entry point.
We can turn any indicator on or off.
The system closes trades based on information received from indicators.
There's a Hedge strategy that can be turned on and customized.
The broker protection feature hides SL and TP levels from brokers.
The average trading frequency is 4-8 trades weekly.
The minimum deposit for the cent account is $100.
The minimum deposit for the standard account is $1000.
We're recommended to trade through HotForex and FXOpen.
Verified Trading Results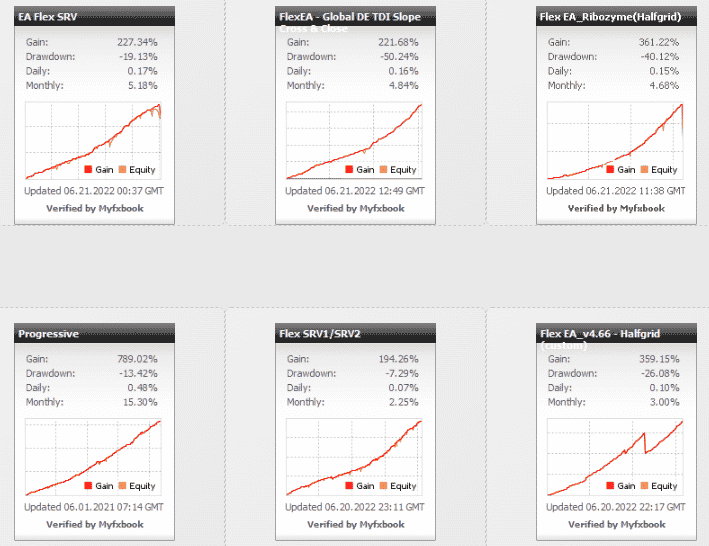 What matters when it comes to the EA's profitability and reliability is its performance. Luckily, the devs share verified results of 6 trading accounts on their website. Oddly, only 3 of them are active: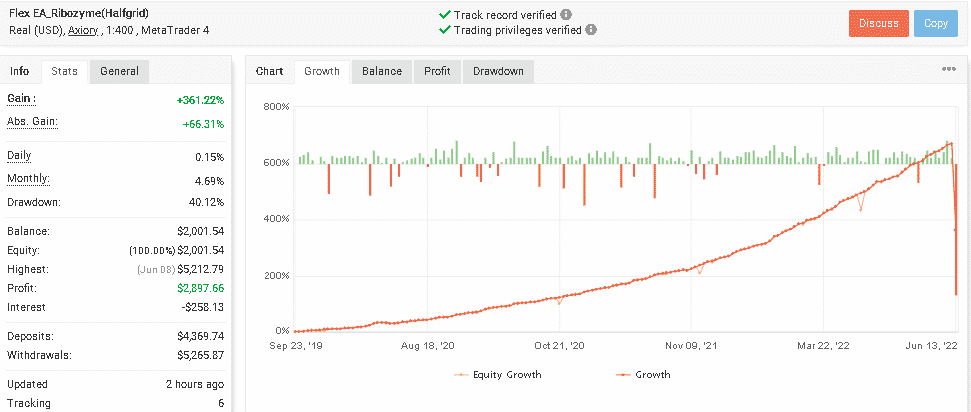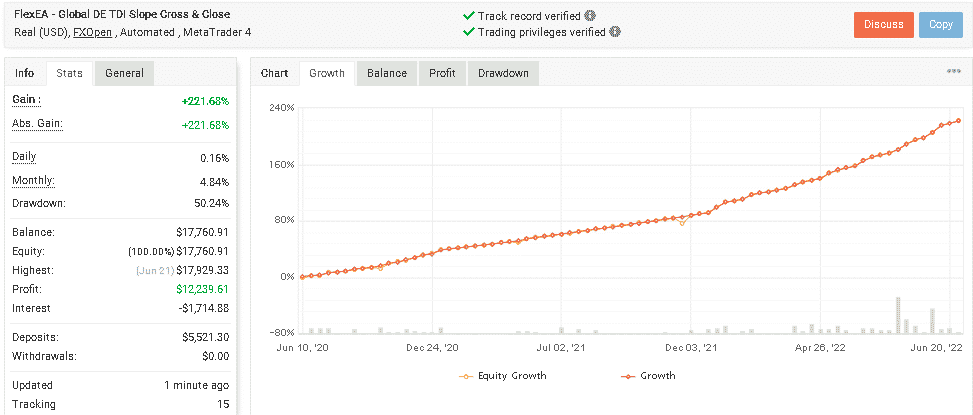 What these trading accounts have in common are consistent gains, high drawdown, and an average monthly gain ranging between 4-8%. Let's analyze one of these trading accounts in detail.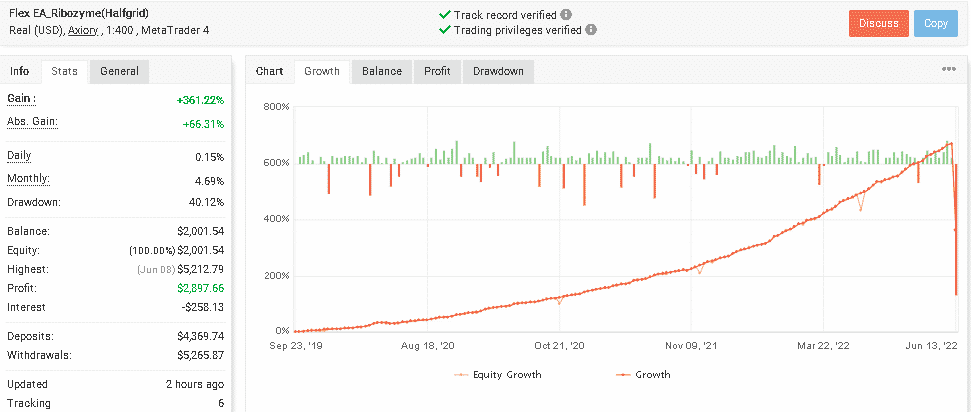 This is a real (USD) account running under the Axiory brokerage with 1:400 leverage on the MT4 terminal. Since September 23, 2019 (the day of launch), its total profit could grow to $2,897, which equals 361% of the total gain percentage. It was deposited at $4,369.74 and withdrawn at $5,265.87. Taking into account that an average monthly gain is 4.69%, a high drawdown of 40.12% looks too risky for this trading account.
The profit growth chart shows us good trading statistics, which were spoiled by a rapid loss that occurred in the middle of June 2022. On June 8, 2022, the profit was $4989, while in 5 days it decreased to $2898. It represents a loss of $2K, which looks scary.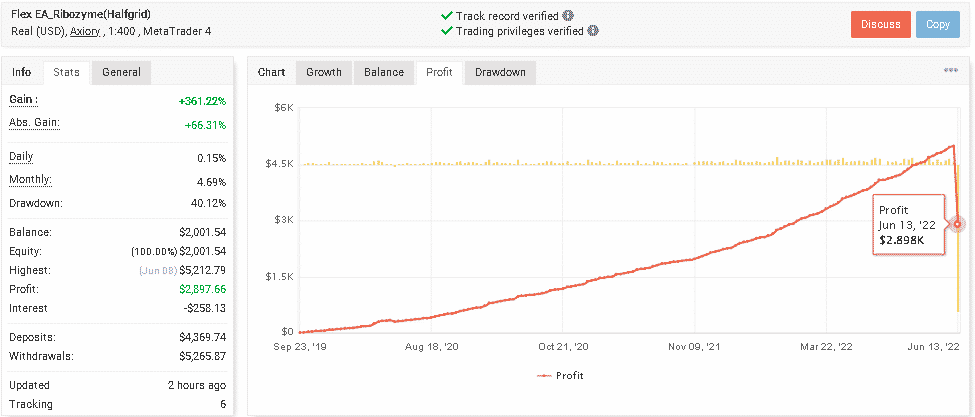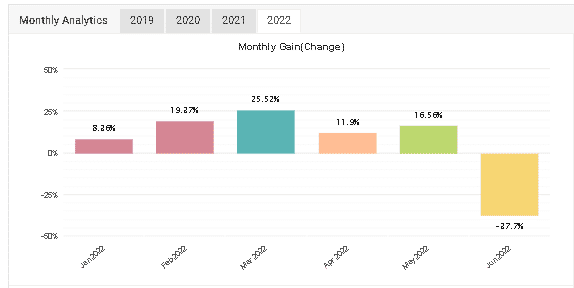 Its win rate is only 70%, which can be backed up by 393 out of 558 winning orders performed. The robot trades with a risk/reward ratio of 1:2 and a profit factor of 1.61.

Forex Flex EA trades 9 currency pairs. The most frequently traded is GBPUSD ($1,111.42).

The trading activity table shows us that the dev experienced a series of losses after which decided to withdraw 1120 USD. Oddly enough, SL, TP, and the Lot size traded are hidden. Probably it's because Martingale applied. As you can see, the system applied a grid of orders strategy. Now it is clear why the dev decided not to show us this risky combo.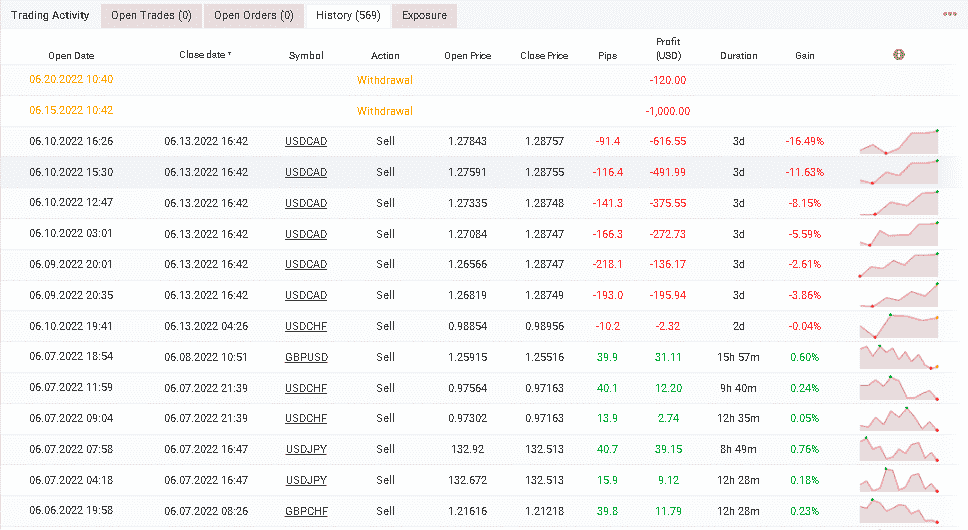 Backtest Report
The dev failed to provide adequate backtest reports. Without this info, we cannot check whether the system was well-tested before release.

Vendor Transparency
The vendor decided to share any private info with traders. So, we do not know who is the developer or where their headquarter locates. The one thing we know is that the vendor is o the FX market for over 10 years. After our additional research on the Forex Flex forum, we have found that the admin's name is Steeve. Unfortunately, this info is everything we could find.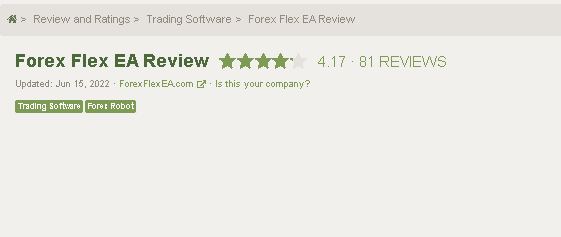 The company has a page on Forex Peace Army with a 4.17 rate based on 81 reviews. Most traders are satisfied with the trading performance of the system. However, some traders report communication problems, poor trading performance, and setting issues.