GPS Forex Robot is a Forex EA presented by Mark Larsen that is sponsored by the revolutionary yield monitor nodes system. As per the claims made by the vendor, this system is capable of earning consistent profits of up to 30% per month. Furthermore, it promises to make you a part of the top 3.5% of traders who start earning profits right after entering the Forex market.
GPS Forex Robot: To Trust or Not to Trust?
On the official website of GBPS Forex Robot, the vendor has written long paragraphs on how the problems faced by most Forex traders and how this robot is a solution to those problems. He has attempted to cover as much information as possible, by letting us know the history of this system and how it came into being. We have several live trading accounts showing profits being made in real-time as well as backtesting results for two different currency pairs.
Our first impression of the Forex EA is quite positive since the vendor has not attempted to conceal any information, unlike many others. So at this moment, we hold the opinion that GPS Forex Robot is a trustworthy system.
Features
This Forex EA has been created after careful optimization, and the vendor claims that this leads to the robot performing 4 times faster than others. It senses the current market condition and finds the most optimized setting based on that condition. GPS Forex Robot uses a trailing take profit whenever applicable and it is said to be twice as safe compared to other robots.
You don't need any technical knowledge to install and trade using this system and you can even modify the parameters as per your trading style. It is available for a one-time fee of $149. The vendor also offers a 60-day money-back guarantee for this product.
Nowhere on the official website has the trading strategy been mentioned by the vendor. In spite of providing a ton of information about the robot, he has not revealed what indicators it uses or how it identifies profitable opportunities. No doubt, a large section of Forex traders would be disappointed by this.
Using this Forex EA, you can trade in pairs like USD/CHF, GBP/USD, EUR/GBP, and EUR/USD. Although the minimum deposit is not explicitly mentioned, in one of the trading accounts it is $250. It has a dedicated support team and you can reach out to them via phone or email.
Verified Trading Results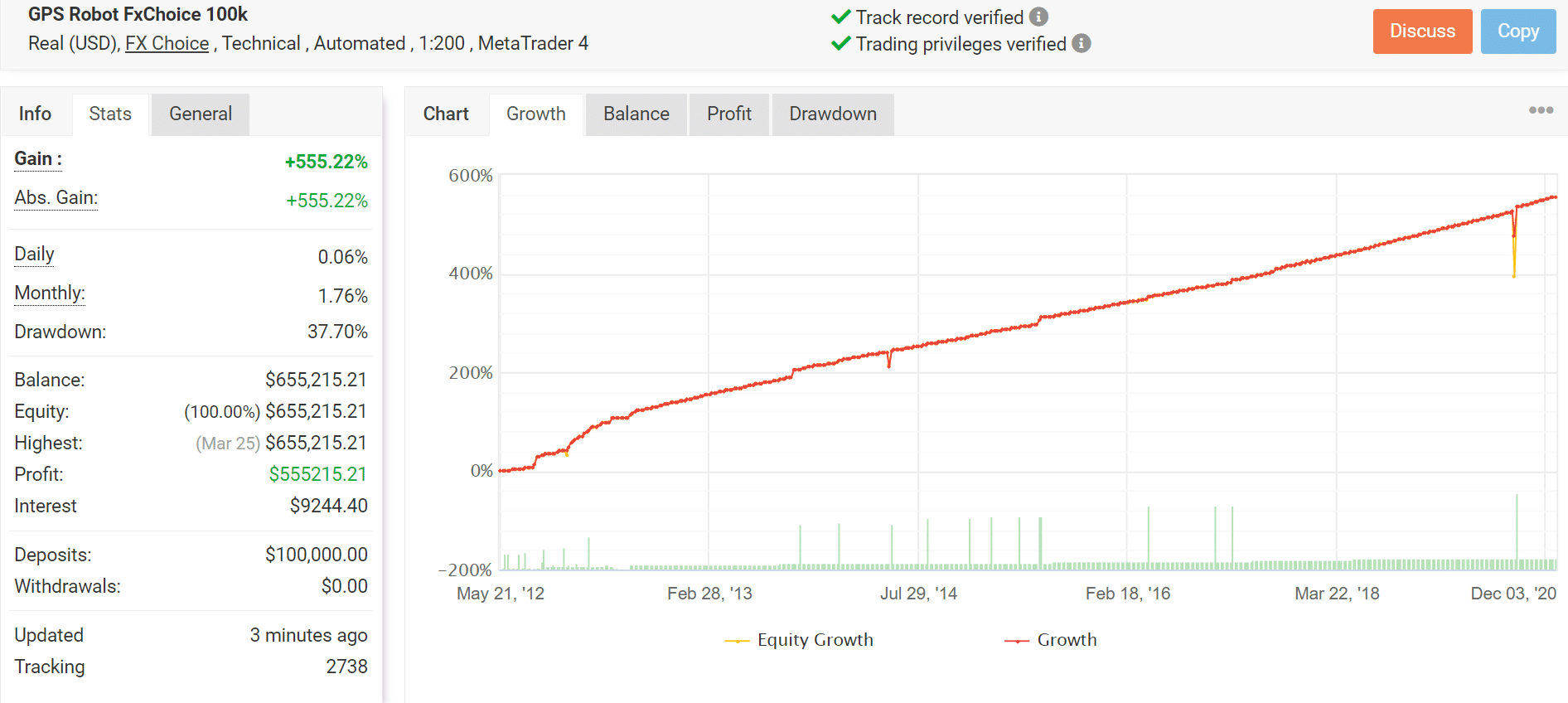 This is a Real (USD) account for GPS Forex Robot trading in the EUR/USD pair with the FX Choice broker with leverage of 1:200. Launched on May 21, 2012, this account has been live for several years, making 488 trades in total. It has won 460 trades, which represents the win rate of 94%.
From what we can gather, this system does not trade too often, rather looking for the most profitable opportunities. The daily and monthly gains for this account are 0.06% and 1.76% respectively, but the drawdown is marginally high at 37.70%.
Currently, the total profit closed by this account stands at $555215.21, while the time-weighted return is 555.22%. The profit factor is 2.09, which is quite exceptional for a Forex EA that has been trading live for so long.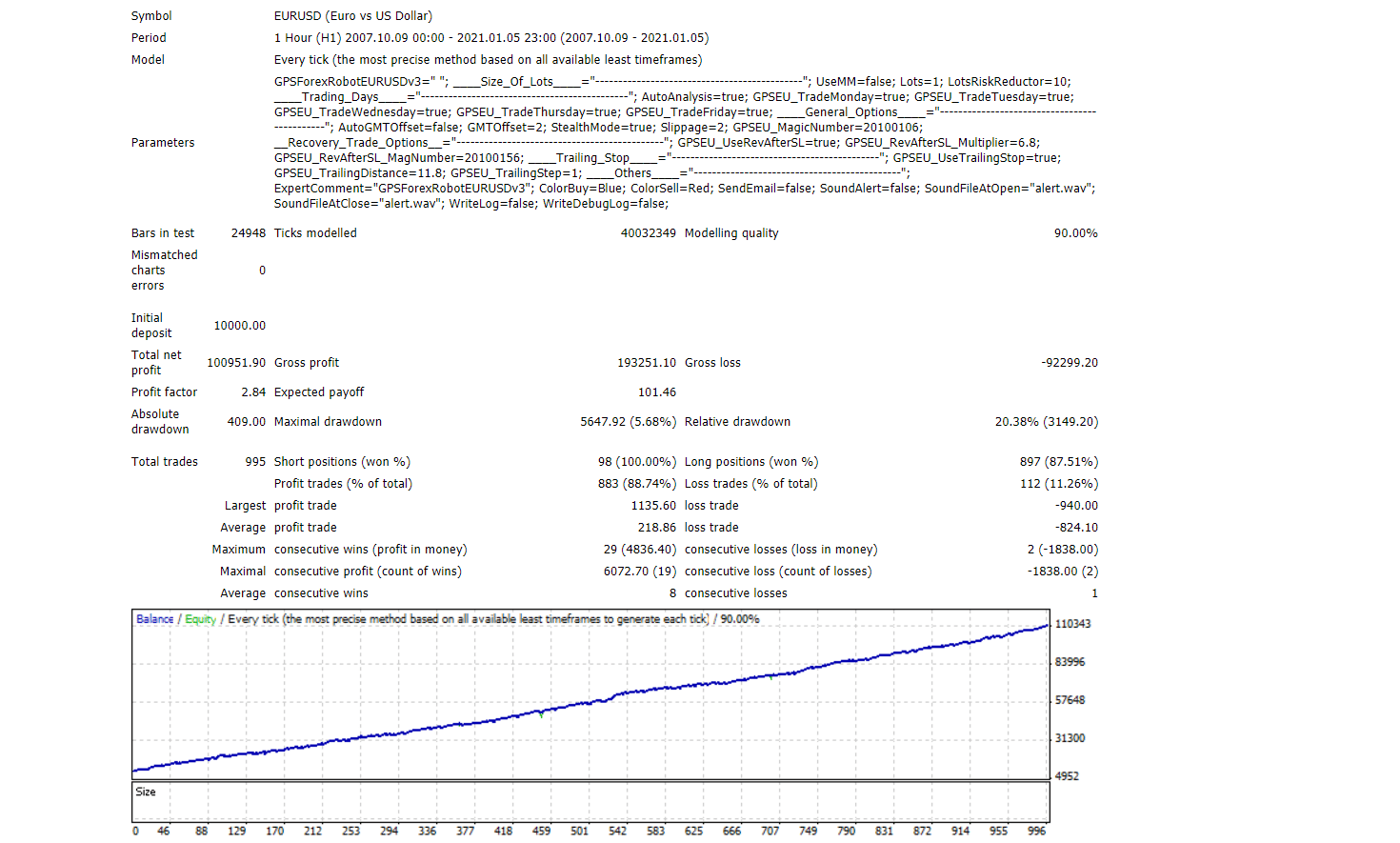 Here we have the backtesting data for the Forex EA conducted from 2007 to 2021 for the EUR/USD pair with a modeling quality of 90%. An initial deposit of $10,000 was made for this test, out of which a total net profit of $100951.90 was generated. Out of 995 trades placed during this backtest, GPS Forex Robot won 883, representing a win rate of 88.74%.
On average, the system made a profit of $218.86 with each trade, which is quite impressive. The profit factor of 2.84 is a bit higher compared to the live trading results.
Vendor Transparency
GPS Forex Robot is the brainchild of Mark Larsen, and the lead developers named Antony Kemble and Ronald Kravchuk. On the official website, there is a webinar where Mark and Antony introduce themselves. We also have a phone number that we can call to listen to the webinar recording on the phone.
Positive Reviews from Customers

We found some customer reviews for the Forex EA on the Forexpeacearmy website, and most of them are positive. One user has praised the customer support team for their prompt and detailed replies. They have also claimed to have earned a profit of 51% in 60 days.