August Forex Golem is an innovative expert advisor, built to take advantage of speed. This EA is said to be user-friendly and easy to use not only for experienced traders but for newbies too. The developers of this trading tool say that it is the first Forex EA that "optimizes itself in real time" and provides traders with "accurate & profitable trades".
Today we will have a closer look at this EA and provide you with a detailed August Forex Golem review to let you know whether this robot is worth a spot in your MT4 account.
Is August Forex Golem a Good Choice to Invest Money?
We do not recommend this EA to the public.
We have not found:
Detailed trading strategy approach or methodology of AFG EA
Trading results from real traders who are trading with this expert advisor
Any information about the developers, their location or trading experience in the Forex marketplace
Features
The software trades 5 days a week, 24 hours a day, and monitors multiple currencies simultaneously. Signal calculations of this trading tool are based on indicators and math.
Their website design requires a major upgrade. The August Forex Golem sales page does not look professional. There is no detailed information about the product they are selling, nor the trading strategy insight. All we know is that this EA can trade on multiple currency pairs. Therefore, traders can invest any amount they want and that will be optimized automatically.

The vendors recommend trading on EURUSD, which provides better trading results. Users can use this EA with any account type, no matter whether it is a micro, mini, or standard one.
Price
At the moment of our review, the software was available to buy with a discount. Instead of paying $250 traders need to pay $197.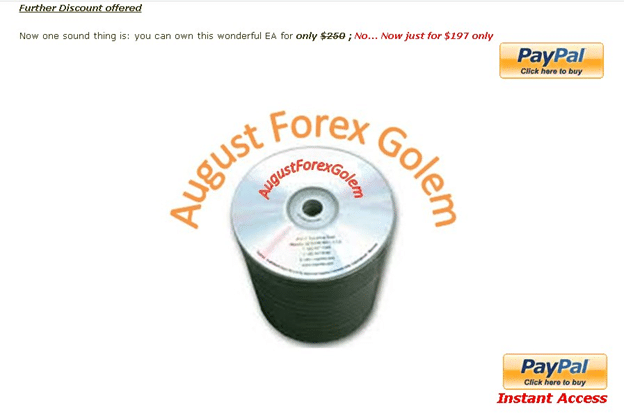 Trading Strategy
Long story short, the trading strategy behind this robot is scalp-based. The recommended currency pair for trading with this EA is EURUSD with a 1-minute frame. It means that the software will be trading furiously as well as will be picking up small trades whatever it can.

Trading Results
The devs of this EA provide live trading results verified by fxblue.com on their sales page.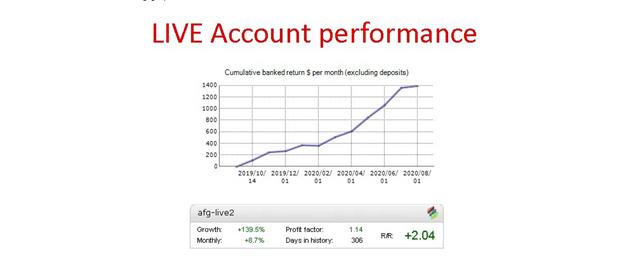 These trading results are the ones provided by the developers of AFG and we have a very difficult time trusting the validity of these. Moreover, we frequently see very odd results on this service or accounts reaching millions of dollars with mediocre robots. We do not mean that is what is happening with this expert advisor, we just want to say that it is an obvious concern.
Nevertheless, we are obliged to analyze the trading performance of the AFG EA.
To start with, it is a demo account, not a real one, which means that the developers who are running the robot could falsify the trading results. It is trading EURUSD. The account launched on March 4, 2016, and since that time it has gained +139.5% of total return. Its monthly return is +8.7%, while weekly return equals +2.0%. It has deposited $1,000.00 and gained $ 1,395.40 of net profit. Currently, its total balance is 2,395.40 dollars.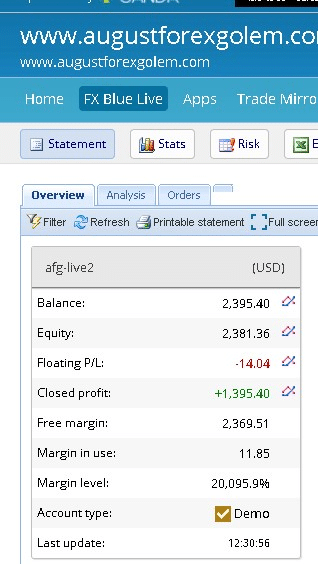 For the trading history of 306 days, the account has traded 745 trades and won 466 out of 745 trades. The average trade length is 38 hours and 9 minutes. The average win is +25.13, while the average loss is higher and equals -37.23. The profit factor of this robot is 1.14.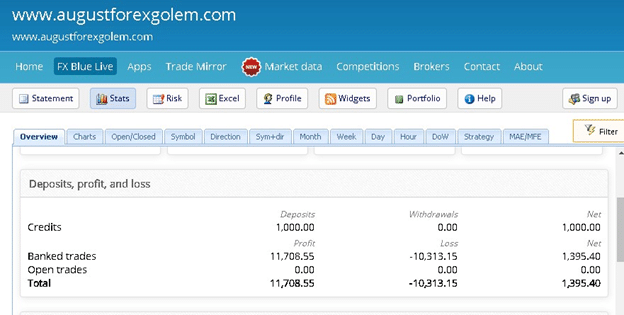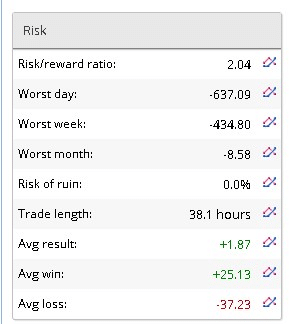 The worst drawdown was on June 9, 2020, and equaled -26.5%: