Online trading tends to be hard for most traders, especially for beginners. Therefore, they are searching for something that would help them to avoid any losses and experience smooth and stress-free trading.
In this 5 Pips A Day review, we will be talking about a new trading option, that makes an average of 5 pips profit every day. We are going to analyze this trading software and decide whether it does put traders in a position to increase their income or is just stealing their money.
Is 5 Pips A Day a Good Choice to Invest Money?
Although the developers provide backtesting results and many positive feedbacks from their customers on their website, we cannot recommend their trading software to the public. Our decision is based on:
Negative reviews from customers
Trades 1 currency pair only
Poor customer support
Lack of vendor transparency
Features
The 5 Pips A Day software was originally released in 2011, but since that time, it has been modified and now targets more. It is a fully automated Forex expert advisor designed to make an average of five pips on the EURUSD a day. It has an automatic time zone detector, so traders do not need to bother about time adjustments of any form.
The developers provide a 60-day money-back guarantee if for any reason a trader is "unhappy" with a purchase.
The software is available to buy for $97.00 on the 5 Pips A Day sales page.
Trading Strategy
The devs of this EA point out the following features of 5 Pips A Day robot:
Targets at least 5 pips a day
96% win rate in backtesting
EURUSD 1 minute chart
No Martingale, Hedging or Grid trading strategies
This EA operates using the MT4 trading platform and places fully automated trades several times a day on the EURUSD currency pair. In addition to this, the system is easy to install and traders do not need to learn about the settings since they can use the default settings. It depends on traders and their decision on whether they want to adjust lot size or the risk they would like to use for trading.
5 Pips A Day Verified Trading Results
The vendors of this trading tool provide myfxbook results on their sales page. However, these results cannot be checked, because they are simple screenshots without a hyperlink to live trading results. Therefore, we have decided to make additional research and find at least one trading account that could be verified. As a result, we have found 2 accounts on myfxbook.com, both of them are running on demo version: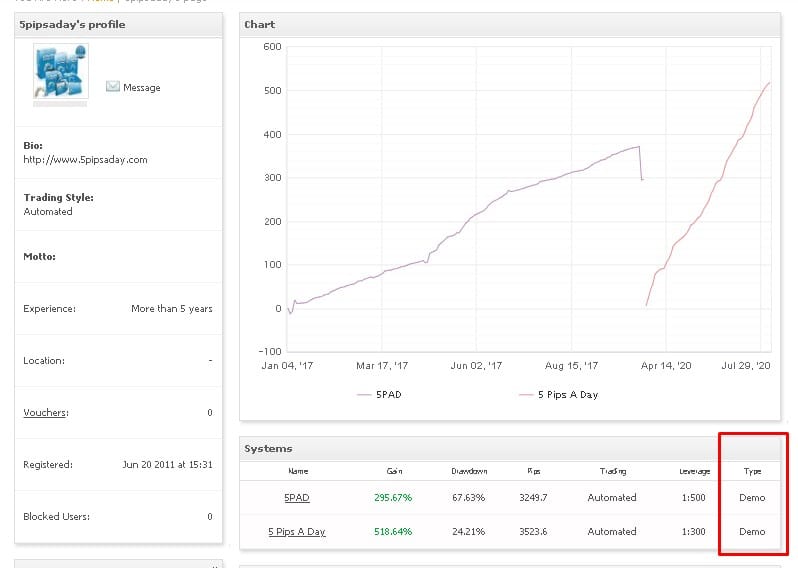 Well, let's analyze the one with a higher gain and lower drawdown, 5 Pips A Day trading account: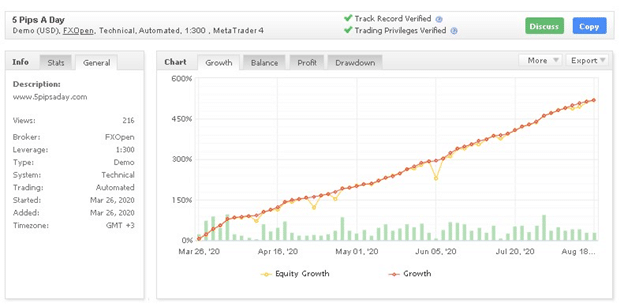 To start with, it is a demo USD trading account that is working on the MT4 platform with FXOpen brokerage. It launched on March 26, 2020. Its deposit is $50000.00 and the peak drawdown is 24.21%. The gain is +518.64% and equals $259318.92. Taking into account that the robot has been trading for 4 months and 3 weeks, $259318.92 of profit with a $50000.00 of the deposit is an impressive trading result. However, we cannot 100% trust it, because this trading account may easily be manipulated by the developers of this EA.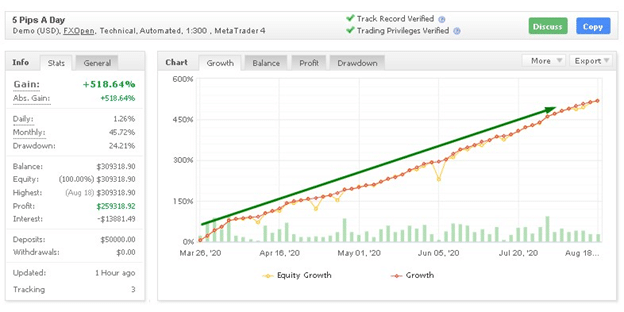 Its growth chart is stable and shows consistent profit with insignificant ups and downs in terms of equity growth (see the screenshot above).
The robot shows an extremely high-profit factor which equals 63.05. For 4 months and 3 weeks, the robot has traded 760 trades and won 736 out of them. It has traded 3523.6 pips with an average win of 4.77 pips and an average loss of 0.68 pips. The average trade length is 9 hours and 9 minutes.

Negative Reviews from Customers
We have visited the forexpeacearmy.com forum and found 7 reviews from customers. Unfortunately, all of them are negative:
1) One person who used this EA claimed that it is a scam, as the system "crashed and burned" on the third day after it was purchased: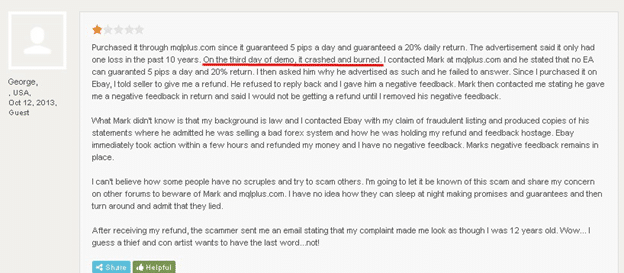 2) Another trader says that the EA traded well and for 5 months without losses. However, in the last month, he had 2 losses and the problem was "this EA uses a 300 pip stop loss so those two losses took out 65%" of his trading account:

3) The third user says that he had negative trading experience in the first 2 weeks of trading. Having asked for a refund, he received neither a refund nor an answer:

Most of the reviews about 5 Pips A day on forexpeacearmy.com are pretty much similar to these three.