Aqua Forex Trading is a Forex system promising to "maximize your earnings with minimum effort". The developers of this automated trading tool claim that it is the "perfect solution" for those who want to generate their income regardless of vicissitudes in the Forex market. They say that once you buy their software you will start "making money as soon as possible". The vendors of this trading tool are certain in their product as well as in its profitability.
In this Aqua Forex Trading review, we will dig, analyze, and find more information about this trading software to decide whether it is worth your attention.
Is Aqua Forex Trading a Good Choice?
Aqua Forex Trading is not a good Forex trading software for traders to invest money. The developers' claims are very aggressive and confirming, but in fact, their software is in the red. Our final decision is based on:
No trading strategy insight
Negative trading performance results
No money back guarantee
Lack of vendor transparency
No Trading Strategy Insight
We are very disappointed with the Aqua Forex Trading website because there is no detailed trading strategy insight provided.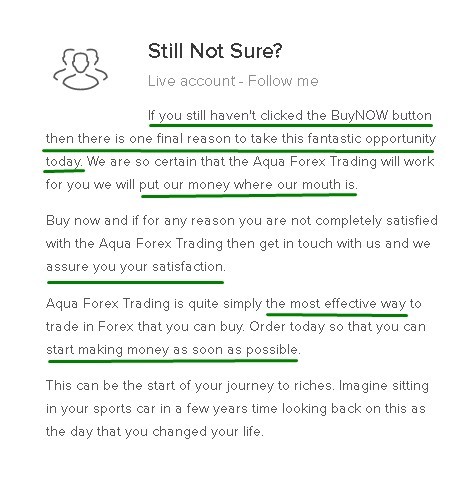 We have only found that this EA is working on the Internet Trade Mirror: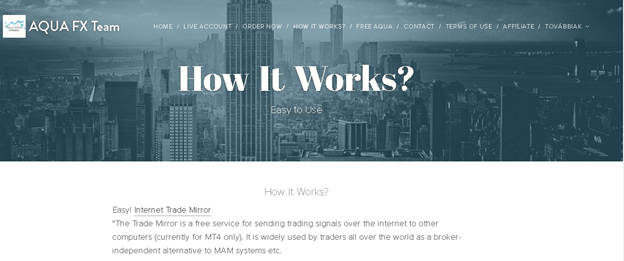 When EA developers spend very little time and effort on writing an informative and detailed sales page, it only proves the fact that they do not have enough experience in the Forex market trading. They need to spend enough time at each juncture to ensure traders that the product they are offered is a good choice for them. Lack of information is equal to a lack of transparency.
Negative Trading Performance Results
The vendors provide live account results on their website: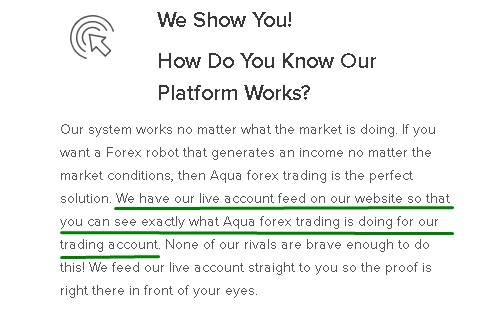 With such a high price (they are currently offering their product for 300 USD), and lack of trading strategy insight, the developers think that their verified trading results would make up for this and convince us that their product is a good choice to invest.
Well, let's firstly analyze what we see: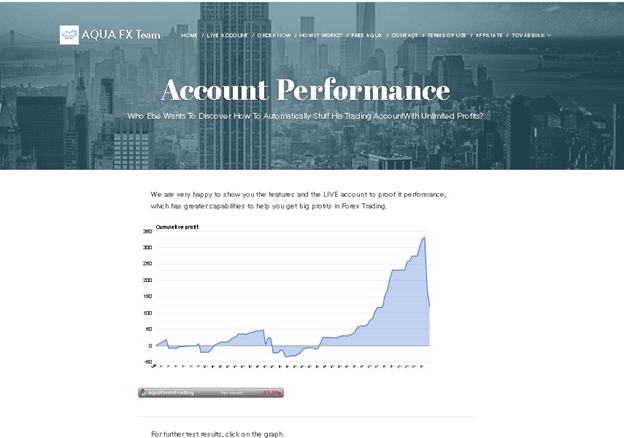 Aqua Forex Trading provides a simple trading account verified by fxblue.com. This is a real semi-verified trading account running on the MetaTrader 4 platform and trading major currency pairs. The account started trading on March 8, 2018. It is showing a -70.1% total return. It has deposited $2,822.78 and withdrew $-2,027.34. Currently, its balance is only 795.44 dollars.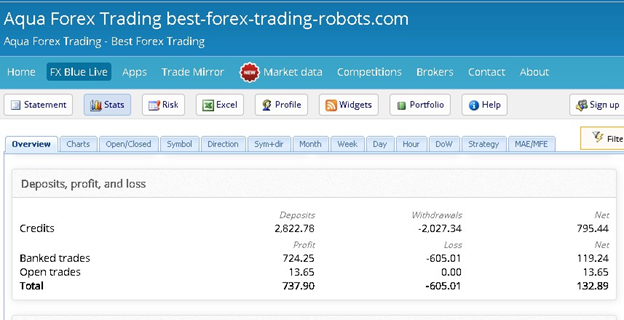 The worst trading period was on July 29, 2020. That day the total return dropped from 57,2% to -68,9%: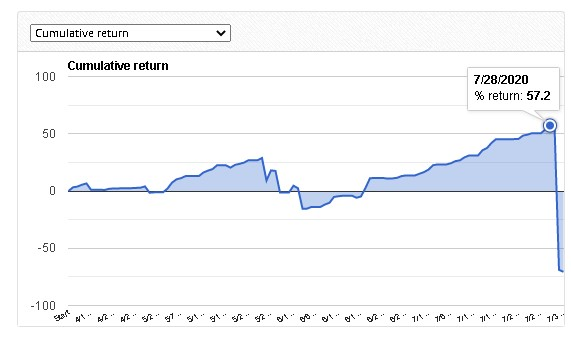 The account is trading 21 different currency pair groups: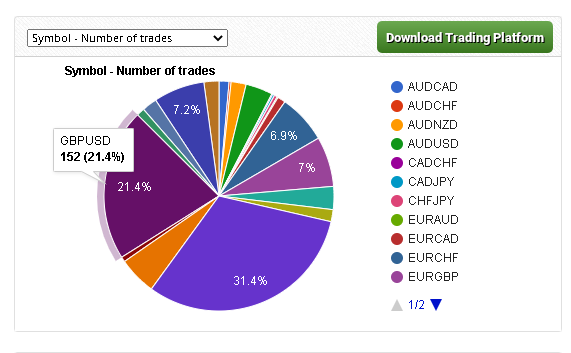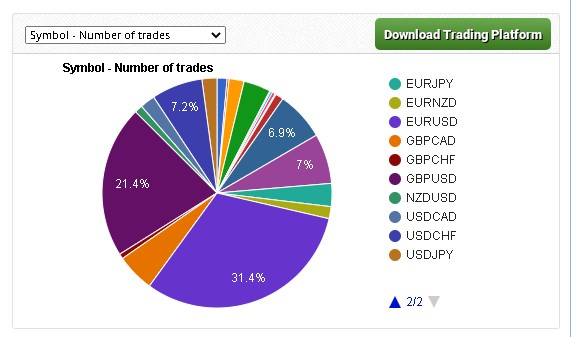 This trading software places 6.5 per day, which comes out to 710 trades over 110 days. It has won 541 out of 710 trades, which represents 76%, and lost 165 out of 710 trades, which represents 24%.

An average trading result of win pips is 6.94, while the average result of loss pips is -13.63. The average trade length is 4 hours and 30 minutes. The trade win rate is 76.6% with a risk-reward ratio of -2.38.
What makes us sad about this trading account is its chart of the risk of ruin that is equal to 100.0%. It is so because the account does not "help you get big profits in Forex Trading" as it is claimed on their sales page, but is stealing your money: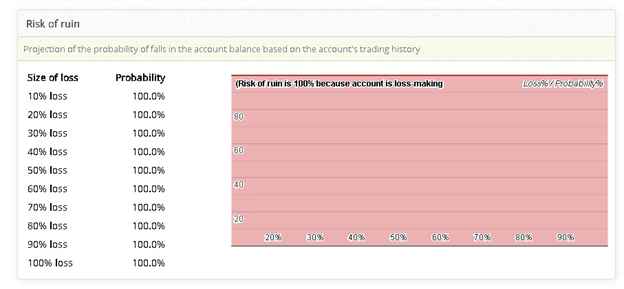 Its peak balance drawdown is -27.5%. However, it's strange, because the balance chart drawdown shows the other results that are considerably higher and are equal to -80, 3%:

This trading account is showing nothing other than negative trading performance data.
No Money Back Guarantee
There is no information about the money-back guarantee on the Aqua Forex Trading sales page. They only tell us that: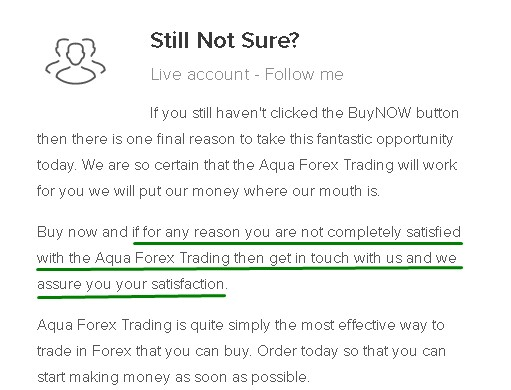 How? What way are they going to "assure" our satisfaction? What is a trader who wants to get its money back? There are a lot of questions that need answers.
Lack of Vendor Transparency
The developers fail to provide any information about themselves on their sales page. Therefore, we were obliged to make additional research and find any information about the website. At whois.domaintools.com we have found that the registrant country of the website is Hungary. The website was created on March 8, 2018.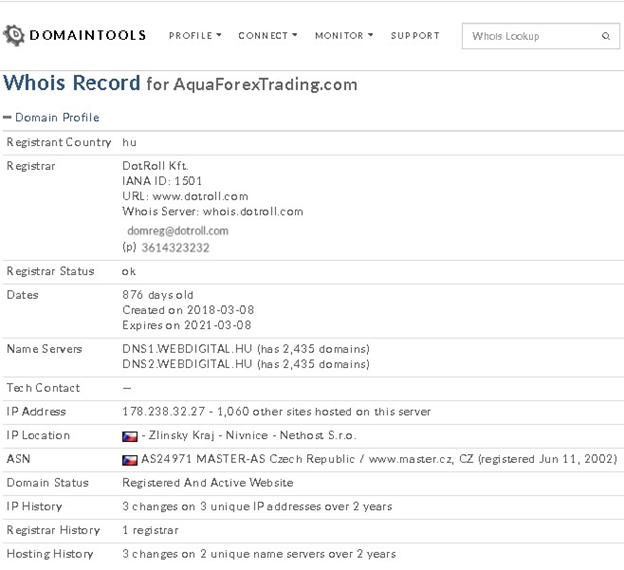 To contact support, traders need to visit their "Contact" page or send an email [email protected].