Inertia Trader is a Forex expert advisor, built to "double your forex account within a few months without using high-risk strategies". Its developer Evan Goldstein claims that this trading software "can make you $1,000's to $100,000's over the next few months and years". These promises and claims look too aggressive and optimistic, but is this EA really as profitable as it is claimed? Let's find out the answer.
This Inertia Trader review is dedicated to a new Forex EA, to help you decide whether this automated trading tool is as good as it sounds.
Is Inertia Trader a Good Choice?
We do not recommend this EA to the public. Our assessment and verdict are based on:
Negative trading results
High drawdown performance
No information about the team that stands for this expert advisor
High price
Features
Evan Goldstein emphasizes the main four features of this EA:
Works with any broker
Offers risk-free guarantee
No binary trading
No high-risk methods
The software is available to buy for $347. To start trading with Inertia Trader users need to sign up and pay for the service. Then, they will be able to try the software on either Demo, Real, or both of the trading accounts. Traders are provided with 60 days money-back guarantee, which means that in case they decide they do not like the software, they can ask for a return.

Trading Strategy
The trading approach and methodology behind the Inertia Trader EA are briefly discussed on the sales page. They say that this robot:
What does it mean? The developers of this Forex robot advisor explain that Inertia Trader is constantly monitoring the Forex market and detects sharp price movements. Then the system will do its best to determine whether the price will keep moving or it is just a temporary moving.

Their high-risk trading tactics looks different from the other EAs: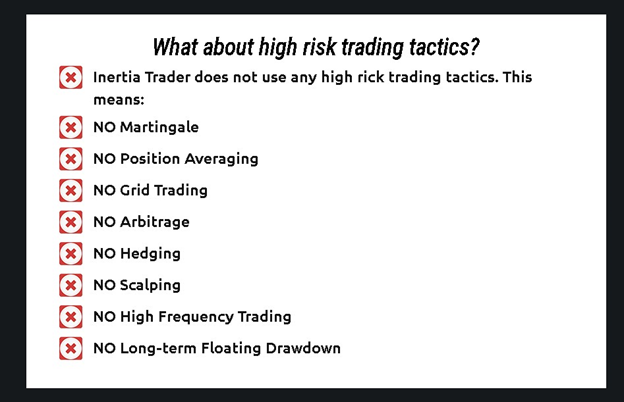 Back Testing Results
Inertia Trader provides backtesting results on its website. It is a good sign, as we can see how the system deals with trading difficulties and analyze its trading performance on the whole.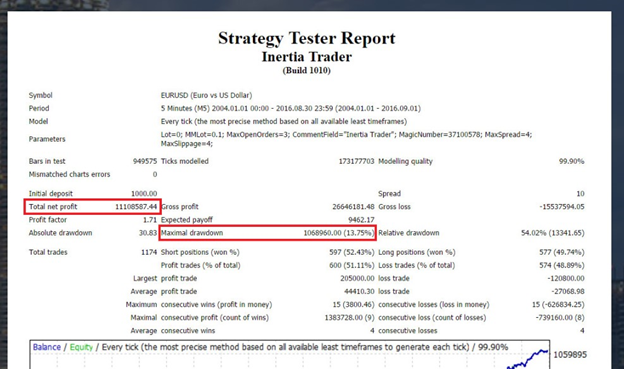 The backtesting started on June 1, 2014, and ended on September 1, 2016. The account has traded EUR and USD currency pairs and performed on every tick model (most precise method based on all available least timeframes) with 99, 90% of modeling quality. The account deposited $1000 and earned $11108587. 44. Its profit factor was 1,71, which is a good result for trading. During the backtesting period, the account has conducted 1174 trades, with 600 profit trades (51, 11%) and 574 loss trades (48, 89%). The maximal drawdown was 13, 75%. The maximal consecutive profit was 1383728.00 with a lower consecutive loss of -739160.00. Trading results look quite impressive and convincing, but let us jump to the live trading results.
Myfxbook Results
Although the developer provides a lot of screenshots of verified trading results taken from myfxbook.com, none of them has an active hyperlink to review these accounts. Therefore, we had to conduct additional research and find a verified trading account at myfxbook.
As a result, we have found an Inertia Trader account verified by myfxbook.com.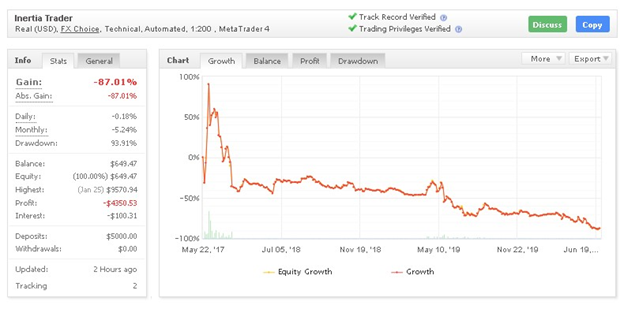 The account started trading on May 22, 2017. It has been working on the popular MetaTrader 4 platform with an FX Choice broker with a 1:200 leverage. Its absolute gain is -87.01% with a monthly gain of -5.24%. The account deposited $5000.00 and lost -$4350.53. Currently, its trading balance is only $649.47 with a peak drawdown of 93.91%. It is a very sad statistic.
For 3 years and 2 months, the account has conducted 1080 deals: it has won 442 out of 1080 trades, which represents 41% and lost 638 out of 1080 trades, which represents 59%. Its profit factor is very low and is equal to 0, 85. The average trade length is 6 hours and 39 minutes. The average win is $54.69, while the average loss is -$44.71.

The probability of losing 100% of the account is equal to 99, 99%, which means that this account is under the serious risk of ruin. It can explain the reason for losing -$4350.53 from the total account balance.

Extremely High Drawdown
The risk of ruin and loss of funds is what we can say about the nearest future of this trading account. We have reviewed the drawdown performance chart and seen that the drawdown was constantly higher than 20%.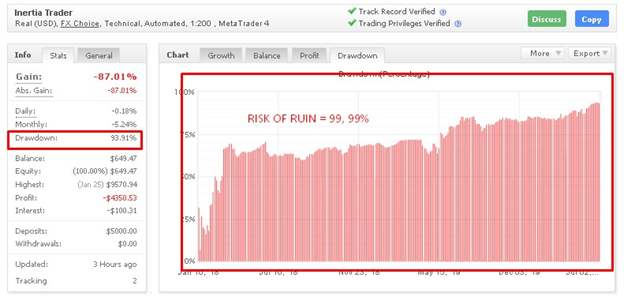 Vendor Transparency
The creator of the system is Mr. Evan Goldstein. Unfortunately, there is no information about the team that stands for this EA.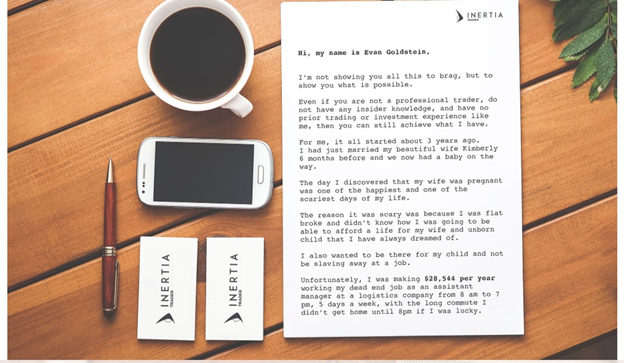 At whois.domaintools.com we have found that the IP location of the Inertia Trader website is Utah – Provo. The website was registered on Oct 24, 2008.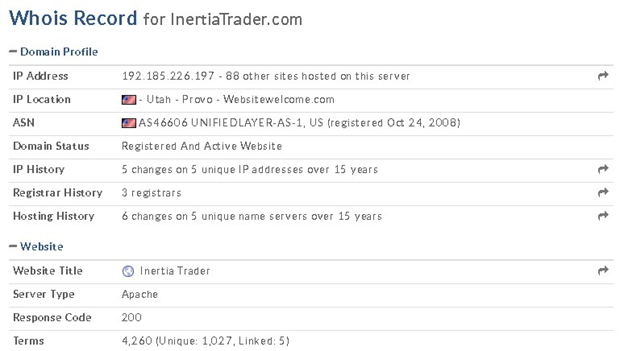 There is no contact page, neither email address for traders to get in touch with support in case of necessity. It is a red flag for Inertia Trader.