Today in this Sweet Profit Robot review, we are analyzing a newly automated forex robot, which is advertised by its developers as one of the best expert advisors with a high profits ratio. The purpose of this review is to critically look at the Sweet Profit Robot and find out if it is a software to trust or not to trust.
Is Sweet Profit Robot Worth Its Price?
The creators of this trading tool think it is and they share live myfxbook results on their sales page. In other words, they say that Sweet Profit EA has a very high-profit ratio and has high compatibility with all kinds of market types. As usual, the Sweet Profit Robot is described in the best light possible.
All the pointers from the evaluation of this software indicate that this is not a good choice for its price. There are a few reasons why this declaration has been made, and some of the critical ones are listed below:
Unclear trading approach
No backtesting results
No information about the money-back guarantee
Lack of vendor transparency
Features
Sweet Profit Robot is easy to set up an expert advisor, which is only designed to work on the MT4 platform. This 100% of automated software has a built-in money management system that analyzes traders' accounts and takes a lot accordingly. The developers also add that you "can set Custom Lot as well or you can Decrease Automatic Lot size". Traders can disable currency pairs that do not want to trade with. It is also recommended to use the software with default settings.
The devs also tell us about basic requirements for those who are going to start trading with their EA: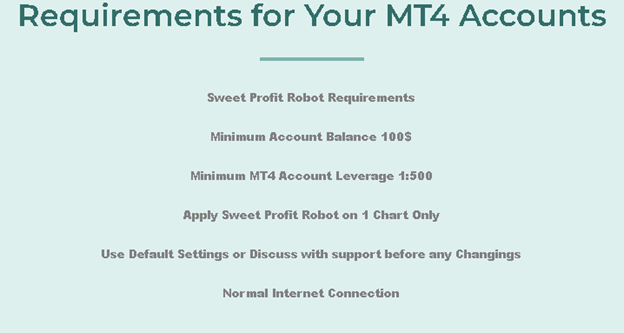 Pricing
Sweet Profit Robot comes in 2 different packages: Standard and Premium. The Standard package is available to buy for $99, 99/month, and includes 1 License for 1 MT4 Demo or Real and Free Live Installation Support. The Premium package is sold for $169, 99, and includes 2 Licenses for 2 MT4 Demo or Real and Free Live Installation Support.

Unfortunately, money-back guarantee information is not mentioned on the Sweet Profit Robot website. It is a red flag for this EA.
Trading Strategy
Sweet Profit Robot is said to make a consistent profit "while using its technical analysis based on various algorithms". The developers make sure that this trading approach helps to trade the robot the best possible way, providing "profits after profits". We also know that software has a money management system. However, we know nothing about the trading approach or methodology of this EA.
Myfxbook Results
The developers provide a trading account purported to be from myfxbook.com. to substantiate the veracity of their claims. Well, let us analyze what we see: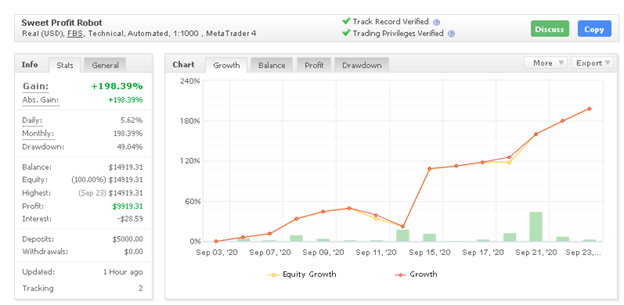 The account was created on September 03, 2020. It is a real USD account, which is running on the MetaTrader 4 platform with FBS brokerage and a 1:1000 leverage. It was deposited $5000 on September 3, 2020. For the trading period of 20 days, this trading account has obtained a gain of over 198% with a daily gain of 5,62% and a peak drawdown of 49,04%. The trading results were generally good from September 3 till September 14, when the account suffered a loss of over $800. However, since that time trading resumed and picked up significant profits that have brought over $8000 of profit.
Since the time of activation, the account has traded 160 trades and 382.1 pips. It has won 102 out of 160 trades, which represents 64%. Its average win is $213.84, while the average loss is -$205.04. The average trade length is 6 hours and 2 minutes. Its profit factor is 1.83.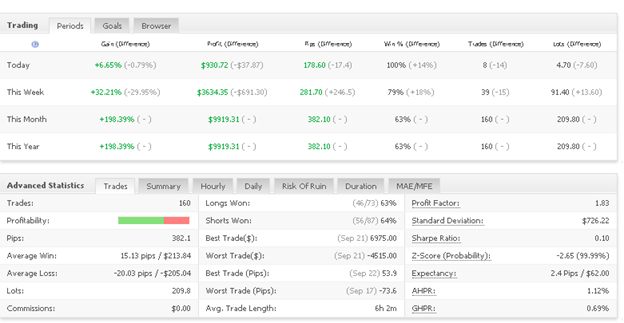 No Back Tests Data
The developers failed to provide any backtests data. The absence of this sort of information is generally unacceptable for the Forex community. Every trader desiring to invest his money wisely, wants every robot to be thoroughly tested by the vendor before launching it for sale.
Lack of Vendor Identity
Sweet Profit Robot has a one-page website with detailed information about the product and no information about the team that stands for this EA. The vendors of Sweet Profit Robot did not provide an address, phone numbers, or any identifying statement on their website.
To get in touch with support traders can send a message via their contact form or email directly [email protected].