Stabilis Lucra is a Forex robot designed to help traders and provide them with stable profit. This is a fully automated trading system that runs on the popular Meta Trader 4 Platform that is free to download. The developers of this EA claim that their robot is "one of the most stable profit robots in the Forex industry". David Jukl, the developer of Stabilis Lucra EA, says that his automated software is "making quite nice profits". We have found a lot of aggressive information concerning the impressive trading results of this trading tool on the stabilislucra.com website.
In this Stabilis Lucra review, we are going to investigate this expert advisor to decide whether it is a reliable trading tool or David Jukl and Andrew Nathan are only good at using lies and phrases that attract attention to sell copies of this expert advisor.
Is Stabilis Lucra a Good Choice?
No. We do not recommend this trading software because:
It does not provide a detailed trading strategy insight

No backtesting results

Lack of transparency
No Trading Strategy Insight
The Stabilis Lucra website has only a video presentation of the product and its developers. However, this one-page website represents neither information about the algorithms nor about the strategies and indicators. Although they say that they have won 3 awards in 2016 and one in 2017, there is no proof that Stabilis Lucra EA is legit. Once traders log into their website, they need to enter their names and email address. Then the website connects the traders with their brokers. The fact is these brokers are not regulated and are bogus ones.
No Back Testing Results
There are no backtests on the official Stabilis Lucra website. It is very disappointing because mostly every vendor who is offering a product to the public tries to be as transparent and informative about the product as possible. Lack of information is a red flag for Stabilis Lucra.
Stabilis Lucra EA Live Results
The devs of this EA have provided a screenshot of verified account results on their website.

Let's analyze this live trading account: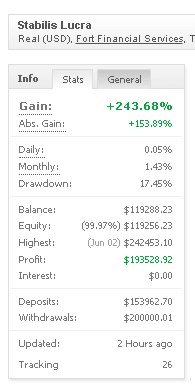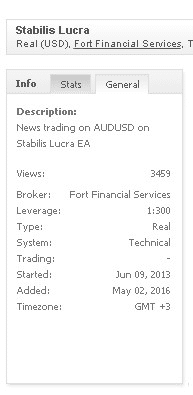 It is a live real trading account, which is running on the popular Meat Trader 4 platform on AUDUSD with Fort Financial Services brokerage. The account started trading on June 9, 2013, and since that time it has gained a +243.68% profit ($193528.92). It deposited $153962.70 and withdrew $200000.01. Currently, the balance is $119288.23. The growth chart shows a constant profit growth with an insignificant decrease on September 11, 2014: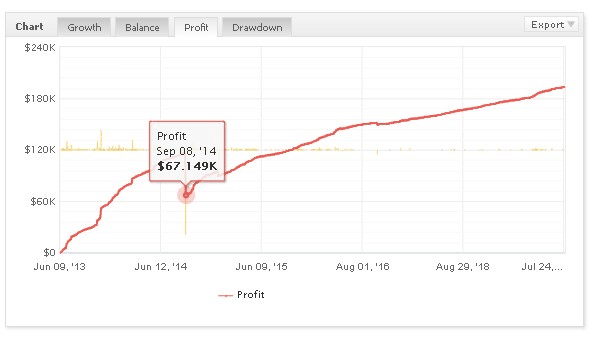 The system placed 3227 trades with the best trade of $13397.12 and the worst trade of $ -12490.72. The average trade win is $182.62 and the average loss is -$328.72. The average trade length is 2 days with a profit factor of 1,76 and a drawdown of 17.45%. This trading account has won 2453 out of 3227 trades, which represents 76%.
The account shows a steady profit, except one day on September 8, 2014, showing a significant  loss of profit where the software went from $116,138 to $67,149: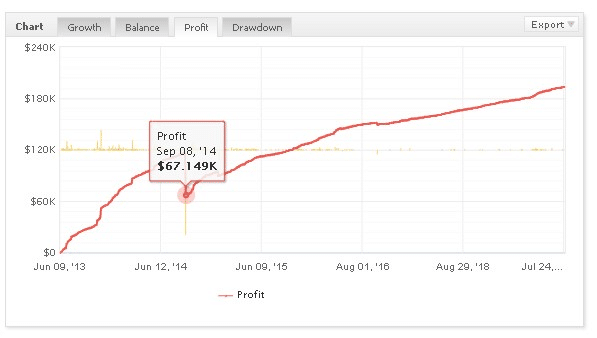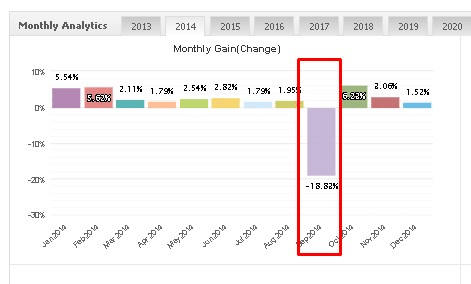 The monthly gain chart above shows that the monthly gain of this trading account in September 2014 was -18, 83%. It was the period of its peak drawdown – 21, 91%.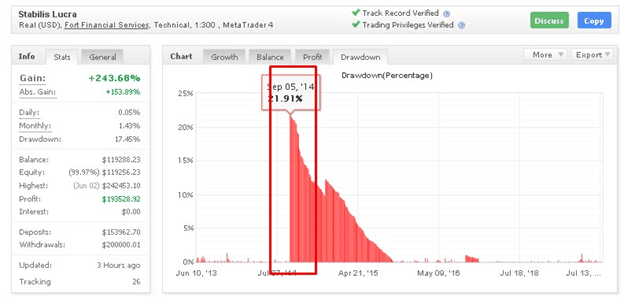 Since that time, the software has been showing table trading results without unpredictable vicissitudes in terms of trading performance.
Lack of Transparency
There seems to be a lack of transparency about the real trading performance of this EA. The open trade results have been locked on Myfxbook.

Locking of such critical data can only connote one thing: an effort to hide something about the performance of the software. Why and what are they trying to hide?