Today we are going to analyze an innovative expert advisor developed by the LeapFX team, the Quick Scalp Trader robot. The developers claim that this EA is promising to provide a "high win rate", "allowing you to lock in profits quickly".
Long story short,  let us conduct detailed analysis of this trading system to decide if this EA is as good as their developers claim.
Is Quick Scalp Trader a Good Choice?
No. We don't recommend this EA because of:
Unclear trading strategy

Negative trading results

Extremely high drawdown
Features
According to the developers of Quick Scalp Trader, the scalping approach is more compatible than any other scalping strategy in the marketplace. The vendors of this EA claim that their system uses a specific design, which allows it to work much differently than the other systems and "work on most brokers with average spreads and average execution times while adding in some unique technologies to keep the profits flowing in".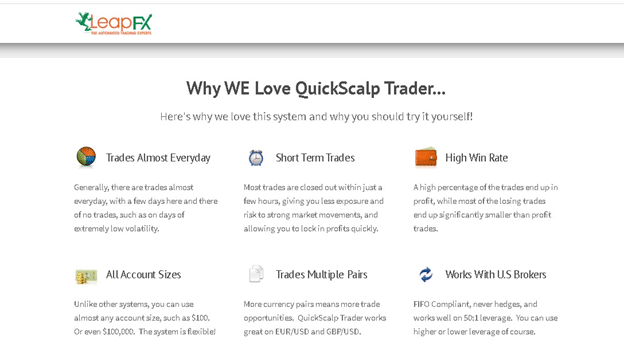 Unclear Trading Strategy
The developers mention that their EA uses microsecond calculations, new technologies, and different parameters. However, there is not a detailed explanation of either of the methodologies. We do not know how they work and why  this software is "different than normal scalpers".
Back Test Results
Leapfx provides backtesting results for Quick Scalp Trader.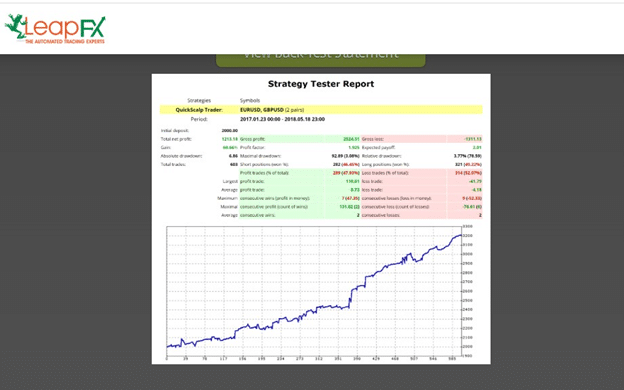 The backtesting started on June 23, 2017, and ended on May 18, 2018. The account has traded 2 currency pairs: EURSUSD and GBPUSD.
The Lealpfx provides only screenshots with no access to the balance, equity, deposits, withdrawal, etc. We have only an image without access to it. Therefore, we wonder whether something is being hidden that should not be. 
The initial deposit was $2000. For 1 year and 4 months, the account has obtained a gain of 66, 66%. It has earned $1213, 18 profit with a profit factor of 1, 925. Total trades amount was 603 with 47, 93% of profit trades (289 trades), and 52, 07% of loss trades (314). The peak drawdown was only 3, 08. The maximal consecutive profit was 131, 02 with a lower consecutive loss of -76, 61.

Negative Trading Results
Leaplfx claims that users can view live verified trading results on their website. However, there is neither image nor link to the third-party website to check out these trading results:

Therefore, we have conducted additional research and found a live trading account on fxblue.
It is a Demo USD account that started trading on July 9, 2018. The account is showing a total return of -57.0% with a risk/reward ratio of -1.09.
It has deposited $10 000. Its closed profit is -5,673.20 dollars with a current balance of $4,326.80.

The average loss is mostly 10 times higher than the average win -142.09 vs +15.23.  The trade length is 26.7 hours.
It has been trading 5 currency pairs: AUD/USD, EUR/JPY, EUR/USD, GBP/USD, and USD/CAD. None of the previously listed currency pairs are bringing positive trading results.

Extremely High Drawdown
The peak drawdown is -59.1%. As you may see from the screenshot below, the drawdown is constantly increasing and there is no hint on improvement.  High drawdown is very risky and can increase the risk of ruin. As a result, you will lose all your money one day.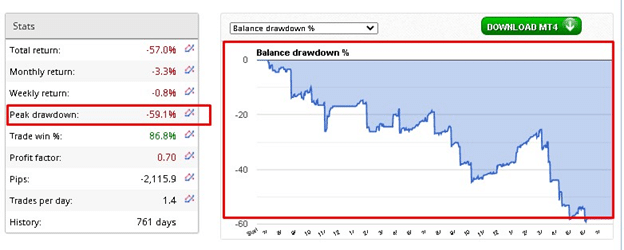 Vendor Transparency
The developers of this EA are the Leapfx team. Their main goal was to create a scalper, which would calculate within microseconds, take quick actions and work without human interference. As a result, a well-known software developer and trader William Morrison, who has been revolutionizing the scalping system for years, created Quick Scalp Trader. 

At whois.domaintools.com, we have found that the website location is Utah – Provo.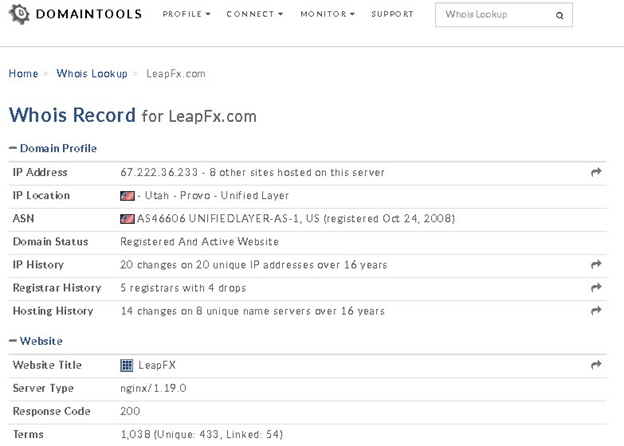 If the clients want to get in touch with the support they need to send an email to [email protected].