Punisher SCALPER EA was launched on 4th September 2021. As per vendor claims, it can grow your trading account from $100 to $1 million. This is a newly-launched EA that the vendor is currently offering at a discount. In this Punisher SCALPER EA review, we will try to determine whether the system is profitable or not by analyzing its various performance factors.
Punisher SCALPER EA: to trust or not to trust?
Punisher SCALPER EA does not seem like a trustworthy expert advisor. The vendor provided very little information on the MQL5 product page. We have a live trading account for the robot but it has a very short trading history. Also, there is no refund policy in place.
Features
This is a fully automated expert advisor that uses a search and breakdown mechanism for local extrema. You can buy it for the price of $200, which is quite close to the market average. There is also a free demo version you can download if you wish to test the performance of the system first. Unfortunately, the vendor does not offer a money-back guarantee. The vendor claims this is a limited-time offer and that they will increase the price as soon as it is over. To us, this seems like a cheap ploy to lure in buyers.
Punisher SCALPER EA avoids strategies like martingale and grid. With every trade, it uses a stop loss. It is compatible with multiple currency pairs like XAU/USD, GBP/USD, USD/JPY, and EUR/USD. As per vendor recommendation, you should run the EA on M30 charts. You should use a VPS server while trading with this EA. It is recommended that you sign up with an ECN broker having low spreads, low commissions, and a fast execution speed. You need to deposit a minimum of $100.
This is a scalping bot that places a large number of trades throughout the day. It tries to take advantage of the small price differentials in the Forex market by getting in and out of trades within a matter of minutes. Scalping is a high-frequency strategy that can be quite stressful to execute, especially if you are a beginner.
Before using this EA, you should test it with minimal risk or on a demo account. There is no dedicated support team for this expert advisor. If you have any queries, you can contact the vendor directly through the MQL5 website.
Verified trading results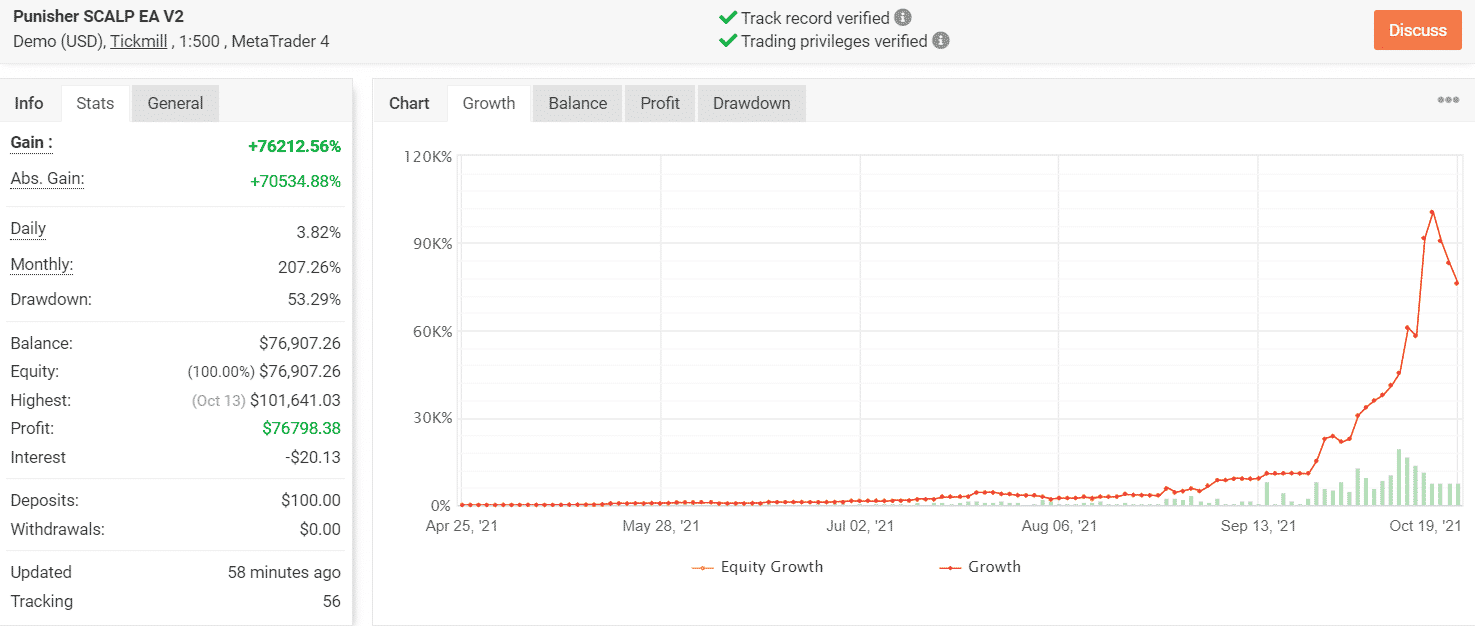 This is a demo account for Punisher SCALPER EA on Myfxbook. Since the vendor has shared the verified results on MQL5, we had to conduct our own research to find this account. Here, we must mention that a real account exists for this robot, but it has remained static for several months.
To date, the EA has placed 610 trades through this account. It has won only 42% of them, thus generating a profit of $76798.38. The win rate is quite low compared to other EAs on the market. While the daily and monthly gains are 3.82% and 207.26% respectively, the drawdown is extremely high at 53.29%. Thus, it is evident that Punisher SCALPER EA follows a high-risk trading strategy.

Looking at the trading history, we can see several large losses. Out of the last 10 trades placed by this robot, 7 have ended in losses. This confirms our suspicion that the EA follows a high-risk trading approach.

For this backtest, the EA conducted 870 trades. It had a win rate of 64% which is much higher in comparison to the live results. Here also, we can see a high drawdown of 27.28%. The daily and monthly gains were 0.91% and 31.32% respectively, while the profit factor was 6.83.
Vendor transparency
Hemza Barour, the developer behind Punisher SCALPER EA, is a resident of Algeria. We don't know anything about this person's background and trading history. There are two other systems built by this developer, which are Desert Funk EA and Evil twin scalp EA.
User reviews

We were unable to find any verified user reviews for this EA on third-party websites. On MQL5, there are a few reviews, but they cannot be considered authentic.