For newbies in Forex trading, using automated systems that set up trades and execute them is a big advantage. It is no wonder, there are so many Forex robots offering easy and effective trading. Besides newbies, professionals also find such systems very useful.
Omega Trend EA is one of automated trading software that claims to provide effective trading support. With an affordable price, free updates, and a money-back assurance, this system assures superior services. In this Omega Trend review, you can find more about the offerings of this system from the detailed analysis of our expert reviewers.
Omega Trend EA: To Trust or Not to Trust?
At the outset, Omega Trend EA which is one of the automated systems from FX Automater, offers expert assistance for live trading. The system claims that it can increase your returns with its effective settings. In this review, we have analyzed various crucial aspects of this expert advisor including its strategy, trading results, vendor transparency, and price. Our initial assessment of this system is that it can make a few improvements in its features to make it more reliable. Let us take you through the features of this Forex robot first.
Features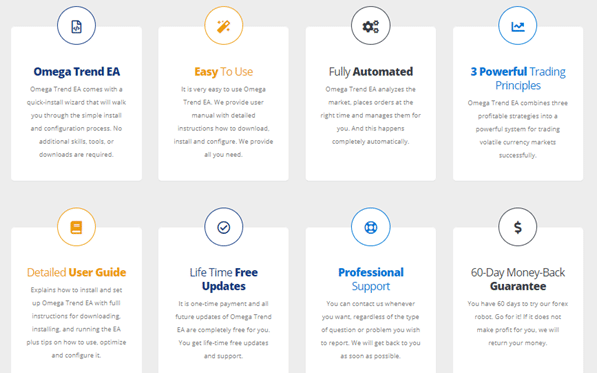 As the name implies, Omega Trend EA uses trend spotting as one of its main strategies for increasing profits. Besides trend-spotting, dynamic trades and diversity in strategy are other approaches used by this system. The system uses H1 time frame for trading and focuses mainly on three currency pairs namely EURJPY, EURUSD, and GBPUSD.
Settings are provided as individual .set files for each of the supported pairs. The system is capable of working with any broker using four or five-digit price quotes. The minimum balance suggested by the vendor is $100 to $500 but the recommended balance is from $1000 to $5000. Support is provided through an online contact form and no location address or phone number is provided by the vendor.
Verified Trading Results
Trading results verified on the myfxbook site are shown by the vendor. Here is a screenshot of the real live trading account of the system.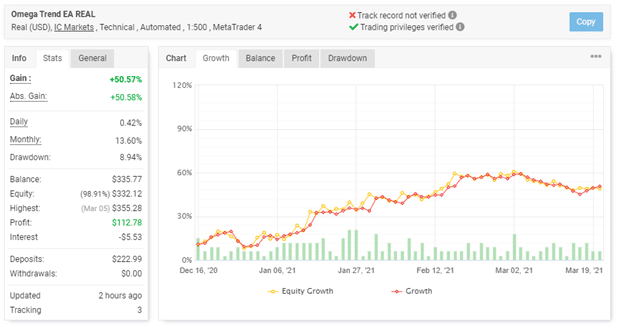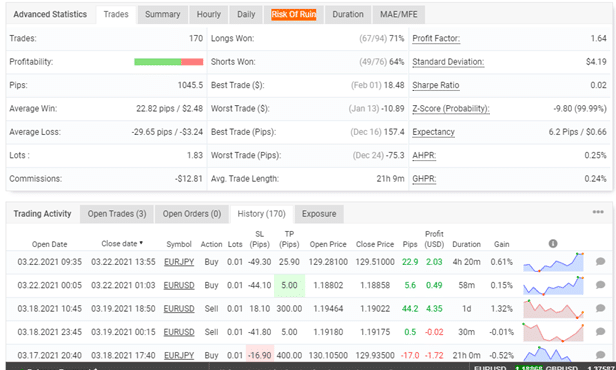 From the screenshot, we can find that while the trading privileges are verified for this system, the track record is not verified. The real USD account trading on MT4 using the leverage of 1:500 reveals a profit of 50.57% and an absolute gain percentage of 50.58%. A daily and a monthly gain of 0.4% and 13.60% are shown with a drawdown of 8.94%. The account started in December 2020, has completed a total of 170 trades with the average win coming at 22.82 pips and the average loss at 29.6 pips. From the trading history, we find that the lot size used is 0.01. A profit factor of 1.64 is shown.
Backtests are also posted on the official site. Here is a screenshot of the backtesting done for the GBPUSD pair using the H1 time frame.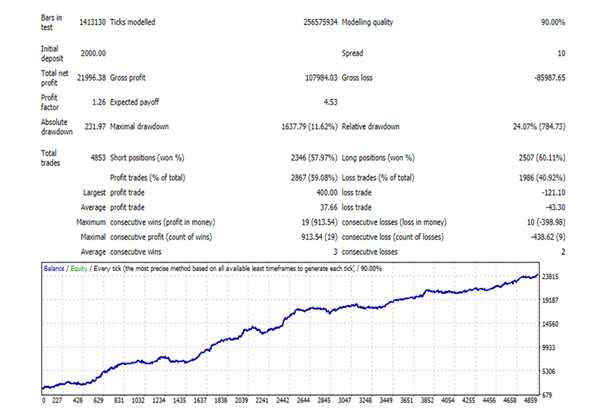 The modeling quality used is 90% which is not sufficient to reveal important details like spreads, commissions, etc. A maximal drawdown of 11.62% is shown and the profit factor for the backtesting done from August 2001 up to September 2020 is 1.26. Comparing the backtest and the real account trading result we find that features like drawdown and profit factor show a close similarity.
Low Cost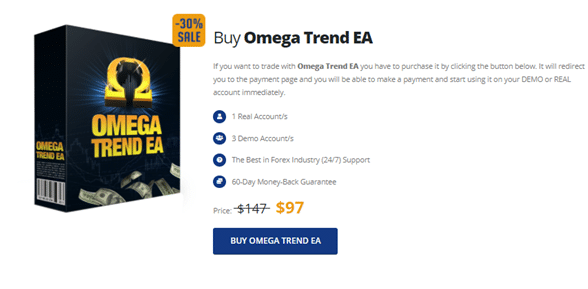 Compared to the prevailing rates of similar trend-based systems, the price of Omega Trend EA is affordable. The original cost of $147 has been slashed to $97. Some of the main features offered with the package include one real and 3 demo accounts, 24/7 support, and a money-back guarantee of 60 days. The refund assurance makes the system more reliable which is a significant point in favor of this system.
Vendor Transparency
Although FXautomater has several Forex indicators and robots from our reviews of its other systems and this Omega Trend EA reveals that vendor transparency is absent. We could not find any info on the developer of the system or the team behind it. Furthermore, despite the system claiming to provide 24/7 support, we could not find location address, phone contact, or a live chat window all of which point to an unreliable support system.